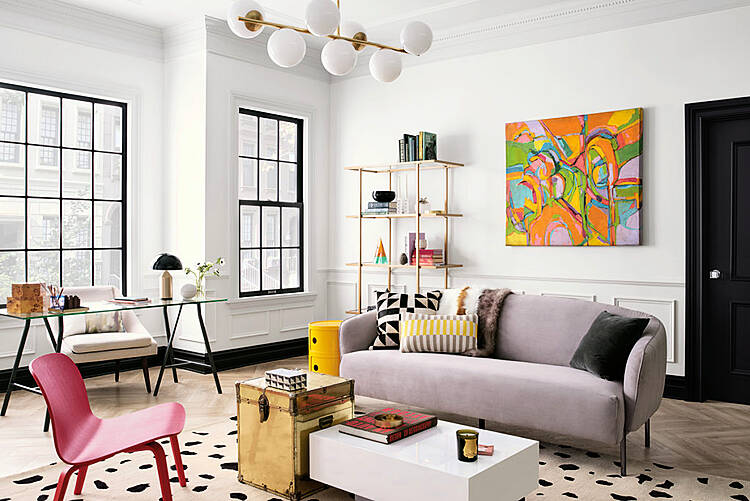 VOGUE standard White and Mercer Grey, on trim and door
A House and Home promotion
Quality, high performance and a commitment to cutting edge technology plus research and innovation are at the heart of Fleetwood. An Irish-owned family brand – three generations of the founding Doyle family are still involved as the company celebrates its Platinum Jubilee – superior quality paints are what Fleetwood is known for.
As the number one Irish paint brand in the country, Fleetwood has an incredible range of colours, finishes and ranges to shout about. But the one that's like no other paint is Prestige.
WHAT'S PRESTIGE?
Strong yet beautiful, Fleetwood Prestige is an advanced formula which provides an incredibly durable coating that resists burnishes, scuffs and stains – more than other paints. Unprecedented colour depth with richer, truer pigments, provides years and years of colour satisfaction. Visibly thicker, Fleetwood Prestige covers like no other paint.
This creamy paint gives you easy application and seamless touch-ups with an advanced quick drying formula. Suitable for interior plaster, walls and ceilings, Prestige is exclusive to Fleetwood's Pantone Colour Universe and Vogue Collections. Fleetwood Prestige has been awarded European Standard EN 13300 for Performance, it is washable and scrubbable with a cashmere finish and appearance. Its quality shines in the fact that it is visibly thicker with extraordinary coverage and its unique colour recipes have greater clarity, purity and saturation.
Want to discover the quality of Prestige for yourself by trying out the Pantone Colour Universe and Vogue Collections? You're in luck: we've got a fantastic €500 voucher to give away to one lucky House and Home reader during this issue period. Read on to find out how to be in with a chance of winning.
How to enter
Send us your name, address and mobile phone number to [email protected] with 'Fleetwood Prestige' in the subject line before 27th March 2020. Good luck!
Terms and conditions
Prize is non-transferrable for cash and non-refundable. Competition closes on 27th March 2020. Winner will be contacted by House and Home/Fleetwood Paints following competition close. Winner must allow 28 days for delivery.