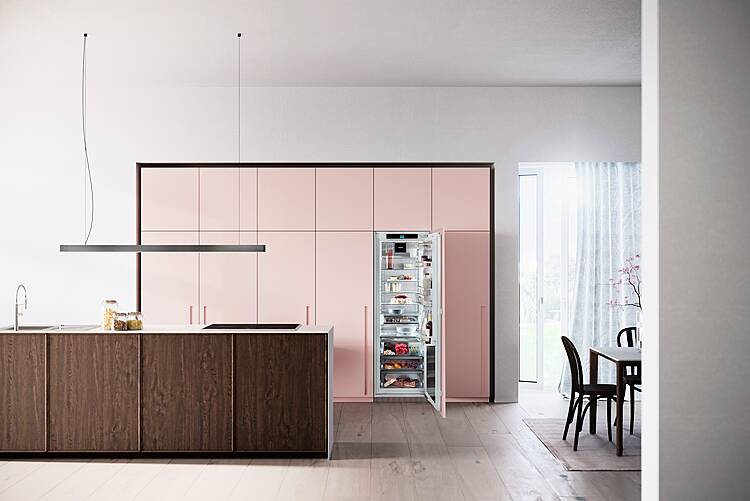 The clever engineering team behind Liebherr have developed the kind of features we've been wishing existed all along! Their new built-in appliance range features HydroBreeze and InfinitySpring technology that will keep your food fresh and delicious for longer; helping you eliminate waste and saving you money in the long-run and provide you with fresh drinking water. It also means you're more likely to have a more appetizing selection of food on hand for whatever recipe you feel like whipping up. The foodie's dream!
NAA Appliances are distributors for Liebherr in Ireland, and here's what they told us about some of the signature Liebherr features...
HydroBreeze is a special innovation which can be found in BioFresh Professional. Every time the door is opened and after every 90 minutes, a fresh, cold mist is produced which covers the fruit and vegetables like a balm. The mist ensures crisp freshness and improves the structure – coating the fruit and veg with a special wow effect.
BioFresh guarantees the perfect temperature for much longer freshness. At a temperature of just over 0°C and with the ideal humidity, fresh food can keep its appetising appearance and retain healthy vitamins and minerals for considerably longer than in a normal fridge compartment. And now with our upgraded BioFresh Professional you can expect extra features including: Hydrobreeze, LED BioFresh Lighting and more!
Are there any ice cubes left? An Icemaker means you never have to ask. With the IceMaker with fixed water connection, the water comes directly from the tap. The MaxIce function allows you to produce up to 1.5 kg of ice cubes a day. The ice cube separator helps to divide the drawer into any size you want – for example, ice cubes on the left, ice cream on the right – or just for ice cubes.
A source of fresh, cool drinking water in your kitchen. InfinitySpring sounds like something from a fairy tale. The water dispenser provides fresh, cold water. Simply press the panel with the carafe or glass, and enjoy the water. This enables you to save on purchasing bottles of water and to live more sustainably.
Check out the Liebherr range at NAA for even more impressive info.