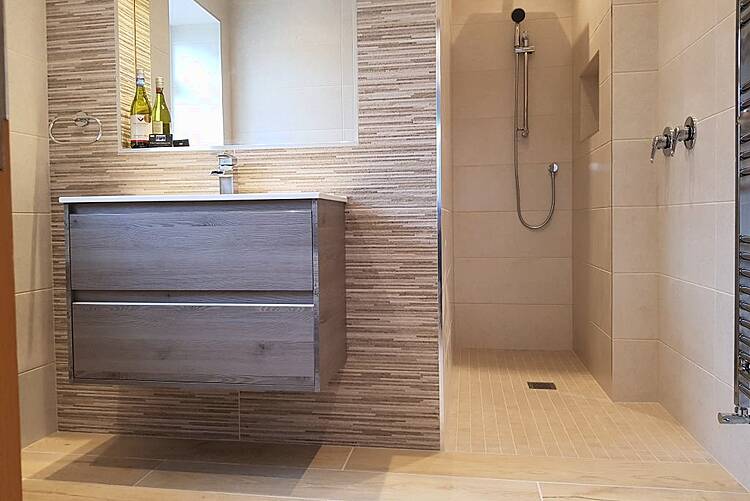 Kiwi Complete Bathrooms Ltd outlet store incorporates 24 years of Sammy Darragh's trade experience designing and building bathrooms into a one-stop shop for all bathroom and tiling customers. Kiwi Complete Bathrooms Ltd "outlet store" is stocked with all building, plumbing, tiling, electrical and ventilation products all for sale to the public at trade prices.
Right from the design stage, we will establish what is the criteria for the bathroom and the style and budget for the bathroom. We establish the priorities, for example, most clients would like a large shower enclosure with high-pressure shower heads, easy to clean, bright and elegant. Once the requirements are established we will completely redesign the configuration of the bathroom fittings to ensure the bathroom design fulfils the brief. Wow factor, Space, Practicality, Timeless Design, Low Maintenance, Clever Touches are all priorities in a "Kiwi Complete Bathrooms Ltd" design.
The Kiwi Complete Bathrooms outlet store offers ALL of the building requirements for your bathroom,  plumbing or tiling project. Everything from cement boards, tanking systems, plumbing equipment, tiles, lighting,  ventilation and extraction systems, waterproof ceiling membrane, large volume stainless steel hot water cylinders and high-pressure luxury shower pumps, wet rooms, sanitaryware, tapware, shower doors and much much more! Most importantly you get informed and empowered with knowledge to ensure your hard earned money is invested and not wasted on your bathroom. Kiwi Complete Bathrooms Ltd Outlet store does not comprise a showroom of moc-up displays. We have over 1000 projects completed to display different layout options for your bathroom. Often we have already achieved the unachievable bathroom in your estate!
Kiwi Complete Bathrooms Ltd offers trade price to all customers. So if you already have your installers (plumbers, tilers, electricians etc) we are happy to design and supply all your bathroom requirements and are happy to liaise with your tradesmen throughout your project.