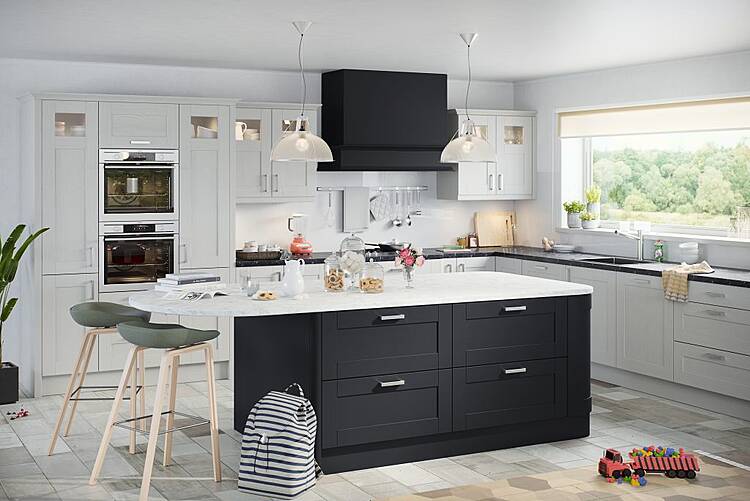 Cherrymore Kitchens & Bedrooms are one of Irelands premier kitchen& wardrobe manufacturers. Cherrymore are 22 years in business and throughout this time we have been continuously expanding and are always at the forefront of new door styles, market trends and designs. Cherrymore have showrooms in 5 locations (Oranmore, Galway - Castlebar, - Athlone, -Donegal Town, - Ballyboffey).
We pride ourselves on keeping all our showrooms up to date and we have large full size kitchen displays. We offer a wide range of kitchen finishes including solid ash painted in a choice of farrow & ball paint colours, solid oak and HDF painted options. We also have our own range of acrylic contempory kitchens in a choice of finishes including handleless for that ultra modern home. We bring together German engineering with a hint of Italian design flair but most importantly Irish Made directly by us. It offers streamlined robust kitchen performance , designed and engineered to meet the highest industry standard. We have a wide range of top spec accessories to make your life easy in the kitchen and to maximise storage. We also manufacture wardrobes and our luxury wardrobe department offers custom made sliding door, hinged door & walkin wardrobes. Similar to our kitchens all projects are made to order.
Unlike many of our competitors, Cherrymore manufacture directly in our 100,000 sq ft factory where we use the most up to date computerised machinery to guarantee precision & quality. You can take a tour of the factory on You Tube and get a glimpse into our manufacturing process. Cherrymore are now exporting throughout Europe and are setting a standard that competitors cant match. As a result on a like with like basis, of materials, style, quality & longevity, Cherrymore cannot be beaten.
A visit to one of Cherrymore showrooms is a must for anyone who is building or renovating. Our qualified & experienced designers are always on hand to help and offer advice. We offer a 3D design service to make everything clear and make your dream space a reality. Contact your nearest showroom or visit our website.