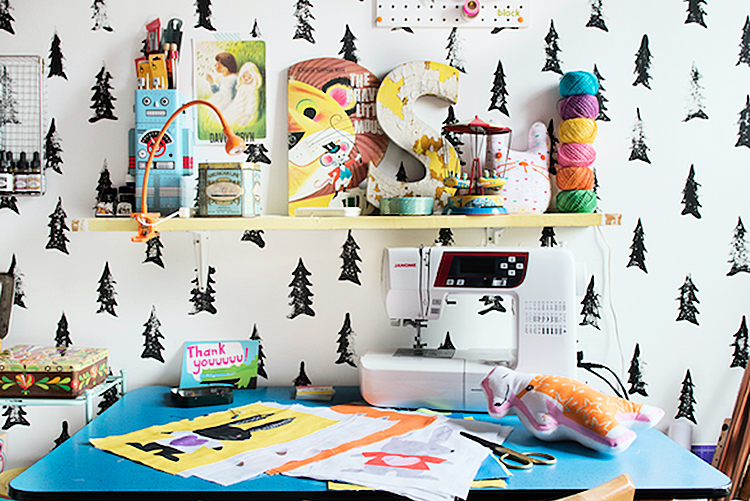 Children's book illustrator Colleen Larmour shows us around her charming period home in Lisburn which she shares with her husband Glenn and their two daughters, Rose and Nina
When fellow Antrim creatives Colleen and Glenn met for the first time through mutual friends twelve years ago, they didn't realise they had actually grown up two streets away - or that the house they would end up buying together would be just ten minutes from there.
"After studying Art & Design at Belfast College for two years, I then went to Liverpool Art School," says Colleen "So when I moved home a few years later I knew of Glenn, who runs Graffiti based art workshops, but we had never actually met. We started dating and decided we liked each other enough to stick it out and tie the knot."
At first viewing of the house, which backs right on to a park and is only five minutes from town, they saw immediate potential.
"We instantly liked it because it had a lot of space for our small budget, had some nice period features and was also very close to both of our families," says Colleen "Something that has made a big difference since having children."
The three bedroom house, which was built in 1880, needed a lot of work to get it up to standard, including adding insulation, central heating and draft-free windows. The chimneys needed re-lining and the house needed a whole new roof.
"In that first year I can remember lying in bed at night with the bed heaped high with blankets," says Colleen "You could see our breath in the air it was that cold!"
In the nine years they have lived here every interior door has been stripped back to the bare wood and re-painted. The walls have also been stripped and re-plastered and there is new flooring in most of the rooms. They also removed an old Aga stove from the middle of the living room which they replaced with a wood burning stove. 
"It's hard to top a roaring fire on a cold night," says Colleen "My husband is now obsessed with chopping and stacking wood all spring and summer to keep the fire going throughout the colder months."
Next up was the kitchen, which Colleen says was the most difficult project in the house, particularly because Glenn took most of the hard labour on himself.
The couple had spent months planning what to do with their kitchen and in order to capture maximum light and space decided to go with large windows, stainless steel units and a marble top. They fully tiled the wall above the units in square white tiles and made the opposite corner a built-in seating area with the dining table by two large windows, running the same wooden flooring throughout the kitchen and adjoining living room. 
 "I really wanted as few cupboards as possible so the room felt spacious and to force us to not buy, store and gather more than we absolutely needed," says Colleen "The open shelving and decorative unit keeps the space simple, bright and clean but it still feels homely."
A while later we decided to tile the seating area in wide stripes of navy, pink and white, "I wanted to do something bold and unusual with the space but still be able to live with it all in ten years time" says Colleen.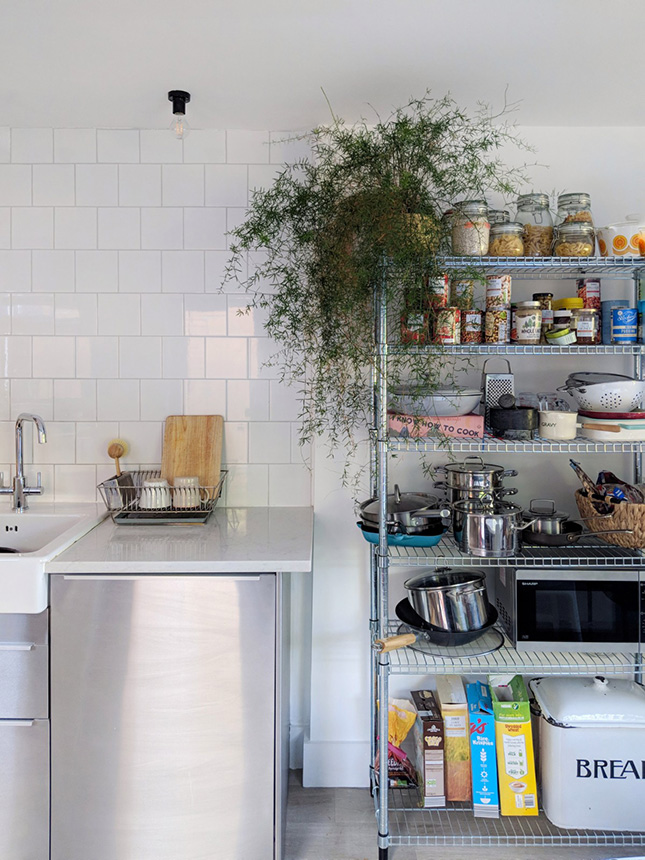 As the house had undergone years of bad wallpaper and paint jobs on all the wall and doors, they have had to re-plaster internal walls as well as re-paint and decorate the entire house. 
For the first few years Colleen used the small bedroom as a studio space but as her illustration and online soft toy business, Little Carousel, grew, the room became impossibly small for all its contents. They decided to swap their bedroom to the studio space so now Colleen has a larger and brighter room to work in.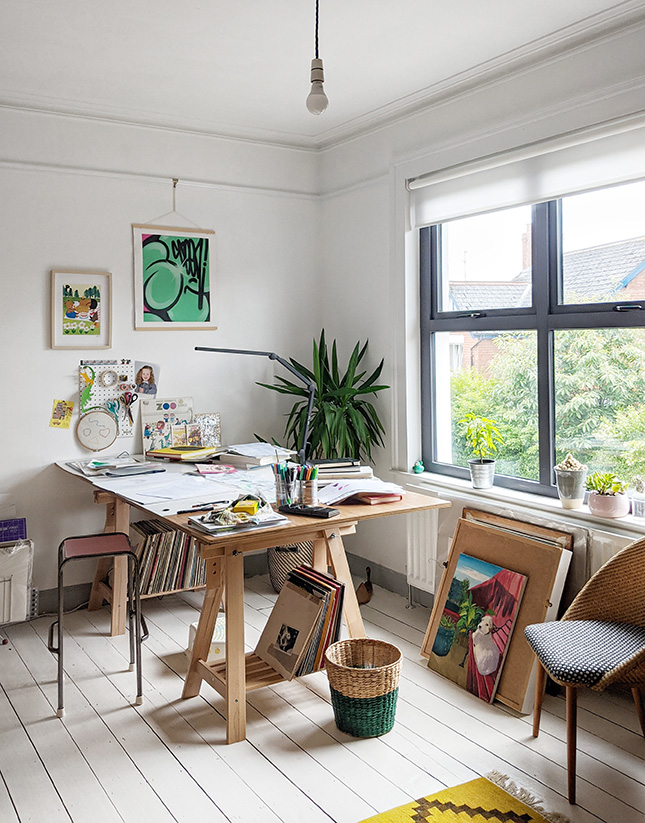 In their daughters' bedroom, Colleen says she has tried to design with longevity in mind.
"Rose is six and Nina is three, and as they don't stay in the nursery phase for long, I tried to save redecorating again after a couple of years by creating a more grown-up area for them to enjoy spending time to play, read or draw. There is a desk and book area, as well as a dress-up basket with costumes, jewellery, shoes, hats, crowns all there for them. They love it!"
After Colleen graduated from the MA Children's Book Illustration course at Cambridge Art School she had two picture books published, Under the Silvery Moon and Little Friend.  
Life and work took a different direction for a while when Colleen had her first daughter and started up Little Carousel, making soft toys and selling art prints.
"The business came about when I began making Rose soft toys from her outgrown baby grows.  I had also bought a sewing machine and was really getting into it. I started to make toys for friends from patterns and then the idea occurred to me to get my own illustrations printed onto fabric to make completely unique toys that were entirely my own design. From that point the idea of Little Carousel was born and I started planning a range of toys and prints to sell." 
As the business grew I knew that my heart and passion lay with the illustration side of it all and that what I really wanted to do was return to making children's books.  I decided to stop making toys and fully jump back into children's illustration.  In 2018 I was fortunate to get signed to my wonderful illustration agency, Bright.  Since then I've had the opportunity to illustrate some amazing books and projects and feel very lucky to be doing the work I love.
For Colleen, a room needs to feel comfortable and work on a practical level first,  before any other decoration is done. "Over the years we have gathered things from our travels, art we love, things we've found or made which has helped build a home that tells a little something about us. I'm happy finding new art for a wall, a handmade bowl or a beautiful vase found secondhand somewhere."
And now, after nine years and their complete house refurb, does she ever feel inclined to move again?
"Maybe when the girls are more grown up, we'd enjoy a new challenge, but I'm not sure we would take on such an old property again. We would love to live by the seaside.  Maybe one day!"
Website: colleenlarmour.com