Discover a rich seam of craft and creativity from Ireland's female makers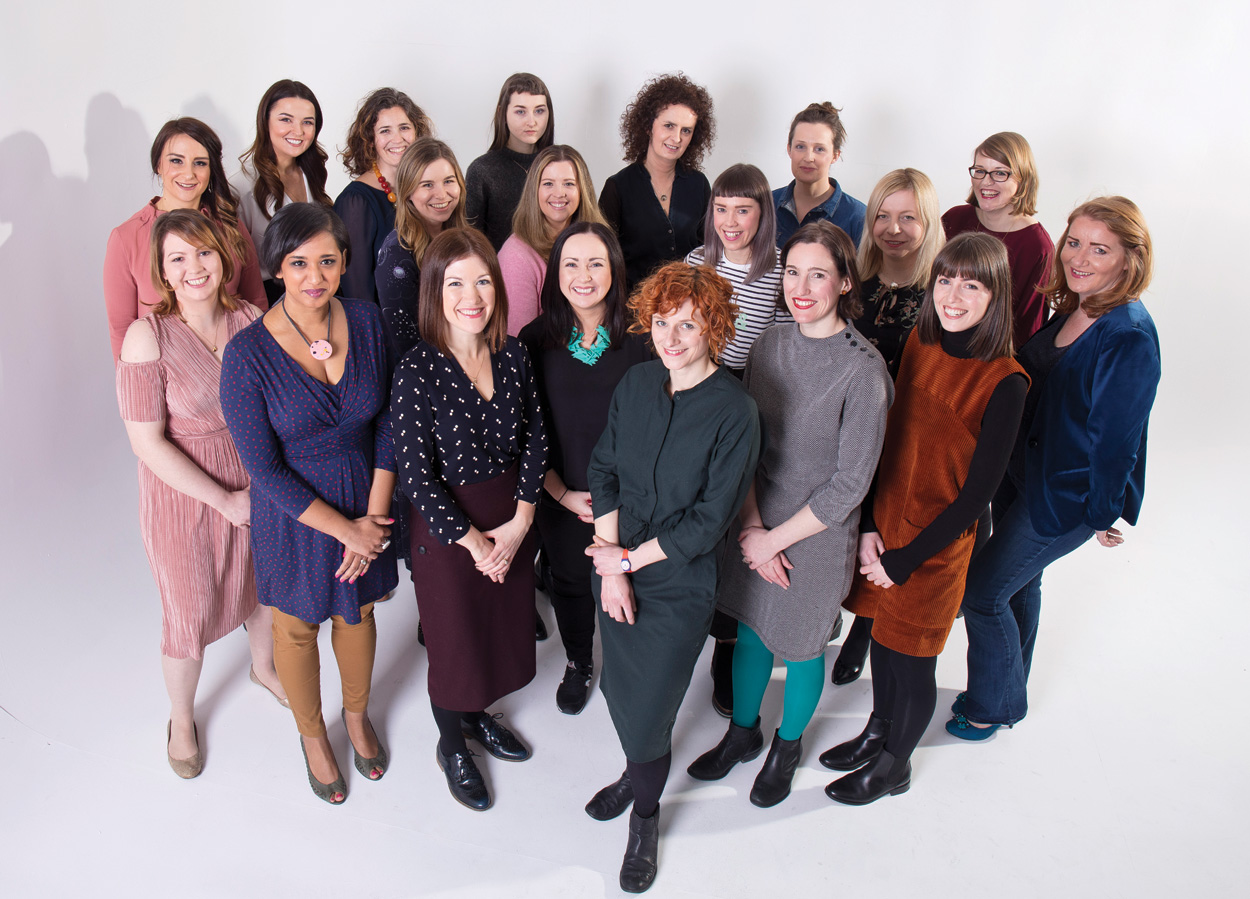 We've a deep pool of creative talent in Ireland, but House and Home wanted to take a moment to highlight the amazing strides women are taking within the wider Irish product design, printmaking and craft communities. The landscape is looking healthy: in 2016, Ireland's design sector accounted for €38bn in exports, and 48,000 design jobs. This January, Showcase, one of the country's largest annual international trade shows welcomed over 5,000 buyers from more than 20 territories including the UK, USA, mainland Europe and the Far East.
With 450 designers showing their wares, orders generated at the show increased by 9.2%, coming on the back of 17% growth in 2016 and flat sales in 2017. The number of international retailers attending increased in 2018 and the quality of that buyer ramped up as well: John Lewis, Dubai Duty Free and Galleries Lafayette were all present and correct. There was good news for women, too: the juried area of 2018's show, Design Ireland, 53 of the 76 brands were either owned by a woman or one of the partners in the business was female.
Read on to meet 19 female makers who are elevating Ireland's craft offer across a wide range of materials and disciplines.
Aoife Mullane, 27, A Mullane Designs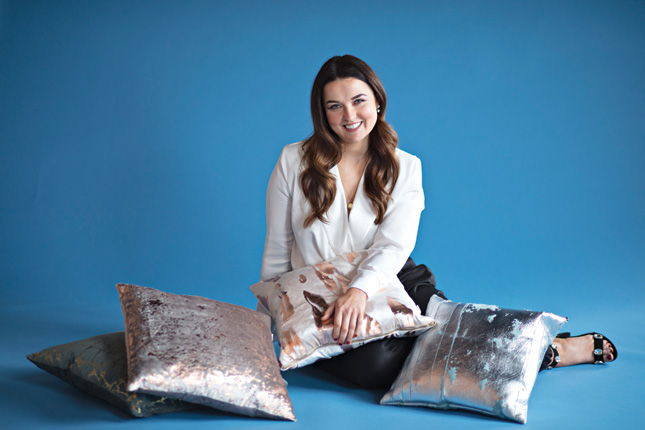 When Aoife Mullane graduated from printed textiles in NCAD in 2015, she just wanted a job. But she kept hearing the same thing: that she already had a brand. Despite not feeling ready, Aoife threw herself into A Mullane Designs, making textiles for Dublin's Oslo Beauty Salon.
She's inspired by nature and organic patterns, but her use of metallics is what she's known for. "I'm inspired by the flecks of metallic I see in pebbles and sea glass," she says. "I really like it alongside raw materials, like copper, slate, and stone, and my work adds a really luxurious touch."
Aoife's found people love Irish designed products, but don't want them to look 'Irish'. "I've always said I wanted my designs to look beautiful and to be Irish designed. Someone might comment that they love a piece, and you can say, 'Oh, it's by an Irish designer'. People love Irish design and they like that story as well," she says.
Deirdre Breen, 31, Deirdre Breen Prints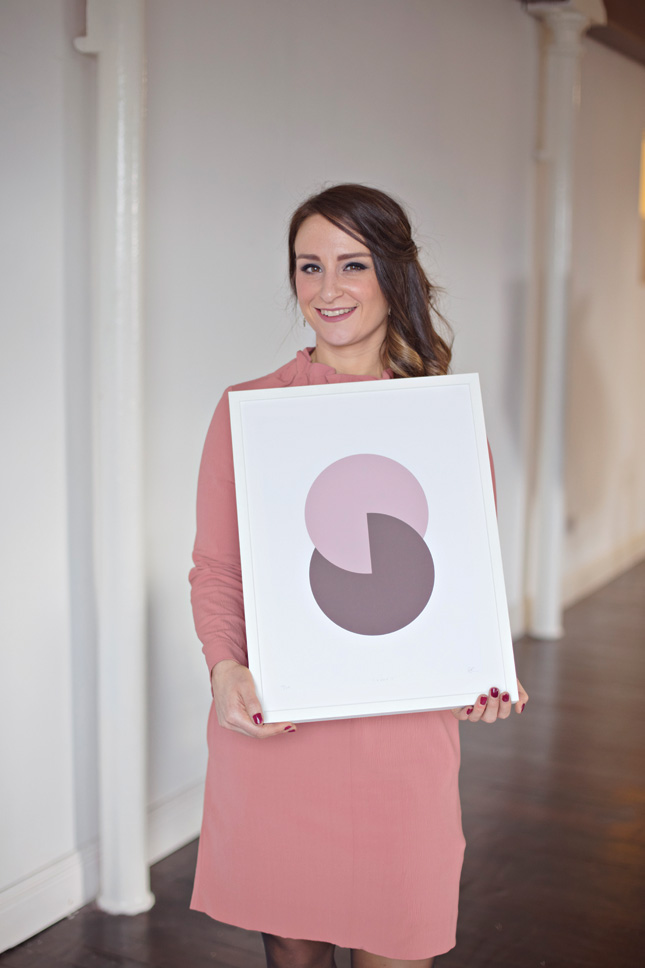 Deirdre Breen worked in London as a graphic designer for four years before deciding to move home, which coincided with a realisation that she missed working on her own creative projects.
She did a screenprinting course in Damn Fine Print, and fell in love with the physical process of mixing and testing colours. Last year she hosted her first solo exhibition. "It was all so new, it pushed me and I threw myself into it." she says. Deirdre has become known for her abstract graphic motifs as well as her use of colour, and she finds inspiration everywhere around her, "even things like clashing colours on hoardings."
In 2018, she has an upcoming collaboration with West Cork brand Concrete Forest which makes concrete tea lights. "We're going to be screen-printing on concrete pieces to make homewares, and that will be culminating in an exhibition in June," she reveals.
Jennifer Doyle, 36 and Grainne Smith, 32, Beeswax Candle Makers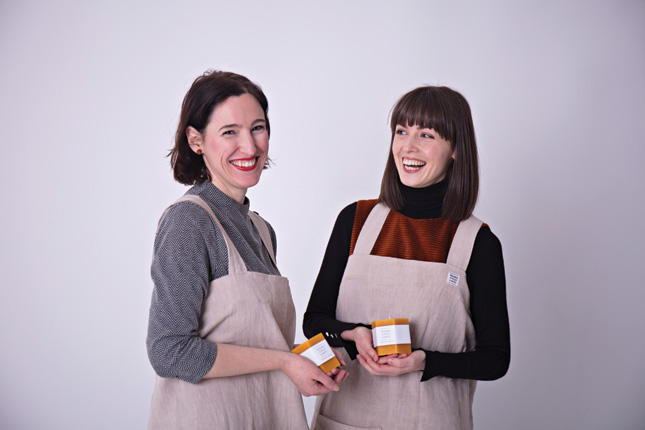 Jennifer Doyle and Grainne Smith studied together in DIT but never imagined setting up a business. When they couldn't find natural beeswax candles anywhere, the seed was planted. "We said, why don't we both just meet up and make candles. It happened as naturally as that," recalls Grainne.
She still works full time in interior design while making candles on the side, but at Christmas, Jennifer took the leap to work on Beeswax Candle Makers full time. Their design backgrounds mean they're interested in exploring the different shapes and forms possible with beeswax, as it's a harder wax, but mostly they like to let the product shine on its own. "Beeswax has a gorgeous natural colour, and the flame and glow from a beeswax candle is brighter. The natural properties stand out on their own. We don't want to overcomplicate it," says Jennifer.
"More candles!" is the response on their 2018 plans, while beekeeping courses are also on the cards, in order to get a handle on the other side of the business, too.
Jennifer Slattery, 37, Jennifer Slattery Textiles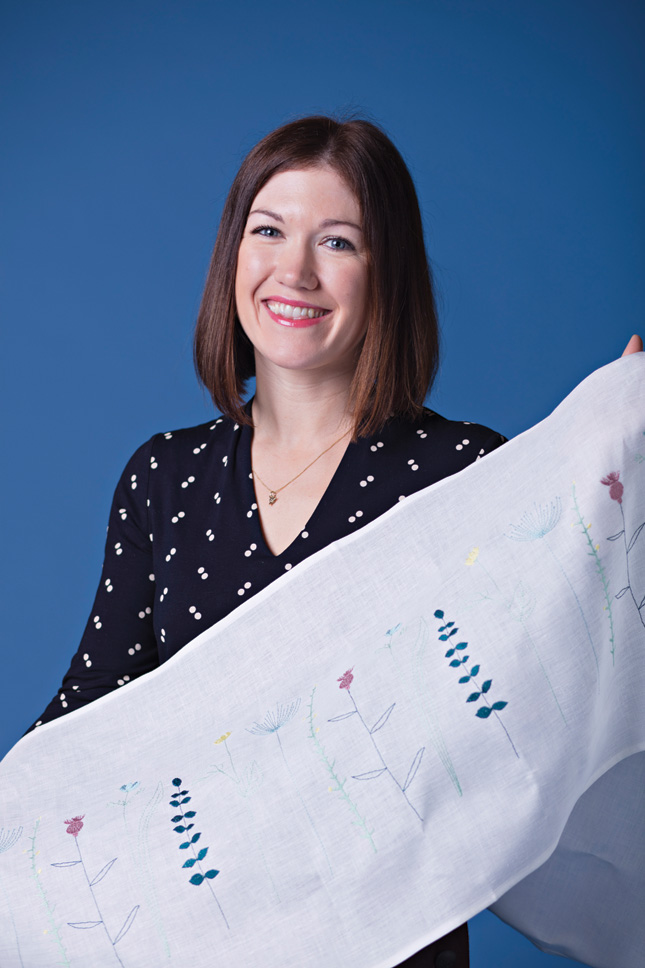 Jennifer Slattery was a graphic designer before she went back to NCAD to study textiles. Specialising in embroidery, she set up her textile company in 2011.
Embroidered Irish linen has become her mainstay, from linens to trays to cushions. Her work is a celebration of the 'everyday heirloom'. "I live in my grandmother's house and I'm inspired by the little things there, and how things age," she says.
Two children have come along, and this year she's focusing on the business. Machinery will double her output, she plans to take on another embroiderer and a new collection of Irish linen is on the cards, plus an upcoming collection with McNutt. "I'm going to work on a woven design, which will be new," she says.
The biggest thing is her shop. "My studio shop is opening four days a week, and it's amazing to have my name above the door," she says.
Alanna Plekkenpol, 24, By Alanna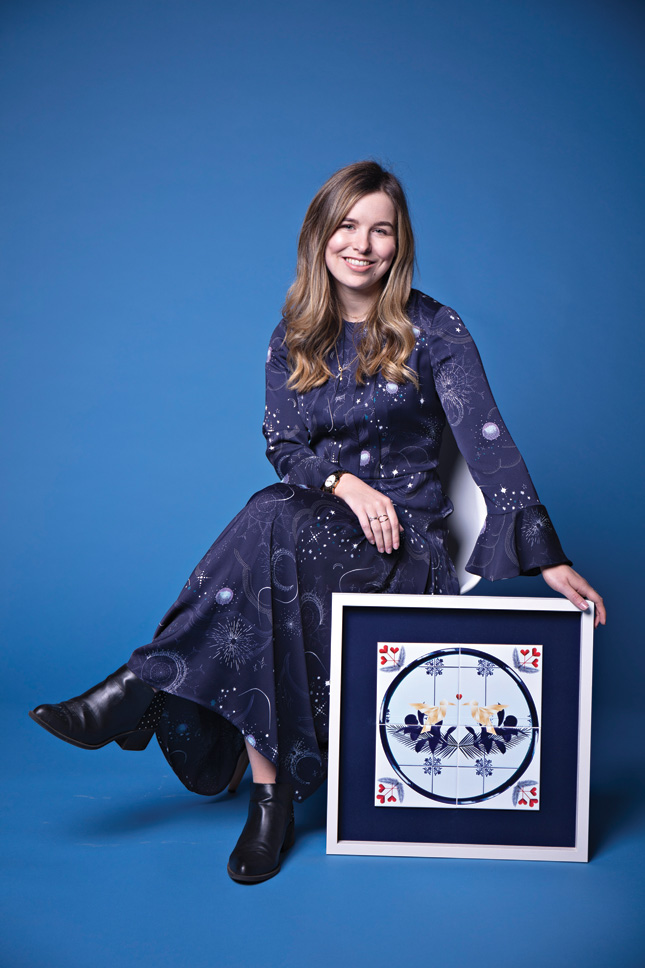 For Alanna Plekkenpol's graduate fashion show at NCAD, she designed a floor for her mannequins, after asking the ceramics department to help transfer her illustrations onto tiles.
A retailer spotted them at the show and asked to exhibit them, and following that, Alanna has moved into creating her illustrated tiles full-time. She found a small Portuguese ceramics company to produce her pieces, and she uses a standard six by six inch tile, meaning they can work whether you want to display them as art, or slot them in with your kitchen or bathroom tiles.
Alanna is half Dutch and has a whole archive of traditional blue delft patterns her granny collected and passed on. "I started developing from those old antique patterns," she says. "A lot of the corners you'll see in my work are inspired by antique tiles and there's a symbolism behind each one as well."
She doesn't see herself returning to fashion any time soon. "This was always something small I did on the side, because I enjoyed doing it. Sometimes with clothing I found it could take you away as you have to think more functionally, whereas now I can design something fun, that makes people smile, and I love that," she says.
Aileen Balfe, 37, Ail+El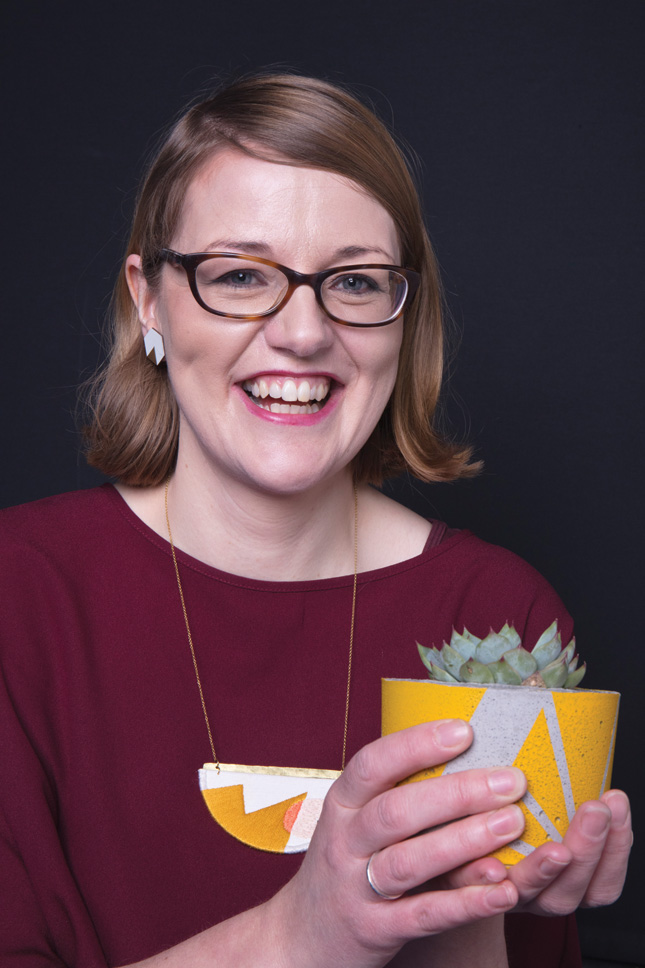 Beginning four years ago as  collaboration between friends Aileen Balfe and Eleanor McCaughey, Ail+El makes concrete homewares inspired by urban living and street art. Eleanor's since left to pursue other creative endeavors so Ail+El is actually just Ail now.
Known for decorated planters and coasters, the products are instantly recognisable. "Colour and pattern are really important. They're like pieces of art for your home," says Balfe.
Aileen finds inspiration wandering around Dublin; from contemporary architecture, graffiti and street art, and her workshop is a no stencil zone. "The patterns are all created while listening to music. I have to be in the right frame of mind to create a pattern," she says.
Fingers crossed, we should see some new colourways in 2018. "I find it really hard to drop colours, so we'll see," she laughs.
Julie McLoughlin, 35, Jando Design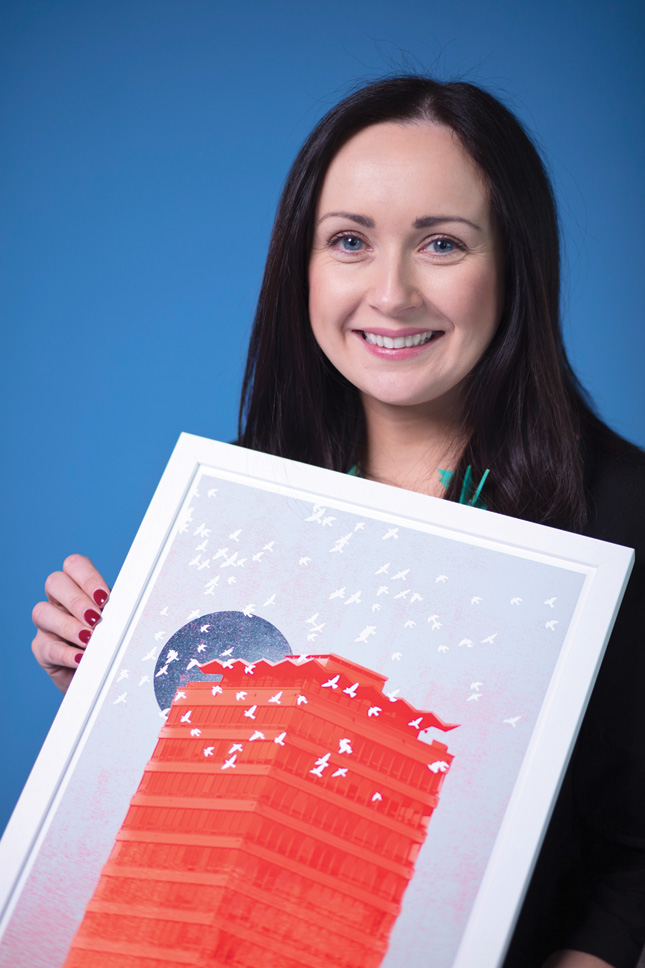 Julie McLoughlin and her husband Owen set up Jando Design without a hint of a design background between them. They designed their wedding stationery themselves in 2013, and afterwards, Julie discovered Owen had also been trying out some screenprinting, when she found first drafts of what have since become their well-known yellow Poolbeg Chimneys and blue Ha'penny Bridge prints. She took them to a shop in Temple Bar to offer them for sale. "We only had two so we had to get a series together, and we haven't looked back since," she laughs.
The brand has become recognised for bright, bold, poppy colours and modern takes on Irish landmarks. Owen does all the illustrating, while Julie looks after the screenprinting. "We'll chat about colours and see what works, and we'll just trick around with that. I love that we're both able to collaborate and talk about it. We have the odd row too – we are husband and wife after all," she says.
In 2017, Owen left his job in finance to work on Jando full time and the pair expanded to working on some UK landmarks, and won a number of awards. They're planning to build on that success in 2018, but don't see much changing. "We're just itching to get going, just doing what we do: Owen and I, in Dublin, together, in our studio, keeping true to ourselves, working locally and continuing to do that."
Gillian Henderson, 30, Jill & Gill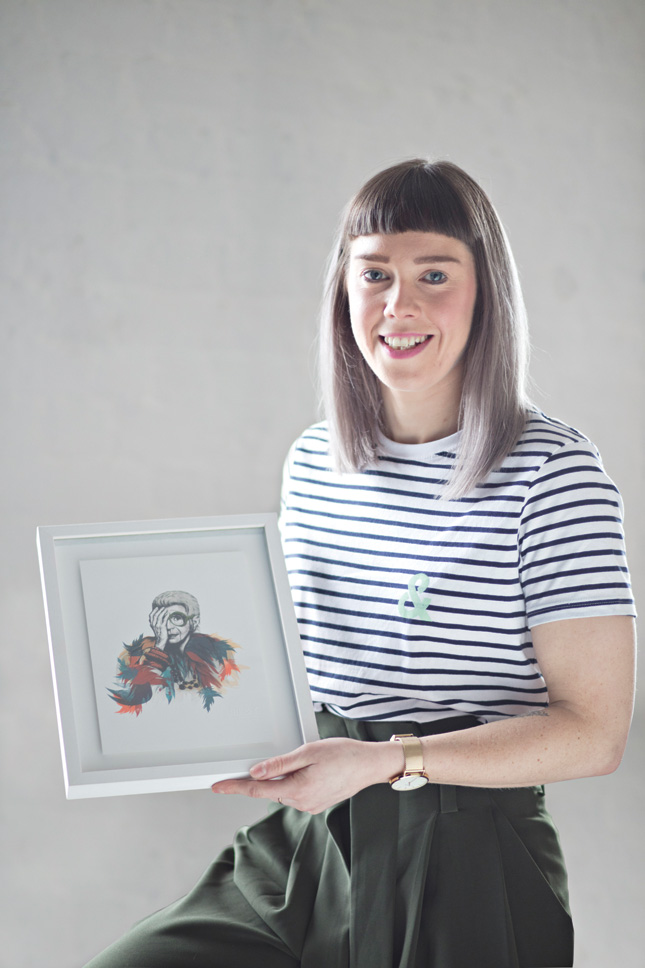 It was while she was working as a screenprinter at Hang Tough Framing that Gillian Henderson was introduced to illustrator Jill Deering. "We got on like a house on fire and we couldn't stop talking. We saw the potential in skillsets that Jill had that I would love to have and vice versa," says Henderson.
That was 2015 and by April 2016, "suddenly, we were sitting in the bank, opening an account, and looking at studio space," she says of Jill & Gill. A year later, they hosted their first sell-out solo show at the Fumbally Exchange with a range of playful Iris Apfel prints. The first of their 'Boss ladies', the series has recently continued with the launch of their Panti t-shirt.
The pair surprised themselves when they realised how colour forms a large part of their aesthetic, as Gillian had previously produced quite graphic work while Jill worked in black and white. Now, as they work on collaborations with brands, they always return to the same two principles before starting a new project. "Does this fit both our skillsets and is this challenging? Whatever happens in the future, we know that's what we need to come back to," she says.
Amanda Vencatasamy, 36, Hey Bulldog Design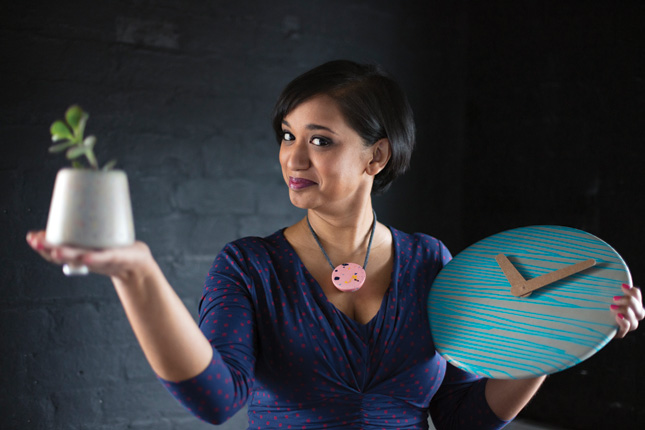 Originally working with her husband Joe hiring out vintage china for weddings and events, Amanda found the business to be mostly logistics, so she changed up the model. Hey Bulldog Design was born, as the pair had always worked on craft projects. "Play is a really important part of our process," says Amanda. For Joe, whose day job is as an energy engineer, it was important that the materials they used should be sustainable, such as concrete and reclaimed wood and metal. This remains a core tenet. "It was really about using future-friendly materials and seeing how far we could push them," says Amanda.
She describes their collection of colourful clocks, planters and jewellery as quirky. "Our stuff is a little bit different. Unexpected, I guess." At the Dublin Christmas Flea last December, Hey Bulldog launched a small run of a new collection, and after its success, Amanda is now looking to launch an online shop and take the pieces on a bigger run, to a wider audience.
Rebecca Killen, 31, Rebecca Killen Ceramics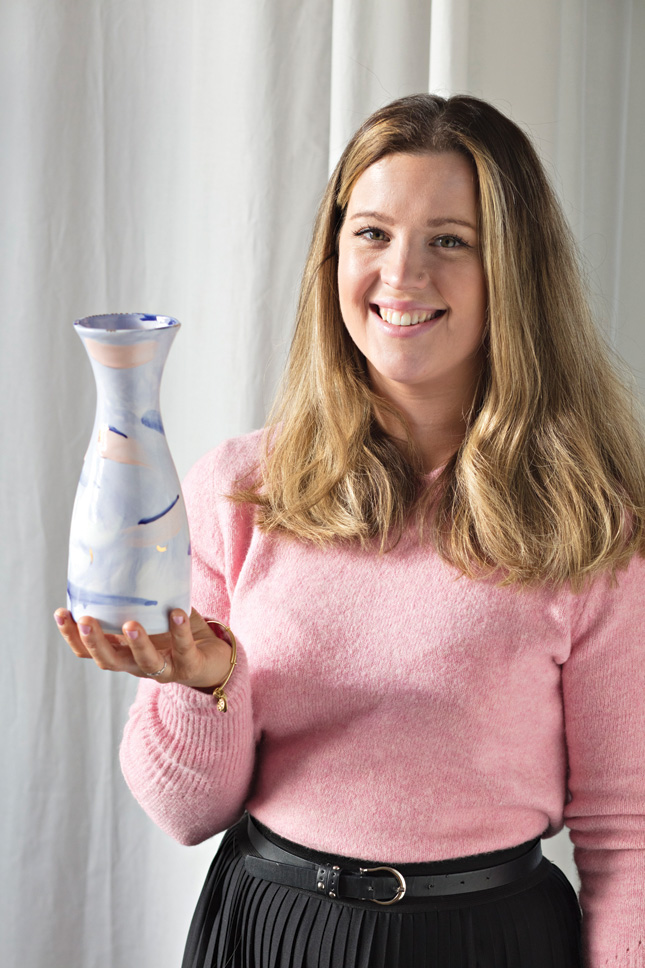 Best known for her cobalt collection, a series of blue and white bone china bottles, vessels and dishes, Rebecca Killen creates her pieces through slip casting and then hand-painting. Her pieces are classic in style (in large part down to her use of bone china) but are given a modern edge through her hand-painted designs and gold lustre.
Last year she won in the UK and Ireland Etsy Awards, granting her a space at the London Design Fair, and since she began, her business mentor has always advised her to go big, so she brought her work to London and took the response as a strong indication she was onto something good.
Killen says she's inspired by traditional, iconic patterns in ceramics, as well as the Irish coastal landscape. "My newest collection is called the Bay Collection which is inspired by the pink sunsets throughout the winter and the summery blues, and the streaks of gold that you get in the evenings. I've tried to combine all those really nice soft colours into a collection of work," she says.
Gosia Sobkowicz, 41, Candella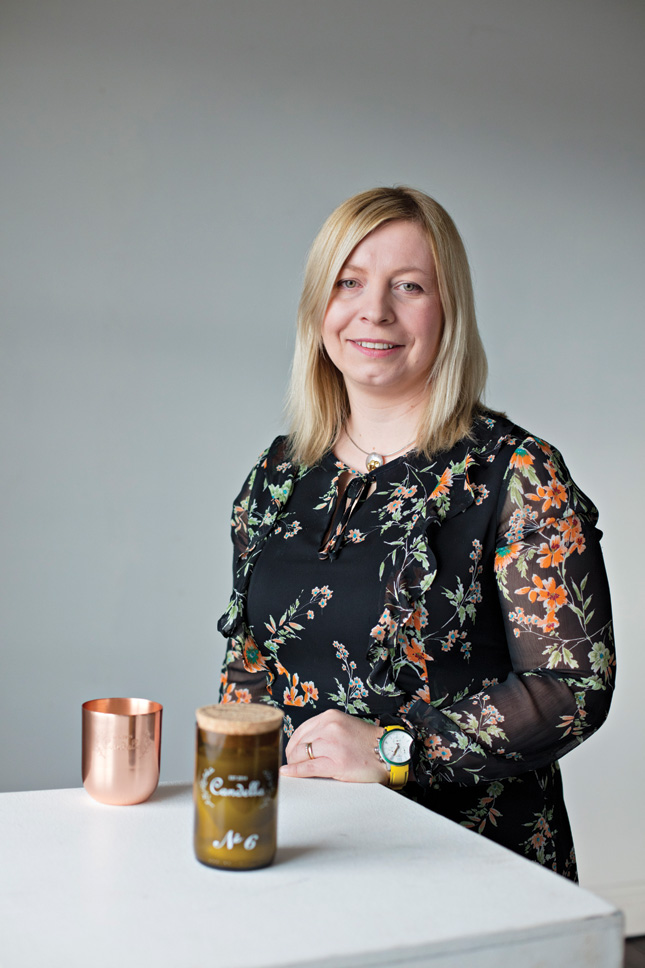 "It means light in Latin," beams Candella's founder Gosia Sobkowicz. Gosia's originally from Poland, and founded Candella in 2014. In a lot of ways, it was fated.
"My background is in family therapy and children's psychology, but I've always loved fragrance and I've done the perfumery course at the London College of Fashion," she says. When her third child was allergic to scented candles, she looked for alternatives. "Soya wax was a perfect match. Then I started developing my own fragrances and I had the idea to use recycled wine bottles to give new life to something you'd throw out."
"There are lots of candles out there, so you have to be different. Everything I do is with passion and quality – that's very important to me," Gosia says of her ethos and process.
As a woman in business, she says there are unique benefits. "We look at the world from a different perspective to men," she says. "But it can be tough," she cautions. "I'm a mum of three and you must find time for your business and family – and you need to remember about your friends too."
Siobhán Sacker, 33, Gilded Hound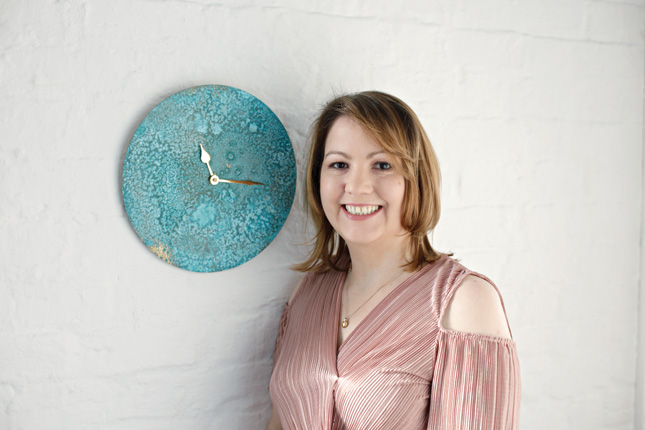 Siobhan Sacker had seen solid brass and copper homewares in India, but could only find similar products in Ireland at rummage sales. "My house is full of those kinds of things but if I wanted a specific item, it was impossible – so that's where I started from," she says.
Gilded Hound was born a year and half ago, launching with hand-engraved solid copper clocks, and she's since expanded into trays, mirrors and bowls in both copper and brass. Siobhan's aesthetic is modern-meets-ancient, which brings a heritage feel to her products, while her statement forms and hand finishing bring a modern edge to her homewares.
She runs the business single-handedly, but finds suppliers often don't believe her. "There's a look of shock when they realise I make it. It's not just a woman being in business, but a woman making serious craft products that have a lot of design processes. I don't think they'd have the same reaction to a man," she says.
In 2018, she has big plans to break into the UK market after selling her first pieces in London last year.
Bernadette McCullagh, 48, Dúinn Designs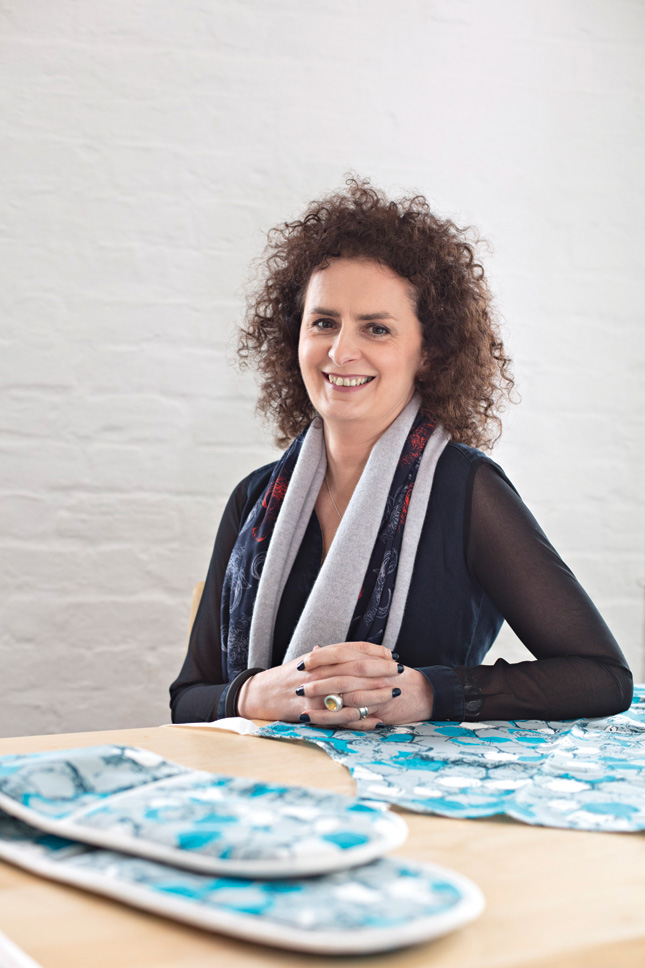 "I studied textiles at Leeds University, but I finished college during a recession so it was a time I couldn't pursue it," says Bernadette McCullagh, 48, Dúinn Design's founder. Instead, she pursued a career in branding, marketing and sales – all of which have proven to be great things to have in her back pocket now.
Dúinn, which means 'for us', launched officially at Showcase in 2015. "I worked with the Louth Enterprise Board which was a brilliant introduction into getting me into the space for retailers," she says. "I started with heritage patterns based on Ireland's three Unesco sites – the Giant's Causeway, Newgrange and the Skelligs," she says. Based in Carlingford, Co. Louth, the legend of the brown bull of Cooley loomed large. "My kids were coming home from school talking about it, and a few drawings of that that led my first pattern, Queen Maeve's bull," she recalls.
Bernadette does all the design, marketing and sales – "I outsource what I need to" – and business is booming. Getting her products onto Aer Lingus has been particularly beneficial for brand recognition.
So what's next? "I think there's a massive opportunity to expand into the States," she says, adding, "I'd like to target Chicago, New York or Boston, and see where I can go."
Karolina Grudniewska, 37, KaroArt Ceramics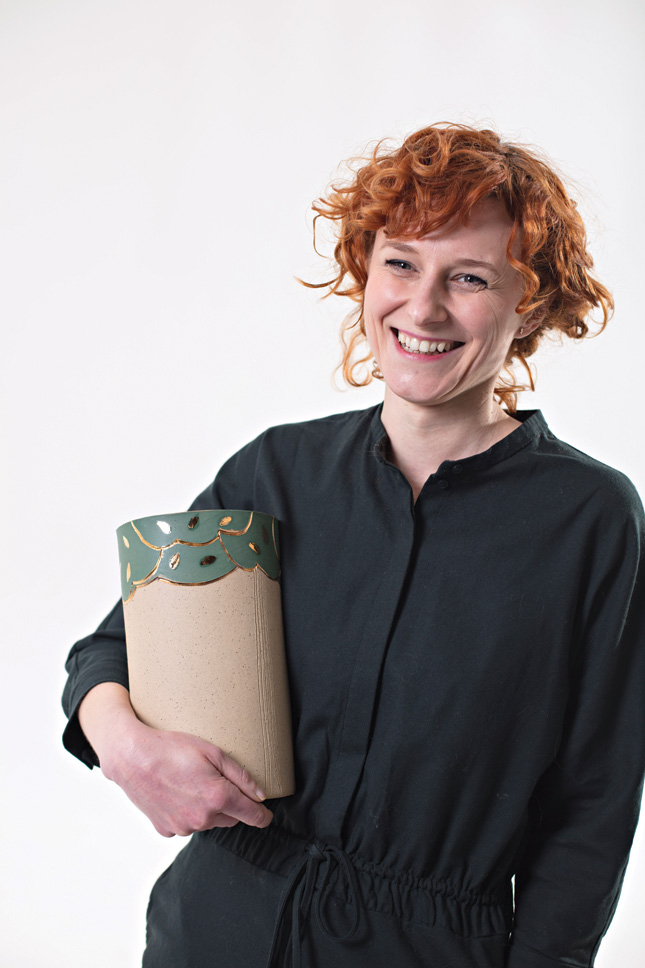 After she left her Art Academy courses in Poland, it took Karolina over ten years to get back into a creative loop, and longer again until she discovered clay. "Finding the right medium to express myself and a strong need to be creative in my daily life made me decide to start my own practice," she says.
Her ceramics have a whimsical, naïve quality, and a lot of her pieces are inspired by fables, myths and magical realism. "My work is often slightly imperfect, wonky, the illustrations ragged and hasty, leaving no doubt that each piece is made by hand with some of the emotions and characteristics of the maker transferred onto clay in the process," she explains.
2018 will be a big year for KaroArt, with a studio space opening to the public in March, housing a workshop, gallery space, and a classroom. "I feel there is a niche in Dublin for inspiring, creative spaces that promote handmade craftmanship and make it more accessible," she says.
Izzy Rose Grange, 23, Izzy Rose Grange Art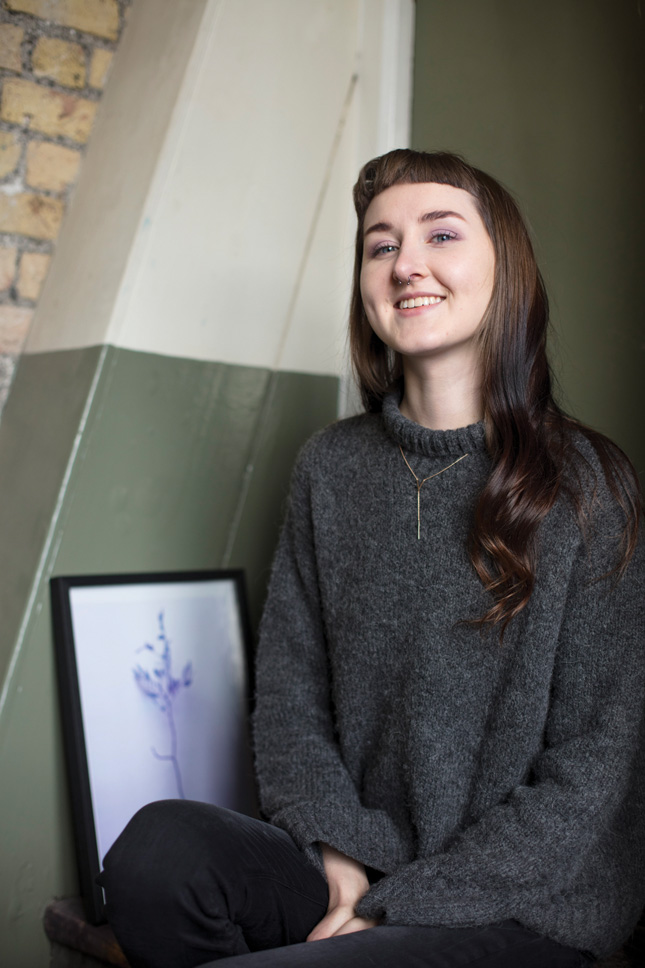 Izzy Rose Grange grew up hearing artists never make any money, so even when she graduated from printmaking in NCAD, she feared she wouldn't be able to do what she loved.
"I started by doing an internship at Damn Fine Print, and now I'm a studio manager. I kept making my own work at the same time and for a while I was worried that what I liked wouldn't sell. That's the fear you always have, that you're not going to be able to sustain yourself," she says.
However, her nature-inspired prints are going from strength to strength. She uses things she collects as the basis for her art, which explores life, death and time. "I feel like my main focus is nature and the passing of time. With plants and thesea, there's just something in them around time," she says. "I know there's different ways to approach making a print, but I'm a bit more organic, which kind of suits because I'm working with organic materials."
"Making loads more prints," is her current goal, ahead of a joint exhibition with fellow print maker, Liam Gough.
Tara Hammond, 43, Slated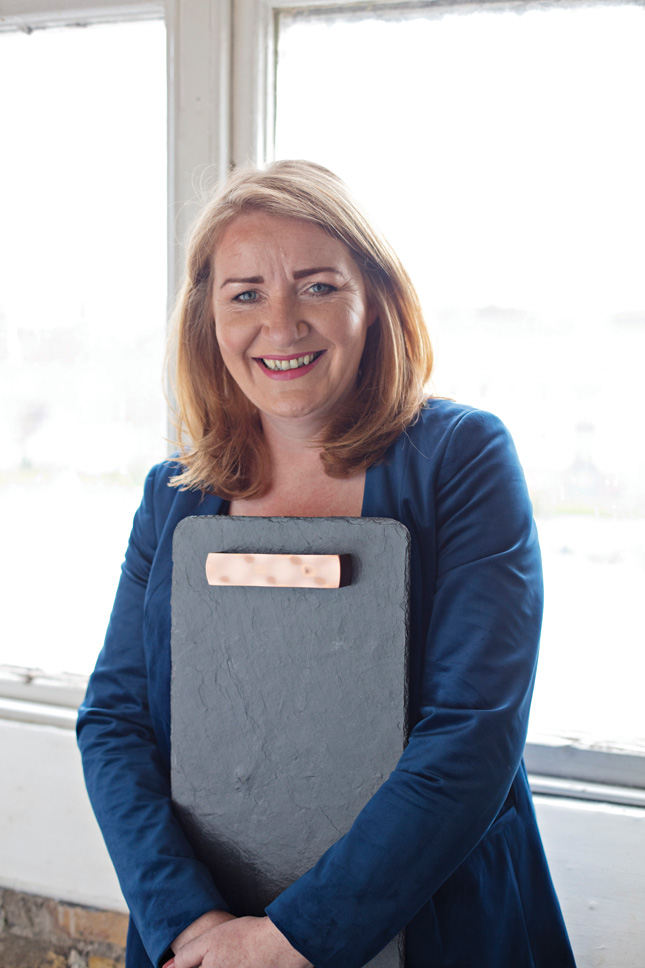 With a husband who is a slater by trade, Tara Hammond's company Slated, seems like a no-brainer, but it took a culinary cousin asking them to create pieces for his kitchen for them to consider new ways to use the material.
Ed, Tara's husband, cuts everything and she washes and seals their slate homewares. "We've taken something that's quite minimal and then we add elements that really complement it. That's why we use a lot of copper, because copper and slate have always been used together," she explains.
Tara plans to further grow their exports this year – 60% of their business is for the export market at the moment – though she can't imagine herself being any less hands-on. "A lot of people think I don't make the product, as a woman," she laughs.
But, as Tara points out, it's full-on. "We're holding a craft alive. We're not mass-producing and we're not machining.
Nathalie Vos, 38, Bunny and Clyde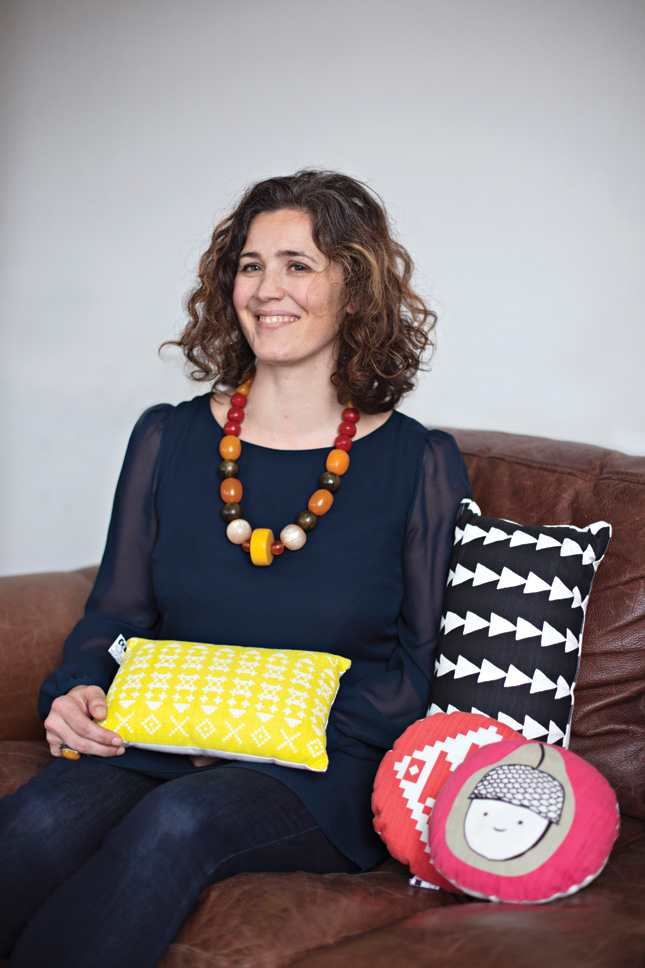 When Natalie Vos was expecting her first child, so was her friend Mariette, and along with sister Lisa, they all were conjuring up their dream nurseries. None of them could find anything close to what they wanted. "Everything was white, very generic, badly made and just didn't have a design aesthetic at all. Coming from a design background, that's really what I was looking for," says Vos.
The trio wanted pieces that would work for kids, but would also blend into the home once the child outgrew them, and they wanted to revive the tradition of parents passing on furniture for their grandchildren's nurseries. "We wanted to have pieces that could capture those memories of being a child and growing up, and then having those pieces to pass down to your own children; just going back to that whole idea of heirloom and legacy which we've disposed of in the last 30 years," she says.
From that wishlist, Bunny and Clyde was born. The trio makes all their furniture from solid wood and in their launch year were asked to collaborate with Mamas and Papas. This will be the company's third year in operation and their designs have proved so popular at trade shows, they're planning to launch adult furniture ("for big kids") later this year, as well as a range of trend-led accessories.
Jo Anne Butler, 35, Superfolk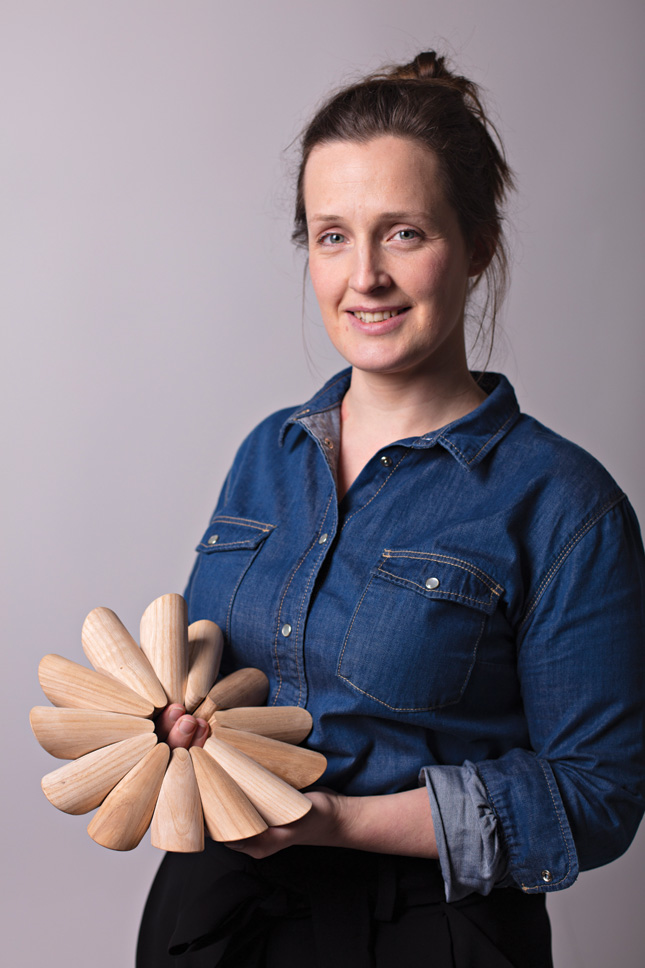 Jo Anne Butler was studying architecture when her husband Gearoid Muldowney started Superfolk, and once she graduated, they moved to the west of Ireland where she joined the business to put her background to use. Their design studio now works to tell the story of the west, through their products.
Uncovering the wild beauty of the environment is first on the Superfolk agenda, and it's obvious from their range of paper products, printed fabrics, trivets and candleholders. "We describe it as homewares for people who love the outdoors and in a lot of our products there's a connection to nature, the natural world, and the environment. We try to keep things simple and materials-led. They're products that begin with our own exploration of the materials and ways of making, as a way of design," she says.
One of the biggest challenges for Jo Anne and their business so far has been having a baby. "The impact that has on your available working hours – there's a shift, but I think ultimately our business is stronger for it because we're more focused and determined and make very clear, concise and exact use of our time. It was difficult but it was worth it. And she's lovely," she says.