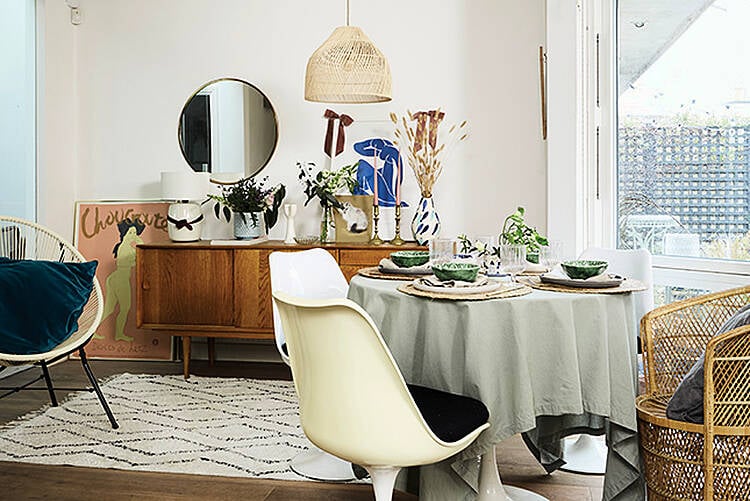 Just because you don't own it doesn't mean you can't put your interior decorating stamp on it, as three Irish renters ably demonstrate
Fashion journalist Sarah Macken rents in South County Dublin
Good foundations are the lynchpin of great fashion as Irish Tatler editor Sarah Macken knows. Turns out, you can map that onto interiors just as easily, as she's discovered in the home she shares with husband Caleb and cat Daisy. "What drew me to it instantly is that it slightly resembles a bungalow you'd see in California; the fact that it's one-story, L-shaped, high ceilings," she explains. "Even the outdoor courtyard has a slight Hollywood Hills feel - at least in my mind, anyway!"
Those soaring ceilings and large open-plan living area were a gift, as this large main room is a rarity in most Irish homes, let alone in a rental. "I love this house, but like every space that's not 100% your own, there are some downsides," Sarah says, pointing to the black kitchen units and expanses of matching built-in storage. "The opposite of my personal taste," she exclaims. "I like things to be airy and I crave a very neutral palette. I really struggled with the dark bookshelves and cabinets."
Like most renters, Sarah, who has a beautifully specific Scandi-boho interiors aesthetic, also had a hard time with her landlord's choice of furniture. "Trying to live with furniture that is not your own, that you don't like is a real pain in the arse," she laughs. 
To compensate, she and Caleb, who have lived in their cosy home for nearly five years, have made slow, judicious swaps and décor upgrades. "At the beginning, I really tried to rally against the things I didn't like," Sarah says. She tried filling dark areas with bright pieces, "but, after a while, I learned that it didn't work and that I really needed to go with what the house needed."
Accepting the house as it was the key. "I learned to play with the darker spaces by working with the colour palette rather than against it. I filled the black spaces with greys and earthen tones, adding the odd accent colour here and there."
It's clear that Sarah's day job has had a huge influence on her home. "If I'm into something; a pattern, a colour palette or a trend, it inevitably infiltrates every part of my surroundings, whether that's my wardrobe or my living space," she agrees. "My current obsession with sage green is fuelled by fashion brands like Ganni, who have created amazing Fair Isle knitwear in that shade, to a gorgeous velvet armchair from Habitat which would make a lush addition to any sitting room."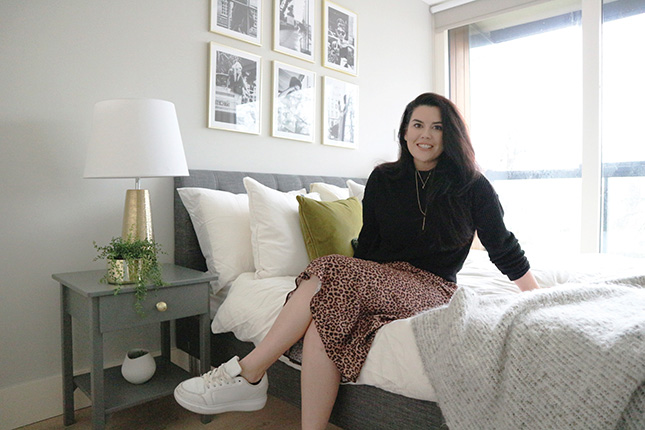 Interior designer Aoife Tobin rents an apartment in Cork city
Relocating back to Ireland from Spain meant that interior designer Aoife Tobin had to start from scratch when it came to decorating her rented Cork apartment. She's got all the tips on how to turn a bland bedroom into a beautiful one you'll enjoy spending time in
It can be hard for tenants to make a space feel like their own. You can't do anything permanent or structural, but it can often be the small changes that make a big impact. This is something Aoife Tobin and her partner Barry soon learned when they moved into their newly renovated one-bedroom apartment in Blackrock, Cork. "It was furnished but it wasn't homely at all," Aoife explains. "It was mainly the décor – everything we did add, we had to buy. We were starting from scratch."
As an interior designer at Style So Simple, she works with clients, across Europe helping transform their homes into their dream spaces. Aoife and Barry themselves are no strangers to the property rental market having previously rented homes in Dublin and Madrid. Taking all the tips that she's learned styling rented homes, Aoife has cleverly incorporated some of her hacks into making their bedroom space feel warm and welcoming.
With limited space, it was key to manage the lighting. A major bonus in the bedroom is the floor-to-ceiling windows. Aoife chose light window treatments which work well at opening up the room and allow plenty of natural light in – so the small room appears bigger.
To further enhance the light in the room, Aoife added a large freestanding mirror which helps to reflect light. Another tip? "I always keep my bedlinen a simple white and leave the colour impact to the accent cushions," she explains.
Unable to add wall shelving, Aoife chose to create use prints above the headboard to bring some personality to the space. "The gallery adds character to the room," she enthuses. "I love everything old Hollywood and music from the '60s and '70s so it makes me smile when I look at it." The artwork and frames are from Desenio and to hang the prints Aoife used renter-friendly Command Strips to ensure a damage-free application (and removal!).
Clutter in a small space can make it feel even more cramped. Aoife recommends taking advantage of the hidden storage opportunities. "The Ikea Lycksele storage boxes slide neatly under most beds, are great for extra storage and are essential in a small apartment," she advises.
Instagrammer and nurse Lisa Joyce (@seoigehome) and partner Paul live in their three-bed home in south county Dublin with daughter Sadie (3).
"We rent the house from Paul's sister and when we moved in, it had been rented to a previous tenant for a number of years and required a new lease of life. We were fortunate that she allowed us to freshen it up with our own colours," Lisa smiles.
"I'd my own house when we moved in, so we brought some furniture with us, and we removed mirrors and pictures and replaced them with our own. Some of the light fittings were removed, put in the attic and replaced with our own taste," she reveals. As Lisa knows, some lights can be easily swapped out and back in at the end of a tenancy – check with an electrician to see if what you want can be achieved without costing a fortune.
Unsure of how long they'll be in the house, Lisa's learned compromise. "You are restricted in spending money on furniture as it may not suit or fit future homes," she points out. "So as much as I'd love a new sofa, I've put up with our old one for that reason and just style it with throws and cushions," she reasons.
Another piece of advice Lisa has to pass on is, "buying cheap or reasonable pieces online and upcycling them have worked well for us. It's allowed us to put our own personality into rooms on a budget," she says.
Reiterating her previous point about not wanting to spend a lot, savvy picks are a renter's friend. "H&M Home is great for reasonably priced cushion covers and throws. Penneys and Home Focus at Hickeys are also great for accessories and textiles."
"When we first moved in, we painted the sitting room a neutral colour, but between the neutral wall and the cream fireplace, the room felt cold and bland. I came across the adhesive tile decals on Amazon and took a risk by ordering them – I was surprised at how much it changed the room," she says. Next came a paint re-re-refresh. 
"I picked out an olive green from the tiles and painted the mantel wall Promenade from Crown Paint's Period collection. The whole room has been transformed and it feels so homely and cosy now," she says. If you get permission from your landlord to paint your walls, you can easily re-paint over darker colours before you move out – just make sure to use a good primer first.