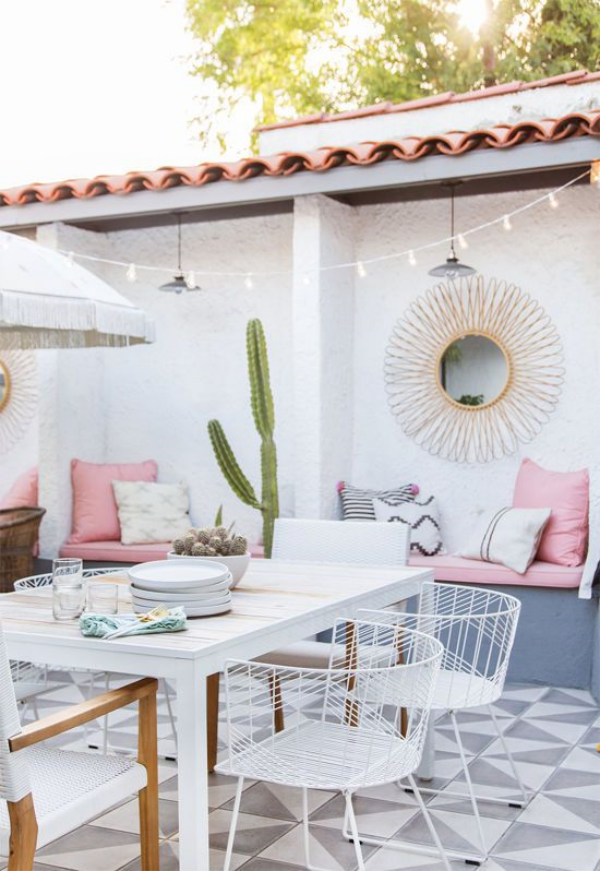 Often when we think of revamping the home, it's easy to forget your outdoor space. Whether it's a sprawling lawn space or a tiny patio, this is the time of year to make use of it! Create an extra room with fabulous furnishings and easy design tweaks, to help you make the most of those long, summer days.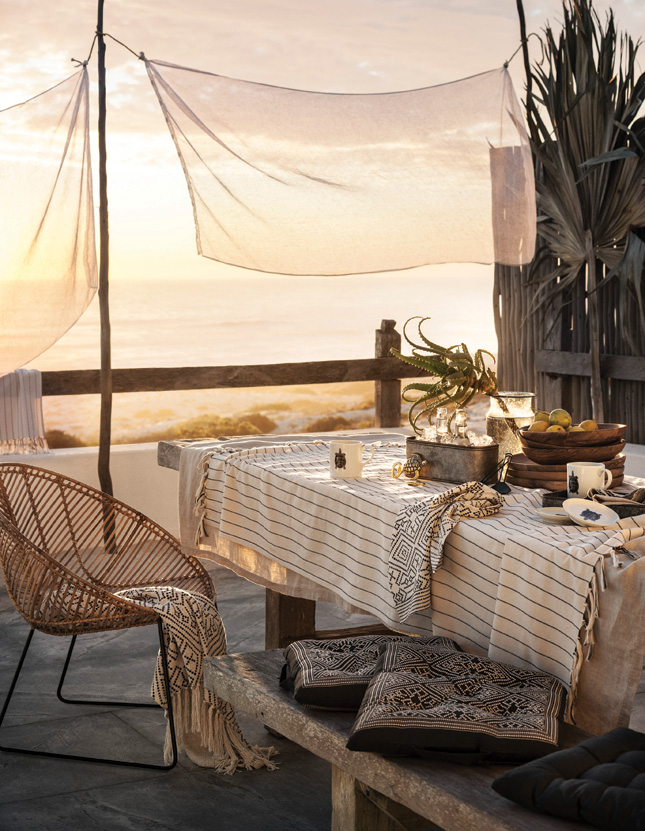 1. Invest in some wool blankets and throws, BBQs can extend well into the late night, so you'll want to stay cosy, while solar-powered lights will keep your place illuminated.
2. Create a party atmosphere with some bold, vibrant garden accessories.
3. Comfort is key. Blankets, cushions and throws are great for creating a comfortable space, but there's nothing better than curling up in a deep chair or couch while soaking up the sun.
4. While we may not all be blessed with green fingers, cacti, succulents or faux plants are great to add some greenery to your garden, especially if you live in a city where your outdoor space may be limited.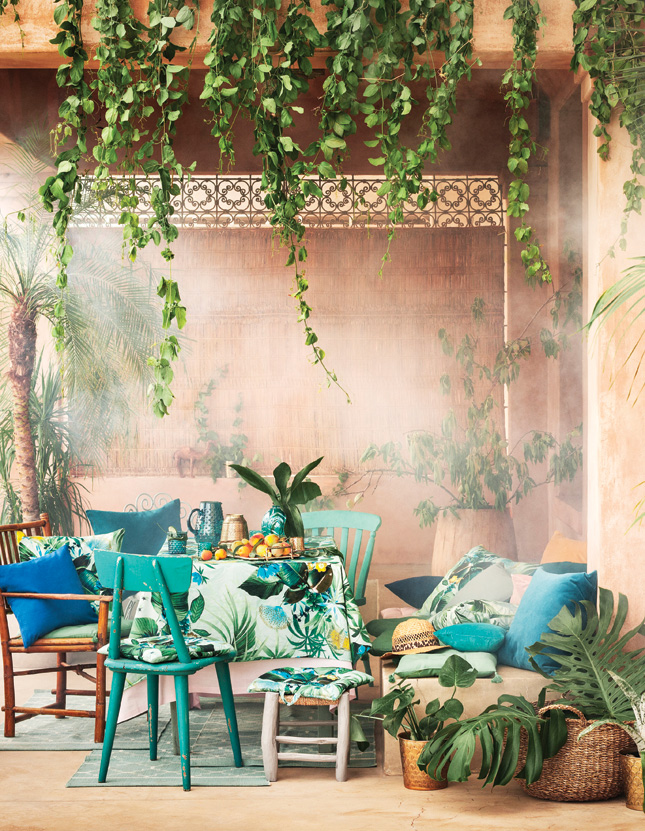 5. Candles are great for keeping those pesky midget flies at bay, especially anything with a citrus scent. These IKEA candle holders are both extremely funky as well as super practical.
6. Add a source of heat. Those long summer nights can get a little bit chilly, while gas heaters can be quite pricey, a handy alternative is a fire pit. They not only give off great heat, but are much cheaper to fuel.
7. Include a variety of seating options. From stools, to loungers, benches, even beanbags; perfect for big summer BBQs, or more intimate outdoor gatherings.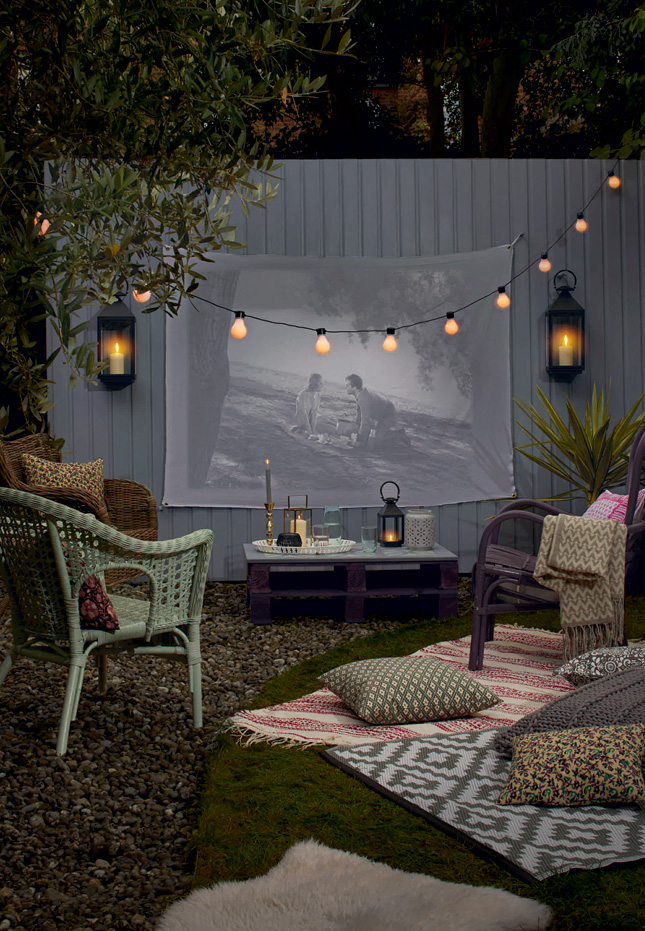 8. We love the idea of getting cosy, outdoors, by creating your very own makeshift cinema in the back garden. The perfect place to entertain with friends and family, just pin a plain white sheet against your fence, get the projector prepped and you're away.
9. A drinks cart is great for all of your summer soirées. They can be easily stored away when you're not using them, and are perfect for boozy get togethers.
10. Mix and match your tableware. Wooden serving boards and large salad bowls are perfect for outdoor dining with friends.
11. Double up on your furnishings. Outdoor space can often be limited, especially in you live in a city. Make your outdoor furniture work twice as hard, by buying things that double up as storage, such as storage benches or tables with built-in shelves underneath.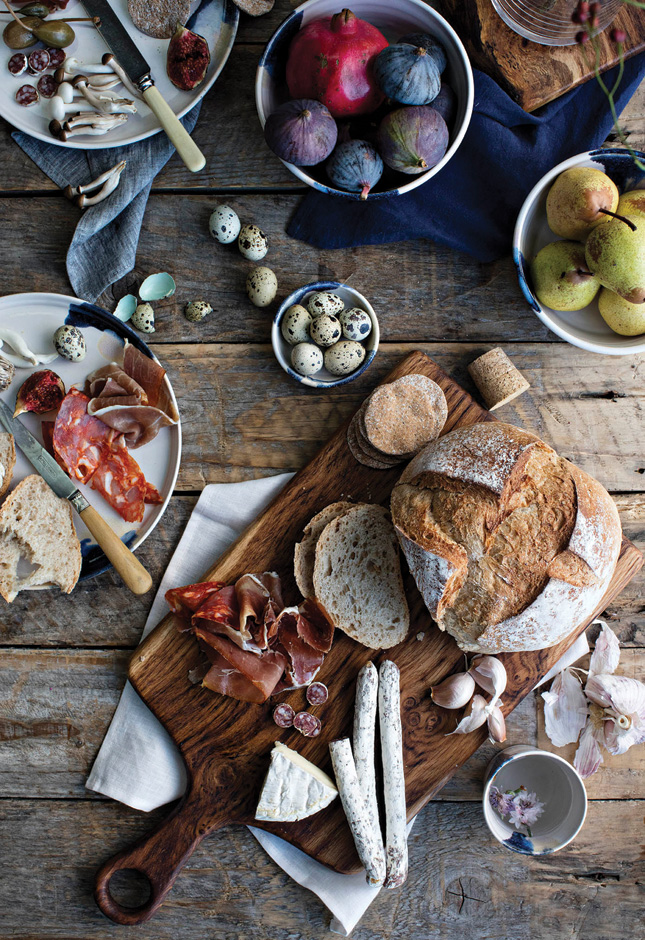 12. Using string lights is not only a great source light, but are great to save some much needed space. Try draping them from an overhead tree, or along your garden fence.
13. Create a focal point. Every room needs a focal point, and your outdoor space is no different. A fire place, dining area or even a large potted plant can be a great focal point for a garden.
14. If you're looking to add some colour, a nice, bright outdoor mat could be a great addition to any patio or decking area.
15. Make the most of your garden by investing in some potted herbs, or plant your own. Growing your own mint, rosemary or basil will give you a great sense of achievement and will inject some flavour into your BBQs.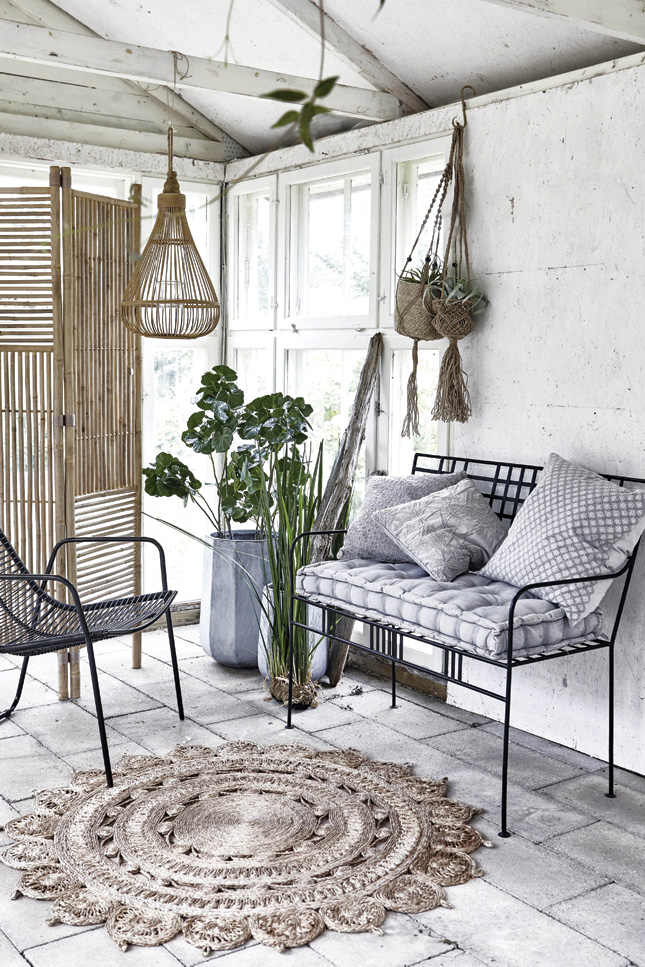 16. Double up small plant pots into a 'help yourself' station, where your guests can help themselves to plastic cutlery, condiments or napkins for your BBQs.
17. Solar powered lanterns are not only practical, but add a quintessentially bohemian feel to any space.
18. If you're short on space, create a cosy nook, with plenty of cushions, throws and blankets in the corner of your back yard.
19. Decorate a plain wall or fence with an espaliered tree. This high-end look is a lot easier to create than it looks, and will add a visual, textured interest to a plain, blank surface.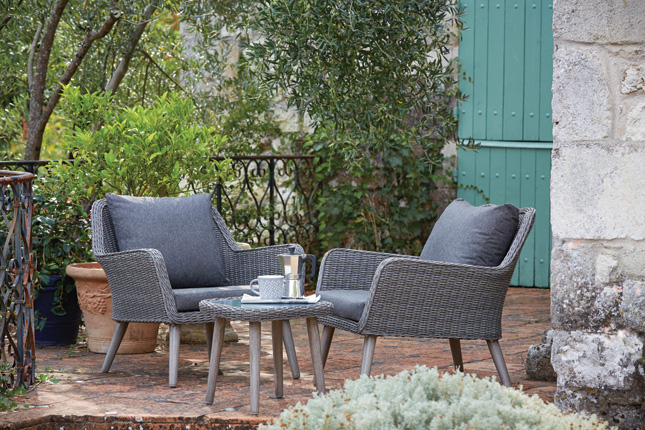 20. DIY seating area. Garden furniture can be pricey, but you may have a lot more to work with in your garden than you think. Something as simple as a low stack of concrete blocks can easily be turned into a comfy seating area with plenty of cushions and throws.
21. Old wooden wine boxes make a great mini-garden. Simply fill the box with soil and sow your seeds – simple! By attaching a small hook to the back of the box, you can even hang them up on walls or fences.
22. Hammocks and hanging seats are a very attractive way to spend hours lounging around, but they're also fantastic space savers.
23. Fill your space with plenty of candles to create a warm, inviting atmosphere for parties that run late into the night.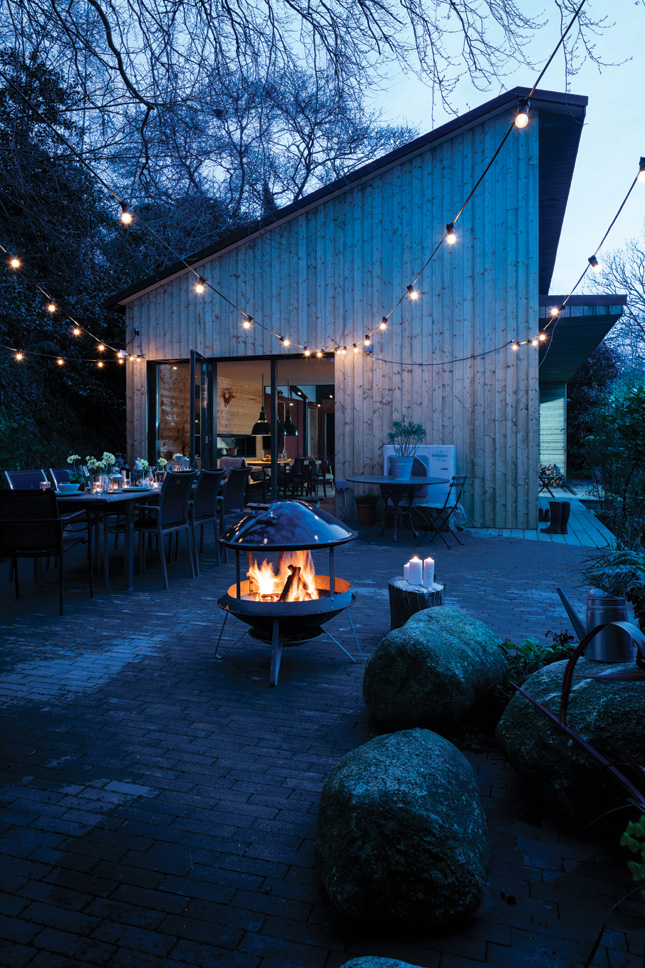 24. Consider the interior décor of your home. Your outdoor space is an extension of your home, so why treat it any differently? While it's easy to get creative with your garden, consider your home as a whole before you go splashing out on 'leopard-print everything' for your back garden.
25. Planning is key. You wouldn't start blindly buying home interiors without a colour scheme or theme in mind, and it shouldn't be any different for your outdoor space. Do some research on the kind of vibe you'd like to create and keep it in mind, while you're shopping for your garden accessories.
26. Consider the sun. If you've got a south-facing garden then you'll be pretty much guaranteed sun all day long, however if you don't consider what direction your garden is facing, and plan your furniture in the direction that gets the most sun throughout the day.
27. Create a view. If you have a long garden, make sure you accentuate it, rather than block it. If your garden is wide but short, create a view with interesting plants or shrubbery.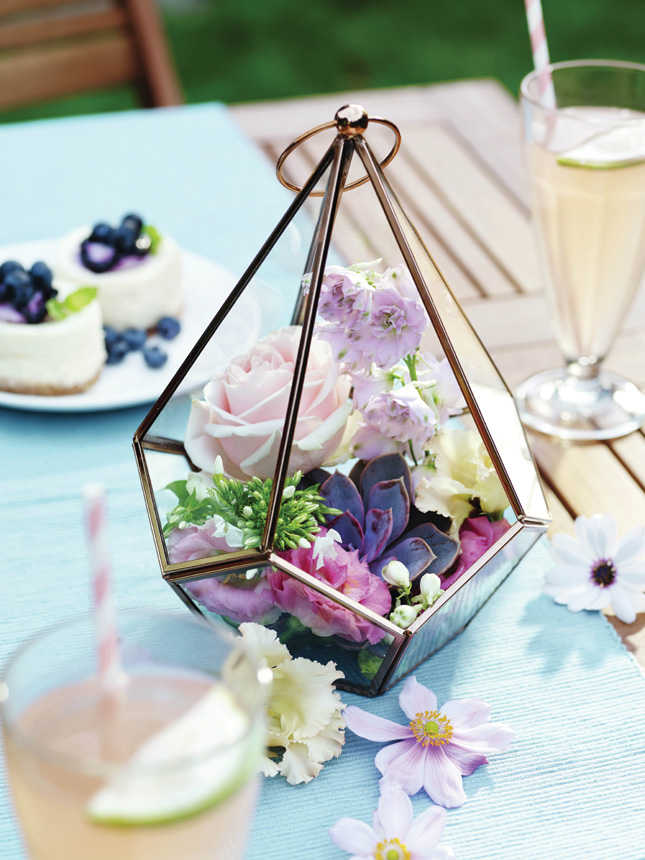 28. Consider the climate. It's probably not the best idea to go planting sunflower seeds when our weather conditions really don't suit them. However there are plenty of flora which will thrive in the Irish climate. Do some research on what plants to grow in Ireland, or ask for help at your local garden centre if you're still unsure.
29. We may only get a couple of holiday days a year, so why not create a holiday atmosphere in your back garden? Adding some tropical-inspired accessories to your outdoor space will create a holiday vibe all summer long.
30. Achieve a sense of privacy in an urban setting with a tall wooden fence. This can be easily decorated by hanging potted plants from it, growing an espaliered tree, or by shielding it with a BBQing area.
31. Think about investing in a canapé. Let's face it, the weather in Ireland is pretty unpredictable, and while the summer can be showery, don't let it ruin your al fresco dining experience, by putting up a canapé over your dining table.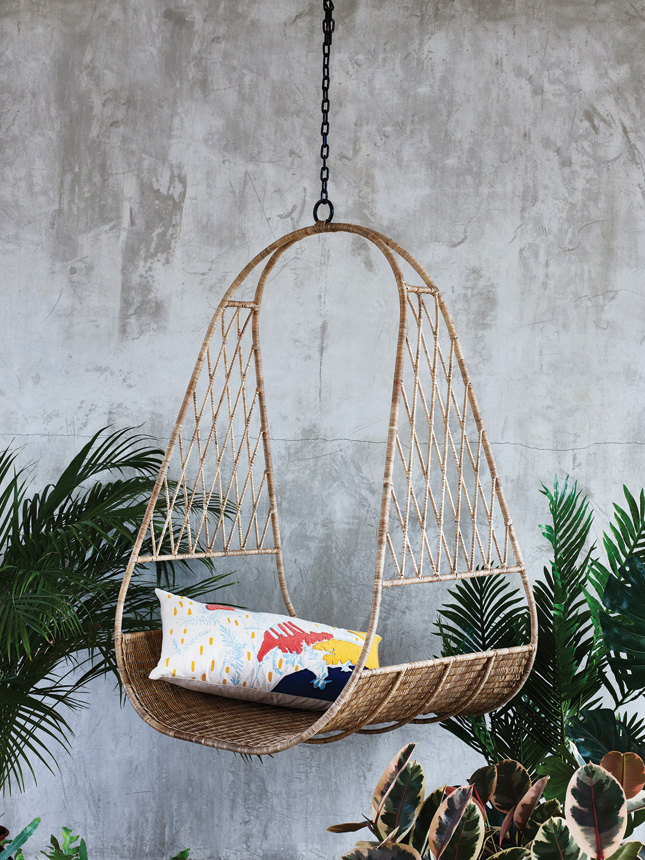 32. Create a bohemian vibe by doing away will a full dining set, and sit on cushions and blankets on the ground around a low table.
33. If you do decide to go the whole hog, and have a full dining set in your garden, make sure it's made of some tough rattan that's treated properly, so it's protected by the outdoor elements. And don't forget to take your soft furnishings indoors, at the end of each evening.
34. You don't have to have a huge space to hang an outdoor swing in your garden, yet they make a gorgeous addition to any outdoor space.
35. Consider where you place your BBQ. Often, the place where it looks best, is not the most practical. Think of how many trips you make from your kitchen to your BBQ with plates, food, utensils and so on; placing your BBQ way down the back of your garden mightn't be the best place for it.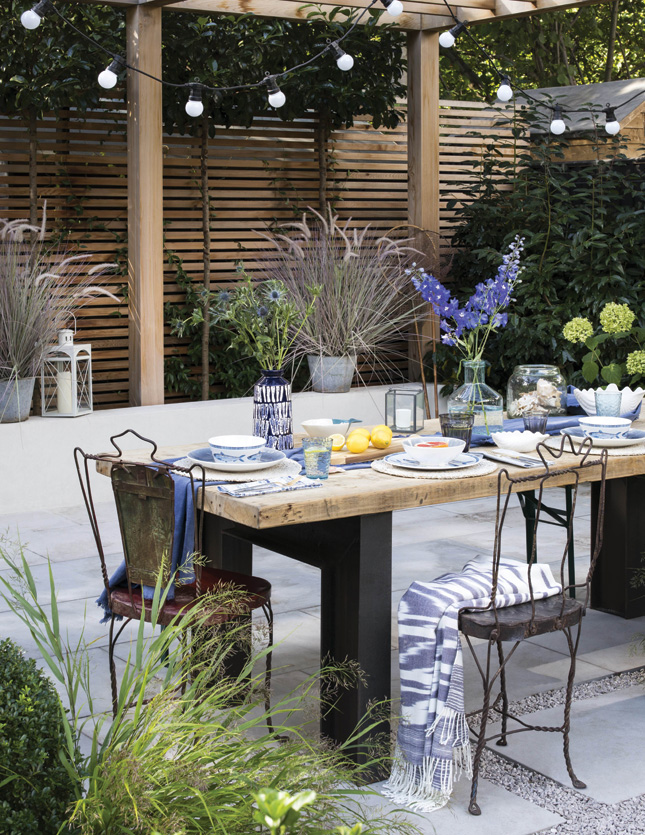 36. Personalise your space. Don't be afraid to let your own personal style shine through, after all, you're the one who's going to be spending the most time in your time there, so make it somewhere you enjoy hanging out.
37. Bring the indoors, outdoors. Tiling your outdoor space can give the illusion that you've got another room outside.
38. Don't underestimate the space you have when choosing your garden furniture. If you've got a large outdoor space, make sure your garden furniture matches the scale of your space or it'll end up looking out of proportion and out of place.
39. Large serving jugs and mason jars are great for garden parties, fill them with a fruit punch, or a stronger tipple, and allow your guests to help themselves.