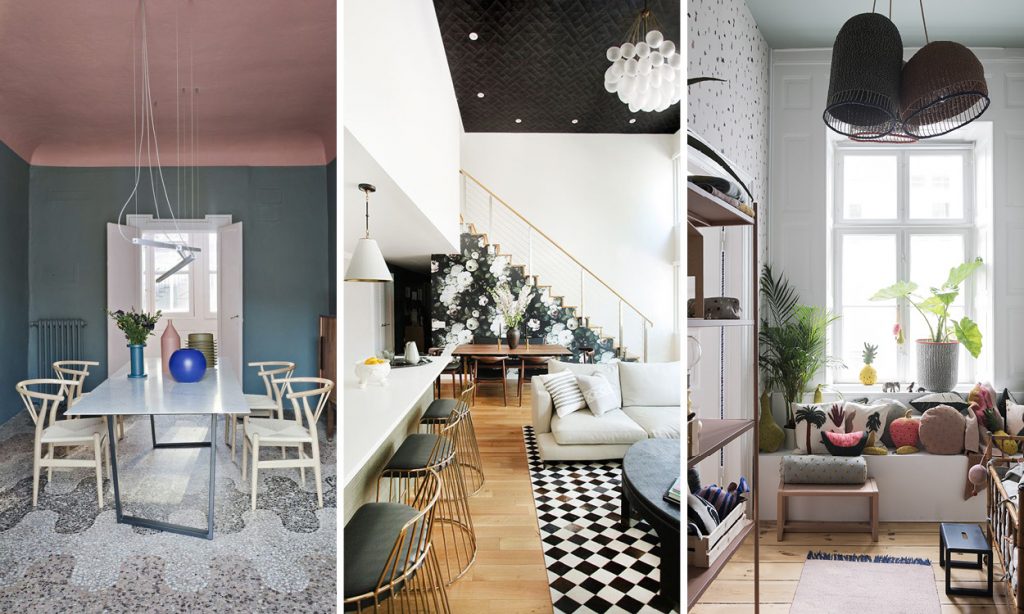 We've had a moment for accent wall colours, and another again for the trend for half-painted walls, but in 2018, it looks like the focus is shifting to the fifth wall: statement ceilings.
Your ceiling probably typically gets no thought at all, even though you're agonising over endless paint brochures and samples to pick the perfect shade(s) for your walls. Meanwhile, you reach without thinking for another can of matte white paint to give your ceiling a fresh coat. But now, we're making a case for considering your ceiling a fifth wall.
Centuries ago, statement ceilings were seen as the ultimate sign of wealth, but as more modernist and minimalist decor styles took over, the practice fell by the wayside. However, the old-world grandeur is making a comeback - and it make sense it would come alongside maximalism being on the up. However, for those of you averse to a cluttered feel at home,
Statement ceilings can entirely transform a space, instantly making it feel a little different and a lot more memorable. Transform your room, literally, from top to bottom, using paint, wallpaper, wood, tiles or whatever else takes your fancy. And if you currently have a white ceiling, consider it a blank canvas. Whether gold leaf, paint or tiles float your boat, you're starting from the best place.
Don't believe us that statement ceilings can take your room to the next level? See for yourself with these inspirational fifth walls!
If you're not blessed with beams like these, check out the next image for an alternative wooden covering for your statement ceilings.
This colour combination is all the more impressive and impactful when it's a statement ceiling versus an accent wall.
A painted black ceiling in this bathroom adds some drama, making the clean, white tiles pop.
This dining area/workspace would be fairly vanilla with a white ceiling. The patterned wallpaper lends some personality without having to opt for bold furniture or wall paint shades.
Nothing like a ceiling painted yellow to brighten up your nursery! While you might have to be brave to choose a shade as loud as this yellow, it brings a sunny vibe that's perfect for a baby's room.
That may look like tile, but it's actually textural, pleated black wallpaper, that helps to bring the room back into proportion.
Continuing the wall paint colour up onto the ceiling makes total sense when the other two walls are already different patterns and textures. The painted ceiling helps tie the room together beautifully.