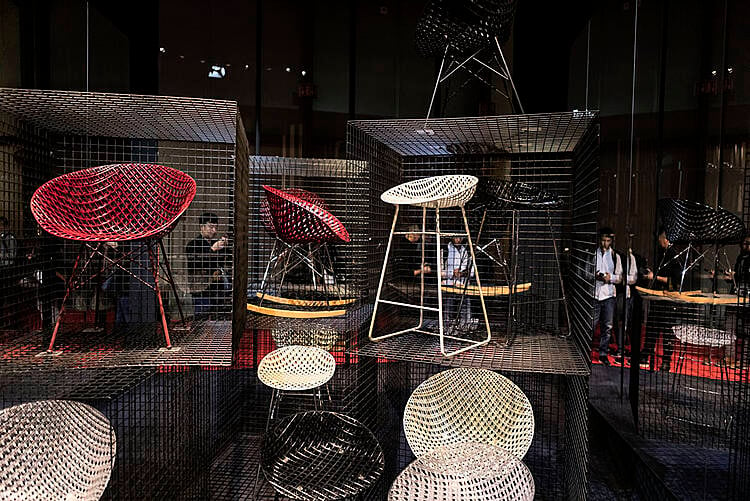 A large part of my job as editorial director of House and Home magazine is trend-spotting. I know – poor, set-upon me. It's essential though, that we know what's happening now and can predict what's coming next so we can deliver on-the-money content.
A big part of that is going to big global furniture and décor fairs such as Maison et Objet (held in Paris each January, read our report here) and Salone del Mobile (held in Milan every April – as well as in Moscow and Shanghai), at which I spent two days last week.
These events are primarily trade fairs for industry to showcase new launches and innovations and for buyers to choose stock for the year to come. Journalists and editors like me also attend, as do bloggers, industry professionals and the public.
Think of it as fashion week for furniture, which is how I approach it. As a former women's magazine editor, I've attended my share of fashion weeks, and it's not dissimilar: you look at a lot of very beautiful, well-crafted and expensive pieces and after a while, trends begin to emerge.
How trends coalesce is a fascinating subject. How is it, at Salone del Mobile this year, the colour terracotta held sway across so many brands? Why did we see so much piping on upholstered furniture and where is everyone getting the inspo for dark florals from?
Some of this is unfathomable; some of it easier to decode: perhaps brands source from the same wholesale fabric suppliers, for example, or perhaps colour and opulence are back as a reaction to on-going global unrest.
My trip to Salone del Mobile this year was taken in the company of furniture brand DFS, which sends its team to the fair every year to spot trends, see what's happening and how that might inform the fabrics and shapes it will offer its customers down the line. That, in a nutshell, is how wider trends translate to the 'furniture highstreet'.
Talking to DFS' buyers and designers over the course of the trip was really insightful. Not only were they taking note of shapes, forms and materials, but they were spotting emerging trends, and micro-trends with each of those areas. So one thing they've established is that leather is coming back – but not the stiff, slide-to-the-floor version of yore, but a buttery, handbag-type hide that's super soft and snuggly.
Other trends the DFS team spotted while at Salone included the rise of boucle fabrics on furniture (think a Chanel jacket), earth tones, houndstooth patterns, powder blue and collected and grouped furniture arrangements. Some of these are already available within the DFS ranges – the best-selling Zinc sofa is now available in Weave, a textured boucle upholstery, for example.
And when I wasn't rubbing the blisters on my feet (Salone is utterly enormous, trainers aren't advised, they are required), I did some trend-spotting of my own.
1. Earthly pleasures
Like the DFS team, I thought the trend for peach, apricot and terracotta tones was unavoidable. These shades popped no matter where you looked and were utterly brand agnostic too – everyone was doing them. I'm old enough to remember – with a shudder – the last time terracotta feature walls were in fashion and so I didn't expect to take to it, but actually… in terms of liveability, these are easy colours to have in your home and also act as neutrals – plus they play well with all sorts of other earth tones as well as blues. So, kept to the peachier side of things, I found I liked this one a lot.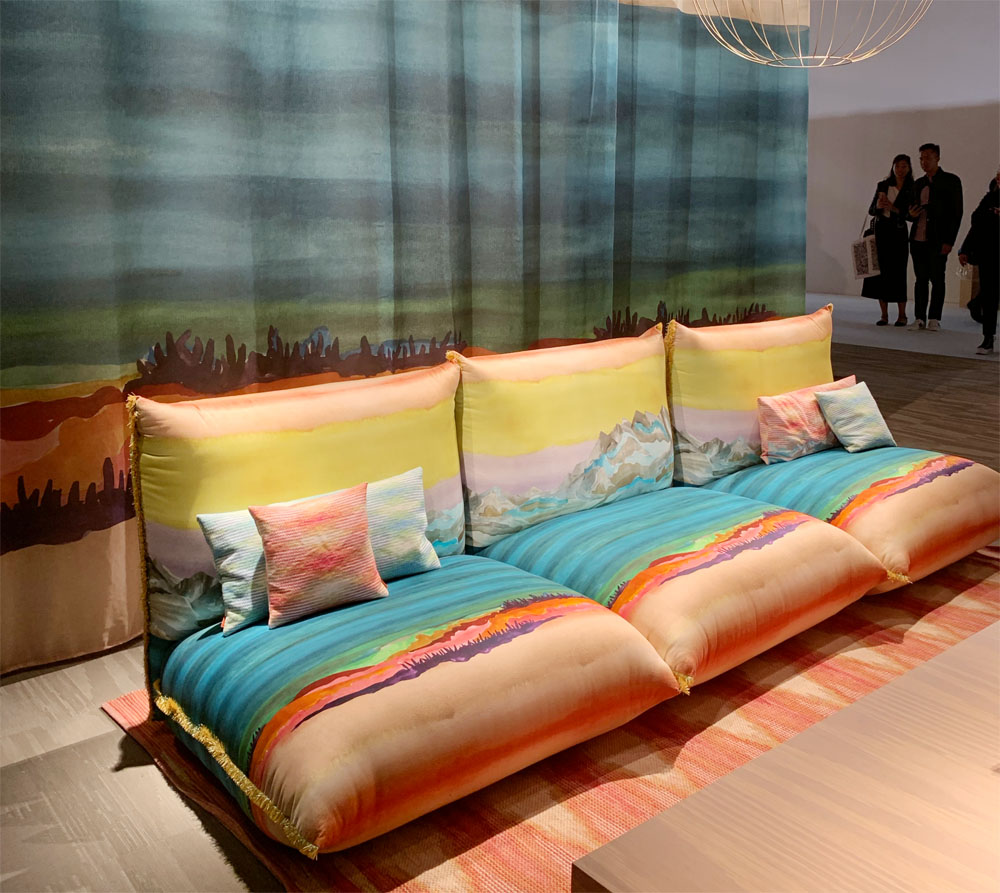 2. Pattern recognition
From Fendi (which had bodyguards and wouldn't allow photography – BOO – but which was all sorts of Studio 54 fabulosity) to Missoni (above), which is always a pattern assault (and boy do I love it) to brands such as Kare, Doğtaş, (a Turkish furniture producer and retail chain) and Gervasoni, it was clear that print and pattern ruled. Dark florals, stripes, checks, abstracts, hounds- and dogtooth – you name it, we saw it. After a decade or so in the Scandi-boho-Cali-cool décor doldrums, it felt like some much needed visual interest.

3. Graphic walls
Specifically, at London Art, a wallpaper brand which showcased a collection of whopper-in-scale murals with Marcel Wanders (who, I fear, must never get a holiday, so prolific is his output). But apart from its stand, wallpaper was everywhere – adorning backdrops, accentuating block-colour furniture pieces, adding an extra design layer everywhere I went. If you haven't gotten into the trend yet, now's the time as it's clear it's going nowhere. In bathrooms, Sicis (above) showed just what can be done with mosaics.

4. The new shape
The high-back sofa – some were almost like an Elizabethan piece or an old Irish vernacular settle – stood out at several brands such as IOC (above) and Sitland. With clever elbow rests built into the version Carl Hansen showed, it was considered and comfortable too. This did, however, feel like a hallway, landing or occasional piece of furniture for me, as opposed to a full-on, get stuck in couch you could have a proper hangover on, but it was undeniably a beautiful new addition. I'd expect we'll see this silhouette coming through over the next year or so.

5. Outdoor meets indoor
More applicable to our European neighbours, perhaps, but garden goes great with furniture pieces that are more akin to living room pieces in comfort and style terms. This makes sense: instead of balancing on hard plastic or metal chairs that make you want to flee back inside to where it's actually comfy, why not go for pieces that make your enjoyment of the outdoors better? That was certainly something that came through strongly at brands such as Skyline Design (above) Emu and Royal Botania, where comfort was key with lots of new lounging options and technical fabrics that can be left outdoors. Here's hoping for a repeat of summer 2018 - fingers crossed.
House and Home was a guest of DFS at Salone del Mobile 2019 and all flights, travel, accommodation and meals were paid for by the brand.