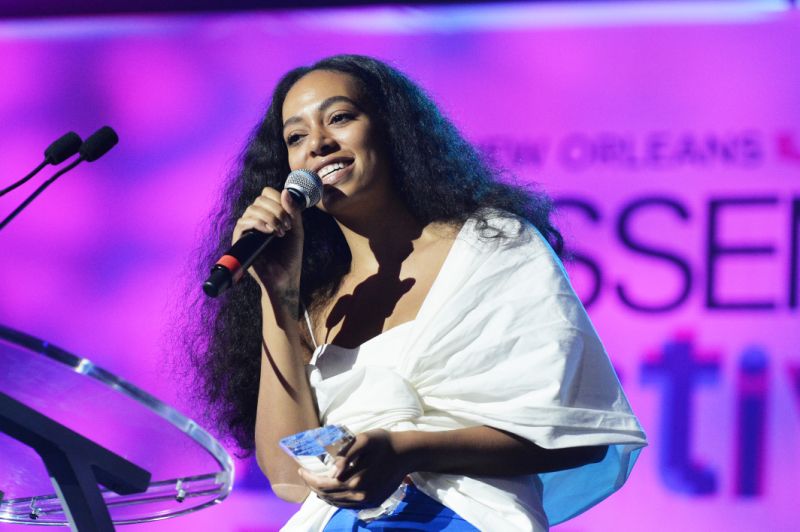 If you're not already obsessed with Solange Knowles and her incredible style, we've a feeling you might be once her upcoming collection with IKEA hits shops. The homeware brand has, this year, been making more and more high fashion connections to produce cool, unique fabrics and soft furnishings for the home, but this upcoming collection will likely up their fashion game considerably.
The Swedish giant has just announced the collaboration with Solange's brand, Saint Heron, which describes itself as a "multidisciplinary cultural hub with a focus on building the community [we] wish to see exist through music, visual art and performance art mediums".
Solange, along with co-curator, artist Armina Mussa, have already collaborated with popular festivals like FORM Arcosanti, AfroPunk Fest and Pitchfork Music Festival – and even offering curatorial music contributions to The Met and The Whitney Museum's annual member's parties. And their next step is their foray into interiors with IKEA.
"Saint Heron is excited to announce an upcoming creative collaboration with IKEA, exploring architectural and design objects with multifunctional use," reads a statement from the brand. That's about all the information we have for now on what the collaboration will entail, but Vogue is guessing it will follow Solange's "minimal yet off-kilter" sense of style. "Will she incorporate shiny vinyl textures as she does with the jumpsuits she wears in her everyday life? Or should we expect spherical vases and pyramid-shaped lamps à la her current stage set?" they wonder.
Whatever they create together, we imagine it will be top of our IKEA wishlists from the get go.
The collaboration with Solange Knowles is just one of the high profile projects IKEA teased details off, with projects with adidas and LEGO also on the cards in the next year