Preheat the oven and whip out some chocolate - we're baking a cake! We know it's still lent but a bit of chocolate never killed anyone, right? This delicious recipe for chocolate and almond gateau comes courtesy of our friends at Good Food Ireland, and was put together by Jim Ahearne of Kelly's Resort Hotel & Spa.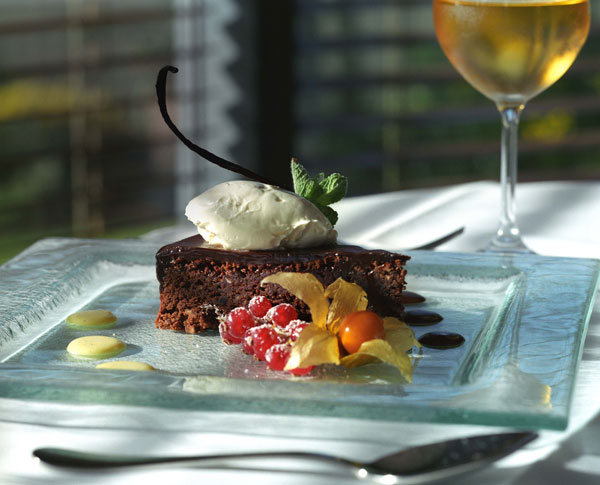 Cooking time: 1 hour
Serves: 8 to 12
Ingredients:
250gr castor sugar
150gr softened butter
5 large eggs separated
250 gr ground almonds
4 drops vanilla essence (optional)
150 gr finely grated chocolate (milk or dark)
2 tbsp plain flour
1 tesp baking powder
Extra butter & flour for preparing the cake tin
Icing sugar for icing

Chocolate Icing or Glaze:
90 ml Cream
180 gr Dark Chocolate
1 ½ tablesp Golden Syrup
1 tablesp Brandy
½ tablesp Grand Marnier
Method:
Cream together the sugar and butter until pale smooth and cream.
Add the egg yolks, 1 by 1 while beating; then add the sieved ground almonds, essence & the chocolate.
Beat the egg whites until stiff, gently fold into the cake mixture along with the sieved flour/ baking powder.
Butter and flour the inside of a 8 ½ cake tin with removable base or line a cheesecake tin with baking parchment.
Turn the cake mixture into it and bake at 160 oC or gas mark 3 for 1 hour. Test with a skewer inserted into the middle of the cake- it should come out clean).
Remove from oven & leave to cool.
Place upside down n on a serving tray before dusting with icing sugar. However you may wish to put a chocolate glaze/icing on the top. If so don't bother dusting with icing sugar but rather spread with the following icing.
For more great recipes visit Good Food Ireland:
Good Food Ireland is an industry organisation that brings together under one umbrella good food places all over the island of Ireland that are committed to using local food and supporting our Irish farmers, food producers and fishermen. Visit www.goodfoodireland.ie for further information on the 260 members.