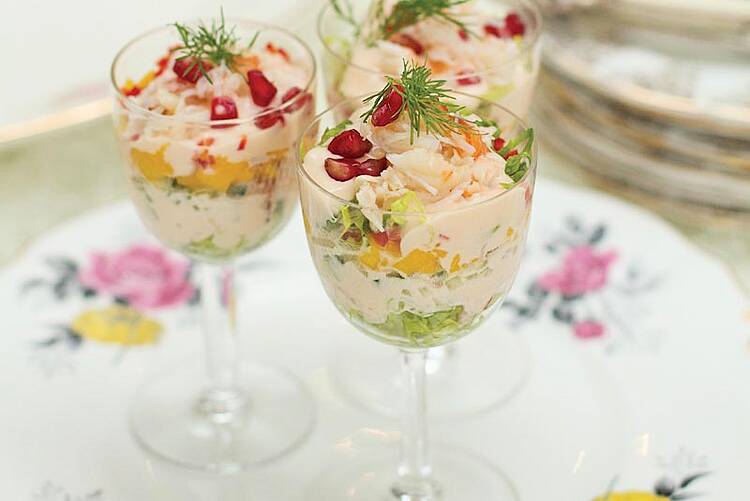 Continuining our theme of party entertaining with a difference (yesterday we showed you how to make some delish blue cheese and pecan truffles with figs), here's a recipe for mini crab cocktails with mango and pomegranate. Pretty little things, and irresistable. Serve on a platter with a small stack of tiny teaspoons and some cutely-patterned napkins. This will make eight.
You'll need:
150g (5 oz) fresh white crab meat
½ head little gem lettuce, very finely shredded
A finger length piece of cucumber, very finely diced
½ ripe mango, very finely diced
1 red chilli, deseeded and very finely chopped
A small handful of pomegranate seeds & dill sprigs, to garnish
COCKTAIL SAUCE
75g (3 oz) mayonnaise
1 tbsp tomato ketchup
1 tsp brandy
A few splashes of Tabasco
Salt and freshly ground black pepper
Method:
Simply mix all of the ingredients together, seasoning to taste.
Then, once all your ingredients are prepared, simply layer them up with the sauce in small sherry or shot glasses.
I like to arrange them in different coloured layers and I finish with some sauce, then a sprinkling of crab meat, followed by a few pomegrante seeds and a dill sprig to garnish.
Cover and refrigerate until ready to serve.
Food and styling: Sharon Hearne-Smith, www.blueberrypie.ie
Photography: Elisha Clarke, www.elishaclarke.com