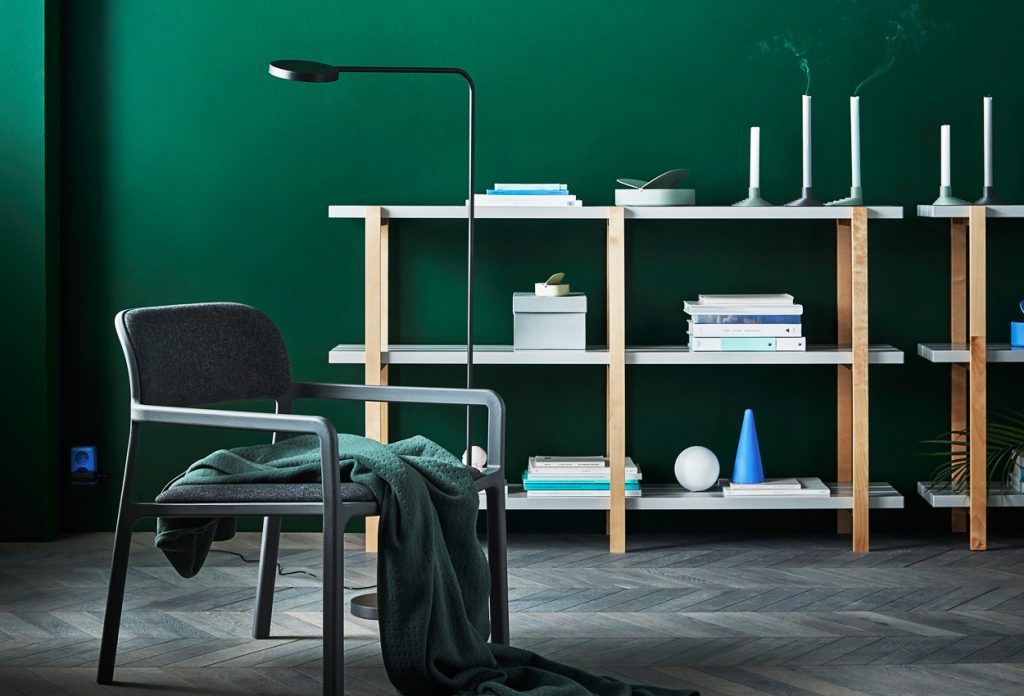 The beauty of basics is the tagline for the HAYxIKEA YPPERLIG collection, and it's exactly what you'd expect from a collaboration between the Danish design company and the Swedish furniture retailing giant. The collection has larger pieces, like sofas and coffee tables, alongside smaller accessories, including the much hyped new design of IKEA's iconic blue bag.
The collection combines the best of both brands - HAY's eye for modern, functional design inspired by architecture, fashion and art, and IKEA's honest, substantial, long-wearing products at affordable process. The result is an affordable collection with high design value, full of basic, everyday products created to be used and loved year after year.
It's a collection we've been waiting for for over a year, and finally we have a land date. Hitting stores from early October, we don't have to wait much longer to get our hands on YPPERLIG products, and there's definitely a few pieces within the collection you'll want in your home immediately.
Without further ado, take a look at some of our favourite pieces from the YPPERLIG collection!
Sometimes, what looks simple is actually rather difficult to achieve. Like with the YPPERLIG sofa bed. "The team wanted a product that offered more than good looks, meaning a really great night's sleep. However, getting the right construction and stability was a real challenge. They solved this by using a spring mattress as the seat. The result is a well-designed sofa that offers around-the-clock comfort and convenience," says IKEA. Sweet dreams indeed!
Plank tables have always been a big part of Scandinavian furniture tradition. So it came as no surprise that HAY wanted to create a modern take on it. Using the latest board-on-frame technique that offers extra durability, combined with solid wood legs and a metal under frame, the outcome is a stable, white stained ash veneer table with a clean and natural look.
Everyone loves a good makeover! Considering that the IKEA bag is one of the most recognised IKEA products in the world, Mette wanted to give it something new while still honouring the original, so without changing the size or material she worked with the colours and the weaving patterns. The bag comes in three different colours, and the team also made a version that's extra durable due to the nylon strap going all the way around the bottom of the bag. "It's one of the most known and used IKEA products, but one that no one appreciates as a design object. We kept its measurements and updated it in new patterns and colours. It's a celebration of this iconic product." - Mette Hay
These mirrors are made of metal and come in three different sizes and colours, making them ideal for all kinds of spaces around the home. They also have the convenient feature of a little shelf, perfect for all those little knick-knacks we've all got laying around. It's even been tested for humidity so it's fne for bathroom use. "We didn't want to do something that was just a marketing stunt, but something that was beautiful, well-made and usable. Really good products made by IKEA and sprinkled with a bit of HAY." - Mette Hay
HAY wanted to create a lamp that was extremely slim, which really challenged the way IKEA usually produces lamps. There was a lot of going back and forth with this, but everyone is super happy with the outcome: an unusually slim LED-lamp with a built-in touch dimmer that lets you adjust the light with just the touch of your finger. It also gives you a good, non-glare light that can be directed to where you want it thanks to the adjustable head.
"One of our darlings in the collections is the "monobloc chair" that's made with an injection mould – a mould in the shape of the chair that's then flled with a single shot of liquid plastic. The shot takes around 30 seconds, and what comes out is a beautiful, comfortable, and strong yet light chair. We liked it so much that we made dining chair model, and a lower lounge chair too. It's even been approved for public use." - Rolf Hay
Textiles are a big part of the YPPERLIG collection. Most of the cushion covers have different patterns on each side, making them extra playful and versatile, and are an affordable way to add personality and softness to a room.
"When creating accessories I like to go close to fashion and trends and I think that the accessories we're developing together for this collection will make people see some of the most well known IKEA products in a different way." - Mette Hay
Inspired by an early 1950's sofa, this single moulded sofa was something IKEA weren't quite sure they'd be able to achieve, as they'd never done anything like it before.
"At the end of the day, YPPERLIG is a collection that very much represents the vision that both Mette and Rolf [Hay] had when taking on the project: a collection that's a celebration of basics; where products are clever yet under-stated, all with a timeless quality that ages beautifully," says IKEA.
You might also like: These 7 things from the new IKEA 2018 catalogue are bound to sell out