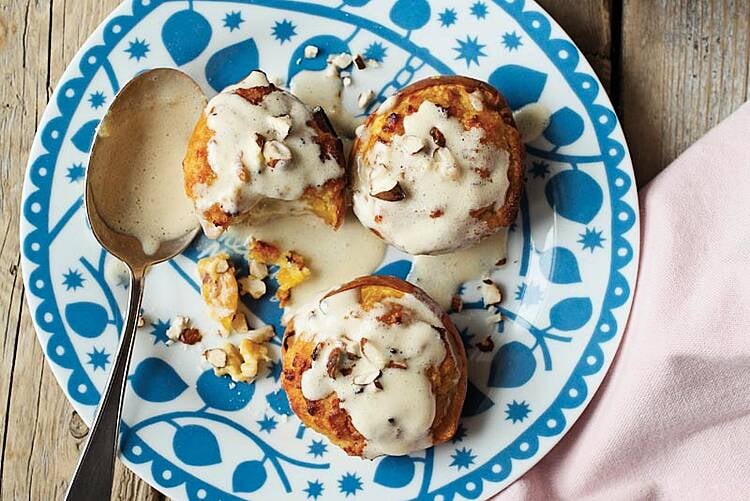 Almond Baked Peaches with White Chocolate Sauce
This is a variation on a dessert I learned to make during a cookery course in Toffia, Italy. I would say it's in my top five summer desserts – it's that good! I remember making it for my dad on his birthday years ago and he still goes on about it! The combination of peach and almond with a drizzle of white chocolate sauce is absolutely to die for... Serves 6.
You will need
7 very ripe peaches, cut into 14 halves and stoned
2 tablespoons caster sugar
85 g ground almonds
grated zest of 1 lemon
grated zest of 1/2 orange
1 egg yolk
30 g butter, melted
a large bar of white chocolate, roughly chopped
Method
Preheat the oven to 180°C/350°F/gas 4. Take 2 peach halves and scoop out all their flesh into a large bowl. Discard the skins. For the 12 remaining peach halves, scoop out some (not all) of their flesh and place it in the same large bowl. Arrange the 12 peach skins snugly in an ovenproof dish, hollow side up.
Mix the peach flesh in the bowl until it resembles a purée. Add the sugar, almonds, lemon and orange zest, egg yolk and melted butter and mix well. Use a spoon to divide the almond peach filling among the peach halves in the oven dish. Bake for 40–45 minutes, until nicely browned.
A few minutes before the peaches are done, melt the white chocolate in a heatproof bowl over a pan of simmering water. To serve, spoon a few tablespoons of the melted chocolate onto each serving plate and place 2 peach halves on top. Delish!
Sophie Kooks by Sophie Morris (the co-founder of Kooky Dough) is published by Gill & MacMillan and available at good book shops nationwide now, priced at €22.99.