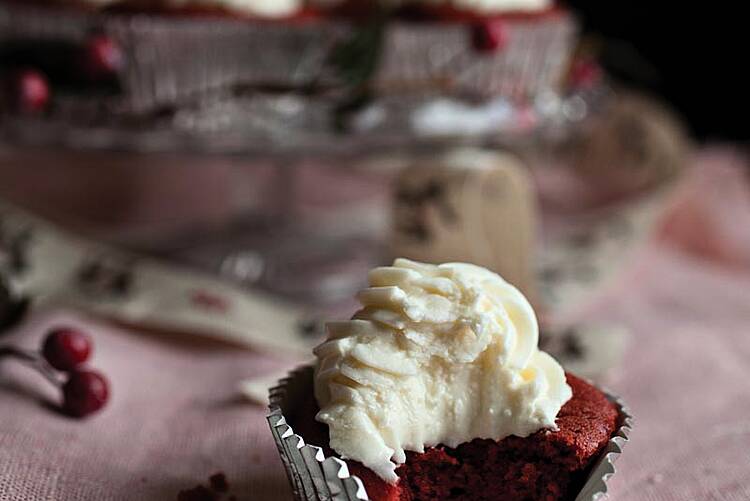 Red Velvet Cupcakes
It's not so much the taste of these cupcakes but the look of them that makes them so fabulous. The gorgeous, deep-red colour of the sponge alongside the snow-white cream cheese icing makes the cupcakes seem very luxurious. Makes 12 cupcakes
You will need
65 g butter, softened (preferably unsalted)
155 g caster sugar
1 large egg
1/2 teaspoon vanilla extract
1 tablespoon cocoa powder
2 tablespoons red food colouring
120 ml buttermilk, divided
150 g plain flour
1/2 teaspoon baking powder
salt
1 teaspoon white vinegar
1/2 teaspoon bread soda (bicarbonate of soda)
For the icing
300 g icing sugar, sieved
50 g butter, softened (preferably unsalted)
120 g cream cheese
Method
Preheat the oven to 180°C/350°F/gas 4. Line a muffin tin with 12 paper cases. Cream the butter and sugar in a large bowl with an electric beater, until pale and fluffy. Add the egg and vanilla extract and beat until combined.
In a small bowl, mix the cocoa powder with the food colouring to make a very thick paste. Add this paste to the butter and egg mixture, and beat well to combine. Pour in half the buttermilk and beat again until well combined.
Sift the flour, baking powder and a pinch of salt into another bowl. Pour half this flour mix into the batter in the large bowl and beat well. Add the remaining buttermilk and beat again. Now add the remaining flour mix and beat well for a few minutes. Place the vinegar and bread soda in a small bowl and stir to combine. Add this mixture to the cake batter and beat well for a few minutes.
Use a spoon to divide the cake batter evenly among the baking cases, so that they are two thirds full. Bake for 20 minutes, until springy to the touch and a skewer inserted comes out clean. Leave the cupcakes to cool in the tray for a few minutes before removing them to a wire rack.
Meanwhile, make the icing. Beat the icing sugar and butter in a medium bowl with an electric beater until combined. Add the cream cheese and beat again. Beat the mixture for about 5 minutes to get a really fluffy, pale icing.
When the cupcakes have cooled fully, dollop a spoon of icing on top of each one. Spread the icing but make sure you don't cover the cupcakes completely – the pretty red sponge must be visible. You could also use a piping bag to put a pretty swirl of icing on top of each cupcake.
Sophie Kooks by Sophie Morris (the co-founder of Kooky Dough) is published by Gill & MacMillan and available at good book shops nationwide now, priced at €22.99.