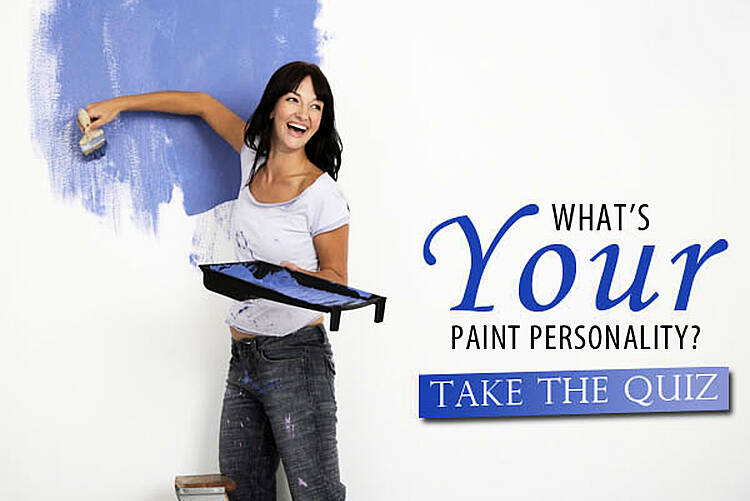 Do you have the paint tendencies of a party girl? Is classic chic your thing? Or will you follow this season's trend for extreme positivity? In the new issue of House and Home you can take a tour of our tailormade guide to colour in the home, and we've got something fun to do on the site too. Take our Paint Personality test and discern your traits: are you a romantic, a vamp, a fun lover or a peacemaker? And most importantly, how does that affect your interior?
Take the quiz to find out - and don't forget, there's absolutely tons more paintspiration for your personality type on page 111 of the March/April issue, in shops now.
1. Your favourite words to hear in bed?
a. Bite me
b. I love you
c. Lets play with…
d. I'll do anything for you
2. When going for dinner on a first date, what would you order for dessert?
a. Naughty chocolates bites with a velvety raspberry sauce
b. Vanilla cupcake topped with pink icing and marshmallows
c. Trio of passion fruit, mango and coconut icecream
d. Oatmeal nut pie with cookie dough ice cream
3. How would you decorate a room for a special night?
a. With dark velvet fabrics, textured cushions and something in red leather
b. Silky white bed linen, vanella scented candles and rose petals
c. Mirrors everywhere, bright colour block cushions and lemon-scented candles
d. White crisp linen, soft taupe cushions and neutral candles
4. What colour lipstick would you normally use?
a. Pure purple
b. Soft pink
c. Brilliant red
d. Neutral shades
5. How would you dress on a first date?
a. Black corset top, lace skirt, fishnets and killer heels
b. Soft pink butterfly dress and cream ballerina pumps
c. Polka dot turquoise dress with red tights and comfortable shoes
d. Crisp white top, beige linen trousers and brogues
6. If you are in a bar and you see a really cute guy... do you?
a. Go over and offer him a Bloody Mary
b. Wait with a glass of rose or a Cosmopolitan until he comes closer
c. Get close to him yourself and say hi with two Mojitos
d. Shake his hand and drink a Corona together
7. If a guy doesn't call you after a first date, how would you react?
a. Post him a dead rat
b. Wait and hope that he'll call me - or post me a letter - at some time in the future
c. Wouldn't mind, I'd look forward to meeting other guys
d. Send a text: Hi there! Hope you're well! xxx
8. How would you break up with a guy?
a. Text: "It's over"
b. Send a scented paper letter deeply explaining your reasons
c. Would you like to meet my new boyfriend? It's no problem – he's waiting for me in the car!
d. Select a private place, the best moment and tactfully have the chat
9. On a first date, what would you like a guy to pick you up in?
a. An all-purring shiny motorbike
b. A Mercedes Benz S Class – just like Mr Big
c. A Jeep
d. A yacht
10. Best movie of these four?
a. Twilight
b. Pretty Woman
c. There's Something About Mary
d. The Notebook
11. If you could be whisked away to one of the following destinations, right here, right now, which would be your ultimate escape?
a. Moscow – a dose of history with a side of mystery
b. Paris – a glass of wine and getting lost in the city of love
c. Ibiza – sun, sand, booze. Bring it
d. Aspen – ultimate pampering with breathtaking scenery
12. It's Halloween – what do you dress up as?
a. Librarian – it's the quiet ones you need to look out for
b. Rapunzel – the classic damsel in distress
c. Nurse – ready to administer any injection
d. Wonder Woman – the Lasso of Truth is your weapon of choice
13. Social networking – how much of your life do you share online?
a. I love a good rant to vent about the in-laws, peppered with strong language
b. I share my life, the good and the bad, with my closest friends only
c. I have over 500 friends – the more, the merrier
d. I never put anything online that will come back to haunt me
14. What is your ultimate culinary comfort?
a. Steak, chips and pepper sauce - tuck napkin directly into collar
b. A creamy bowl of tagliatelle alla carbonara
c. Sushi, sashimi – just hand me the chopsticks
d. Asparagus and mushroom risotto with a garden salad
15. A close friend of yours is going through a tough love situation. Do you…
a. Let her vent and encourage her if she wants to send some hate mail
b. Invite her over for a girls weekend, with DVDs, wine and comfort food
c. The best thing is to get her out and party her troubles away
d. Lend her as much support as possible. Pep talks are your specialty
16. On the high street, what shops are you most drawn to?
a. Ann Summers
b. Accessorize
c. H&M
d. River Island
17. If you could sneak away with one celebrity this weekend, who would sweep you off your feet?
a. Johnny Depp – sultry musician at heart, ready to woo you
b. Ryan Gosling – those 'Hey Girl' eyes and washboard abs
c. Colin Farrell – a feisty weekend you might not remember
d. George Clooney – like a Chanel suit, he never goes out of style
18. What is your favourite space in your house, where you find yourself spending the most time?
a. Bedroom – breakfast in bed, long weekends and extra curricular activites are what you gravitate to
b. Dining room – you prefer wining and dining and long meaningful conversations with friends or your main squeeze
c. Living room – kicking back and watching a good movie or playing a game is more your style
d. Garden – pottering around, reading a good book, or cooking up a barbecue for friends. You prefer the outdoors
19. Which Sex and the City girl best describes you?
a. Samantha Jones – confident, proud and try-sexual – you'll try anything once
b. Charlotte York – hopelessly romantic seeking the good in everyone
c. Carrie Bradshaw – always up for trying new styles and trends
d. Miranda Hobbes – extremely cynical, but level-headed for the most part
20. The current state of your nails?
a. Black or another deep shade
b. You can't go wrong with red
c. Nails to match whatever I'm wearing
d. Au naturel – less stress
THE ANSWERS!
If you answered mostly As, then you're definitely a Vamp. Find out more about your paint personality here
Ticked the most Bs? then we reckon you're a Romantic. Read more about your paint style.
If Cs were most frequently on your radar, then you're definitely a Fun Lover. What's in your paint future? Find out!
Mostly Ds mean you're a Peace Maker and we know the paint styles to suit your personality