Dublin born artist and curator Brian Kennedy and his partner, ceramicist Peter Ting, use their central London lock-up-and-go apartment as a perfect backdrop for their colourful collection of art and design.
Peter is a renowned ceramicist who works as a consultant with Asprey, and has been appointed as a trustee of the British Crafts Council. He has recently designed a fine-dining service for Royal Crown Derby, called Hachi and has accepted commissions from such esteemed clients as Queen Elizabeth and Prince Charles.
Brian is a highly regarded member of the Irish craft and design scene. After an early career as an artist and lecturer at Crawford College of Art and Design he became an adviser and consultant to several state agencies and private companies, including The Crafts Council of Ireland for whom he has curated many exhibitions.
Both have exceptional creative energy and their combined talent becomes immediately apparent from looking inside their wonderful home...
(Photography: Jan Baldwin, words: Cathy O'Clery)
Hall:
The hallway acts as a library and gallery space, freeing up the main rooms from clutter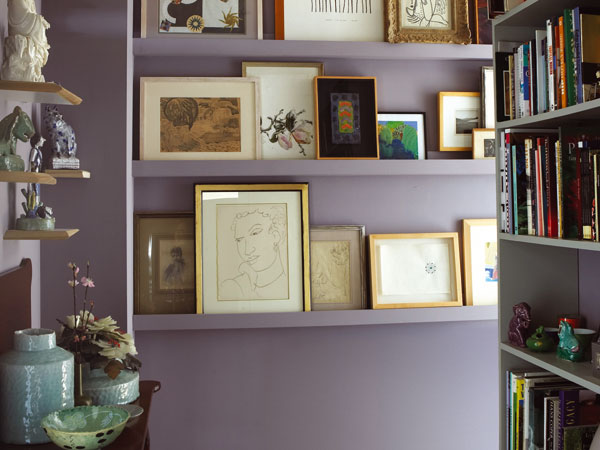 Brian reveals, 'Our taste is fairly compatible, with a mutual respect for each other's style. Peter is more meticulous about detail and perhaps I have a more developed sense of colour, so we buy beautiful things and make them work together.'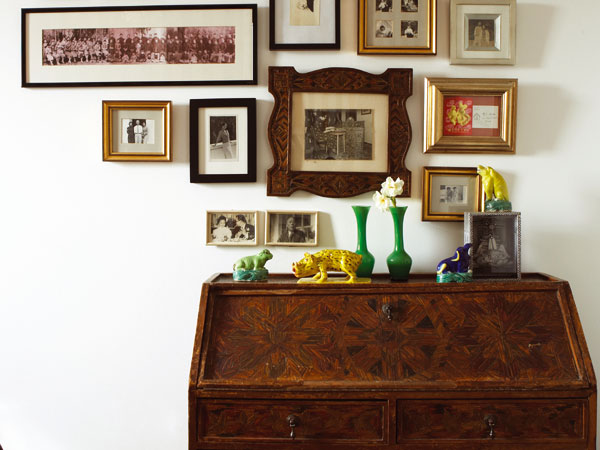 Living room:
The delicate hand-blocked wallpaper, commissioned by Peter and Brian, is by British printmaker Marthe Armitage. The sofas came from Mimo in Cork. Brian and Peter have maintained a contemporary edge by hanging a frameless box mirror  above the gothic antique console table.
The textiles have been found mainly on their travels and Brian made most of the soft furnishings such as the cushions using silk fabric printed with designs by a young South African company – The Design Team.  The lacquered green trunk is from the London shop Postcard Teas.
Paintings by Jeremy Moon (green abstract), Robin Denning (blue) and Michael Beirn (paintings over sofa) decorate the walls.
Kitchen and dining area:
In the alcove much of Brian and Peter's collections are stored on shelves by Vitsoe which Brian found in Mimo in Cork. Beside them are a collection of ceramic plates by  South African artist Hylton Nel. The rug is a Berber rug  from Liberty. It has been turned upside down, 'because it was more interesting on the reverse side' . The blue chair was a prototype bought at a SCP's warehouse sale and is covered in suiting fabric from Paul Smith.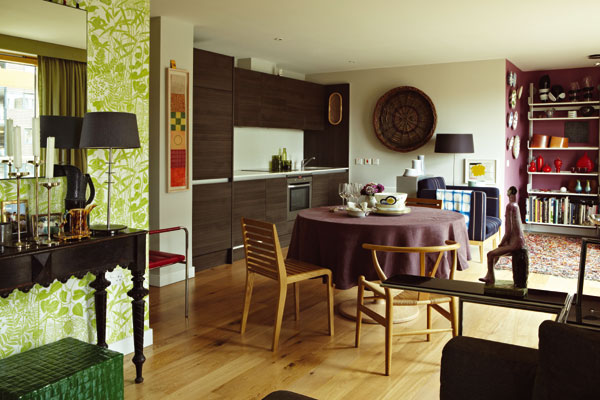 The neat sleek kitchen is by Pepper, a trade company which specialises in kitchens and storage solutions for small spaces. The large willow basket is by Joe Hogan. Two modern dining chairs flank the table; on the left the Raft chair by young British designer Will Smith and on the right the Wishbone chair by Hans Wegner.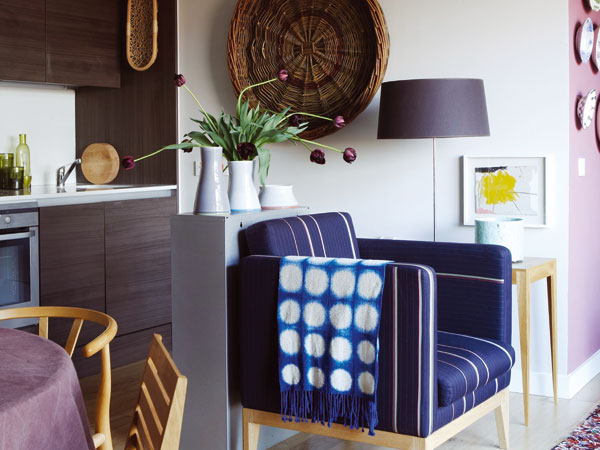 On the table is the dinner service, Hachi, designed by Peter for Royal Crown Derby.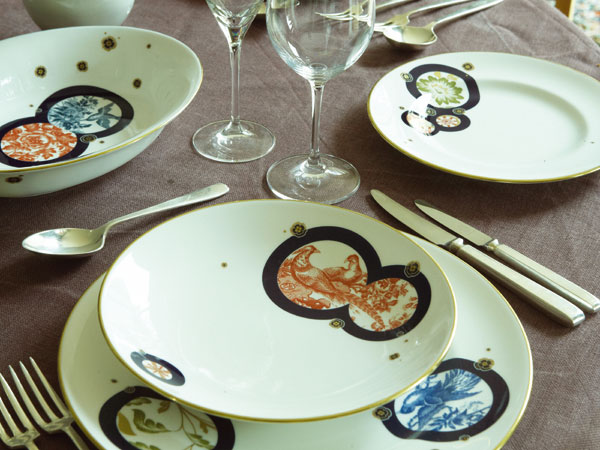 Master bedroom:
A subtle metallic wallpaper by Zoffany decorates the main bedroom walls. The art installation is a piece Brian and Peter found at a student show and has miraculously survived several house moves.  The striped antique textile on the bed was found in Tuscany, and the bed linen is from Zara Home.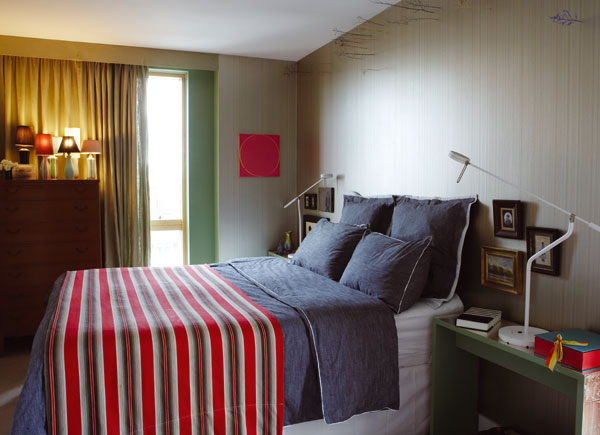 The lamps are the 'Three-sixty' design by Norman Foster for Italian company Fontana Arte.
Guest bedroom:
The striped wall has been made up from different striped wallpapers by Swedish company Sandberg. The circle drawing is by David Best and the lamps are by the 'Three-sixty' design by Norman Foster for Fontana Arte. A scarf by Georgina von Etzdorp was made into the overhead light. The bed linen is from Zara Home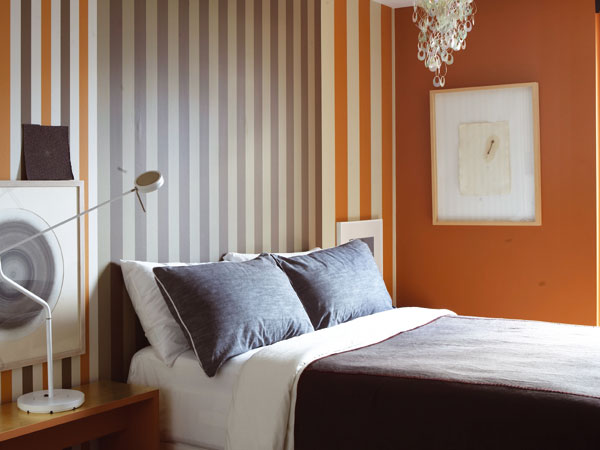 Tell us what you think:
We love the way Brian and Peter have used their London pad as a backdrop for their marvellous art collection.
Do you have an art collection in your home - if so, what do you think is the best way to display art? Leave a comment and let us know!