It's impressive what you can do with €500 and a 30sq m space when planning a caravan revamp, but Seana managed it perfectly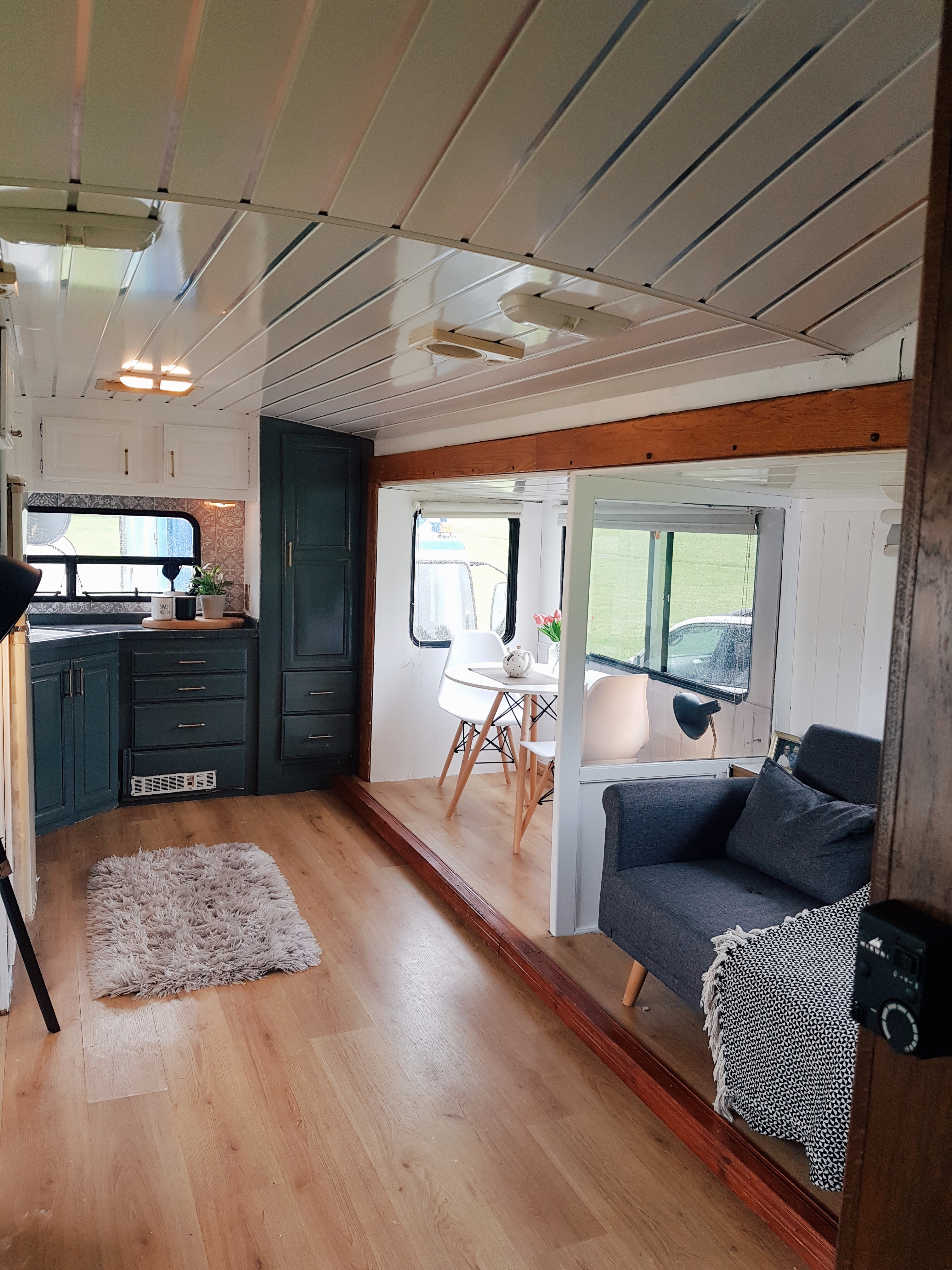 Seana McDonnell and her boyfriend share an Avion caravan by Fleetwood America Trailer, while they travel around with their family funfair, running the children's rides. Before the eight-month funfair season well and truly kicked in, they undertook a caravan revamp that completely transformed the space.
The caravan is a 30sq m space, consisting of one bedroom, one bathroom and a large open plan kitchen, living and dining area. When they bought the caravan four weeks ago, Seana loved the space and layout it offered, as well as some of its design features, but the interiors scheme needed to be ripped out and replaced.
"We traveled to Galway to see it and were happy with the overall look and condition of it. I wanted bathroom space and enough room for all my clothes - you have to have your priorities!" she laughs. "I also wanted something that felt like a home, as we do spend around eight months of the year living away from home. The caravan also has a pull out feature that makes the space bigger. I also loved the fact it has a very unique ceiling - a white ceiling with a mirrored stripe. Our old ceiling was carpet, which I was not on board with, so that sold it for me as well.
BEFORE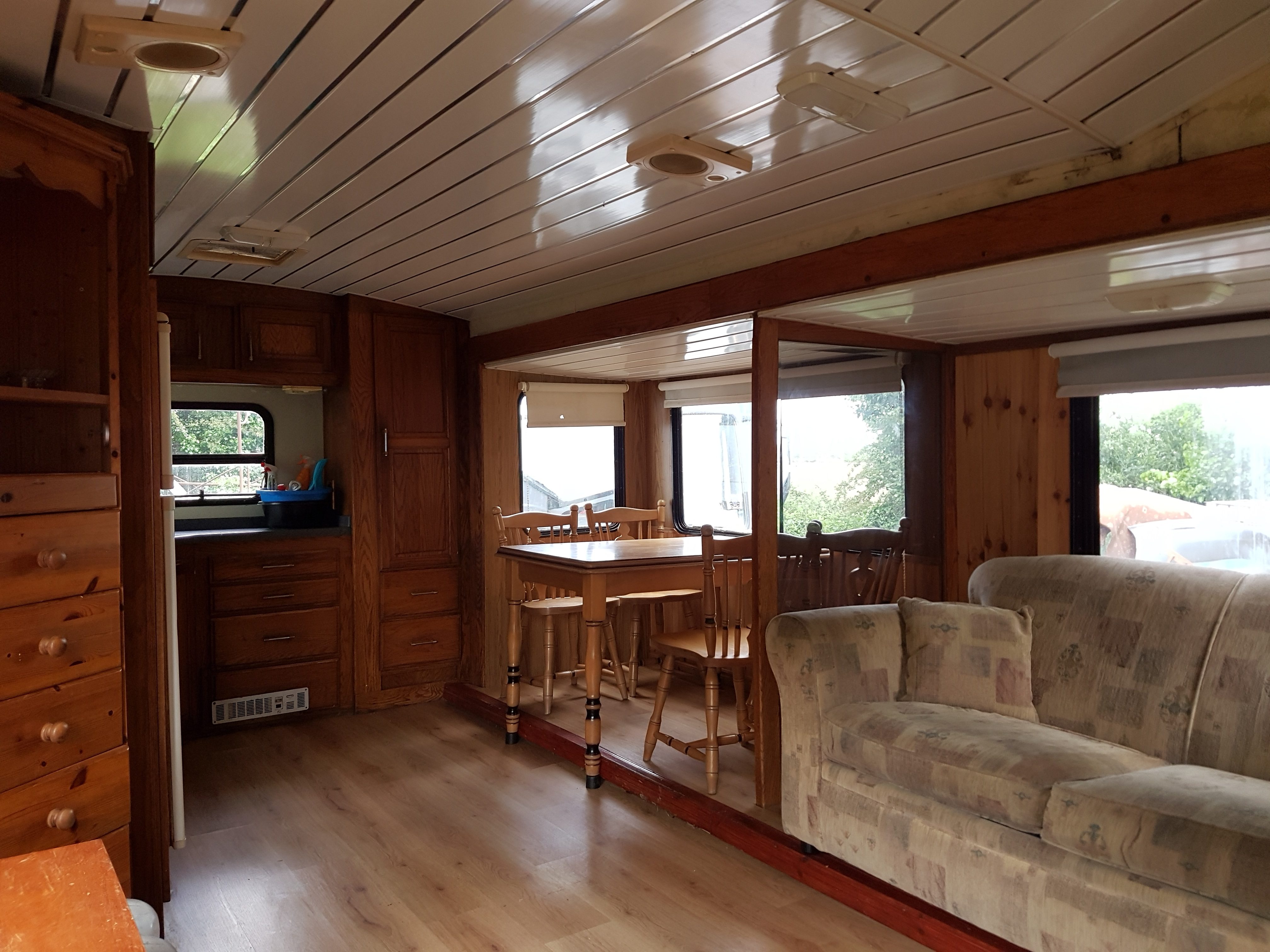 "The caravan looked so outdated and it wasn't my style at all. I wanted to love the home I lived in so I thought why not give it a makeover? I'm so glad I did because it turned out just how I wanted it to. At the minute I am tackling my bedroom and touching some bits up in my bathroom."
With a budget of €550 and a short turnaround time of less than four weeks, Seana threw herself into the project. "Our budget was €550, so we had to make it stretch. We splurged on paint, as I knew I wanted good quality paint and primers. I had some old furniture that I had and I painted it up to fit. We looked for a cheap table and chairs on Amazon, and were delighted with our designer-inspired finds for €110.
"We also bought our sticky-back tiles on Amazon for a steal at €9, and went for a more affordable sofa to keep costs down. One of my favourite things we bought was the lamp - I love it and it was only €56 on Amazon as well!" says Seana.
AFTER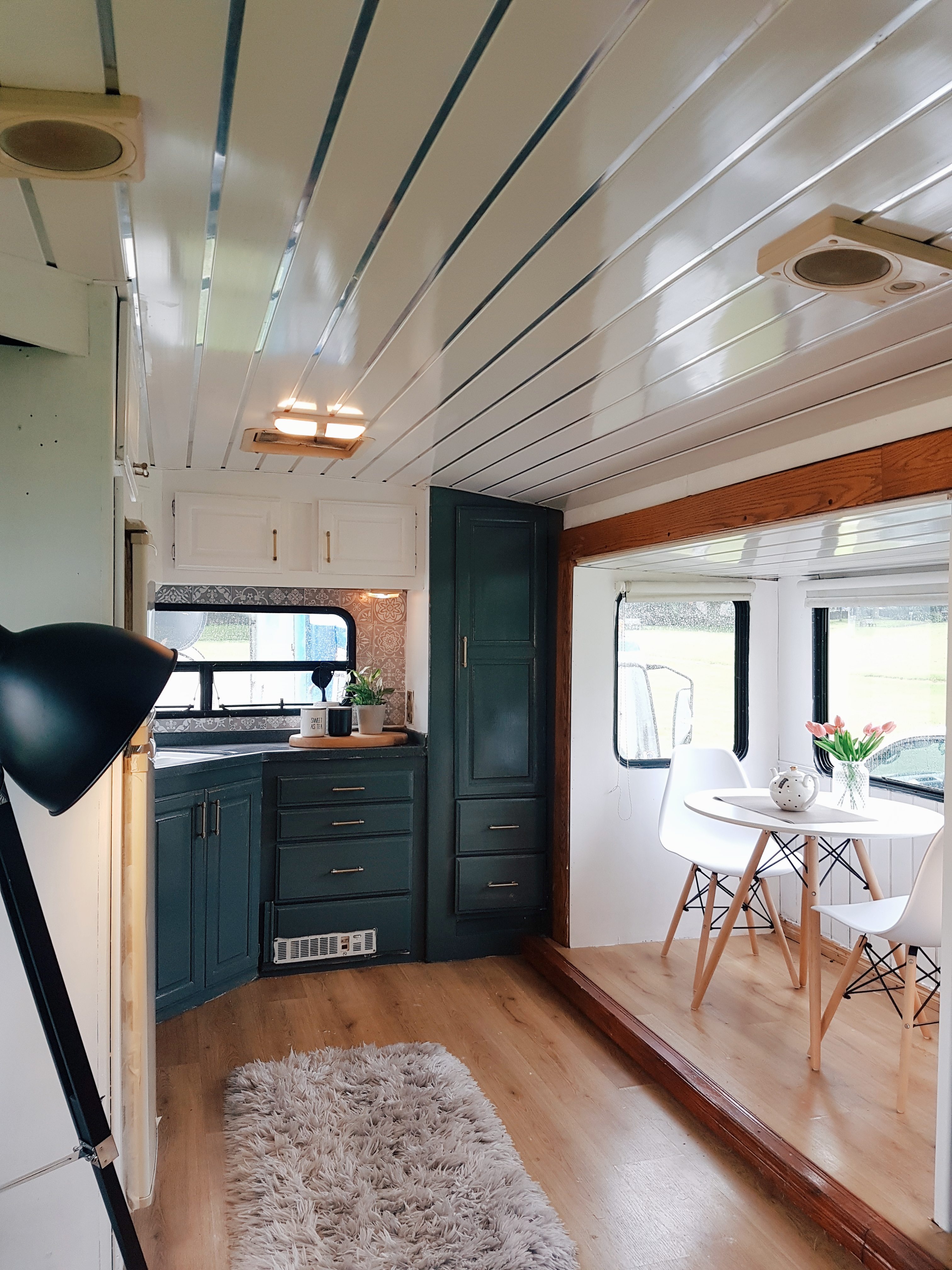 Bright, light-filled Scandi-style spaces are what Seana is drawn to, and she tried to recreate it where possible in the caravan revamp. "I really love Scandinavian, minmalist style. I love bright spaces, so I tried to achieve that in my caravan also. Recently I've been drawn to mid-century modern interiors and I'd like to maybe add some retro furniture into my caravan. I just spend hours on Pinterest looking at peoples homes.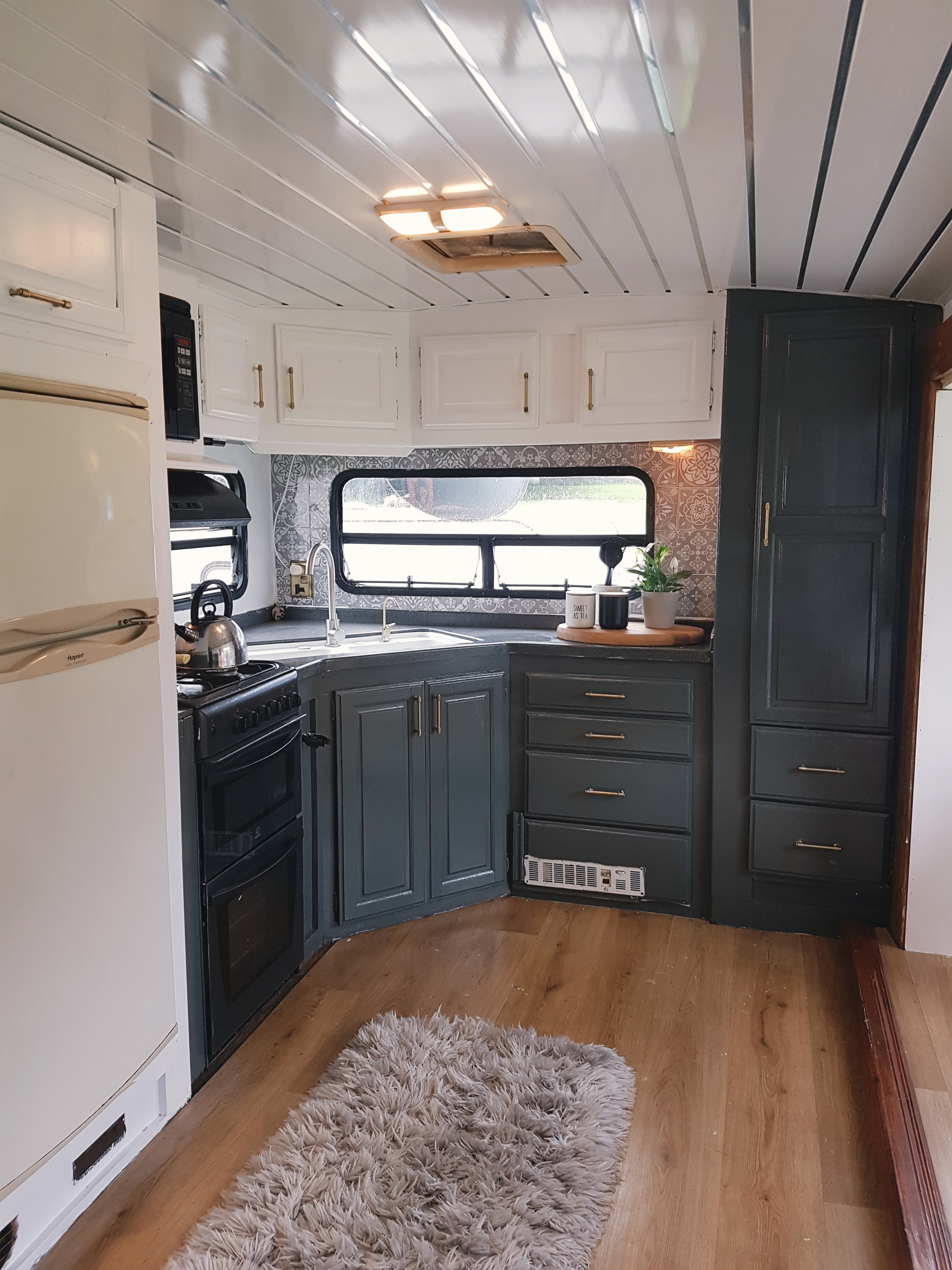 "It was really important for me that our caravan looked modern as the it was previously very old school looking with lots of dark woodwork. I wanted to give it a new look and give it face lift. White paint was my saviour as it opened up my space so much. I used Down Pipe by Farrow and Ball on the kitchen cabinets, and used some vintage Moroccan style tiles to wall to add some colour and style to it."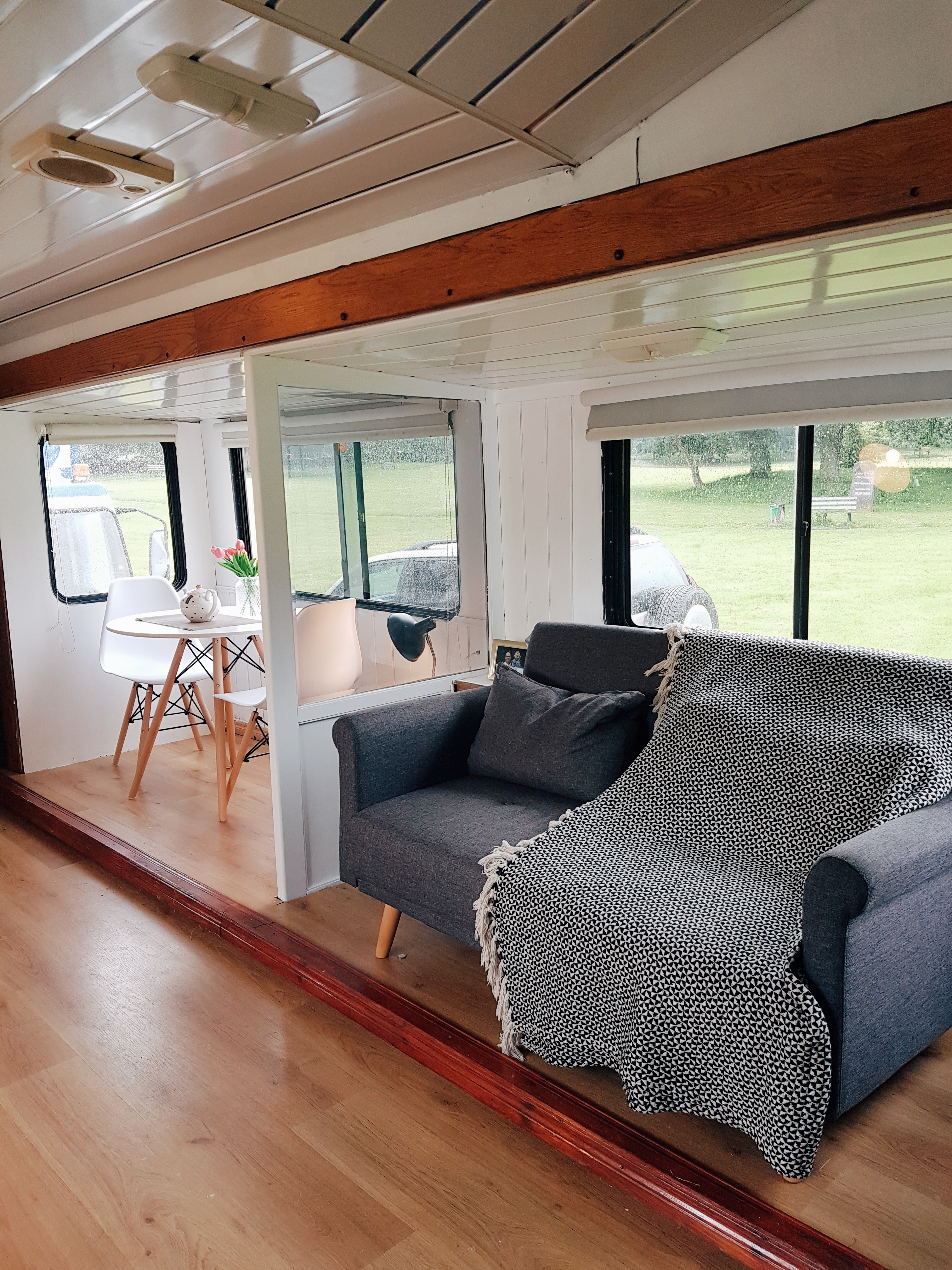 After the caravan revamp, Seana feels it is much more homey, and it feels like a much bigger, more open space than before. "I love how fresh it looks now. The white paint made the space open up so much more and by adding furniture that fits well with the space helped too," she says.
Follow Seana's caravan journey on her Instagram, @fifthwheel.fixerupper.