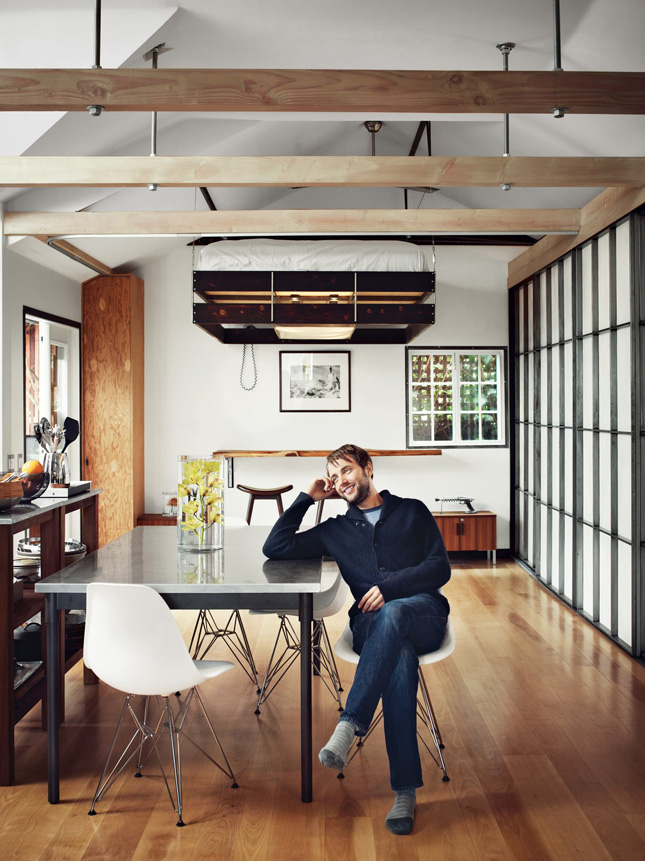 You would be easily forgiven if you thought Vincent Kartheiser, who plays Pete Campbell in Mad Men, was living the high life in a Hollywood mansion. Not one to easily give into the trappings of fame and fortune, his slice of Tinseltown is quite a bit smaller than you would expect.
It's just under 54 square metres in total, and closer in description to a cabin than a mansion. Describing it as a one bedroom home is even a stretch, as the bed hangs from the ceiling via a pulley system, and can be stored away when not in use.
The whole bungalow is full of space-saving surprises, suiting Vincent's taste for lofts. The redwood headboard from the bed flips down into a desk while not in use, and the bed is counterbalanced by a 136kg weight which is hidden in the closet. The lid of the outdoor coffee tables lifts to reveal a firepit, and along one side of the house, there is a series of shoji screens which slide on a track to reveal and hide the bathroom and wardrobes as necessary. Not an inch of space is wasted.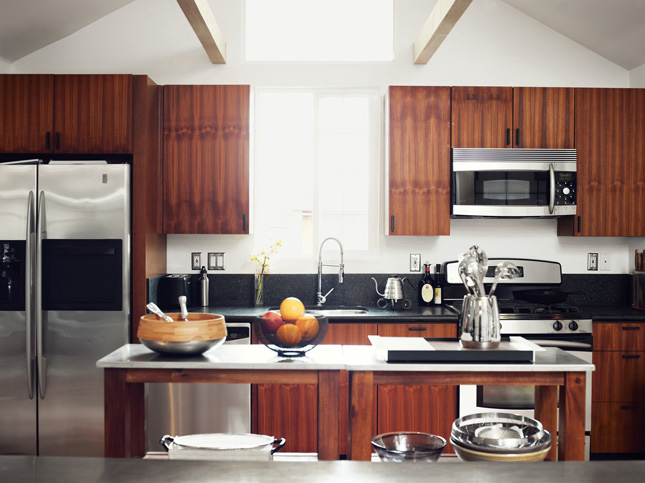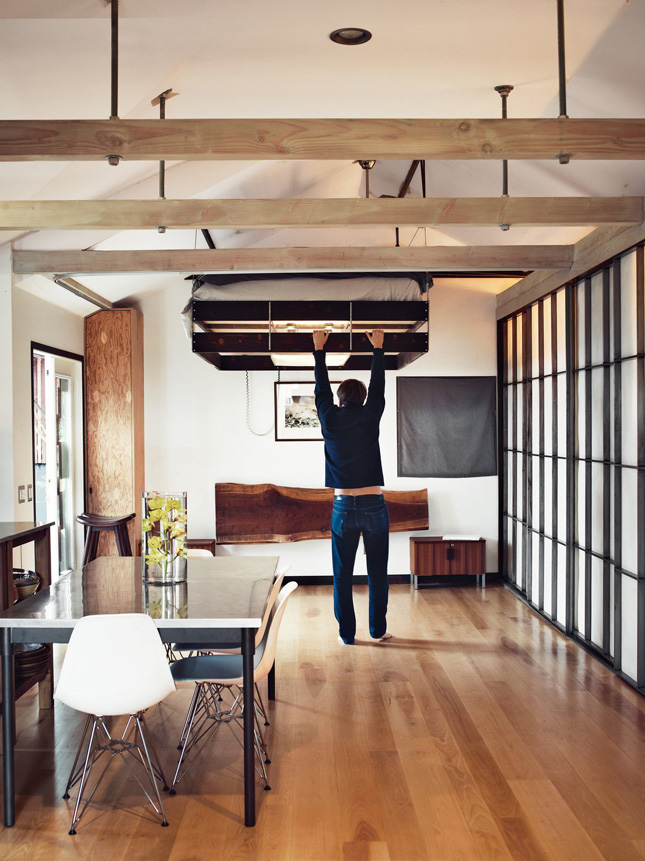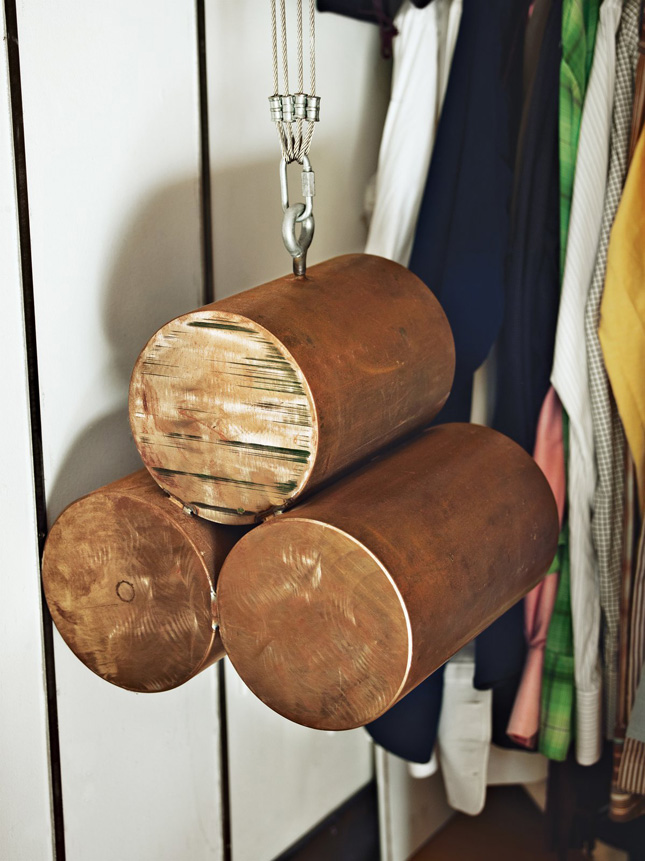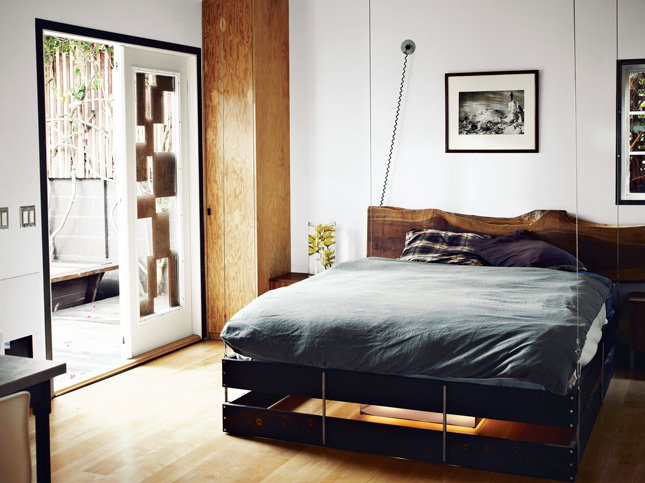 Vincent bought the home in 2003 for $547,000 and worked closely with designer and builder Funn Roberts to redesign it in 2010.
"I had this really terrible wooden front door," Vincent told Dwell. "And Funn was like, 'We've gotta get rid of it.'" They did, eventually, replacing it with a steel-and-glass one, of Roberts's design, to match what Vincent describes as the 'Japanese-industrial' style of his home.
"What often happens in our relationship is I come to Funn with an idea and then he makes it into something that's actually livable," said Kartheiser. "Because I have these thoughts that seem really interesting, but they're not really good for real life."
That may apply to his shower, which sits almost in the middle of his living room, inspired by the 2008 film Synecdoche, New York. Funn had the task then, of turning that into something that would work in reality - and here we are, with an open wet room style shower in the living space.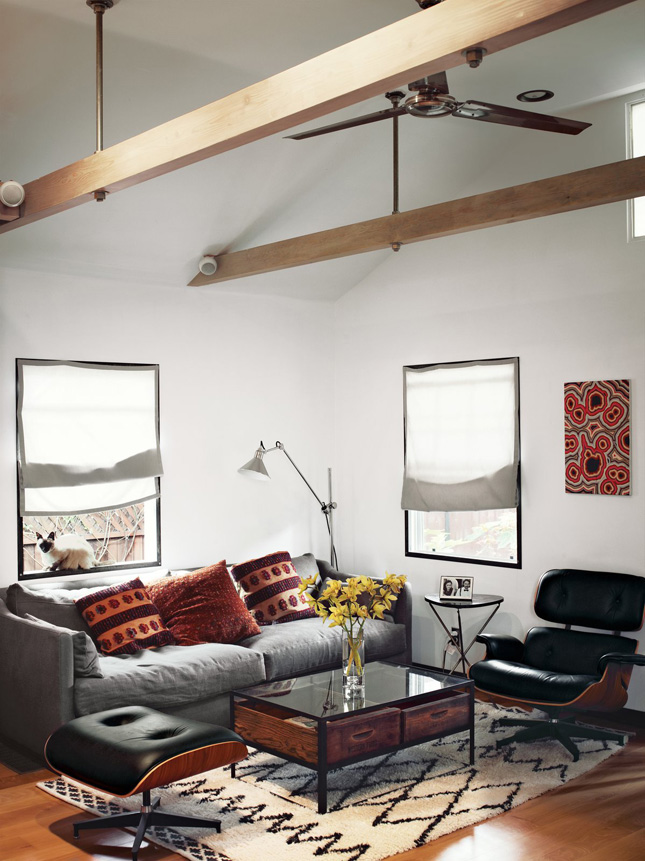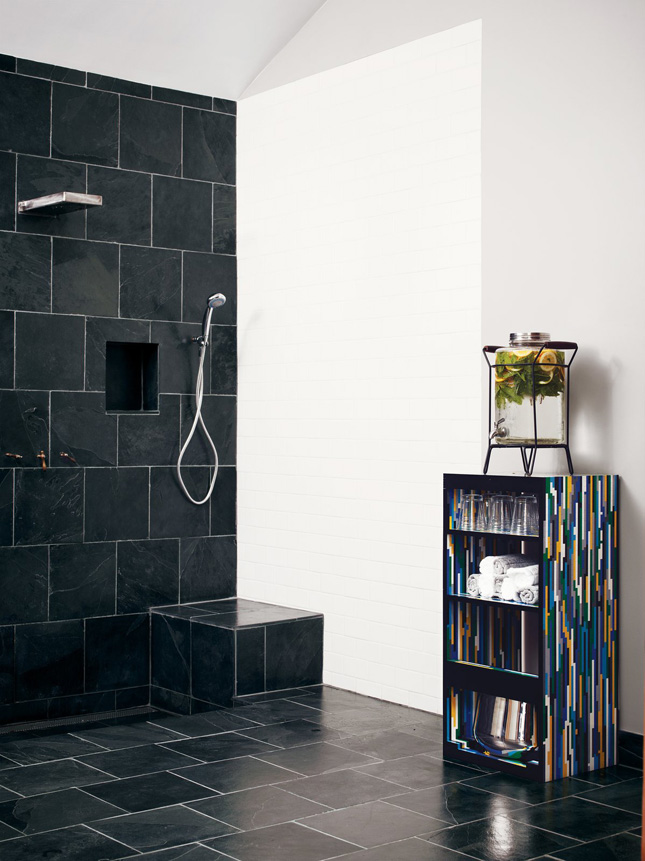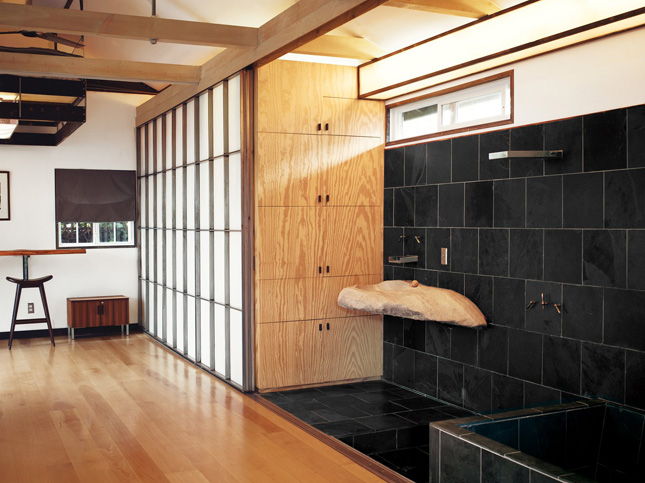 Vincent describes Funn as an artist, and trusts him wholly. "We kind of had this idea at the same time, actually," says Kartheiser. "We both said, 'What if we [suspended the bed]?' Then we just had to figure out how we were going to do it." And they did, attaching a thick, red theatre curtain on a ceiling track (hidden in the wardrobe when not in use), to cordon off the bedroom space for privacy,
For such a small indoor space, he has a relatively large courtyard, which includes a covered seating area, fire pit, and a dry sauna with a ceiling made from 2,500 pieces of wood, all designed by Funn.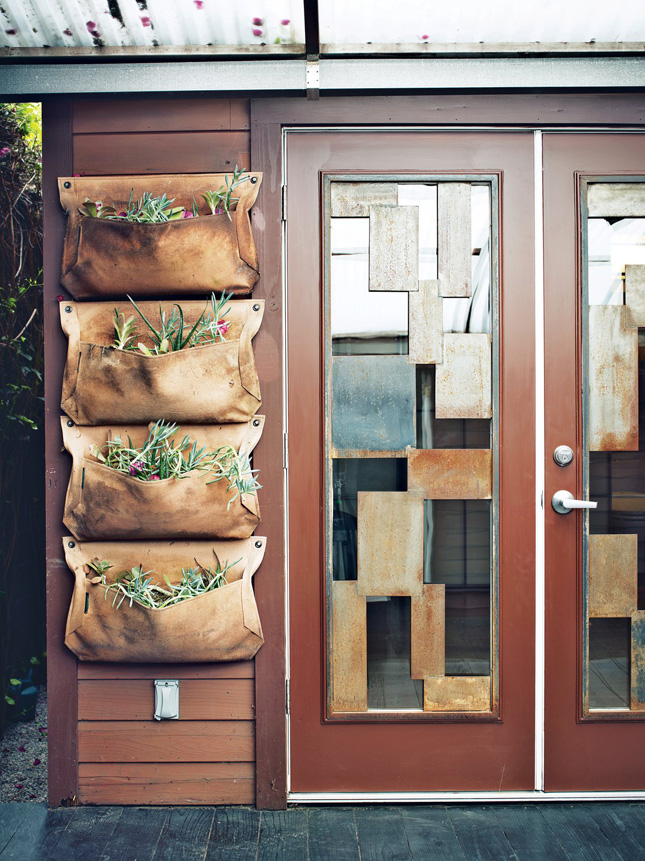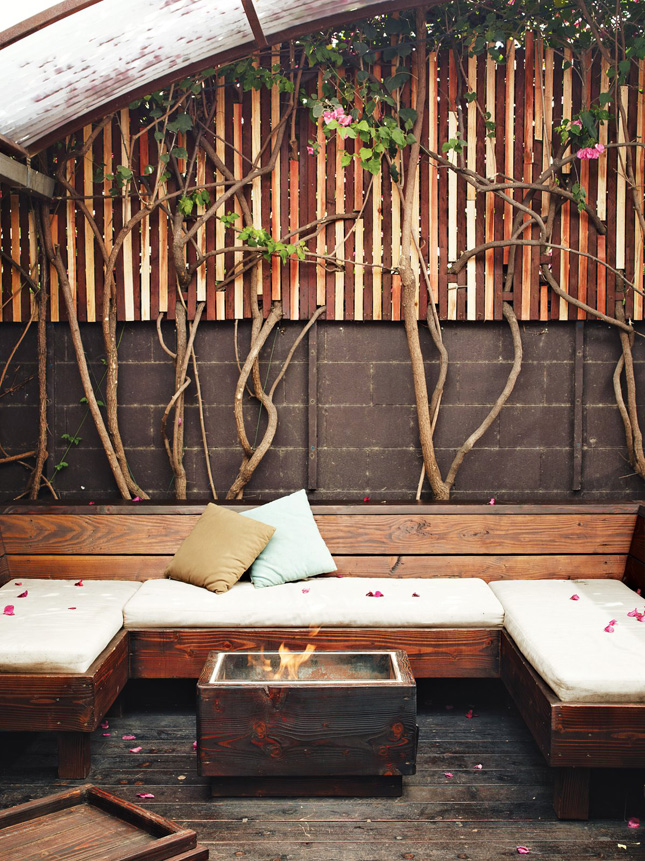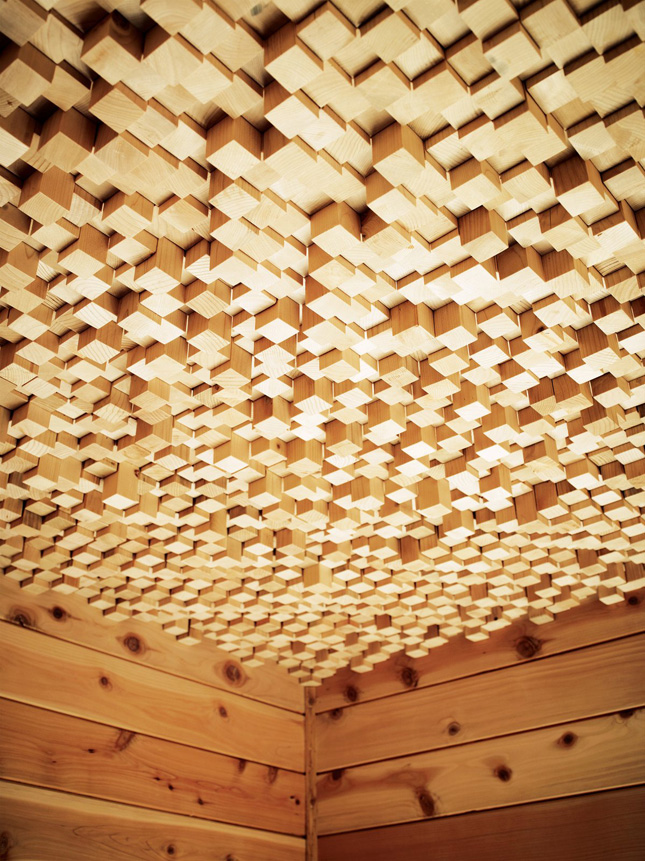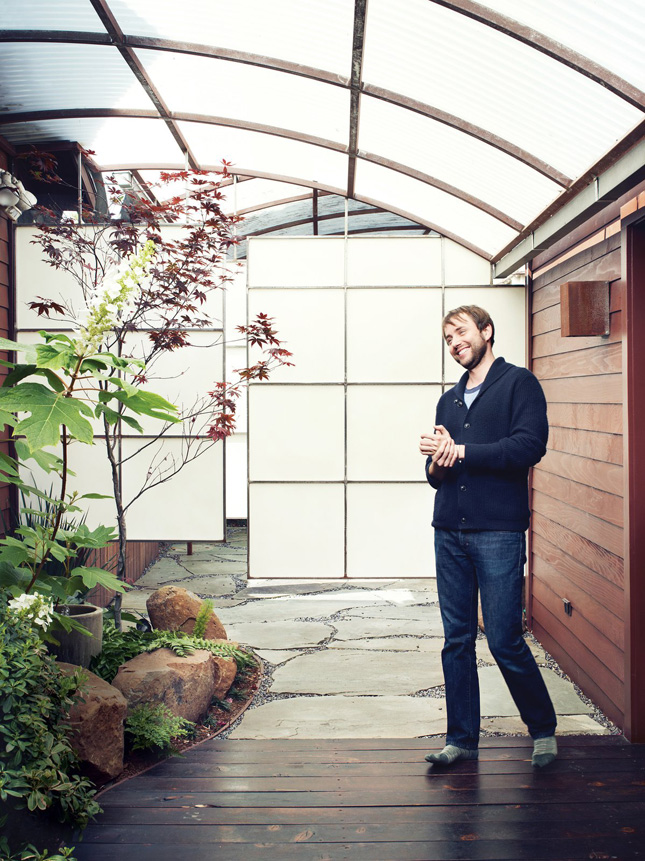 It's clear that despite living in one of the smallest homes of a Hollywood star, Vincent has made some very clever choices in his home.
You might also like: This baby boomer trailer is the cutest tiny home