Irish design émigré Michele O'Hana moved from the concrete jungle of Manhattan to the romantic idyll of the Hudson valley with her husband John Dolan and their two children. Adapting their former holiday house to create a home was a challenge that they approached as a family adventure and embraced with gusto. They now live in a beautiful but comfortable space that allows them to appreciate their surroundings in style and make the most of the great outdoors.
(words: Eimear Nic an Bhaird photos: John Dolan)
Family room:
Rich colours add depth and warmth to Michele and John's cosy but beautiful family home. Earthy colours complement the landscape outside, that has a distinctive influence on the décor as a whole, not least because of the abundance of windows throughout.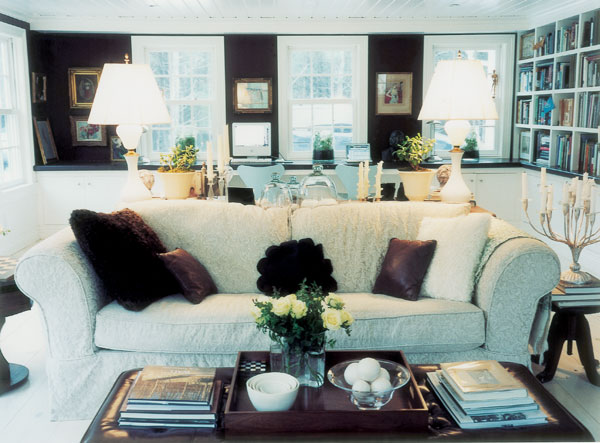 When Michele and John first bought the house it was a dark and dingy disaster. Once they set to work on revamping it, though, there was no stopping them. It's now a far cry from its original incarnation, and an emphasis on bringing in as much natural light as possible has created a bright and beautiful home. The house is impressively elegant, while still maintaining a cosy feel and yet also filled with natural light. Rich colours are tempered by the brightness of the floors and the gorgeous furniture is welcomingly comfortable.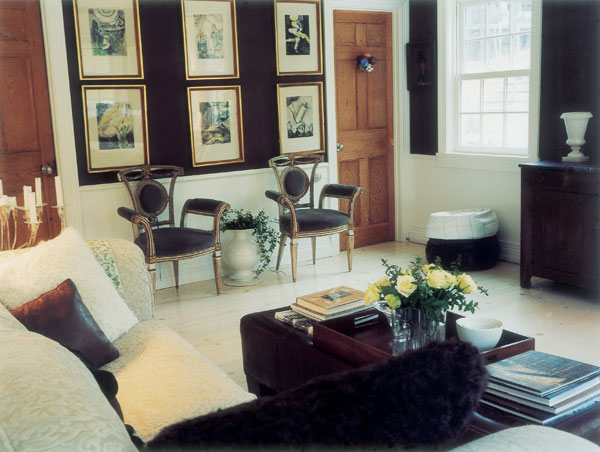 A mixture of styles sit comfortably side by side and work in a way that doesn't take over the room. Design classics work easily with modern lighting and made-to-sink-into essentials.
Kitchen:
Michele and John make great use of the internet as a shopping resource. "We ordered a lot online, things like our Arne Jacobsen chairs in the kitchen" Michele explains. "There is so much that you can do online now, especially if you're going for brands like Knoll or Herman Miller. It's an amazing resource. We brought most of our furniture from the city, so it's now extremely minimal. I'm definitely a firm believer in less is more."
Study:
The fireplace is a rather awesome feature, and adds a modern style to some of the more soft country-style touches throughout the house. The imposing surround makes for an unusual contrast with the tongue and groove roof, creating a unique look.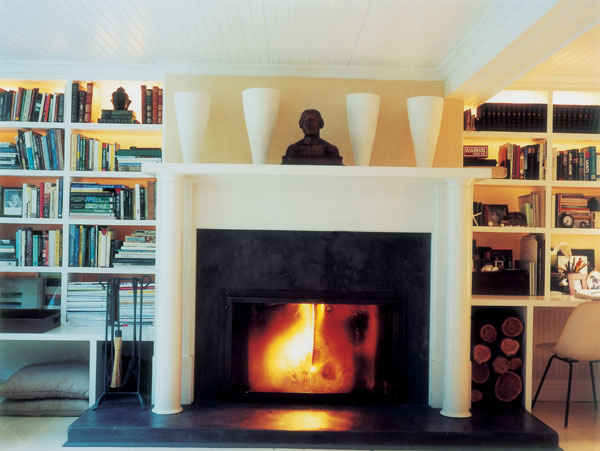 A large part of the success of the design is the custom built storage. Built-in shelving means that everything has somewhere to go, and minimises the potential for clutter. The home is carefully planned out in terms of what goes on in each room, and this organised approach excellently optimises the space at hand.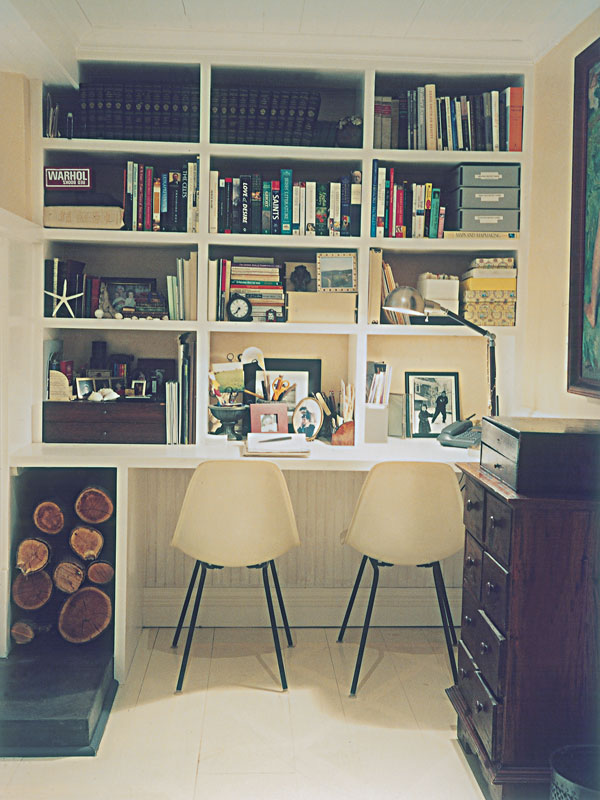 Bedroom:
Calming whites are warmed up with a snuggly red throw and acessories are kept to a minimum, which is the perfect approach to creating a serene space for the perfect nights sleep.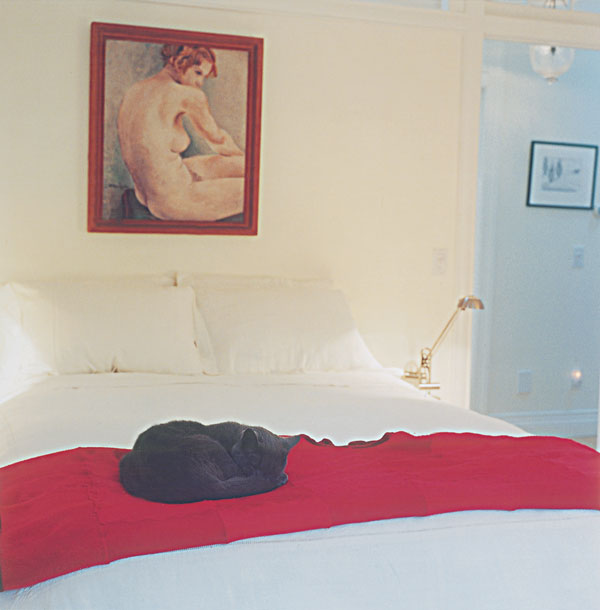 Simplicity is key in bedrooms, where classic neutrals are given added personality with the beauty of the landscape surrounding the house pouring in through the windows.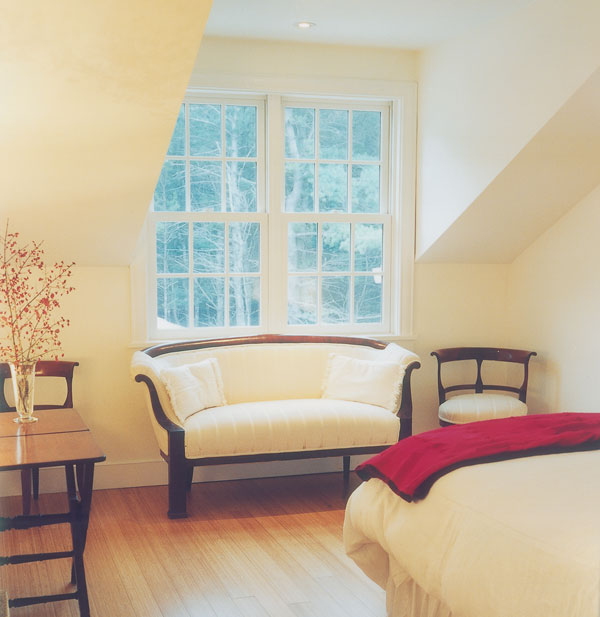 Bathroom:
A mix of styles in the bathroom is tempered by the abundance of white. The stand-alone bath is a fitting addition to the old house, giving a heritage feel to the room.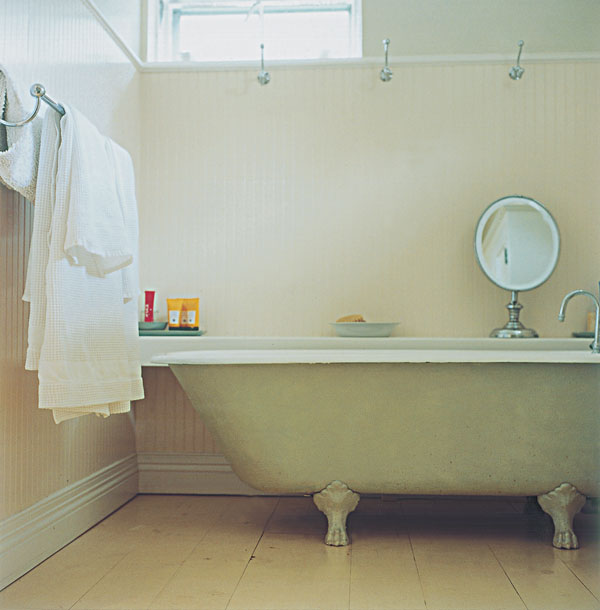 We would move into Michele and John's house in a second, it looks so positively cosy! What do you think? Leave us a comment and share your opinion.