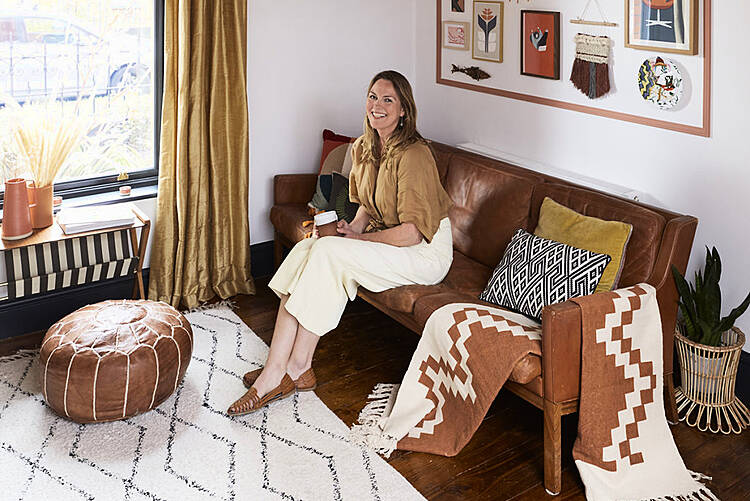 A self-confessed 'teak geek', what interiors Instagrammer and influencer Frieda Furlong (@frieda_100) doesn't know about Mid-Century Scandi furniture isn't worth knowing. Her sharp eye and expert knowledge have built a collection of enviable vintage pieces.
Frieda displays her pieces to stunning effect in her Edwardian redbrick home, which she shares with husband Frazer and kids Charlie (13), Ava Rose (10) and Jack (7). The couple bought the house 15 years ago and did a large kitchen-diner extension a few years back which brings light and space to the back of the house.
However, there was one room which has always frustrated Frieda: her high-ceilinged front room. "I never loved that room, I never sat in it," she states. "It was my son Jack's man cave slash toy-room." The family didn't use it in the evening, and it had never become the adult sanctuary a space like this deserves to be.
"I wanted it to be 'posh Mid-Century'," Frieda says. The arrival of new windows this spring set about a chain reaction that has ultimately culminated in her reclaiming her beautiful front room from the toys and creating that much-wanted elegant, adult space. And she did it all with Crown paints.
"We got new widows and that made me go, 'the room needs to be revamped'. I knew it had to have white walls for the sightlines and flow-through from the kitchen, but I wanted to do something different too," she says.
She settled on an impactful, yet easy to achieve paint makeover that took in ceiling, architraves and skirtings and she added a few clever custom bits as well – including a new gallery wall feature and light switch. Walls were given a fresh coat of gleaming white to be in keeping with the rest of the house.
Freida's shade starting points were a warm terracotta-coloured Arran St East jug and the black frames of the new windows. "I had initially thought of pink, but then decided earthier tones would be better, so we went with a coral-terracotta shade for the ceiling," she says of her journey to a final colour selection. What made the choice for her was the house itself. "I just loved the look of the new window and the brickwork, so I wanted to bring the outside in."
Her paint makeover journey started at her local Crown Decorating Centre on Dublin 2's Camden St, where she got some products, tips and advice. "It was great," she enthuses. "The decorating centre was fantastic. Gary there gave me loads of tips – he told me where to start on the ceiling and to work my way down, he recommended which brushes to use and he gave me amazing masking tape.
"He also told me that when doing the skirting boards, I should bring the dark paint onto the wall; then to mask on top of the skirting and paint the lighter colour on top. It goes against your intuition, but it's easier to paint light onto dark – and it really worked!"
Gary was also able to custom make a dark paint for Frieda's woodwork to perfectly complement her new windows, using the Crown Colourmix service. An any colour, any finish service, you can have your choice made in a shade to suit you.
Frieda chose Crown Matt Vinyl Emulsion, mixed to Arts and Crafts 7 (a rich terracotta) for her ceiling, hard wearing Acrylic Eggshell in White for the walls and the same finish – in her custom-made shade – for her woodwork.  "I picked the terracotta from Crown's Historic Colours Collection – the Arts and Crafts palette just spoke to me.  Gary was able to exactly match the colour of the windows. It's a perfect match and the finish is the same," she says.
All told, the DIY part of the project took five days. "I was taking my time, enjoying it," Frieda smiles. And it all went smoothly, too. "The paint is beautiful to work with. As soon as I started, I was thinking, I'm going to love it," she recalls. In fact, only one thing presented any sort of issue.
"The only thing that was tricky was around the ceiling rose, so I did that with a child's paintbrush, using it to get in between the cracks." Originally, she was going to paint the rose the same shade as the ceiling but picking it out in white has worked a lot better. "I like that it has a life of its own," she says.
Now that Frieda's makeover is complete, the front room exudes a sense of put-togetherness it lacked before. The paint on the ceiling has worked to bring together the warm tones in her vintage furniture and delivers a cohesive designer result. "I've noticed the curves on the cornicing for the first time," she marvels. "I thought the colour would hide it, but paint has brought it to life." Likewise, the black architraves and woodwork add an elegant pop that elevate this space.
"I feel like I've reclaimed the room," Frieda says. "The paint helped with that because it transformed it totally. I'm such a white and wood person and this helped me so much because I could keep the walls white, yet I could paint the ceiling. It threw me out of my comfort zone, which was great."
Previously, Frieda had a café shutter in here – but no longer. "I want to be able to see the road and the trees. Now we use it – it's been given a new lease of life. The room is moody in the evening, the ceiling gives a glow – it's gorgeous," she says. "It finally feels complete after 15 years."
Photographer: Philip Lauterbach Stylist: Alannah Monks
This post is sponsored by Crown. You can visit one of 15 Crown Decorating Centres nationwide to get products and expert advice and help for all your paint projects. Additionally, Crown products are available at hundreds of stockists nationwide.