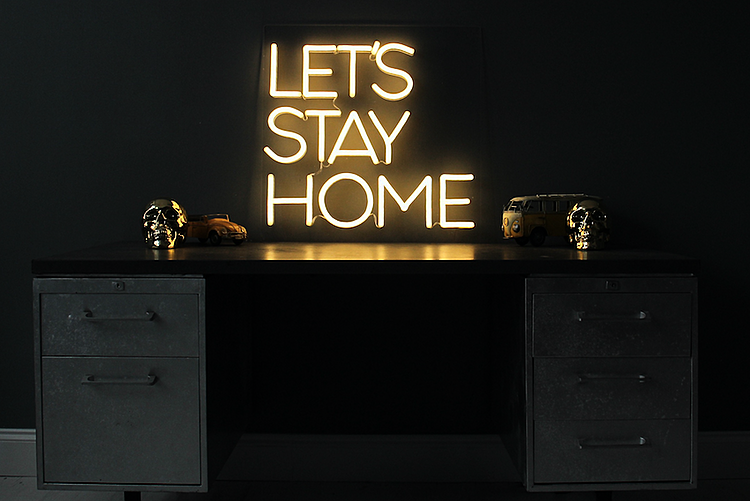 "Life in lockdown has certainly made me look more closely at design in the home,"  says Gigi Foyle who runs designer neon lighting company Bag and Bones, along with her sister Cavanagh Foyle, who is based in Dublin.
"I've always been a fan of minimal design and that's served me well during Covid as I had to convert my front room, which use to be my home office, into our homeschool room for my  5 year old son,Woody and 7 year old daughter, Willow. Previously, it just housed by office desk so there was lots of space in there, so I moved our dining table in and hung up a bright yellow neon light for them to work under. It's a quote from a Steve Jobs 1997 ad  for Apple encouraging people to think differently, which I really like."
Like most young couples with children, Gigi and her husband Nic were on a tight budget when they first moved in to their West London townhouse, so had to be quite frugal when it came to sourcing everything. Gigi put the office of Bag and Bones into the front of the house, fitting out new floors and lighting and adding new shelves and a hanging chair, which is an Earo Aarnio reproduction from eBay.
"Luckily I'm obsessed with antique fairs, eBay and hunting around charity shops so lots of the items I put in here were lucky finds," she says. " I bought my 1950's steel desk from ebay for £40 – it was falling apart, covered in dust and sitting in an old lady's garage in Hackney. Nic brought it back to life and it is now one of my  favourite pieces of furniture. The hanging bubble chair is an Eero Aarnio reproduction, also from ebay."
In the living room, the green velvet sofa and arm chairs are from an antique fairs, and the artworks were found at Spitalfields market in East London.
"Going forward I think the appetite for a home office is certainly going to be there for lots of families," says Gigi "Or if not an actual home office, then definitely more flexible spaces - a living room that has a space that can be converted to a home office, for example."
In terms of how this has affected how they are thinking about their business, Gigi says they are working on lots of new designs that work in both home and office environments.
"People's homes have become safe havens during Covid so interiors that can provide comfort, calmness and security are so key, and lighting plays a vital role in achieving this."
In Gigi's home the look is minimal, but with lots of maximalist twists.
"I would have to say my interiors style is a bit conflicted. On the one hand I'm a big fan of a clean, minimal design aesthetic and that's something that's reflected in our home. But there's also a light-hearted, uplifting tone, with some humour thrown into the mix for good measure. So… pops of bright colour, marmite-style wallpaper and tongue and cheek artwork."
"The kitchen was very beige when we bought it so we took out the old dark kitchen units and replaced them with white units, from Howden's Kitchens. We also re-painted the whole room white and added metro tiles around the kitchen units," says Gigi.  
Red is a favourite colour so while they kept everything else white they decided to paint one of the beams in red and also have a red neon light in there too. The kitchen table was picked up at a flea market and the chairs are original Eero Saarinen tulip chairs that Gigi bought long before she lived here "I always hoped that one day I'd have the perfect house for them!" Gigi laughs.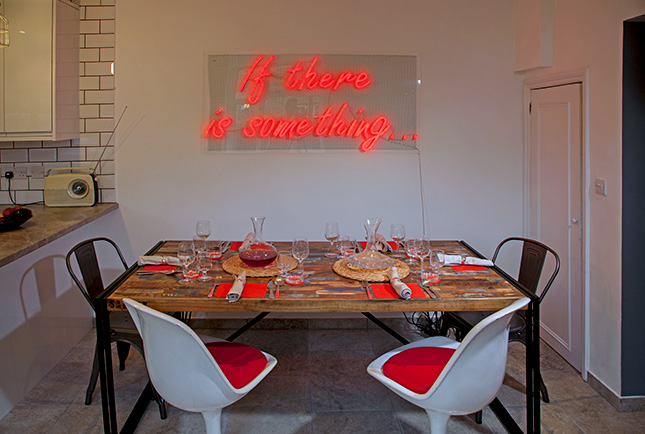 Moving upstairs, there is more colourful wallpaper and flashes of colour in the bedrooms and bathrooms, although Gigi swears she is a bit of a minimalist. 
"I'm a bit OCD when it comes to clutter so I've just kept to the bare minimum in the bedrooms; a bed and often just a chair as a bedside table. My daughter Willow and I decorated the wall in her room with swallow wall decals and she also has a blue neon swallow in there – which she loves!"
Some of the artwork in the bedrooms and bathroom are framed vintage penguin postcards and there is more neon art from Bag and Bones, made by Gigi's sister Cavanagh.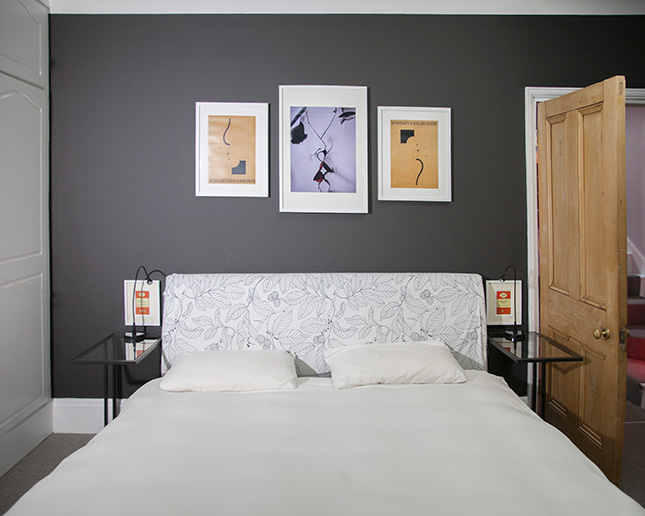 "What I love most about the house is all of the bright space and the big garden," says Gigi "When you work from home you want your environment to feel calm and relaxing. My mind works better with less clutter so I have to keep everything fairly minimal."