An expert eye and some serious insider knowledge helped interior designer, Julianne Kelly, transform a down at heel house into an impressive home.
Hall:
The hallway had been rather bizarrely divided in two when Julianne bought the house, and so she knocked the wall to create one large space. Luscious red and gold wallpaper is complemented by silk curtains, giving a rich luxurious feel, with radiators carefully hidden from view.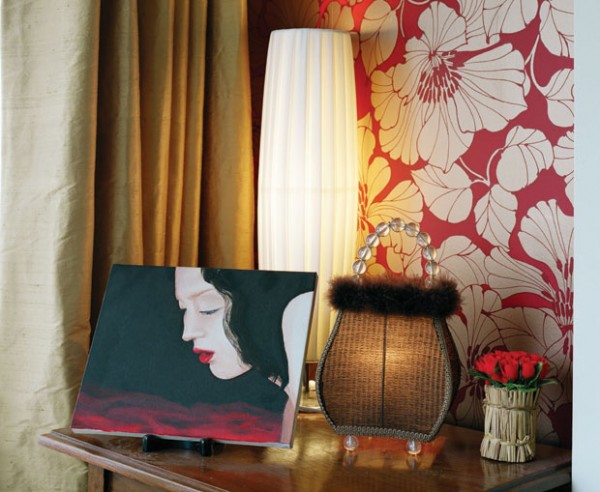 The front door is painted in a smart greeny-blue shade that brings colour and personality to the front of the house. The astute decision to change the direction in which doors open means that people no longer walk into walls when they enter each room, and again adds space.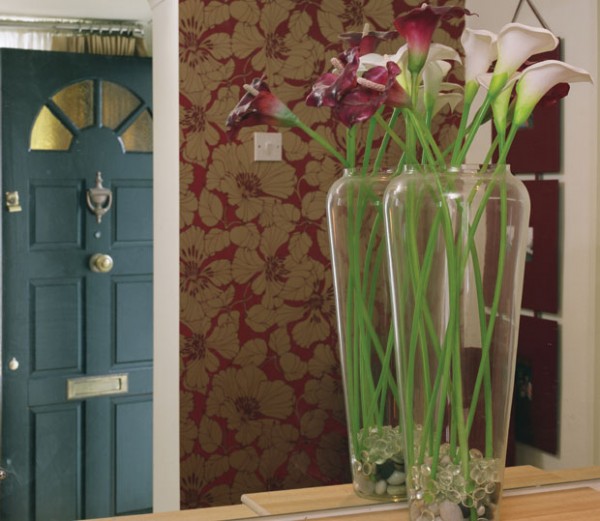 Living room:
The fireplace is an unfussy, modern style in limestone and slate. "The house is too small for anything crazy" she laughs. The abundance of built in shelving means that free standing units don't hog precious floor space, and the lack of clutter gives free reign to lively prints and colours, including her favourite piece in the house, a vibrant red rug.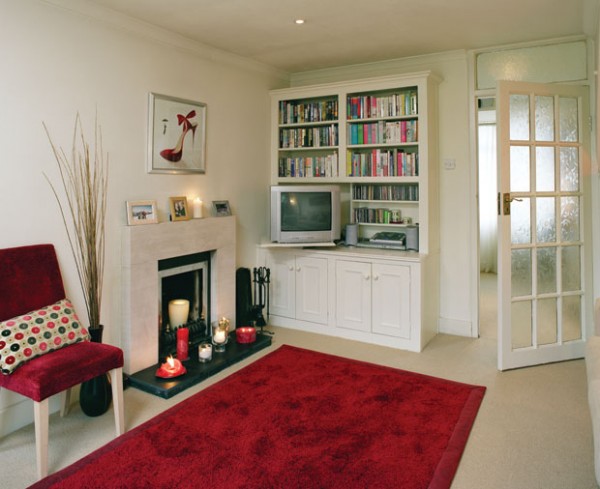 Julianne spotted the funky piece above the sofa in the Polo Gallery in Galway in a different colour and ordered the same piece in vibrant red, which was made and sent from Portugal.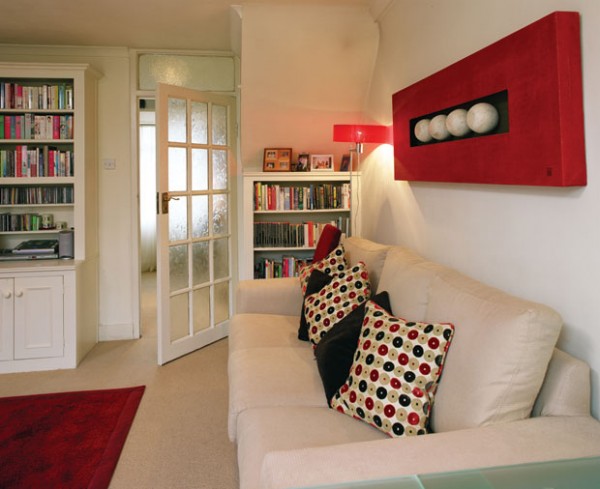 Bedrooms:
Julianne's bedroom is a calming space that still makes room for vibrant colour and a touch of pattern. Her love of beautiful fabric really shines in here in particular, with a rich, jewel-like headboard covered in purple fabric and a pair of side tables that she had made from MDF and covered in the same fabric, with complementary Designers Guild fabric on top. Stripes on cushions and blinds and a leaf motif on the tub chair all blend seamlessly to form a good-looking team.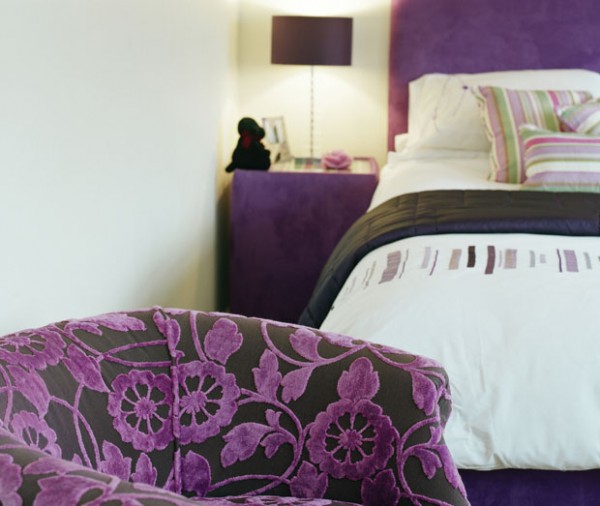 I had planned what I wanted, but I changed a lot along the way, as new things come into the shop all the time - explains Julianne.
Having a selection of the latest, most fabulous wallpaper and fabric prints at her disposal made it inevitable that her own home would be a symphony of unusual styles. This animal print fabric by Andrew Martin makes quite a statement and cuts a dash as a headboard with matching cushions. It seems she was just in the nick of time, as the fabric has since been discontinued. Julianne's keen practical sense carried through to the bedrooms, where she chose beds with drawers underneath to make the most of every nook and cranny for storage space.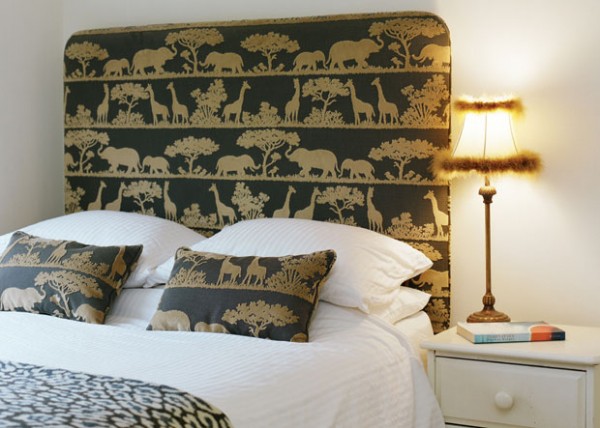 Julianne's top design tips:
Start with a neutral scheme and add colour with fabrics and accessories.
Balance fabrics and colour throughout your decorating project. For each room pick one key inspiration item for colour and build from here. Let this be the dominant colour and then bring in one or two other colours as support and accent.
Don't be afraid to bring in a 'Wow' factor. There is a huge amount of choice available at the moment in fabrics and wallpapers. It's nice to be unique , moving away from the minimalistic look.
If you have a bulky piece of furniture (bookshelves, wardrobe etc) and you want it to blend in with the rest of the room's décor, paint it the same colour as the wall. The piece will fade into the wall, looking as if it were built in.
Always bring home samples of wallpaper and fabrics to see them in situ. The colour can change slightly under different lighting. Likewise, always test a paint sample on the wall before you start painting.
Add a rug – a rug can help balance a room by defining a space, make a room appear cosier and add colour.