Sharon Hearne-Smith is Ireland's answer to Martha Stewart and her south Dublin home reflects exactly that.
In her 1950s themed kitchen, retro props and pastel-coloured finds grace almost every surface. Vintage food tins house kitchen utensils and she has made sure every inch of the Hearne-Smith house is cute enough to instagram.
More than just looking pretty, her kitchen is a family space, testing kitchen and photography set. Sharon has used the space to test and photograph recipes for top chefs like Neven Maguire, Jamie Oliver, Lorraine Pascale, and James Martin. However, the inspiration for her kitchen came from working in the kitchens of Ina Garten, Gordan Ramsey and Rachel Allen.
"I worked in London for 16 years and, during the time, was in some of the most well-equipped home kitchens. I always loved having a snoop around to get ideas," she says.
Sharon and her husband bought the house in 2008, but took 18 months to renovate it. They swapped the living room and kitchen, and added a light-filled extension. Looking in auction houses, charity shops, eBay and Ikea, she found affordable pieces to upcycle, using pastel paint, lace, pom-poms and floral knobs to give a retro feel.
A local carpenter tackled the high-gloss Ikea cabinetry to add tongue and groove panelling to the gable ends of the units and decorative trim to the overhead cabinets. "I had him tracing around tea cups and cookie cutters to get the perfect shape for the trim," Sharon explains.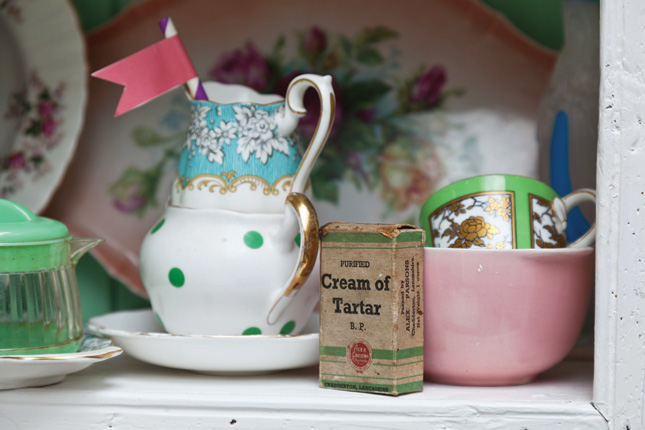 Floor-to-ceiling drawers were added either side of the fireplace to offer more storage and allow Sharon build a store-cupboard pantry. She decants her most-used ingredients into tall glass Kilner jars, allowing her easily see what she has on hand.
Convenience in the kitchen has inspired her own cookbooks. Her most recent book, The No-Cook Cookboook, was released in June this year. It features a whole range of recipes that rely on the assembly of fresh, wholesome ingredients, and her presentation is everything.
Her social media is full of fun, retro lifestyle ideas. They encompass not only food and interiors, but also gardening, kid-friendly arts and crafts, and of course, the retro-glam fashion she's known for.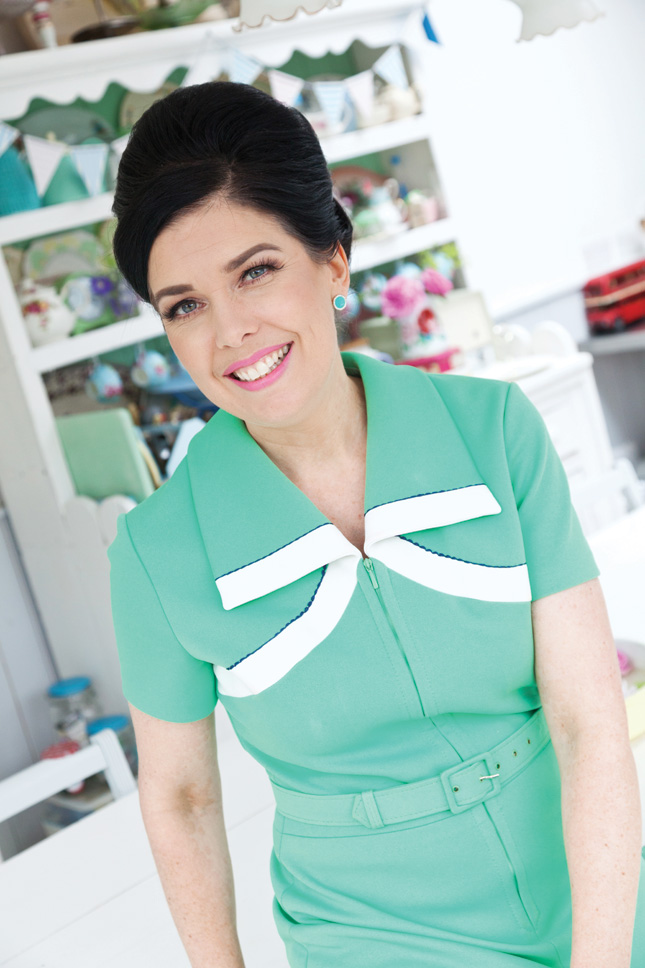 Some of her favourite spots to pick up vintage kitchen paraphernalia and furniture include Oxfam Home in Dublin's Antique Quarter, Herman and Wilkinson in Rathmines and the Bailey Gibson Salvage Yard on the South Circular Road in Dublin.
Sharon's ability to make something beautiful out of inexpensive finds has built her not only a career spanning 20 years, but also a perfectly styled and functioning home.
Sharon's kitchen was featured in the July/August issue of House and Home. You can check out Sharon's website to keep up with her or to check out her decorating tips and tricks. The No-Cook Cookbook is available in all good bookshops now.
Photography by Paul Sherwood. Styling and interview by Louise Dockery.