Luck led French-born Veronique Piales Quinn, owner of Lulu Vintage Store, to Talbot Lodge, while hard work and good taste helped transform it from a rundown old space to a beautiful home full of contemporary comforts. Incorporating Japanese and French styles, while remaining true to its cosy traditional roots, it has a fresh look with a wholesome feel and distinctive taste.
(Words & photos: Lois Crighton)
It was pure luck that Veronique Piales Quinn found Talbot Lodge. Her husband had come across it when he was out for a run one morning, even though it was hidden away up a lane and behind high walls. It was the lodge belonging to the main house that was the summer residence of the Talbot family – one of the longest residing families in Ireland, whose tenure in Malahide Castle lasted for 800 years.
The family took on the task of converting the old lodge into a home with the help of architect Ross Cahill O'Brien (phone 01 2301905, email [email protected]). The house was damp from top to bottom, and rotten underneath. It needed the full works – to be reroofed, replumbed, wired and fitted out.
Hall:
The 1950's cherry wood sideboard was a gift from a neighbour. On top of the sideboard is a selection of mix and match pieces, including a painting by local artist Alexi Krasnovsky and another by Australian artist Ruark. The glass bowl was a gift from Veronique's mother, and the glass jar contains odds and ends, shells and Australian seed pods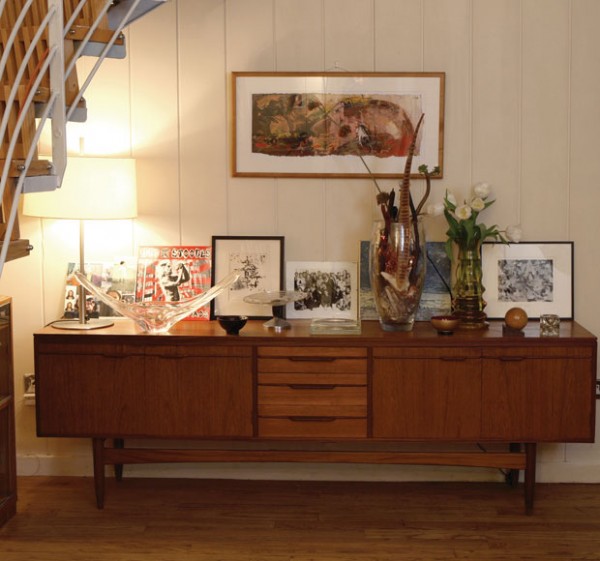 Living room:
The 1950s drinks trolley, the two triangular chairs on rails that Veronique had covered in fake leopardskin fur, and the central light fitting that she pared down and found was copper underneath, all came from French bric a brac stores. The checked cushions and mohair and reversible cashmere throws are from Avoca.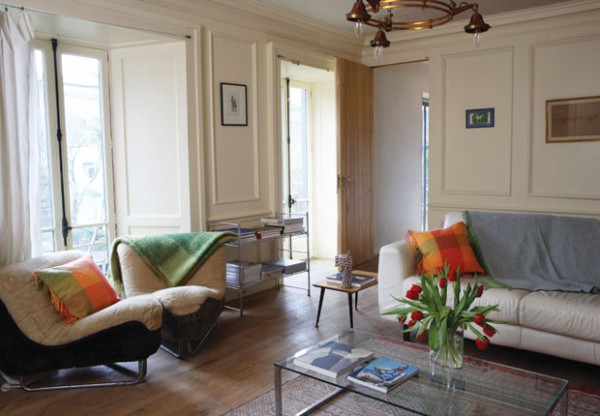 Kitchen:
The kitchen table was bought in Habitat and the original classic 1950s classic Bertoia black metal chairs came from Paris. The orange pendant lights are from Haus. Veronique picked up the old mirrors in Buckleys Auction rooms, and the cushions are from TK Maxx. The fish over the Aga came from Peru and is said to be a symbol of safety and plentifulness in the home.

Office/ Library:
On the second level of the house is the entrance hall, with a seated area and the rounded library hall that is used as an office. There is a chrome and glass topped table here from Enclosure, and Veronique found this beautiful turquoise spotted vase by Zanini in France many years ago. The shell people ornaments are traditional pieces from Veronique's home town, Auvergne.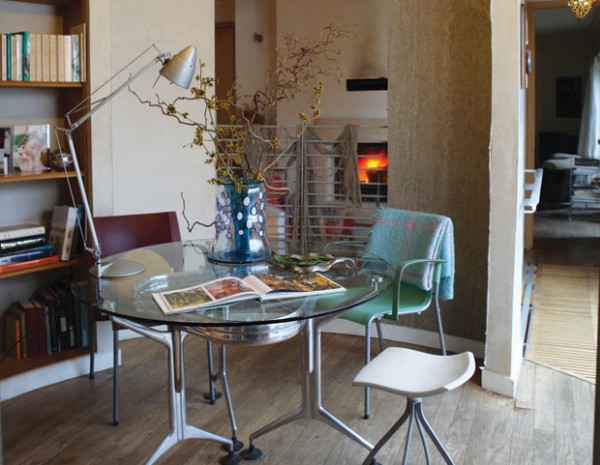 Bathroom:
The bathroom sanitaryware is salvaged, and some of it came from Hammond Lane scrap yard.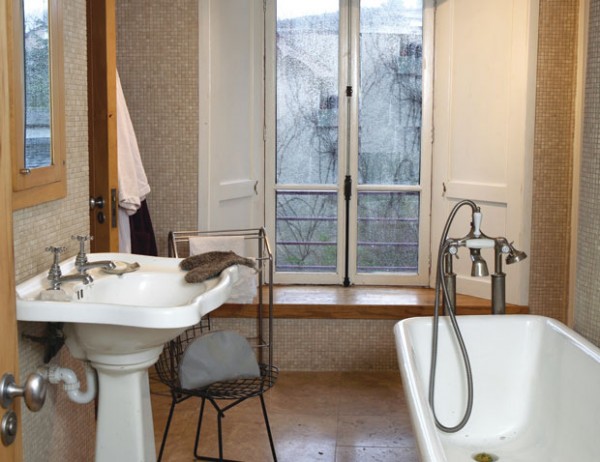 The old bath was an original piece in the house that was there when they bought it, and the floor is limestone.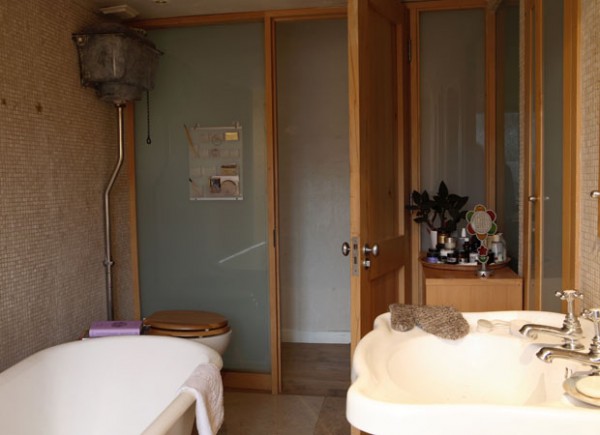 Bedrooms:
The old club leather chair in Veronique's bedroom was a present from her mother, and the throws are from Avoca. The poncho blanket was brought back from a holiday in Peru, and the small etching beside her bed is by Cara Costea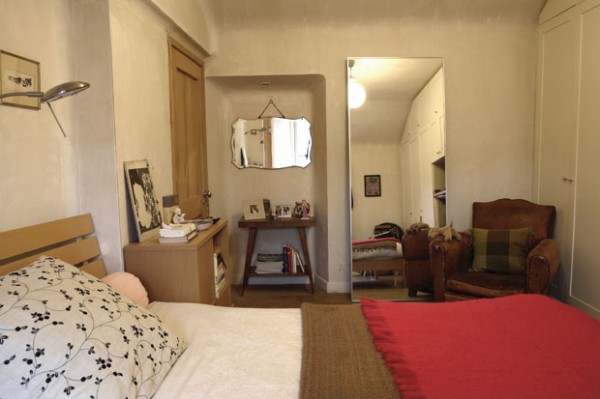 Tell us what you think:
We love how Veronique has made her home stylish and contemporary in an understated way. What is your favourite thing about Veronique's home? Tell us in a comment!