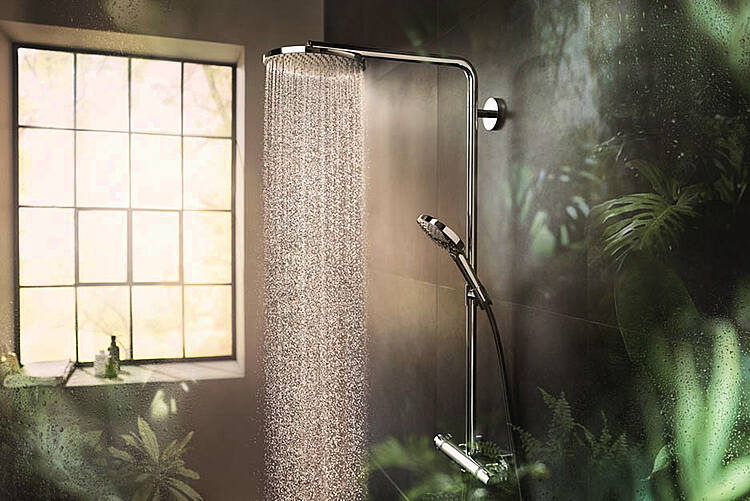 A bathroom that promotes wellbeing is one of the key trends interior designers are focusing on right now. Here are seven ways to bring some extra zen into your wash zone
Words: Ciara Elliott
While kitchens were once deemed the number one priority project to add value to your home, bathrooms are fast becoming the new focus areas where we are concentrating our money and resources. At the end of the day we all want somewhere we can ease off the stresses of work and life. So seek out a soothing scheme replete with unfussy products, touch-me textures and luxe finishes. There is so much to inspire in the bathroom market now. Here are a few ideas to note.
1. Create a serene scheme
"Bathrooms can be a wonderful place of sanctuary and to unwind from the day, so consider colours that soothe and offer a greater sense of well-being," says Patrick O'Donnell, brand ambassador for Farrow & Ball. "This can range from greens, both light and mid in tone, to delicate soft pinks and warm whites, as pictured (above)."
Shown above, Snow White No.W1 Emulsion, €71 for 2.5l, Farrow & Ball.
2. Think calm and tranquility
"Bathrooms aren't just the room where we take care of our daily hygiene, they are constantly adapting to our lifestyles and needs," says George Oliveira, marketing manager at Niko Bathrooms. "The best bathroom design allows for the creation of a calm, tranquil space and a minimalistic sanctuary where we can take refuge from the busy demands of modern life."
Shown above, slate effect shower tray in white or anthracite, in multiple sizes, from €580, Niko Bathrooms.
3. Seek out sustainable products
Since its first eco hand shower in 1987 to its new recycling technologies and CO2 emission reduction pledges this year, the Hansgrohe Group has been setting industry standards in bathroom sustainability for a long time. The Raindance Rainfall overhead shower (above) is small on carbon footprint too. With its EcoSmart Technology it can reduce water consumption by up to 60%. Emulating a rainforest's misty downpour, it might also elevate your daily shower experience to all new levels.
Shown above, Raindance Select overhead shower, €808.55, Hansgrohe.
4. Bring in spa aesthetics
Cocooning spaces that bring comfort and luxury back to the home begin in the bathroom. Pared back to its essentials for a luxury home spa-like atmosphere, the Grohe Essence ceramics collection seamlessly blends a natural feel with a slim boutique hotel-look profile.
Shown above, Essence ceramics and Plus brassware from €300, Grohe.
5. Embrace the curve
Curved design elements are another way to achieve a natural, relaxed mood in the bathroom. Whether you want to make a statement with a sculptural tub, basin or shower unit, or go for more rounded shapes in cabinetry or accessories like mirrors, it is a lovely way to achieve 'lagom' (or balance) in your bathroom design. Mixing squared elements with curves looks great too – so if you already have slick and angular shapes in your space, try adding some new rounded black tap ware or even bringing some round natural baskets to add to the look. Clean colours such as nudes, pastels and matte pink tones will also bring a chic and fresh feel to your scheme.
Shown above, Chloe freestanding bath, €1,695, Sonas Bathrooms.
6. Keep it clutter free
"To me the new trend for mindful bathrooms is about creating sleek, crisp lines, functional designs and storage solutions that help to keep the bathroom clutter-free," says Martin Bohill at Fieaga Living. "You want your wash area to maximise the feeling of zen to its fullest and create a zone to rest and relax and unwind at the end of the day."
Shown above, Breath Double Setting basins, €1,700, Fieaga Living.
7. Use natural materials
As technology continues to take over every aspect of our lives, more and more of us are craving nature like never before, looking for new ways to incorporate organic materials into our living spaces. Exposed timber is a rarity in a bathroom but it actually works wonderfully as a foil to the cold surfaces of stone and metal.
Shown above, Edinburgh Undermount Open Washstand, €1,845, Ashcroft Rectangular Box Tray, €53, with Brunswick Bronze Wall Light, from €77, Neptune.
If you're inspired to bring more wellbeing to the rest of your home, don't miss our feature Mindful Ideas for Zen Living.