Kicking off this Friday, April 21st, at the RDS Simmonscourt, the permanent tsb Ideal Home Show showcases the latest trends in interior and architectural design. To get you in the mood, we chatted to the seven Irish interior designers who are part of the Colourtrend Interior Design Forum at the show about the rooms they'll be creating, their favourite interiors trend for 2017 and their quick fire interiors top tip.
Check out our interviews below, and if you plan on heading along to the show, don't forget that we have free/2-4-1 tickets for our readers - details here.
1. Dana Kallo of Black Fox Interiors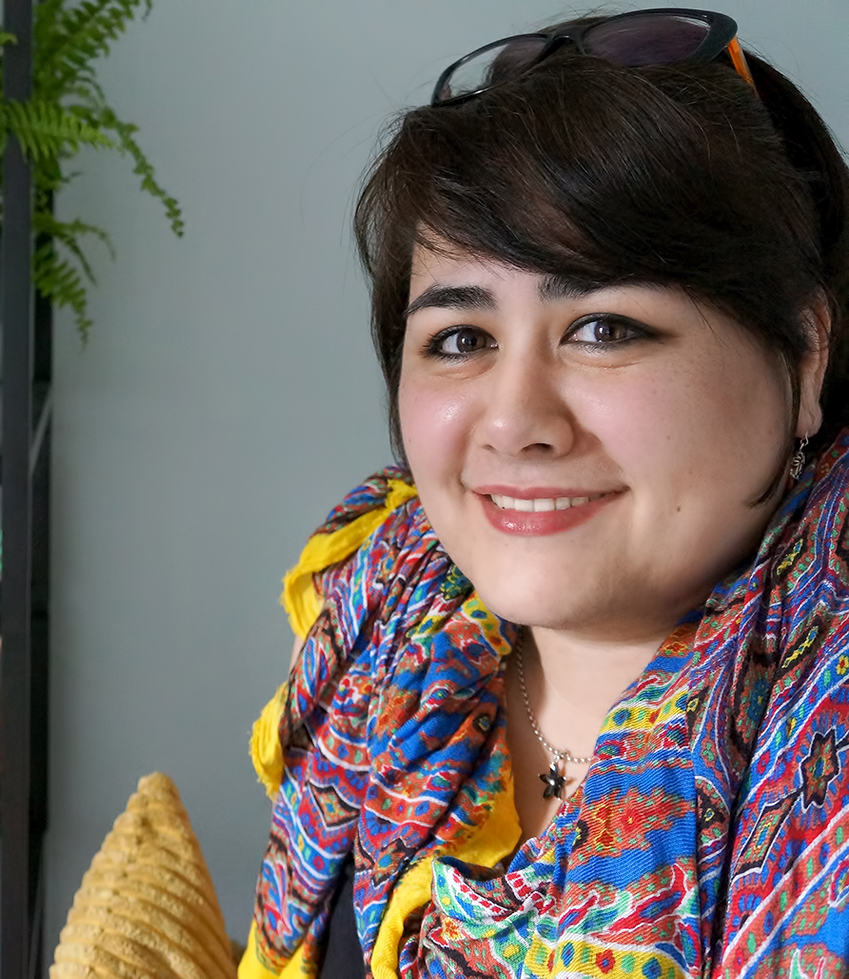 Tell us about the room set you're designing for the Colourtrend forum.
Lately we have noticed an increase in popularity for home offices in our projects and many of our clients have asked us over the last year to include this function in the design of spare bedrooms, living rooms and even kitchens. The set that you will see at the show has a contemporary feel, using good quality furniture in light colours with accents of dark blue and green. We want to play with the surfaces and all the materials and forget for a moment the habits of painting entire rooms in one colour or just feature walls at the back of the room. We want to see how paint can enrich a concrete pendant as well as a ceiling surface or a piece of timber. If we add to this natural wood colours, tan leather finishes and as much greenery possible the result will be a very welcoming room, subtle enough to allow work focus yet stimulating and far from being boring.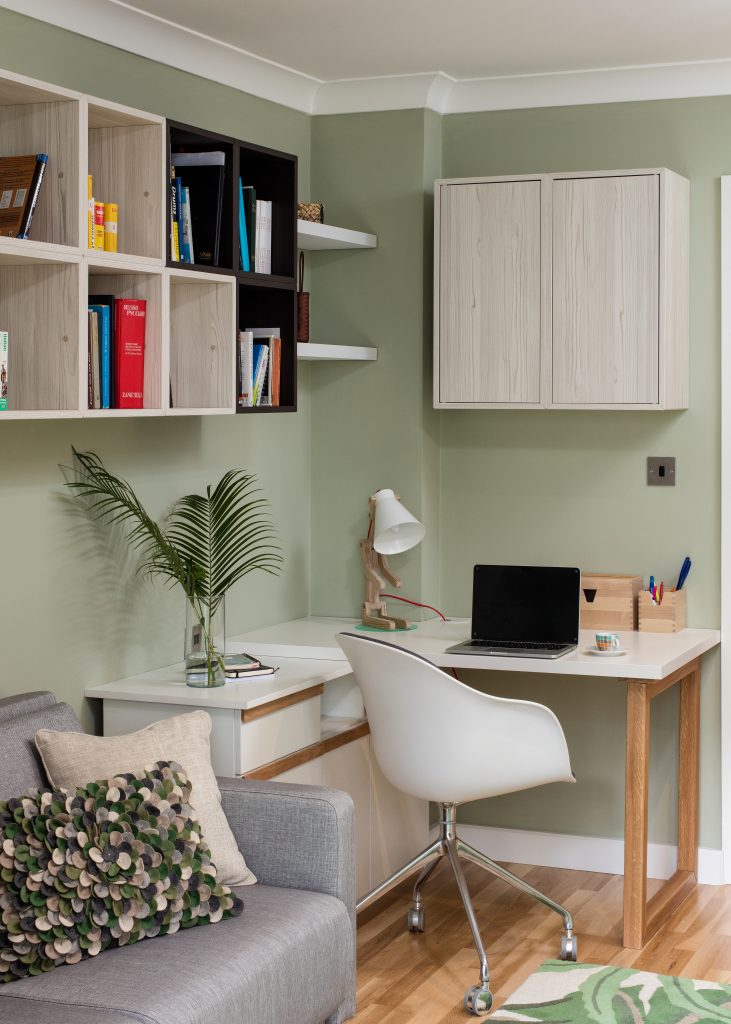 What is your favourite interiors trend for 2017?
Every year trends come and go and very rarely designing on trend will result in a room to last. For me, the key is to understand and follow your personal style, personality and lifestyle. If I have to nominate a trend that I am happy to see sticking around, it would be the Nordic design (Scandinavian design). I agree with its core values of simplicity, minimalism and functionality, but I welcome the 2017 influences that take the black and white interiors and softens them through folk art and boho vintage treasures.
What's your best interiors top tip?
Let your homes grow and transform through you. A house doesn't have to be a perfect showroom or a finished set. Every day brings new experiences that change perception, style and personality so we need to leave room in our homes for these memories. Even if that means keeping some empty shelves for a while. I always tell my clients there is no problem if they cannot choose now the perfect artwork to finish a wall. At some point in their lives, they will, and it will be perfect because besides colour or theme, it will bring emotional value, connection.
You can find out more about Black Fox Interiors on their website or catch them on Facebook.  
2. Jill Bennett of Dandelion Lane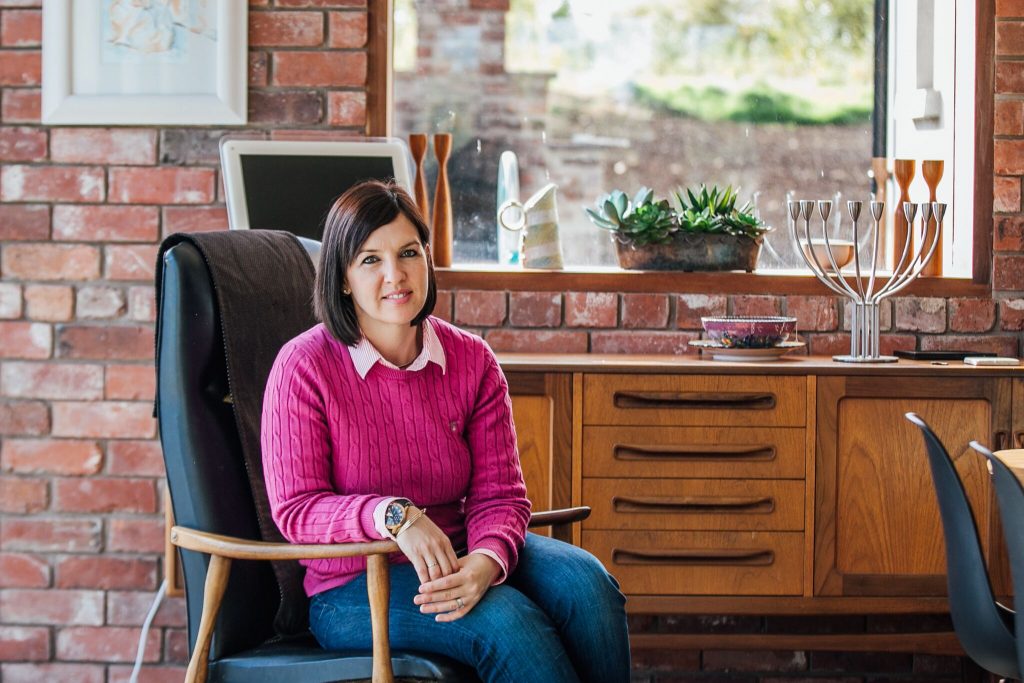 Tell us about the room set designed for the Colourtrend forum.
The room set is entitled "Authenticity". It is inspired by arts and crafts pioneer William Morris, but has an edgy feel with the use of mid century furniture and industrial lighting. Authenticity or honesty is about being true to you; anything goes as long as you love it! The main fabric is 'Snakes head' by Morris, a stunning design originally produced in 1876 and still in production today. There are old and new pieces in this scheme and I believe that creates a uniqueness within interior design. Our sofas are original mid century, recovered in an old gold velvet and snakes head. Set against the dark wall painted in 'Old bone' and 'Dressage' by Colourtrend, these fabrics will exude luxury and sophistication. When choosing accessories for this style, embrace the imperfect and go for pieces in natural materials with handmade finishes. Earthy palettes like this lend themselves to lots of natural texture - linens, weaves and velvets in our case.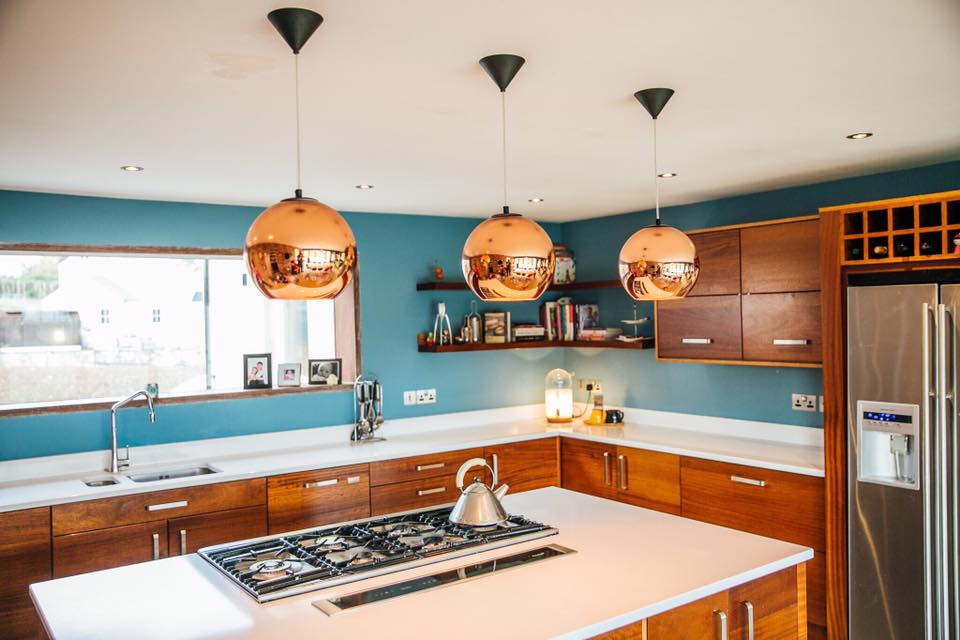 What is your favourite interior trend of 2017?
Dark colours. I expect 2017 to bring dark matte colours fully into trend. In my own home I have used Peacock blue from Colourtrend's Historic range in my living room. I believe dark colours do not close in a room as is often said, but instead make it cosy. Expect everything from deep navy and dark emerald green to black charcoal. Colours like Mussel, Bridle path, Peacock blue all from Colourtrend, both historic and contemporary ranges.
Whats your best interior top tip?
Be brave and do what you love, that way you won't tire of it!  There is a distinct tendency to play it safe within interior design. Cream, grey and beige have been on the menu for many years in 'safe' society. If you love a particular period of design (for me it's Georgian and mid century) then let it influence your own home interiors. We built our house to include both styles. To the front, it's a traditional Georgian block with wooden sash windows and high ceilings. A step up to the back divides the space and leads to a mid century modern feel open plan kitchen etc. I simply couldn't decide which of my favourite design eras to be inspired by so I went with both! It makes for a quirky and individual home which we love and will never tire of. So my advice is throw caution to the wind be individual and make your house your home!
You can find out more about Dandelion Lane on their website or catch them on Facebook or Instagram.
3. Diana Valentine of Home Lust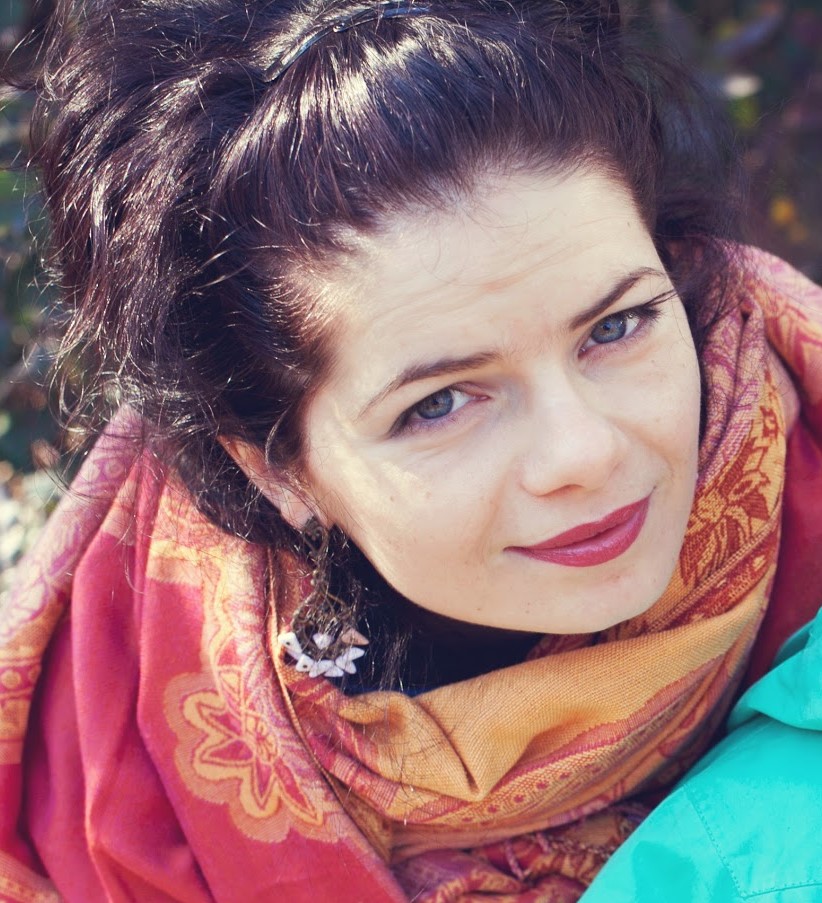 Tell us about the roomset you're designing for the Colourtrend forum.
My roomset this year is an interior garden, which doubles as a creative workspace in the home. As work and home lifestyles continue to change, I believe that most people wish to have their own informal creative or working space in the home, one that can be enhanced by the positive impact of living greens. For the roomset I designed, I've chosen a number of Scandinavian brands sourced on my Home Lust Concept Store, as well as a large selection of products from Dublin-based Irish-design makers and fairtrade retailers. The assembled set is essentially a collection of my favourite things, and some of the best artisan creations available in Ireland, from makers such as Gilded Hound, Hey Bulldog Design, Elements of Action, Concrete Forest, Grain & Groove, Kaiko Studio, Abode Decor, Dar Sol, and rare flowers and plants from La Planta.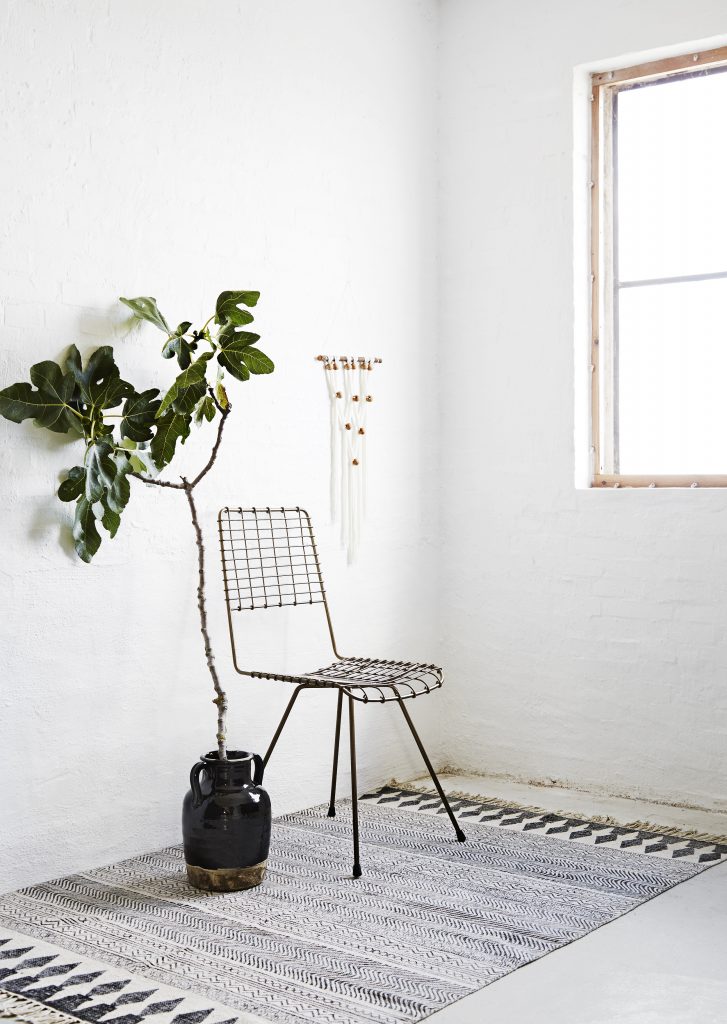 What is your favourite interiors trend for 2017?
I love all the exciting trends in home textiles, such as the return to luxurious texture and vibrant colours, with the addition of fringes, pompons, tassels and jewelled embellishments to throws and cushions. These are lovely bohemian touches that have filtered through from the fashion runways and mark a return to a certain playfulness after quite a few years of neutral minimalism. In the same vein, modern glam will be big this year, with golden metallics taking centre stage, paired with dark greens, aubergines and inky blues, so expect an elegant sort of decadence when it comes to dining and the living space. The botanical trend shows no signs of waning, and animal motifs were present at all of the big interiors events in Europe, so it's plants galore and cute koalas this year, very tropical still, but definitely less kitsch than in 2016.
What's your best interiors top tip?
Choosing products with a certain timelessness and versatility in both design and usage. Many of us don't have the finances or time to change up our home decor regularly, which is why investing in living accessories and even smaller pieces of furniture that can be used in different ways is a great way of making changes without breaking the bank or taking a week to redecorate the house. An end table can easily become a plant stand, a large bowl can be used as a display storage indoors, and a bird bath outdoors; a bamboo ladder is a towel rack, a balcony trellis or an unusual display for your pictures. One of my favourite pieces to 'play with' all year round is the barcart. I use mine as a display stand, accessorised with books, succulent pots and bric-à-brac, and for dinner parties, it becomes a glamourous drinks trolley.
You can find out more about Home Lust on their website or blog, or catch them on Facebook or Instagram.
4. Caroline Flannery of Level Interior Design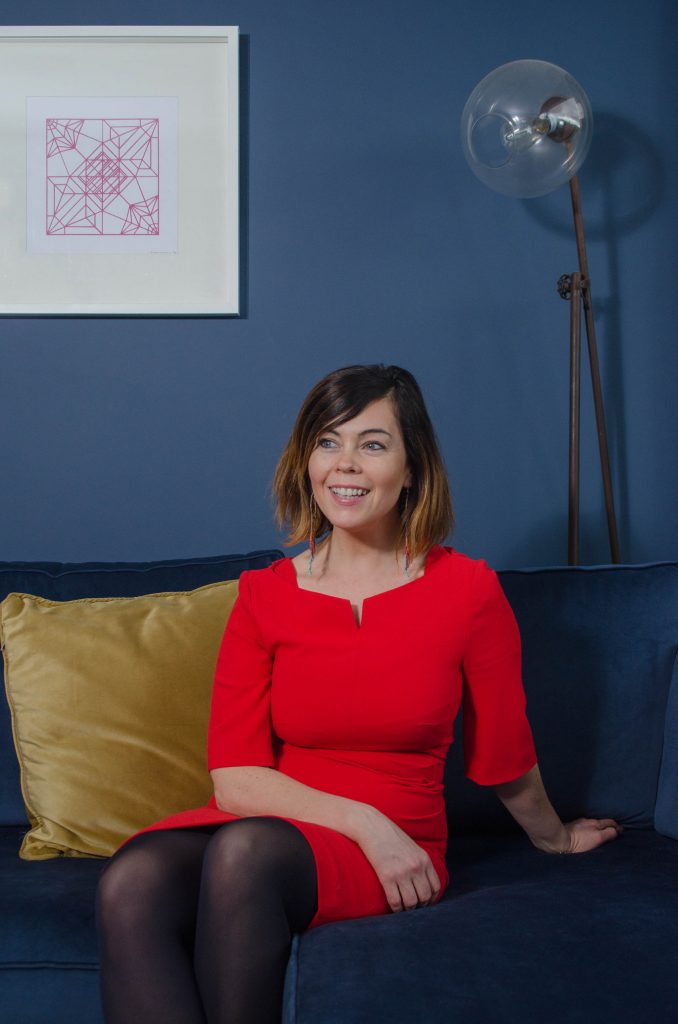 Tell us about the room set you're designing for the Colourtrend forum.
I am creating a moody blue living room to showcase how with the careful  use of a dark paint colour and some simple wall panelling you can make a room feel more cohesive and interesting, particularly a room which lacks any architectural interest or defining features.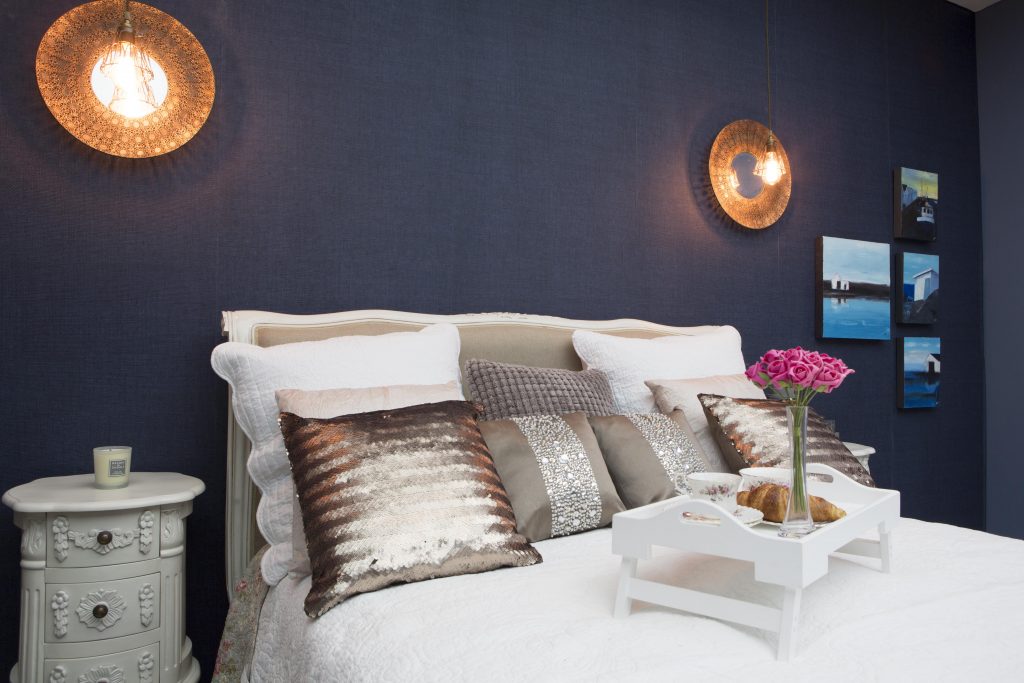 What is your favourite interiors trend for 2017?
​I was delighted to see an abundance of texture at Maison & Object Paris in January.  We spend so much time looking and touching  flat screens we need more than ever to engage with our environment in a more tactile way.  I am also a huge fan of the use of dark walls  to give a space more impact and mystery particularly Indigo/navy which pairs well with almost any colour scheme, see room design above!​
What's your best interiors top tip?
​When it comes to paint colours don't be afraid to experiment, throw out the rule book and just go for it, paint is the least expensive way to make the biggest impact.  If in doubt choose a colour you love go for a monochrome scheme ie paint everything the same colour.​
You can find out more about Level Interior Design on their website or catch them on Instagram.
5. Noelle O'Donoghue of Noelle Interiors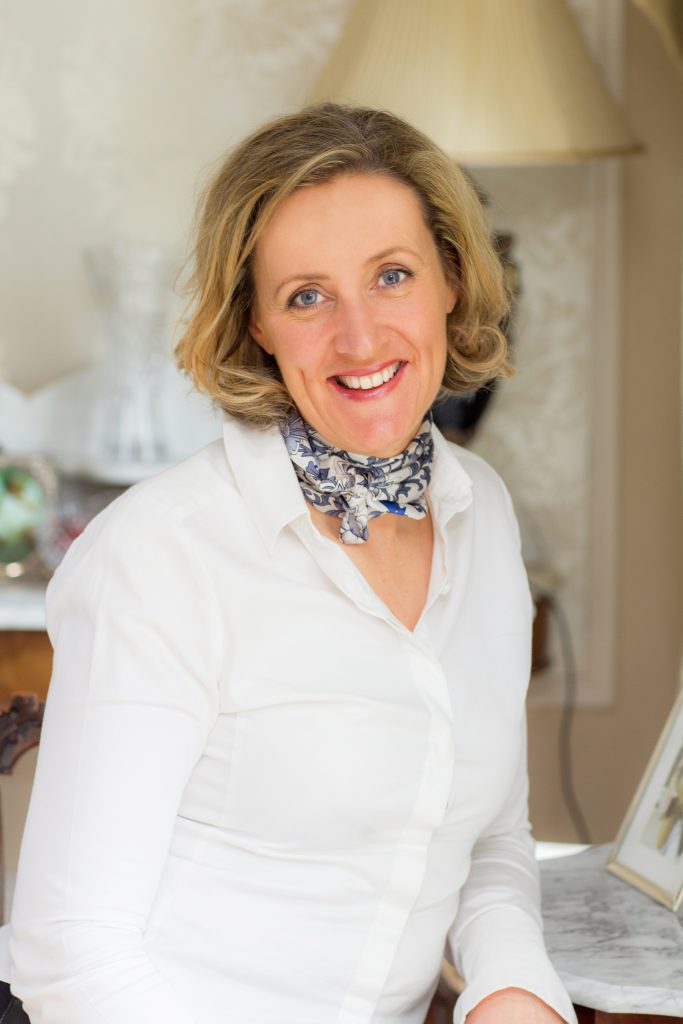 Tell us about the room set you're designing for the Colourtrend forum.
As a bachelor pad, I had in mind a single gentleman with style and sophistication so the room needed to reflect this. Essentially it needed to be functional so the most important piece is the bed, this is the feature of the room, and on entry to any bedroom this is what you should see first. When investing in your bed forget about budget deals and invest in quality. I wanted to create a boudoir so good lighting is essential to create atmosphere of a relaxing room and somewhere to wind down. The man I had in mind also wanted a luxury and comfort so we have used luxurious fabrics and furniture and accessories. Technology is getting smaller and smaller, its passé to show off giant speakers or accessories so the electric remote control blinds are compact and minimalist. I always say to customers that it's not my job to impose my personal taste on you but rather to draw from you your own style and help you achieve this. This may not be a room for everyman but it's for a man my single sister would certainly like to meet!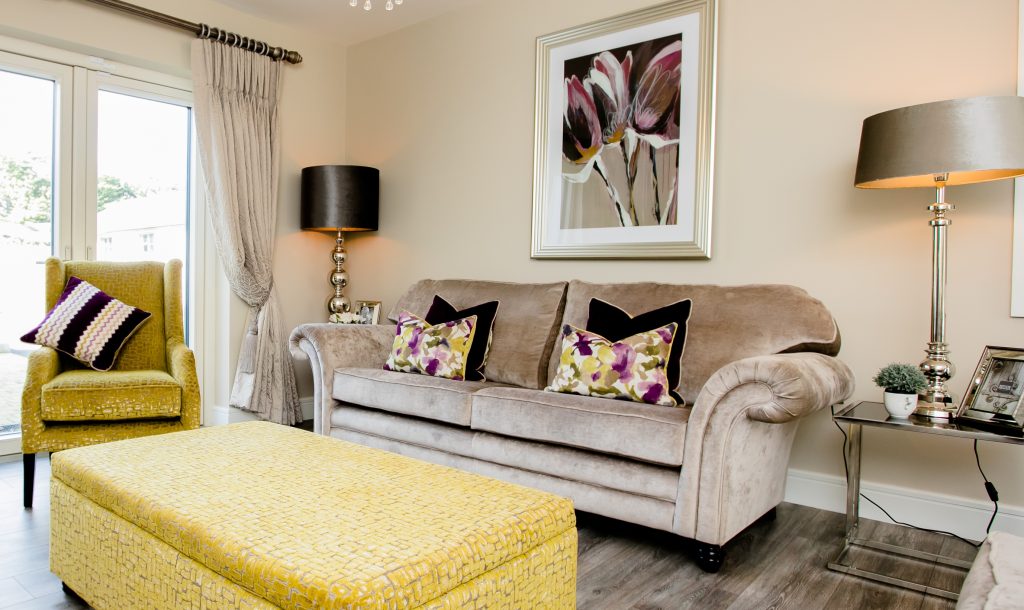 What is your favourite interiors trend for 2017?
While the 50 shades of grey still feature in a lot of interior colour schemes I love the move to blue greys and navy or greys with the punch of deep cinnamon and copper colours featured in our bachelor pad.
What's your best interiors top tip?
Don't pick paint colour first. So many people restrict their choices by trying to match to a paint colour so the curtain/sofa that matches their paint isn't in their budget and what's in their budget doesn't match the paint. There are over 1500 colours in the Colourtrend range and the tin of paint costs the same regardless of the shade.
You can find out more about Noelle Interiors on their website or catch them on Facebook.
6. Margaret Brady of Pearl Redesigns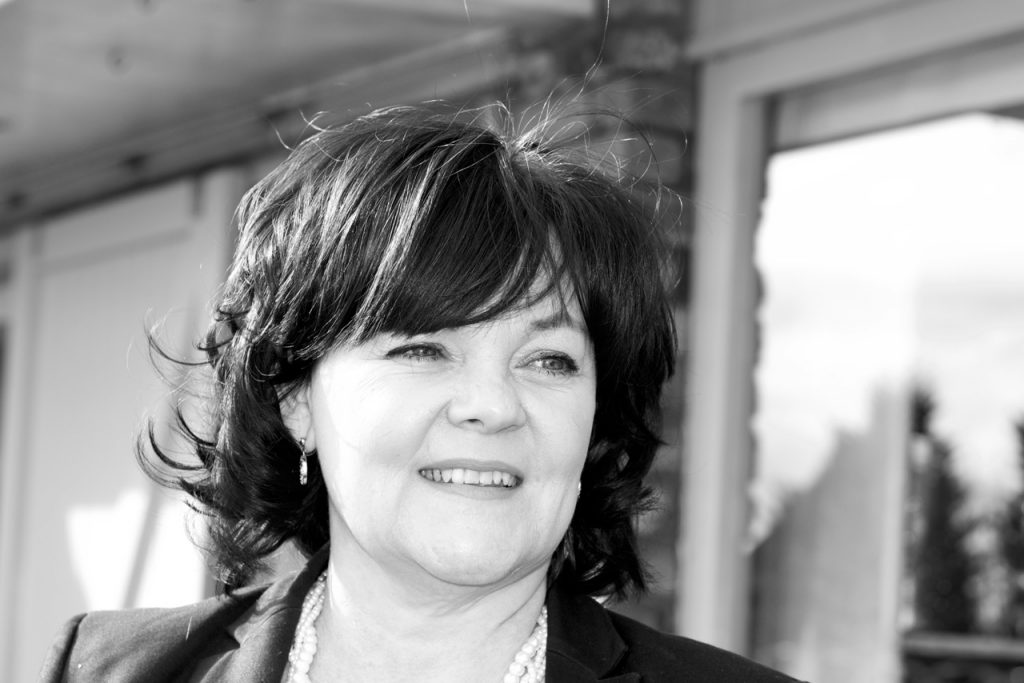 Tell us about the room set you're designing for the Colourtrend forum.
We have designed a room set for a teen boy/young adult that has an edgy, rustic, industrial theme. The concept is designed around the upcoming possibilities of college, travel, exploration and excitement of all the world has in store. We have a design using upcycled and salvaged pieces along with some new items. The colour scheme adds a natural organic feel, with blues, neutral grey tones balanced again the warmth of wood in the furniture. We spent many years away from Ireland and you will hopefully see this influence in our design.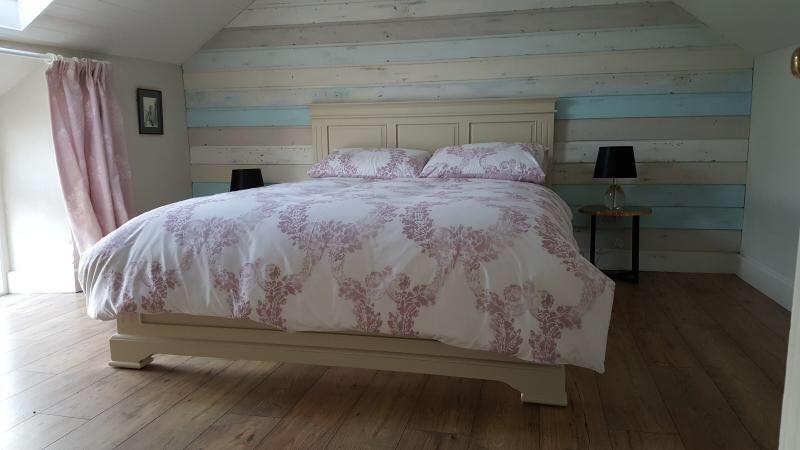 What is your favourite interiors trend for 2017?
Upholstered headboards are a trend to watch. We love how you can add some curves and form to a room with colour, pattern and texture, a statement piece for sure. We have made them in the past and while they were not perfect it was an easy, fun DIY project and a way to add some personality to any room. There are so many tutorials online, try Pinterest or Youtube for inspiration
What's your best interiors top tip?
Our top tip is not to get too caught up in trends. A home should reflect your lifestyle and what is important to you, not what everyone else is doing. If you like something enough you should have it. Everything you love must have a place in your home. Try and use an old piece, re-purposed, painted in your favourite colour. Have fun.
You can find out more about Pearl Redesigns on their website or catch them on Facebook.
7. Catherine Murphy of Re-interiors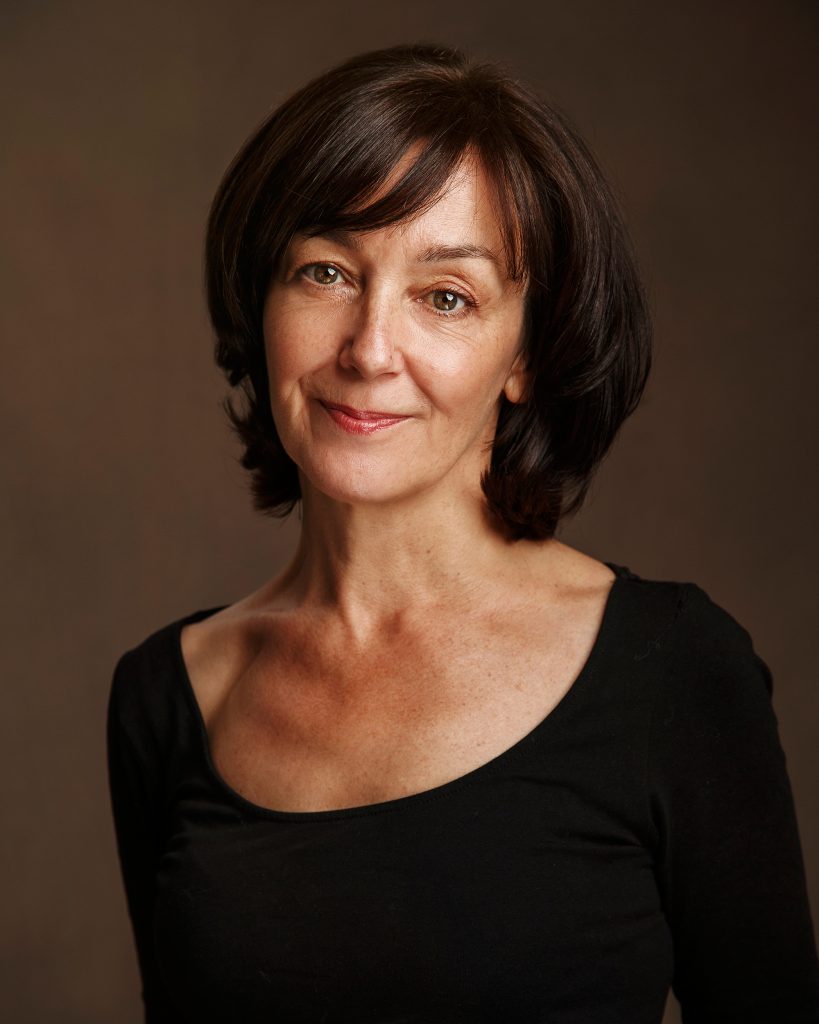 Tell us about the room set you're designing for the Colourtrend forum.
The entrance hall is too often neglected and treated a bit like a dumping ground despite it being the first thing you are welcomed with when you arrive home. The hallway is where you can add real drama because you're just passing through. Here you can go all out with the décor bringing out your personality and having a bit of fun with it. I want to create a sophisticated entrance that draws you in and has you looking for more. As with all of my designs, I aim to incorporate clients bits and pieces into the design, this is what makes a space unique and feel like home. Exterior Shelving on the under/stairs storage will provide more interest with plants, ornaments etc, while also being key to the storage problem so many homes have.
Green, this years neutral can carry off the mix of colours introduced to the space with accessories and wonderful fabrics. Fabulous wallpaper and the "jungle" green paint colour will have a dramatic impact, and look elegant with white light bouncing around. Touches of brass and fun botanical fabrics will ensure the space is super contemporary. With dark wood flooring and warm tones this hallway will be welcoming, robust and not too precious.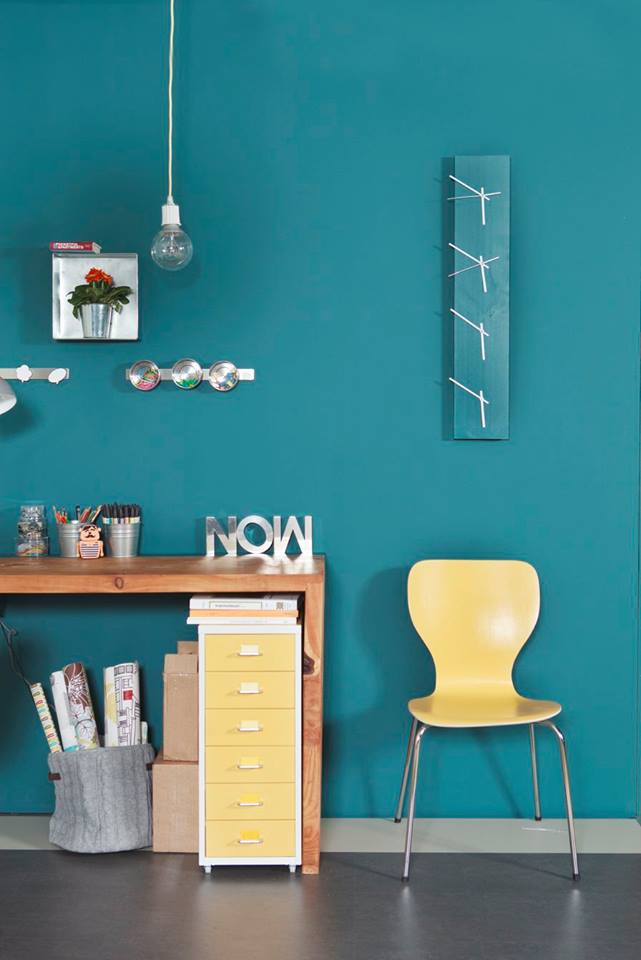 What is your favourite interiors trend for 2017?
The natural finishes with their own unique flaws (for want of a better word) - the honesty of these materials (stone, marble, wood etc) wear well which means it's kinder to the environment, and they can put up with real family life. If we're reusing and enjoying old heirlooms and mixing things up, spaces will be much more personal, interesting and fun. Refurbishing an old piece of furniture is so much more beautiful that buying a new one. I also am delighted to see local craftspeople being appreciated more in design! It's all good!
What's your best interiors top tip?
If you like it...do it! If you use what you love, you'll love your home. But, there is an art to making a mish mash cohesive! A consultation is very affordable and can seriously save you costly mistakes.
You can find out more about Re-interiors on their website or catch them on Facebook.
The permanent tsb Ideal Home Show will run from this Friday, April 21st until Sunday 23rd. You can sign up for free and discounted tickets here, visit the Ideal Home website for more information, and don't forget to follow the show on Facebook, Instagram and Twitter to keep up with all the goings on over the weekend.