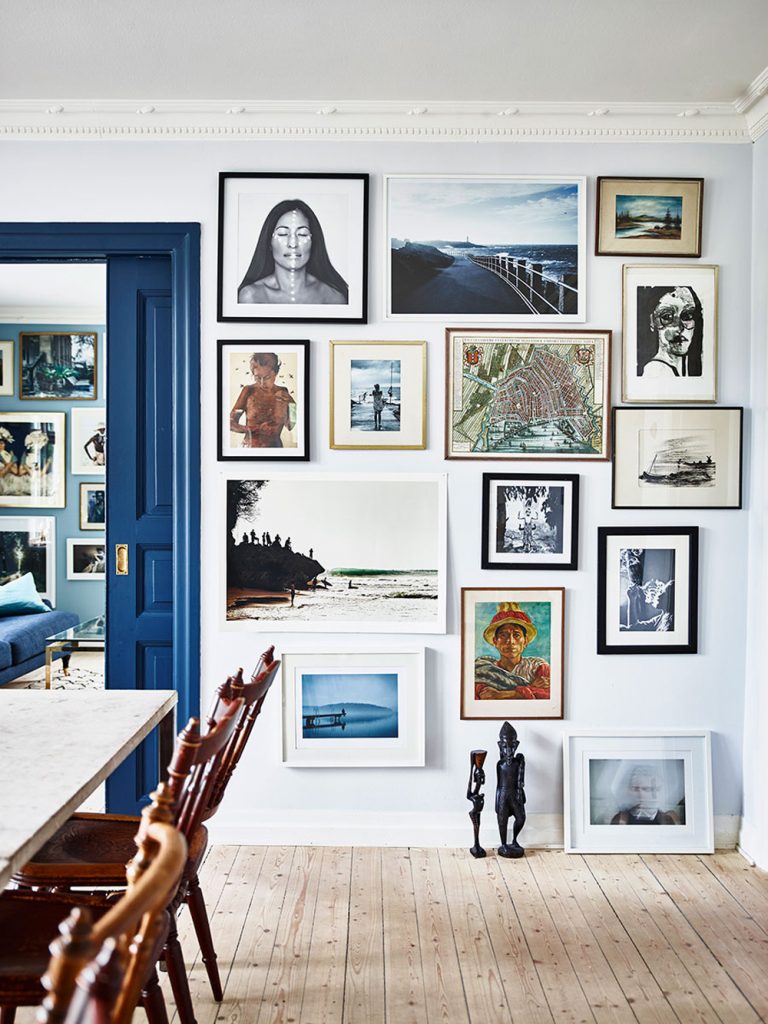 They say you always remember your first love; and it's no different for your first piece of art. We chatted to art collector, Shaun Davin and Catherine O'Riordan, owner of SO Fine Art Gallery about how you can get started on your collecting journey.
"The first print I bought was a signed Damien Hirst lithograph entitled 'The Last Supper'. If you imagine all 13 apostles seated as part of the Non-Proliferation Treaty, you have what Hirst envisioned as The Last Supper of our time," says Shaun Davin, who has been collecting art since 2006. "I was fascinated with the concept and the symbolism. That was where my journey with collecting began. I was hooked! I still get a buzz when I unwrap a new print or collect a piece from the framer."
That one piece slowly grew into an impressive collection of prints, paintings, and sculptures from Irish and international artists (including Damien Hirst, Connor Harrington, Dan Baldwin, and Dave White), and was recently exhibited in Collector exhibition in Dublin's SO Fine Art Gallery.
In the past, art was viewed as a high-end commodity, and collecting was considered a pastime of a favoured elite. But times have changed, and these myths have been blown out of the water. These days, new and the old mediums collide; wax sculpture is placed side by side with painting and street art prints. Boundaries aren't just crossed, but thrown out the window, and this new world has opened its doors to all types of punters.
Davin, a painter-decorator from Dublin, is part of this new generation of collector: "I haven't got huge funds – I'm definitely just a regular guy – but you don't need a lot of money to get started."
WORK OUT A PROCESS
Unfortunately, it's not as easy as walking into a gallery and buying the first piece that catches your eye. The difference between buying a piece of art and starting a collection (and there is a difference), lies with seeing the 'bigger picture', selecting art with long-term goals in mind, and not simply 'piece-by-piece'.
Gallerist Catherine O'Riordan of SO Fine Art Editions explains that the first step is finding a style that's right for you. Building this is a slow process, "a labour of love". This means taking your time selecting your art, and not buying on a whim. Shaun says, "I probably buy about three pieces a year. I have collected a lot of pieces over the last 10 years and my tastes have changed and matured."
Sleep on it, then revisit the work online, or in person. It may sound strange, but some pieces of art have a magnetism; and if it's the right fit, you'll be drawn back to it.
EXPLORE ART STYLES AND SETTLE ON ONE
So how do you go about finding a common theme, or style? Online research will get the ball rolling. Instagram is one of the biggest and most open platforms for discovery, where you can follow a mixture of artists and big galleries, and keep your eye out for recurring names. You'll be first in line to witness the artist projects and works too.
Shaun's Instagram feed is filled with a diverse mix of galleries and artists. There are also online platforms where you can visit the top galleries and artists from around the world. "The two best online tools for any artist, gallery or collector are Instagram and Artsy.net," he says. "Between those two sites, you can tap into a huge data pool relating to prices, location of artworks, prices, gallery contacts and a direct link to the artist."
GET TO KNOW YOUR LOCAL GALLERIES
Although digital platforms are a great springboard for art knowledge, there's nothing as valuable as visiting an art gallery or an exhibition and seeing the real artworks in all their glory.
A local gallery crawl is the best way to educate yourself, explore different art styles, and find the one you love. Make a shortlist of galleries to visit, and don't be afraid of the 'high end' spots; the art may be out of your price range, but the collection will give you a taste for the market and the 'who's who' of the art scene. However, it's the smaller galleries where you will find your treasures, and importantly, the emerging artists (those with buckets of talent and the potential to make it big).
Catherine encourages visitors to bring a notepad, and barrage the gallerist with questions about a piece. "Each piece of art has a story to tell. And the more you know about it, the more you'll know if it's a right fit," she says.
ATTEND GRAD SHOWS AND EXHIBITIONS
Attend as many exhibitions as you can, especially the graduate shows in May (like NCAD and IADT in Dublin), for up and coming names. Keep an eye out for 'open submission' exhibitions too, like the RHA annual show. This includes an eclectic mix of fresh talent and established names, and is essentially a snapshot of current trends, with prices to suit all pockets. Sign up for gallery and artist mailing lists to stay in the know about their next exhibition launch, artist talk, or live demo.
GET TO KNOW YOUR MEDIUMS
However, it's not just about the style; knowledge of the different mediums is equally as important. An original fine art print or 'edition' is a nice introduction to art collecting. Popular examples include screenprints, woodcuts, etchings, photographs and lithographs. These forms are just as authentic as paintings, but can be far less costly.
One form to steer clear of is a 'reproduction', which is, essentially, a copy or duplicate of an original piece, and can be deceptively labelled as an 'art print'.
Many galleries specialise in paintings or prints, only, but there are some galleries that offer a full range of mediums, so pencil in a visit to these to get familiar with the different forms and their price ranges.
ASK YOUR GALLERIST FOR CURATION TIPS
When it comes down to making the purchase, how do you know if the piece will suit your home?: "Don't buy art to match the curtains," is Catherine's staple piece of advice. "The art should help enhance the whole living space, and bring a room to life."
Shaun is of the same opinion: "Personally, I would never choose an artwork to match an interior. Interiors are often redecorated every few years so the artworks need to stand independent of how a room is decorated, while still fitting in and not looking dated."
Remember, gallery managers are curators, too, so show them photographs of your home and empty walls. Many galleries, including Catherine's, will bring the art to your home on approval, so you can make the decision after testing it on the wall. Give yourself time to get comfortable with the artwork before jumping in.
You don't have to follow the Pantone rulebook when collating your art. Colours don't have to match your interior in a traditional sense, so you should play with contrast and texture.
How many pieces should you use to fill a space? "Less is definitely more. Opt for one or two big pieces over smaller ones, when starting off, and give each piece plenty of space on the wall."
CONSIDER ONLINE PLATFORMS
There's also the art ecommerce trend, which has blown up in recent years, driven by the likes of Artsy and Artspace. "I buy mainly online, but ideally, when buying an edition, like a wood cut or a silkscreen, you really need to see the print in the flesh. Seeing a print on a webpage and in the flesh are two different things and can sway your choice on the spot. The best way to buy is from the publisher, or from the gallery that is launching the print when it's released," Shaun advises. Buying online can be more cost effective, but risky too, so it's best to get used to the trade, first.
Although art can have a perceived cultural veneer, at the end of the day, it is a personal and subjective thing. You don't have to be an intellectual, or know the 'ins and outs' of the form, to fall in love with a piece. Catherine has seen customers return a year later, unable to shake the memory of a certain piece of art. "Even the most experienced art collectors will buy art because it triggered a childhood memory, or simply because they loved the colours. It doesn't matter why you buy a piece, as long as you love it. Don't do it for an investment opportunity, or because of a popular trend. If you can't get an artwork out of your mind, you're probably meant to have it," she says.
If a picture speaks a thousand words, the right art collection will speak volumes for your home.