Conscious consumption and an individual look motivates Sarah Twigg Doyle when it comes to her interiors upcycling
Words and imagery: Sarah Twigg Doyle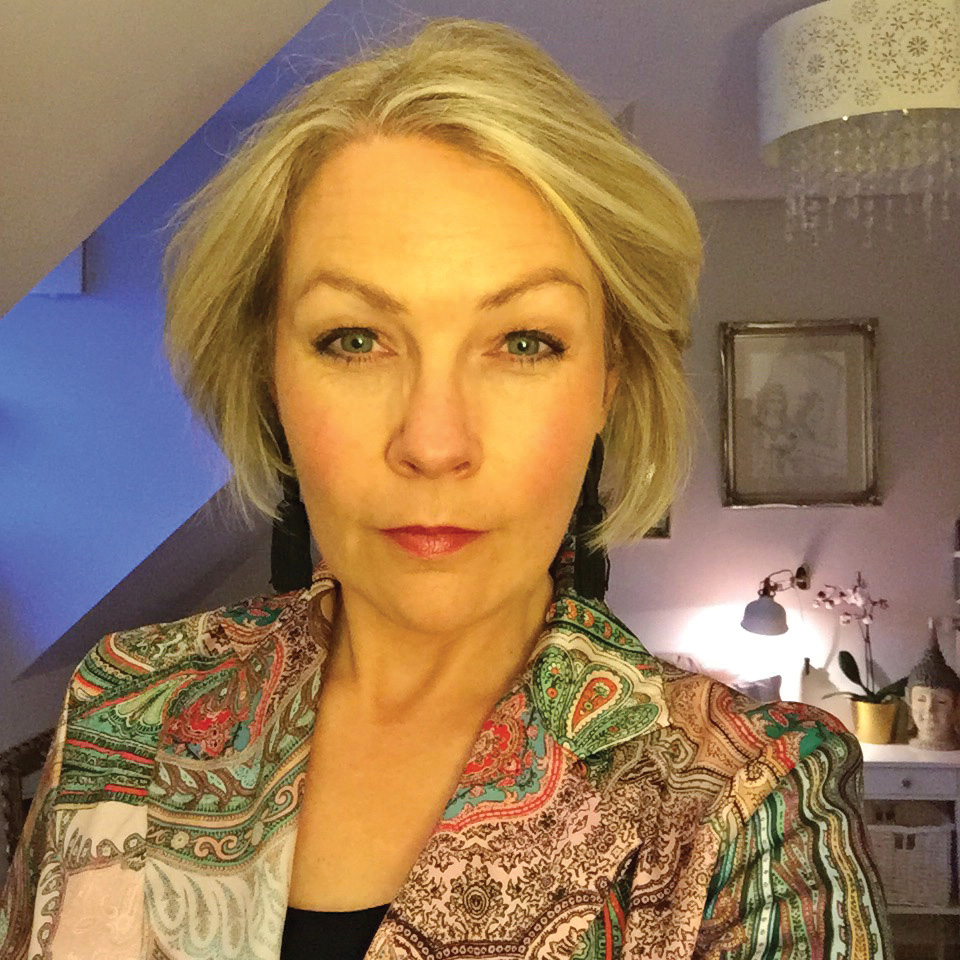 We were given a few pieces of furniture from my husband's parents when we bought our house over ten years ago. Some of them didn't really fit with our scheme so we had the idea of painting them. My mother-in-law gave me an article she'd seen in the paper about Annie Sloan Chalk Paint, so I did a chalk paint workshop at The Gaiety Antique and Vintage Store in Westport and was hooked! It became a running joke in the house, don't stand still or mum will paint over you.
The rulebook has been torn up in recent years and the idea that your home can only be one style is gone. People like mixing old and new. Vintage furniture given a modern twist adds so much character to a home and sets it apart. My interiors upcycling pieces attract the most attention on my Instagram account.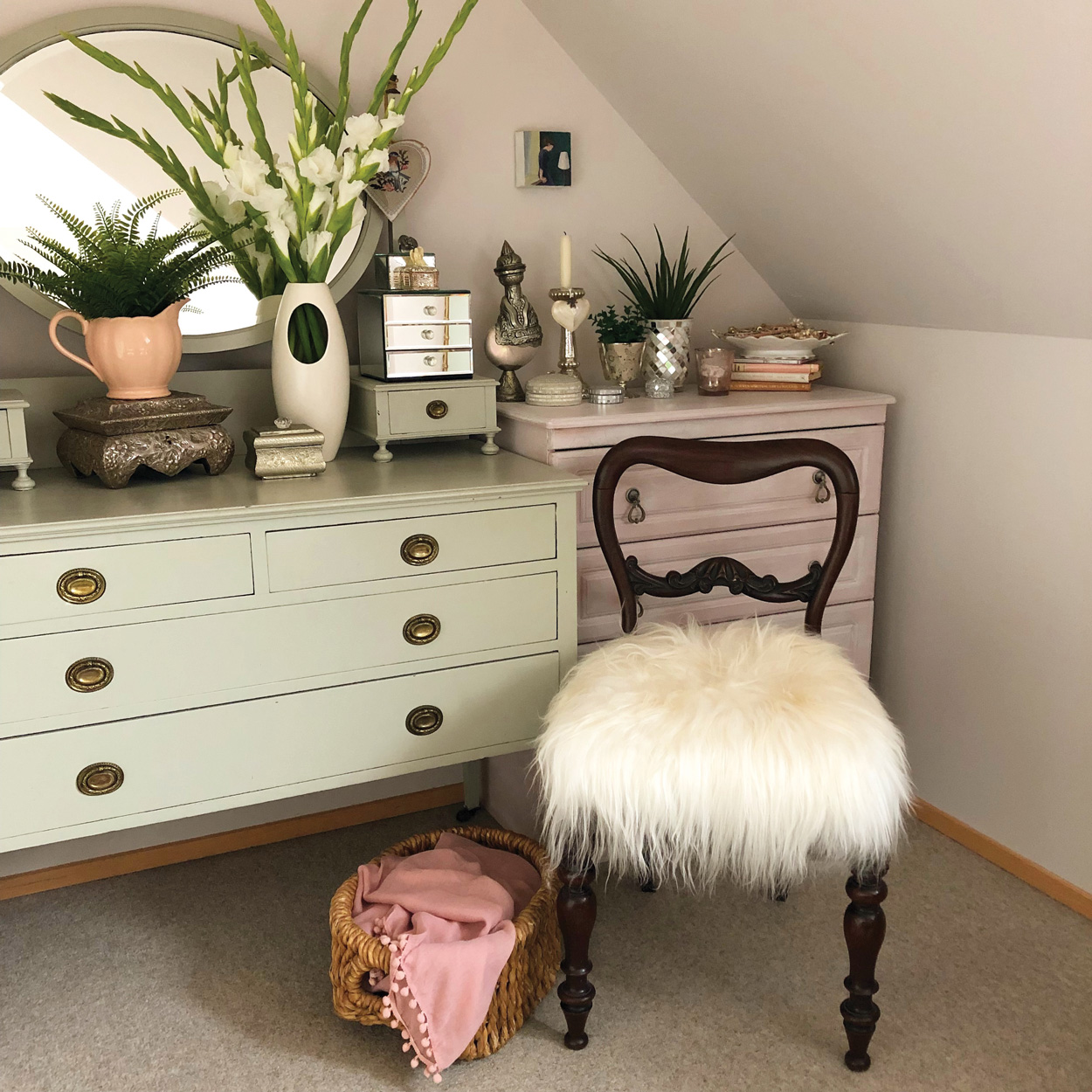 The cost of housing can leave little in the bank for home improvements. With imagination and elbow grease, changing up furniture we already own is an inexpensive way to create a new look on a budget. We can upcycle more than just furniture: an ugly tiled bathroom floor can be painted over using a stencil to create a tile pattern.
We're also becoming more conscious as consumers; more aware of the impact on our planet of a throwaway society and mass consumerism. We realise the value of buying second hand or updating what we have as opposed to everything new.
MY FAVOURITE INTERIORS UPCYCLING PROJECTS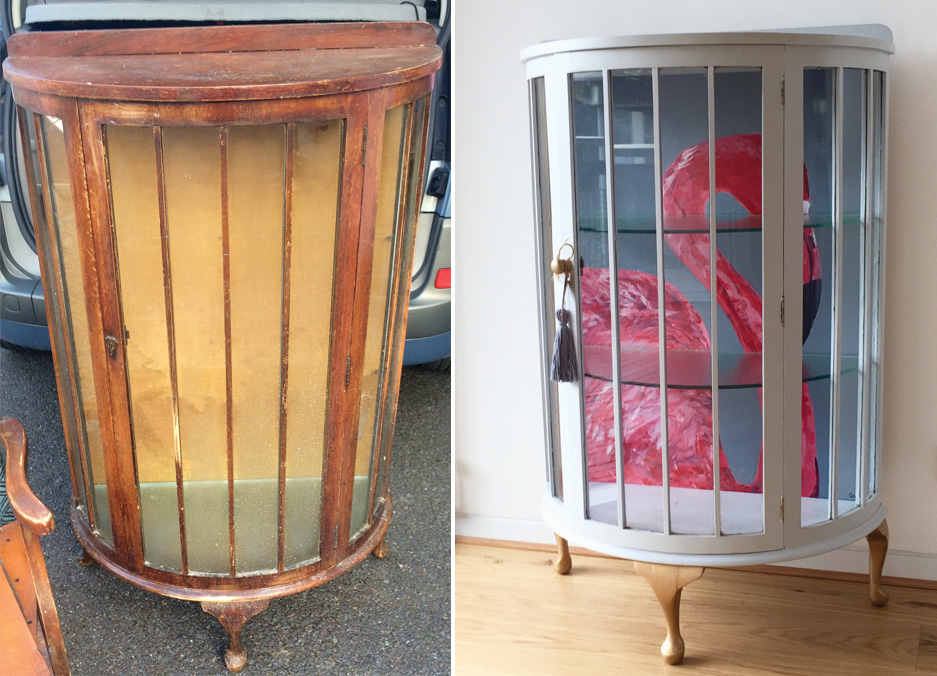 I love our sideboard painted in a custom mix of Provence and Antibes Annie Sloan Chalk Paint. I gave it a crackle-glaze effect finish to the top and used dark wax and slight distressing to the detail to give it that look of faded grandeur.
There's a bow fronted glass cabinet we rescued from a skip. It required a lot of TLC as it had been well munched and needed a new backboard. I had this crazy idea of getting my husband to paint a flamingo on it, whom we named Freida. I also upcycled a 1950s glass cabinet bought from a charity shop. I used a Designers Guild wallpaper for the back panel and painted it in Graphite with gold detail to the trim and feet.
MY INTERIORS UPCYCLING DIRECTION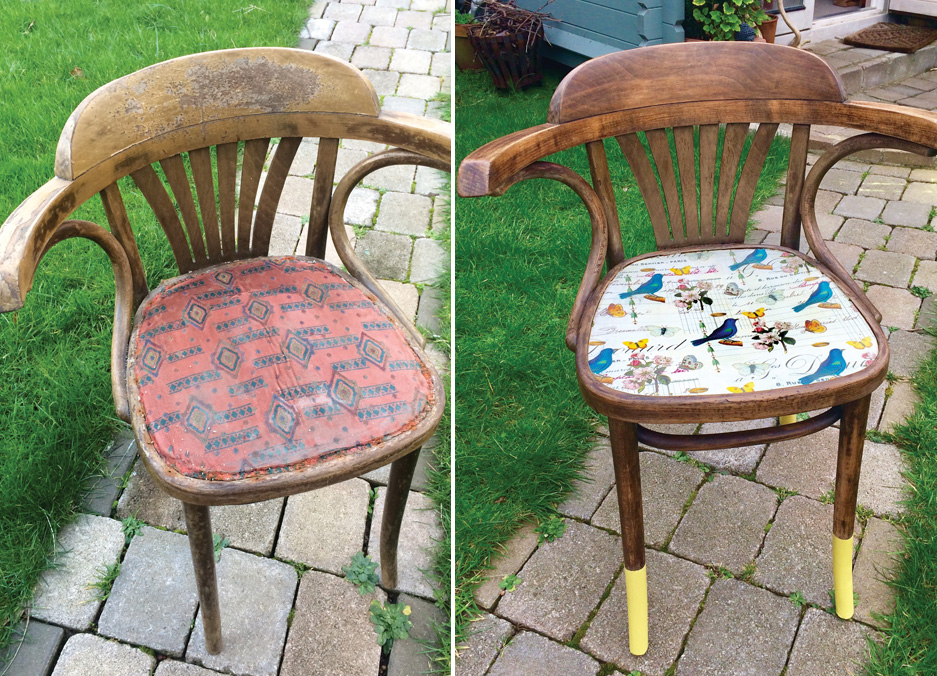 The trend for bolder colour in our interiors is spilling into upcycling. I'm seeing pattern and daring colour combinations. I'm loving the use of wallpaper and fabric to add detail.
The modern rustic look paired with an industrial vibe is still going strong, stripping pieces back to give it an aged authenticity is still hot. We are braver with our interiors and there's an attitude of anything goes. The accounts I follow on Instagram are brave enough to mix styles but often using colour as a common theme.
MY GO-TO INSTA HEROES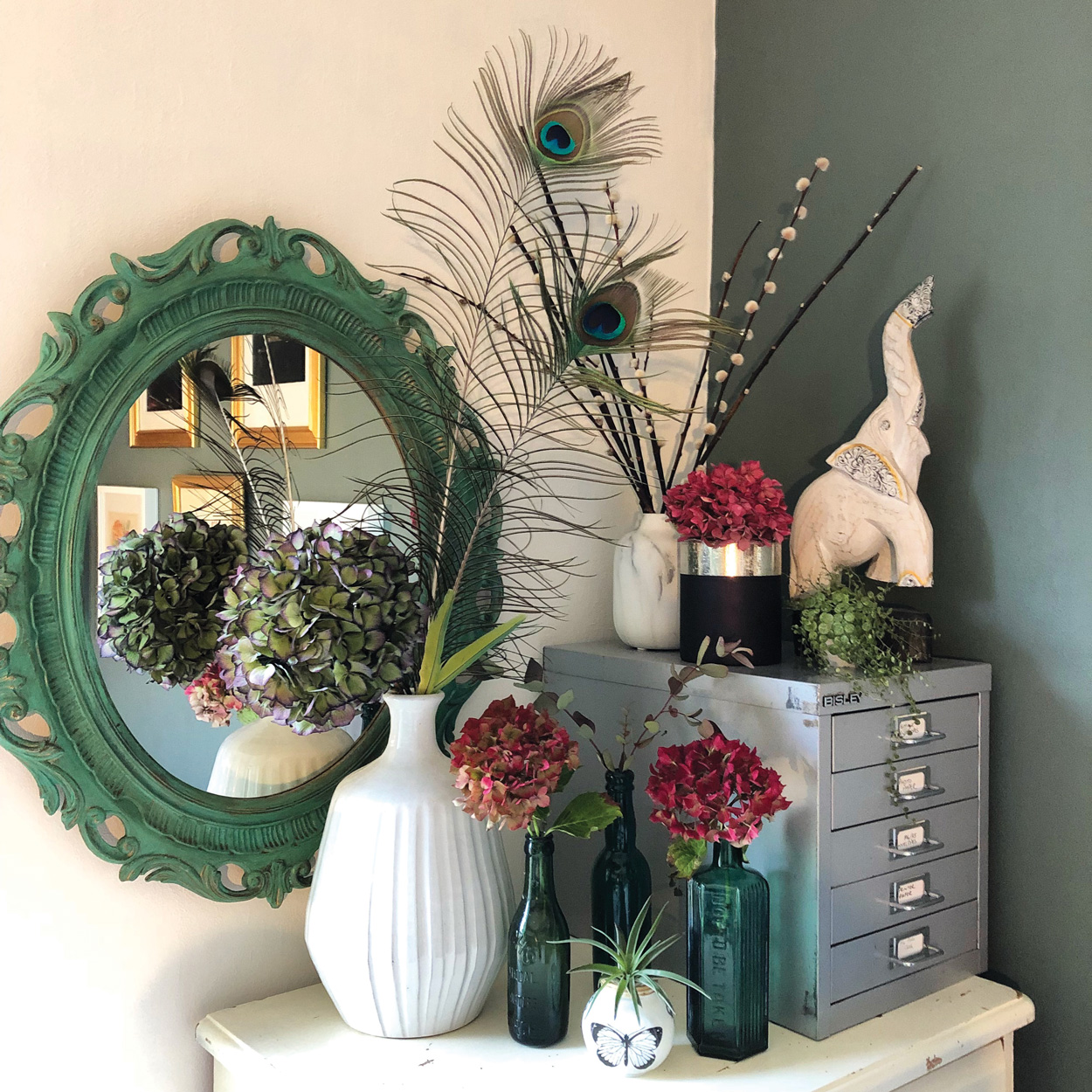 I'm in awe of the amazing work Sarah Parmenter of @relovedmcr creates. She uses a lot of pattern and her pieces are utterly cool and contemporary. I met @jonathonmarcmendes at a paint effects workshop – he's Annie Sloan's painter in residence and he works on some truly stunning transformations. Plus, his styling is absolutely on point. I love @lucytiffney who creates patterns on pieces, making them truly unique. @vintageirishkat is another clever lady repurposing and reimagining everyday items. I loved her recent upcycles for her daughter's '80s-themed bedroom.
MY INTERIORS UPCYCLING TOP TIPS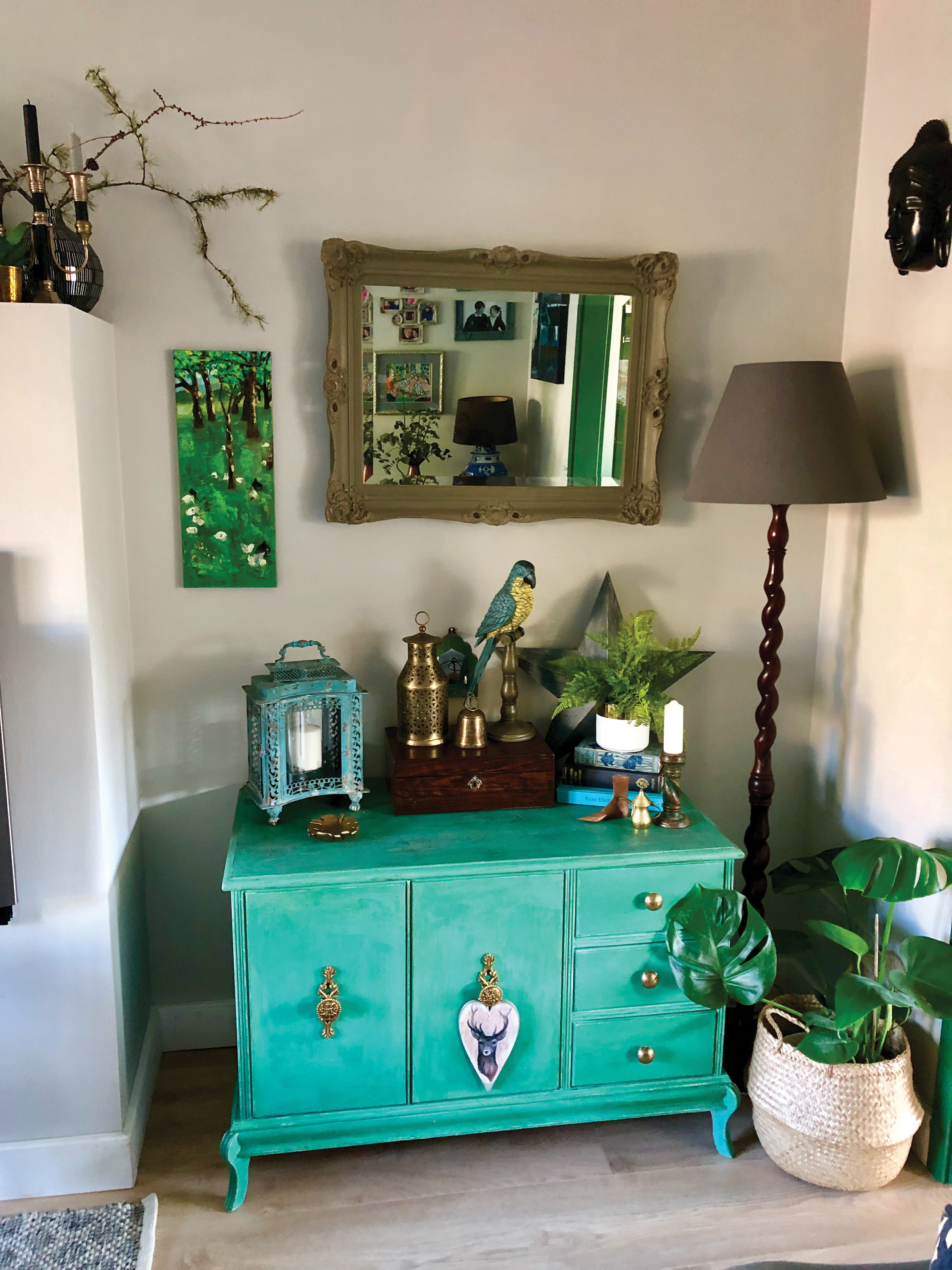 1. If in doubt, Google or YouTube it. Much of what I've achieved has been largely done through trial and error. Anything I didn't know, I researched.
2. Ask for advice. If you see someone's work you really admire on Facebook or Instagram, ask for their tips. Most interior designers and upcyclers are flattered to be asked and happy to share.
3. Take a course: there are plenty in painting techniques and upcycling. The Rediscovery Centre has a programme of course.
Catch more from Sarah Twigg Doyle on her interiors instagram, @retwigged