Got a project to plan or rooms that need rescuing? We've rounded up five Irish architects who are our smartest small space saviours.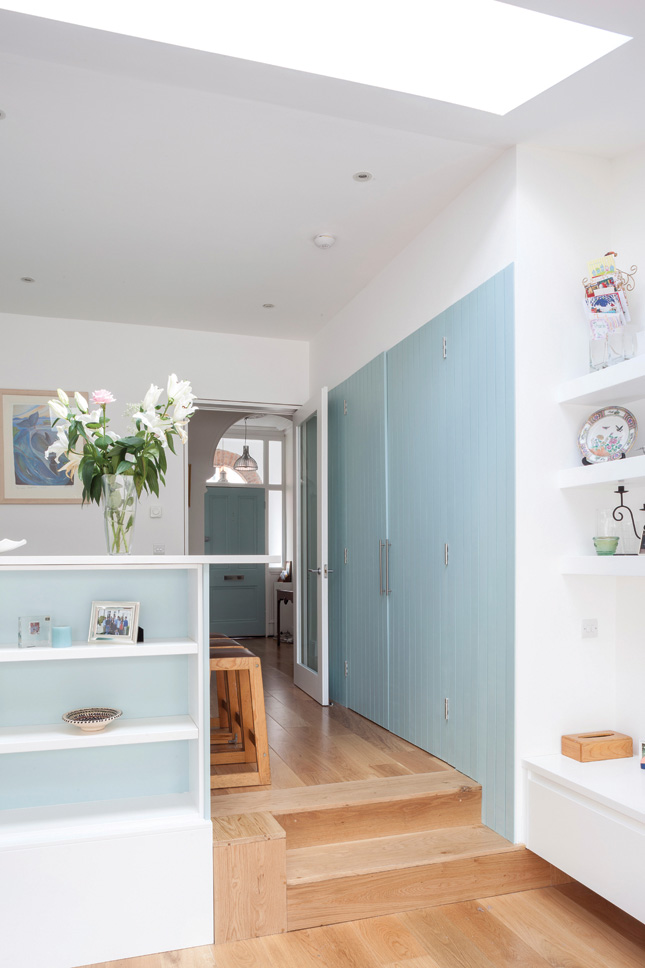 Irish architects: Optimise Design
Denise O'Connor, MD of Optimise Design, came to our attention in 2013 as one of the original presenters of RTE's Design Doctors show, a series which helped families around Ireland re-evaluate their homes and how they use their space.
Unlike most TV architects, Denise was not hell bent on adding massive, costly extensions, but rather encouraged homeowners to re-work their existing layouts, making smart changes to the floor plate and finding clever mechanics to bring in light, add better storage and utility solutions, so the house not only functioned better but felt brighter and bigger too.
Her ethos remains the same and her Dublin 2 practice and now encompasses a full range of architectural and interior design services, which are extra-accessible thanks to a pay-as-you-go menu of services from design layout to planning permission to interior design.
Denise believes no space is too small; rather it just needs a very considered and long term plan with every element accounted for. So, think about where to store the teaspoons and wonder if it'd be prudent to install a RSJ at the rear of the house, in case there's potential for a phase two of building in a few years' time.
This approach can be seen in the house Denise and her team designed at a family home in Clonskeagh, Dublin 14, "There was 140 sq ms of space, with lots of small rooms on the ground floor and a tiny window out to the garden. We completely reconfigured the ground floor to open up the kitchen, with the dining room and sunroom to the rear to create a generous space that connected with the south-facing garden. By introducing sliding doors between this new open plan space and the front sitting room, our clients had complete flexibility," says Denise.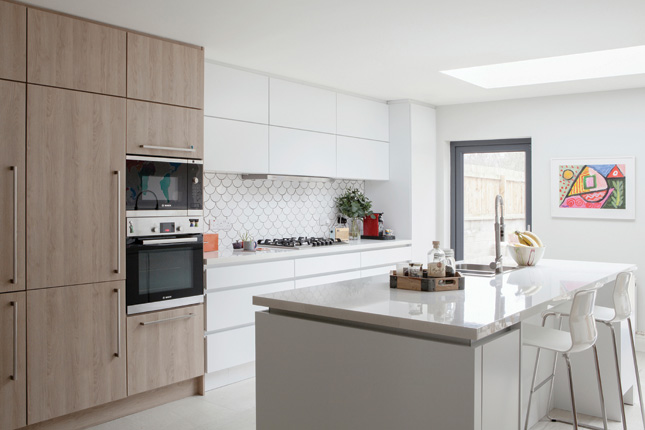 Denise's top small space tips
Take your time: Don't allow yourself to be pressured into starting work because a tradesperson or contractor has a free window. Never rush into any project, no matter how small.
Seek the right advice: Costs are rising all the time, and your expectations might be unrealistic for what you are trying to do. Talk to both building contractors and architects for job estimates as both will be looking at it from different perspectives.
Avoid snowballing: Improving one area of your home often highlights other areas that need work, so proper planning is essential. Without a long-term strategy, you risk starting a snowball effect of more work needing to be done. Separate works are unlikely to complement each other, so think long term and the effect on the entire house.
Leave room in the budget: Include a contingency of at least 10% for any unforeseen items. This isn't just something for large jobs, even something as small as a bathroom refurbishment can unearth hidden costs.
Be prepared: Have everything chosen and agreed before your builder starts on site. That way you know what everything costs and you have everything ready when the builder needs it, avoiding the need to have to make on-the-spot decisions.
Optimise Design, 34 Fitzwilliam Street Upper, Grand Canal Dock, Dublin 2; Optimise-home.com
Irish architects: TAKA
Alice Casey and Cian Deegan are very much the cool kids on the architecture block right now. When not cleaning up on the awards circuit, exhibiting in Venice, or finishing their PHDs in philosophy, the pair are busy transforming spaces most would hardly deem worthy of a garden shed into prize-wining houses.
The key to Alice and Cian's continued success with small spaces is they're all about the nitty gritty. Before any plans are drawn up, the duo quiz clients on their day-to-day regimens, from washing teeth to watching the box.
Their interest in philosophy comes in handy too, because how people live and interact together helps them better determine how the space should get used. Sustainability is another big driver and is paramount when sourcing materials to construct future-proof homes. One such project is a mews on Waterloo Lane in Dublin 4, which has earned them much industry kudos and multiple awards. And rightly so: what was previously a garage backing onto a laneway is now a light, spacious kitchen.
The room's window replaced the garage's roller shutter facing onto the laneway and cleverly uses deep vertical fins which let lots of light into the kitchen, but restrict passers-by getting a good look inside. The once poky ground floor, split into a narrow kitchen and living room, was opened up to create a generous living and dining space that takes full advantage of the views across the mature gardens of the large Georgian house behind.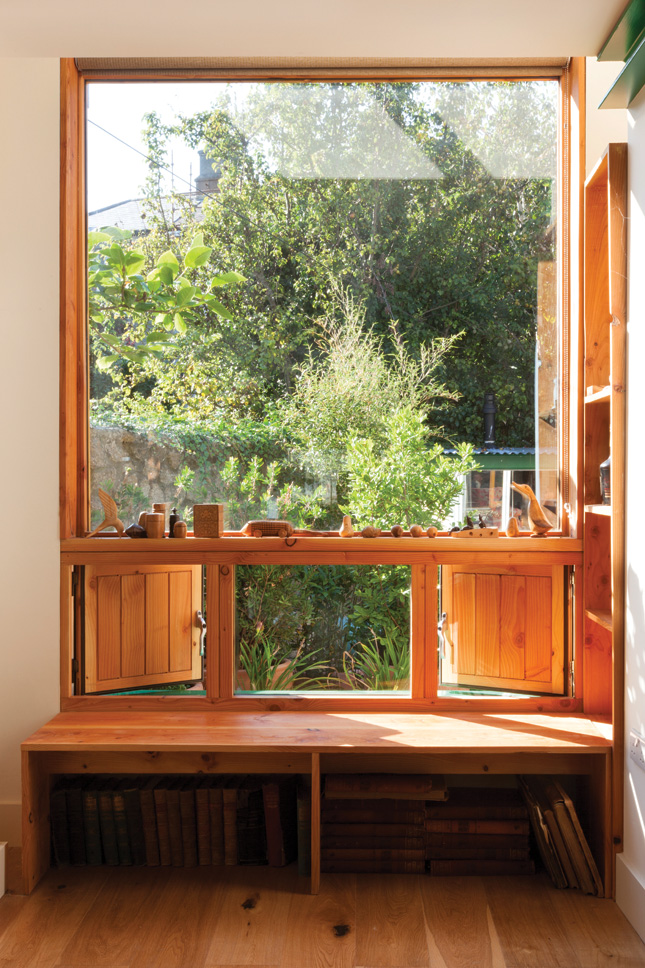 Cian and Alice's top small space tips
Think volume: Increase height if possible. Small spaces can feel more generous with a taller-than-usual ceiling height.
Use textures: Add a strong character to the space through material, structure or views. This can elevate a small space beyond its dimensions.
Keep palette consistent: Too many changes of material can result in a confused space, particularly in smaller rooms. Houses flow better when there is repeat of materials throughout.
Don't pack too much in: Forcing more than is comfortable into a small project can seriously limit quality. Try to achieve a room which functions in multiple ways – through custom fitted furniture – rather than a separate room or space for each function.
Find a focus: When space and budget are limited, focusing on one standout element (perhaps an amazing window or rooflight) can resonate throughout the whole of the project.
TAKA architects, 33-34 Vicar St, Dublin 8; Taka.ie
Irish architects: Buckley Partners Architects
This Wicklow practice is best known for its low-energy, responsible environmental design coupled with its conservation work on countless Georgian and Victorian homes across Leinster. Founding partner Adrian Buckley believes that central to the design process, regardless of the size of the project, are his clients' interests and personalities, and that spaces should mirror this and not just the ideas of the architect.
When tasked with designing or reconfiguring a small house, Adrian loves, "the rigour of planning every inch carefully to harness all the space available. Nothing can be wasted, so it's a really interesting and fun challenge."
A recent project, saw the firm build a house on a plot that was only 5 metres in width and 8 metres in depth. Nicknamed 'The Peat House' because of the turf-like colour of the brick used, it was squeezed between two existing terraces on the west side of Stoneybatter's Oxmantown Road.
Hidden storage solutions and clever windows ensure the house flows beautifully and is light filled from the front and rear. "We used a horizontal format ground floor window facing onto the street which lets light in form the street level, while at the same time it acts as an interesting splash back to the kitchen units," Adrian says.
"And the window in the bathroom, which also faces out onto the street, is hidden behind slot cut outs in the aluminium panels over the entrance door. We hid the utility room under the stairs, accessed by concealed doors," he adds. Clever design is paramount in tight spaces. "We try on a wider level to enhance the quality of everyday life for the users of whatever we are working on," Adrian confirms.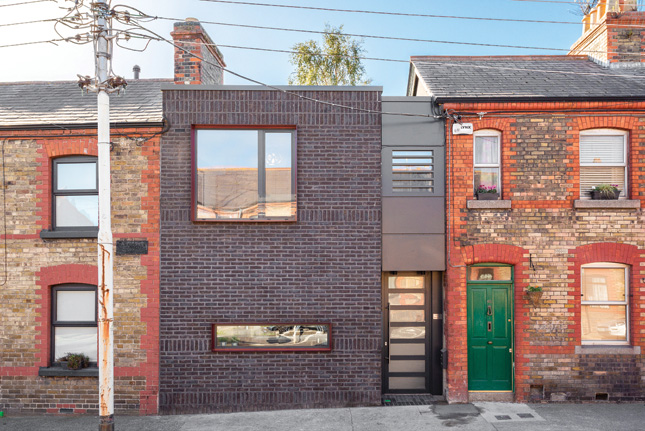 Adrian's top small space tips
A family affair: Each person who is going to live in the space, even the kids, should write their wish list before you start, and hand these over to the architect. This is so helpful in keeping the project focused, right through the works.
Go pro: Use an architect, no matter how small the project, to get the best out of your home.
Team budget: Agree the budget up front and ensure that your architect and builder work with you to achieve this. Coming in on-budget is a team effort between the three parties so you all need to communicate daily.
Define the details: Agree all the detail even before contact with the builder. It you have a good set of design documents, that have been well discussed between you and the architect, there should be very little need for change and therefore more cost and design certainty.
Experience the journey: Enjoy the project; it's a once in a life time experience. Try to involve the whole family, in discussion as well as with the progress of the build and site inspections if safe. It's a great opportunity to make wonderful memories.
Buckley Partnership Architects, 2 Duncairn Terrace, Bray, Co Wicklow; Bpa.ie
Irish architects: de Siún Scullion Architects
Mícheál de Siún has delivered both large-scale social housing and high-value residential developments during his career as an architect, but perhaps his most notable project is his smallest – a three-metre-wide micro house in Dublin's Liberties which has won him critical acclaim.
It all started with a gap to the side of his family home, which was originally used for builders' access in the 1930s for the entire area. Initially, Mícheál toyed with the idea of extending his own home into the space, however, the idea of building a tiny house took hold and was realised in 2013.
The one bed dwelling is organised around a central light well, including a winding staircase and glass floor gangway, opening out onto a first-floor garden, which also acts as a cover for a mini courtyard below. The rest of the teeny – but fully functional – house flanks this central element, delivering light deep into the space with the living room to one side of the stairwell and the kitchen to the rear.
He's even managed to fit a closed-off utility room and bathroom on the ground floor too. Unsurprisingly the home is a regular fixture on the Open House Dublin programme, run by the Irish Architecture Foundation, has featured on US television show Tiny House World and is currently an extremely popular AirBnB destination. A vocal voice on social media about building and planning problems in Ireland, we could do worse than take a leaf out of Mícheál's book on making the most of what you have, in order to solve our current housing crisis.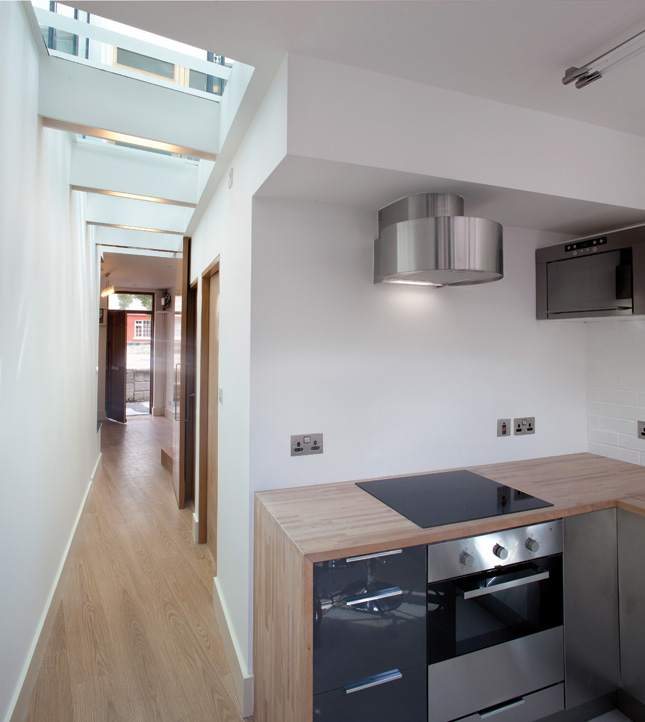 Mícheál's top small space tips
Clever circulation space: Corridors can be real consumers of space – but rather than try to make them as narrow as possible, can they be something else? A window seat, a small informal reading space, a top-lit storage wall.
Utility first: No matter how small your house, always put in a utility room, even a deep, extra-long built in cupboard. Without it, you'll be left with ironing boards, rain jackets, mops and washing machines cluttering up what little space you have.
Spare parts: Take a cold hard look at your spare room. Is it contributing to your enjoyment of your house? Would it be better as a walk-in closet, an en suite or laundry room?
Chimney balance: Chimney breasts, in the wrong place, can narrow a room, making it difficult to furnish and awkward to be in. If working around one in situ, think about fitting shelving and storage flush to hearth and if building from scratch, really think what will work around it.
Change it up: Look at every part of your floorplan that's taking up room. If it's not an enjoyable space to be in, or bringing anything to the party, change it.
de Siún Scullion Architects, 26 Eustace Street, Dublin 2; Dssa.ie
Irish architects: Aoibheann Ní Mhearáin and John McLaughlin Architects
This award-winning studio based in County Dublin, draws much of its inspiration from modern architecture and Irish design and its projects have been noted for their beauty, understated elegance, and playfulness. Aoibheann Ní Mhearáin, Associate Director, finds, "for small projects in particular, we look at how an existing house is being used and try to find a more efficient layout. In small homes, the three critical elements are: how light is used; orientation and ceiling height, as these can have a huge impact on the flow and feel of a space."
A recent refurb Aoibheann competed in in Dublin 8 is a great example of their ethos in action. "We only added a total of nine extra metres onto the house by way of small extension out the back in the garden, which we linked to the main house with a glass walkway. The owners gained a courtyard, a new living area and oodles of light spilling through the entire return area," she says.
"We typically send a lot of time working on how to make better use of 'in-between' spaces such as corridors and window. Can we add seating that will provide additional hidden storage as well as additional social space? [modern living often involves people on different devices in the same room, so a small, slightly separate seating areas come in handy] or can we conceal a utility space in a walkway," she says.
"There are lots of ways to better use circulation space, without sacrificing an entire room to fill the need." This canny approach has led the firm to win a number awards including the RIAI best emerging practice award in 2015.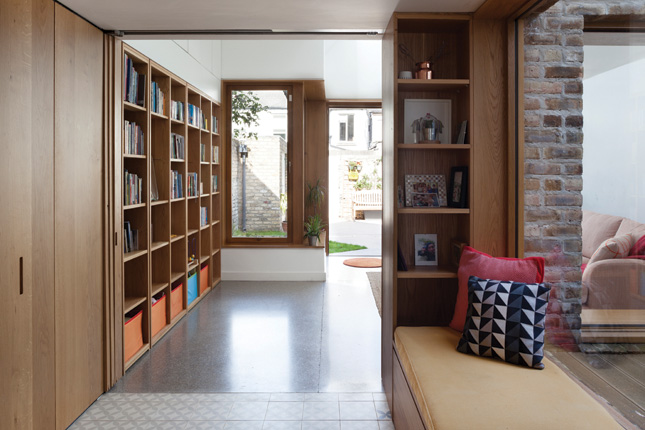 Aoibheann's top small space tips
Examine before extending: Extra space isn't always the answer and renovation costs half the price of new build. Can the space be re-configured to make the house work better within its existing footprint?
Storage matters: Build in and design all storage at the time of a build. Many think of this as an 'extra' that they can do later, but planning it with your architect at the design stages will produce much better results, a more functional house and will save hassle.
Rethink the utility: Utility spaces can be housed in a very efficient way in storage walls within kitchen and hallway spaces; this reduces the footprint of the utility space but not its functionality, and the extra space goes back into your main living spaces.
Light is paramount: Always design around the light and orientation of the room; even if the footprint is small, a space that uses natural light well can feel bigger and welcoming. Opening up all the rooms in narrow houses from front to back can give a great sense of space, especially where the front is south-facing.
New heights: A small additional height in floor to ceiling and/or roof lights or a pitched ceiling can give a great sense of space without additional footprint.
Aoibheann Ní Mhearáin and John McLaughlin Architects, 5 Adelaide Street, Dún Laoghaire, Co. Dublin; Johnmclaughlin.ie