A House and Home promotion
Sometimes a kitchen renovation just isn't on the cards - whether it's budget, time or the fact you like your kitchen how it is. However, a refresh may be what you need, and a kitchen respray may do just the trick.
Considering a kitchen respray, especially versus a full renovation, can bring up some tricky questions. With that in mind, we asked John Sutton from Nationwide Respray for his advice on what you need to know if you're thinking about a kitchen respray.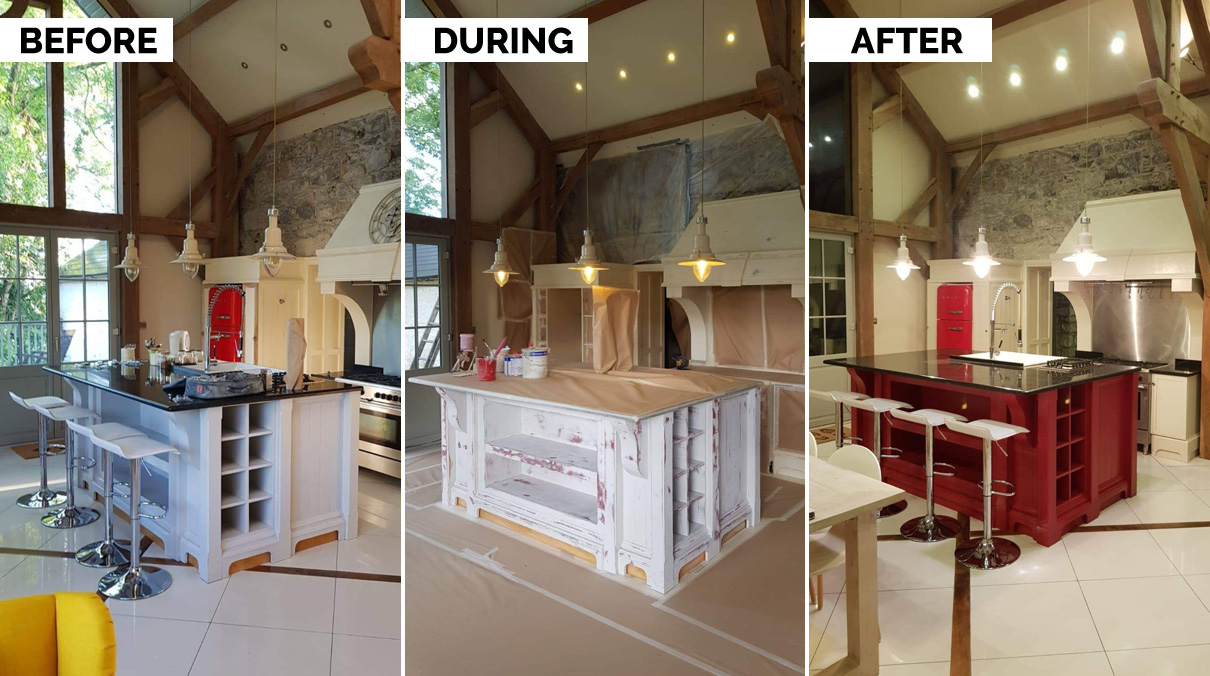 1. What should people consider before getting their kitchen resprayed?
What people should consider when enquiring about a kitchen respray is simple enough. Will it improve the level of light or brightness to the room? A big problem these days is that a lot of people have at one stage extended their home and now the kitchen is in the middle of the ground  floor, so natural light is an issue especially during the winter months. With a kitchen respray, the level of brightness will be improved as people can go as bright as they like with colour, taking away that dark timber look that they have now.
With the type of paint that we use, we can spray any type of kitchen, whether its solid timber laminated or already painted. The polyurethane to pack paints that we use are far superior to the conventional paints that are normally on sale like oil based paints. Our paint is much tougher and much more durable than the other paints so therefore will last much longer. I have found that the conventional paints are too soft for painting things like kitchens as they get so much abuse over the years. That's why we give a 5 year delamination guarantee with all our work.
2. Why is a kitchen respray preferable to replacing the kitchen?
It really comes down to price. A typical kitchen respray costs around 20% of a kitchen replacement and it's not nearly as intrusive. We can do it all in just one day. They can be long days but it's very rare that it takes more than a full day to complete the work. Also the paint dries by chemical reaction from the inside out so each coat is touch dry in approximately 15 minutes. This means that by the time we are all packed up and ready to leave you can use your kitchen as before and the smell of the paint is greatly reduced. In other words, because it's already dry it wont continue to smell like oil based paints for days and days!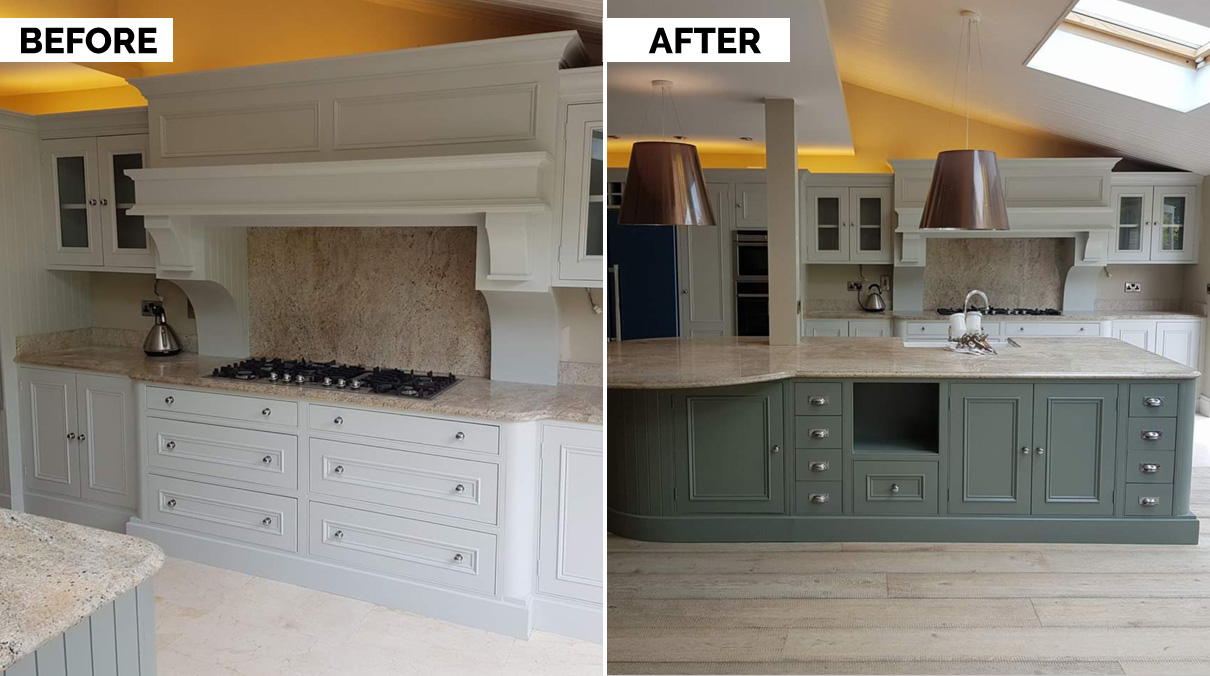 3. What's involved in a kitchen respray?
We start every job at 8am. We start by wrapping the kitchen and protecting the other surfaces and sealing off the kitchen from the rest of the house. We have perfected this part over the last seven years and have it down to a fine art. Then we go about cleaning, sanding, filling, drilling and the spraying the presses etc. Once the customer has inspected the finish, we reassemble and thoroughly clean up all areas. We are done in one full day. The spray painters that we have are extremely qualified and experienced and have perfected their craft on the motor spray painting industry, so they are perfectionists.
4. What results can people expect?
When it comes to making the right choice in relation to colours, we can give the customer any amount of advice regarding what's popular, what colours suit the style of kitchen that the customer has in place, what colours will offer the most amount of light to the room, regardless of what type of kitchen you have. We can spray them all to the same perfect standard that you will get from a new kitchen supplier. We can also provide most any colour you like.
The most popular colours would come from the Farrow and Ball, Dulux and Colourtrend charts with over 300 colours to choose from. The standard finish would be a satin type of finish or a 25% sheen. It's the most practical of sheens as our customers are straying away from the shinier options, simply because the shinier they are the more wiping down the customer is having to do. Our finish is more forgiving when it comes to wet or greasy hands etc. Also maintaining the paint is so simple. All you need to do is wipe it down with a warm soapy cloth and dry it. Our paint is so durable that it can withstand very regular cleaning this way, without effecting the finish or the sheen.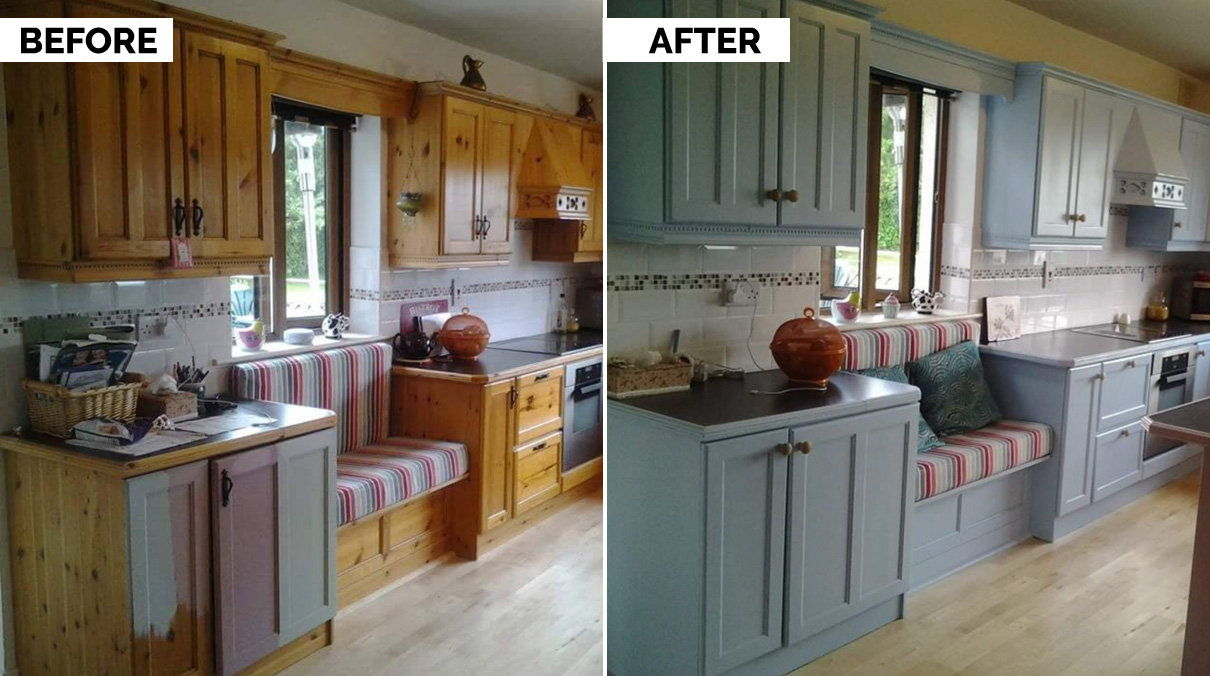 5. How long can people expect to get out of a resprayed kitchen?
The polyurethane paint that we use has been chemically engineered to deliver a finish that is widely known as the most durable paint you can use on this type or work. A hardener is also added to the paint during the mixing process to ensure that the paint lasts for years to come. It also wont discolour like normal paints as it's not affected by UV light, unlike oil based paints.
6. How much does a typical kitchen respray cost?
When it comes to pricing a kitchen, it's not just about the number of doors the kitchen has. It's also to do with end panels, plinths, islands, breakfast bars, fridge freezer units, and display cabinets, so it is difficult to say what the average cost is for a respray. That's why we ask that the customer sends us photos showing the full size kitchen, and that way there are no surprises when we come to do the job. It works out at about 20% of the replacement cost. So you can see why it's the most popular single home improvement item these days.
The only other thing that people should consider is that maybe replacing handled and knobs for new ones at the same time or replacing counter tops too if they are in need, but other then that in most cases we are the one stop shop for that new look kitchen face lift that everyone wants.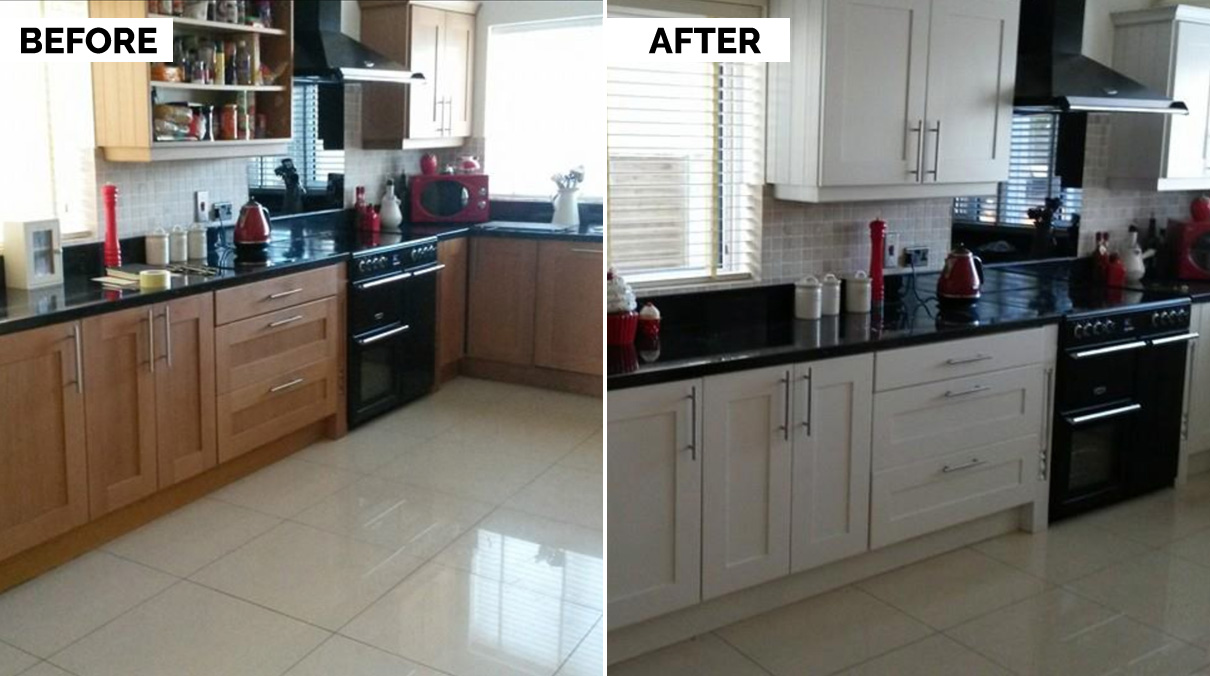 7. Anything else important to note?
There are a few things that people should be aware of. If you are considering a kitchen respray as part of other works, try to hold off painting walls and ceilings until after we are done as our masking tape can pull on fresh emulsion. But even if it does it's very easily touched up after we are gone.
For more information about a kitchen respray, contact John at Nationwide Respray on 087 359 0558 or email [email protected] Visit their website for more information or see more of their recent projects on their Facebook page.