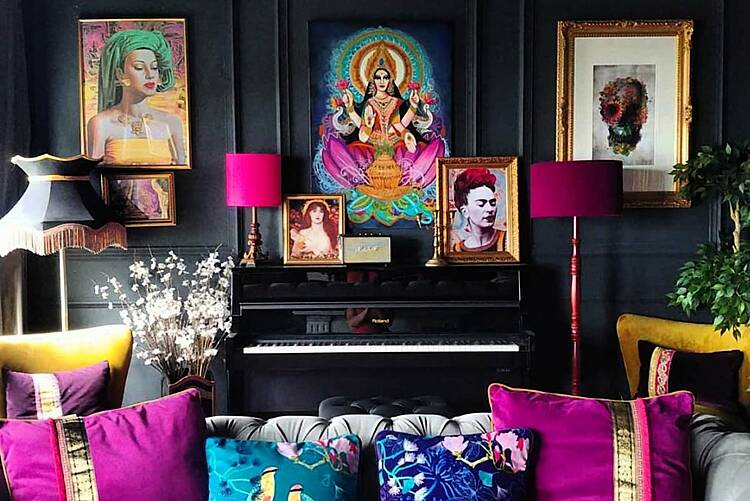 It's time! We're announcing our full shortlists for the Interior Influence 2019 Awards, celebrating Ireland's online creative community in House and Home style. We wanted to shine a light on all of our incredible nominees - and believe us, there is A LOT of talent out there - by introducing you to the shortlisted accounts in every category. 
Using colour in your home and deciding which palette to go for can be a tiresome and difficult process. If you're looking for some new ideas and encouragement, forget moodboards and colour charts and instead take inspiration from these 23 creative Irish interiors Instagrammers who have been shortlisted in The Colour Creative category, sponsored by Crown Paint.

In alphabetical order, these are 23 interiors accounts who are creating amazing colour combinations and doing wonderful things with paint.
Name: Caroline - @a_home_carrie_made
Following: 1,900
About: From vibrant gallery walls to tasteful trinkets, Caroline loves to let her bright and bold accessories do the talking.
Name: Joanne - @aproudhome
Following: 28.1k
About: Every room in Joanne's home is bursting with colour and her creative styling skills compliment her colour palette for each space.
Name: Dee - @behind.theyellowgate
Followers: 10.8k
About: With luxurious dark interiors, Dee has mastered how to introduce light into each space using a rich colour palette and statement room accessories.
Name: Sarah - @colourfulsaz
Following: 970
About: Using clever paint techniques, Sarah has a talent for upcycling a well-loved piece of furniture and giving it a new lease of life.
Name: Catherine - @daintydressdiaries
Following: 65.2k
About: Even though she has a real passion for pink and florals, Catherine isn't afraid to get creative with colour in her home, especially when it comes to her impressive DIY projects.
Name: Laura - @deco.dwelling
Following: 5,904
About: Adding colour into your home doesn't have to be a difficult task and Laura proves that you can brighten up any space by adding stylish and sleek accessories.
Name: Laura - @dixiesyard
Following: 3,895
About: With a flair for interiors, Laura has utilised every inch of wall space in her home, even designing impressive wall painting designs to maximise colour in some rooms.
Name: Bronagh - @foxhollowstyle
Following: 4,643
About: Bold colour blocking, vibrant velvet sofas and seriously stylish accessories, Bronagh knows what works for her home and as a result the rooms are uplifting and inviting.
Name: Freida - @frieda_100
Following: 2,265
About: Freida adds character and charm to her home by simply injecting some colour in the form of a bold wallpaper print or gallery wall.
Name: Karen - @homing_in_progress
Following: 1,629
About: Using colour and paint to turn tired furniture into new and improved units comes second nature to Karen and the results of her projects speak for themselves.
Name: Paul - @insect_chart
Following: 1,723
About: Paul proves that colour doesn't have to overwhelm and instead it can still pack a punch in a small space.
Name: Peggy - @interior_alchemy
Following: 22.1k
About: In her beautiful Bangor home, Peggy successfully incorporates eye-catching rich gold and purple hues into her interior design.
Name: Jen - @jen_connell_
Following: 3,570
About: Balancing cool colour combinations with stylish and luxe accessories, Jen isn't afraid to experiment with pops of colour in her home.
Name: Joanne - @joannecondon
Following: 16.8k
About: As author of Furniture Crush, a furniture painting guide, and regularly running creative workshops, you can trust that you'll find ample home colour inspiration on Joanne's Instagram account.
Name: Eniko - @mydarkhome_
Following: 78.4k
About: Balancing dark decor schemes with cosy interiors, Eniko embraces colour in every room in her home.
Name: Lynn - @myoldbrandnewhome
Following: 5,784
About: Getting creative with colour comes easy to Lynn and her innovative ombre paint design in her plant room is a both eye-catching and beautiful.
Name: Darran - @oldvictoriannew
Following: 16.4k
About: Making a statement with vibrant furniture, accessories and wall art is Darran's key tip to achieving a stylish but timeless home.
Name: Sarah - @retwiggd
Following: 5,471
About: Space informs style in Sarah's home as she uses muted tones, bold prints and plenty of foliage to achieve an eclectic and elegant décor.
Name: Gill - @rowans_rainbow
Following: 32.9k
About: Uncompromising and attention grabbing, colour is part of the foundations of Gill's home and she has a skill for styling the space so it doesn't feel overdone.
Name: Ruth - @ruby.aimee
Following: 7,073
About: Dark and dramatic, Ruth's embraces the rich decor and adds pops of colour and foliage to brighten up each room.
Name: Saara - @saara_mcloughlin
Following: 4,491
About: With bright colours and bold patterns, Saara has managed to infuse colour into every corner of her home.
Name: Katrina - @vintageirishkat
Following: 25.6k
About:  A fan of upcycling and DIY projects, Katrina incorporates colour through quirky refurbished furniture and spectacular wall painting designs.
Name: Meg - @vintageirishnest
Following: 279
About: Upcycling and painting furniture is a great way to add personality to a space and Meg's charm shines through her impressive colourful creations.
Download your 'Shortlisted' badge for The Colour Creative Award: