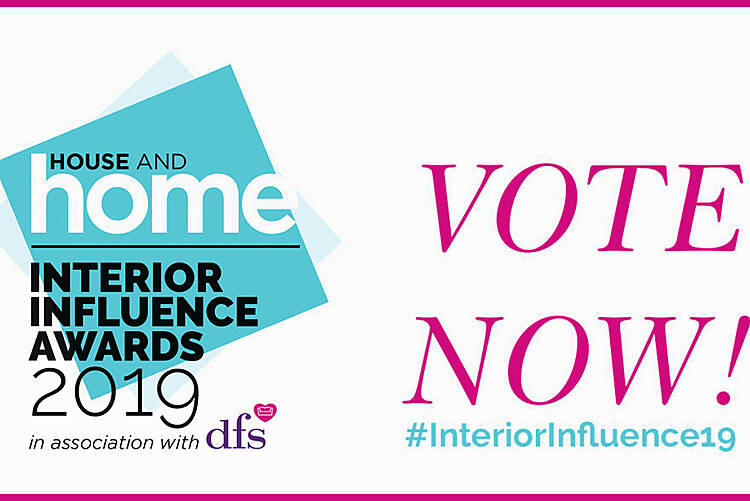 For the first time ever, we are recognising the achievements of the burgeoning Irish interior Instagram and social media community with the inaugural House and Home Interior Influence Awards in association with DFS. Nurtured by House and Home magazine since the inception of our daily follow hashtag, #MyHouseAndHome in September 2017, the community has blossomed into a vibrant, digital creative hub, and now is a great time to celebrate that innovation, spirit and colour.
With four weeks of public voting from 30th August to 27th September, you get to tell our judges who you think is at the front and centre of the community. From there, we'll create shortlists for each category, which will be published in the November/December 2o19 issue of House and Home magazine (on sale 11th October).
In late October, our judges (meet them here), will gather to decide the winners in each category. And there's a special House and Home Grand Prix prize too, awarded on the night of the awards, to the one interiors influencer the team feels is deserving of this special gong.
Tickets for our gala event at The Alex Hotel will go on sale in October and we'll all gather on 6th November for a fun evening of drinks, nibbles - and of course, awesome goody bags.
Here are the categories you can vote in now; scroll below to get your votes in, and please check out our wonderful title and category sponsors, without whom the awards would not be possible.
Voting is now closed, the shortlists will be published in the Nov/Dec issue of House and Home magazine, on sale 11th October 2019.
Best DIY or upcycling account, sponsored by Fleetwood


Which is the best Irish account at creating really great, easy-to-achieve DIYs or upcycles for the home?
Best Interior Blogger, sponsored by Peppermint Grove


Nominate the Irish interiors blog you follow that's head-and-shoulders above the rest. NOTE: This category is for blogs only.
Best Styling Skills, sponsored by Scatterbox


Who is incredible at accessories? The Irish account that always gets its styling spot-on will bag this prize.
Best Use of Photography, sponsored by Desenio


The account that nails its photography: the lighting is always right, the subject matter is spot-on and the individual posts and grid are gorgeous. Which Irish account should win?
Best Use of Video, sponsored by 256


Who cracks you up on Insta stories or YouTube? Who does a brilliant tutorial and offers amazing advice? Vote for your favourite Irish account now.
Best Self-Build account, sponsored by Sonas Bathrooms


Ireland is very definitely a nation of self-builders with lots of inspiration out there. So which of your fave follows should win this coveted award?
Best Newcomer, sponsored by DFS


Every week and month new accounts land on the Irish Instagram and blog scene – who is your favourite?
The Interior Designer award, sponsored by Linwood


Nominate the Instagram or blog  of your favourite Irish professional interior designer.
The Make a Change award, sponsored by Colourtrend


The Irish Insta-personality or blogger who is actively seeking to reduce, reuse and recycle in their home.
Best Period or Vintage Home interiors, sponsored by Roberts Radio


The Irish account which showcases the owner's period home or vintage/retro style to perfection.
Best Before and After project, sponsored by EZ Living Interiors


It could be a whole house renovation or remodel, a room makeover or even a furniture project you loved. Which Irish account smashed it?

Who is the Irish Instagrammer or interiors blogger who creates dreamy, innovative schemes in their home for very little money?
The Colour Creative, sponsored by Crown Paints


Which is the best Irish Interiors account at creating amazing colour combinations and doing wonderful things with paint?
The Small Space award, sponsored by Optimise Home


Nominate the Irish person or interiors account which you feel makes the most of their smaller home.
Entry Rules and Guidelines
Entries are open for all island of Ireland Instagram, blog and YouTube accounts with an interiors-related focus.
Public voting begins on 3oth August 2019
If House and Home deems that any entrant is not interior-related, we reserve the right to disqualify it
We reserve the right to disqualify any entrants publishing or promoting offensive or discriminatory material
All accounts must have published at least three pieces of content in this calendar year to be eligible
NEWCOMER AWARD: To be eligible for this award, accounts must be live from 1st January 2019

Accounts must be live at the time of nomination and still be active at the time of the awards. 

​

The closing date for the public vote is 27th September 2019
Entry rules and guidelines are subject to change or amendment at any time
Share This Article