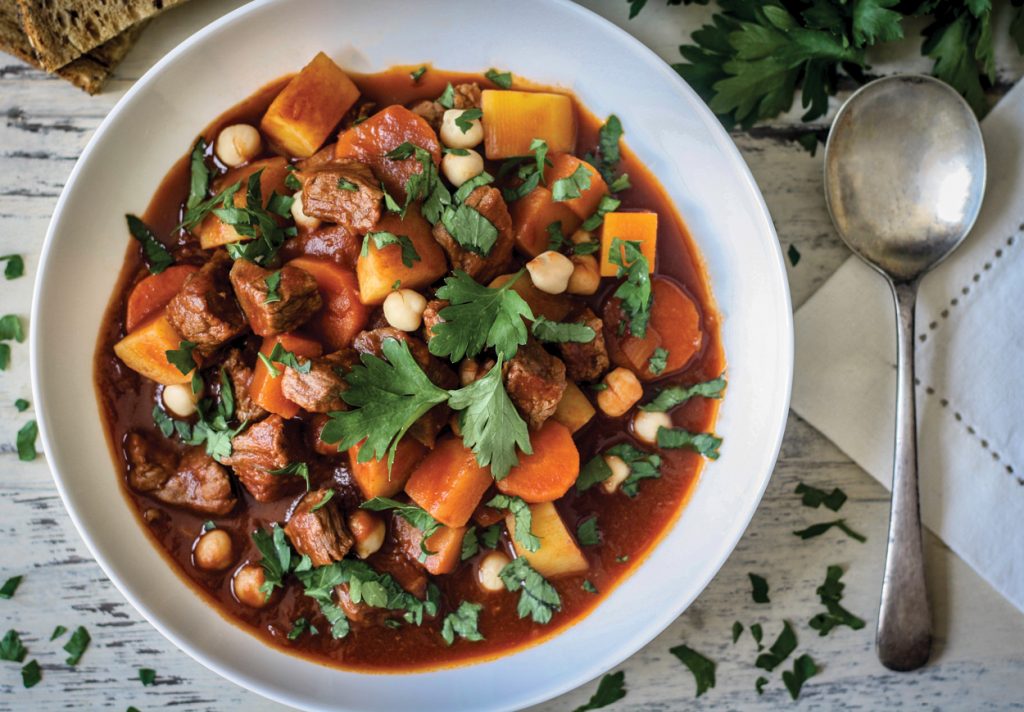 Cork-based food stylist and photographer, Monika Coghlan, is known for her simple recipes, based on fresh, accessible ingredients and seasonal produce. She's rustled up a heart-warming, comforting beef stew recipe that will keep you warm all winter long.  Yum!
What you'll need:
400g beef, diced
2 tbsp olive oil
1 small butternut squash, peeled, deseeded and diced
2 large carrots, peeled and sliced
2 large potatoes, peeled and diced
1 medium onion, finely chopped
2 cloves garlic, crushed
1 tin chickpeas in water
500g passata
1 small glass of dry red wine
1 organic vegetable stock cube
500ml water
Fresh parsley to garnish
Salt & pepper to taste
Pinch paprika
What to do:
In a large pot or casserole dish, fry the onion and garlic until golden. Add the beef and season with salt, pepper and paprika. Fry for five minutes.
Add the water, stock, passata, red wine, chickpeas and the vegetables, and simmer for at least two hours, stirring occasionally, until the veggies are soft and the beef falls apart nicely.
Garnish with some fresh parsley and serve with a slice of brown bread.
You might also like: Recipe - Rachel Allen's Chocolate Pavlova with salted caramel sauce from her Home Baking cookbook
Share This Article