Last week we brought you a gorgeous recipe for salted caramel peanut bars from Rachel Allen's new cookbook, Home Baking, and because there was no actual baking involved, they were the perfect quick sweet treat to whip up in a pinch. However, if you're looking for the perfect dessert for entertaining guests with, this will be more up your street. Not stepping too far away from the salted caramel, her chocolate pavlova with salted caramel sauce sounds absolutely divine and is sure to impress guests no end, without too much stress on your part - ideal! Enjoy!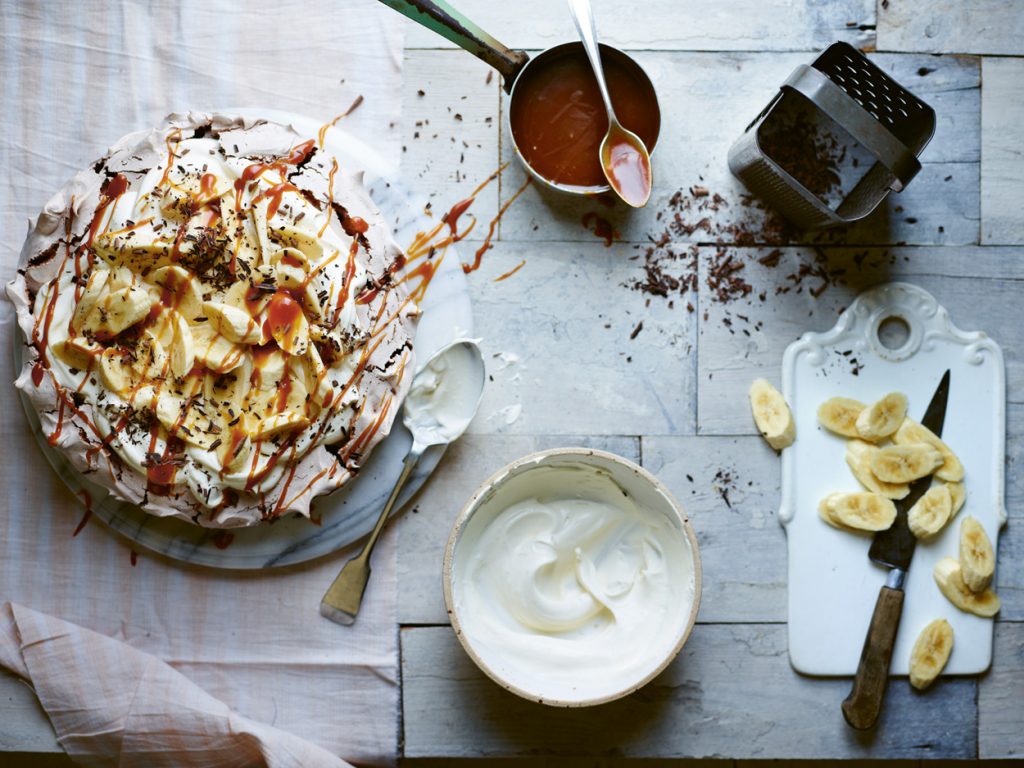 Serves 6–8
WHAT YOU NEED:
4 egg whites
225g (8oz) caster sugar
1½ tbsp cocoa powder
1 tsp cornflour
1 tsp red wine vinegar or balsamic vinegar
75g (2½oz) dark chocolate (55–62% cocoa solids), chopped, or chocolate drops, plus extra for grating
350ml (12fl oz) fresh double cream
3–4 bananas, to taste
For the salted caramel sauce
225g (8oz) caster or granulated sugar
100g (3½oz) butter
175ml (6fl oz) fresh double cream
salt
baking sheet
METHOD:
Preheat the oven to 150°C (300°F) Gas mark 2. Line the baking sheet with baking parchment. Put the egg whites in a clean, grease-free bowl and whisk with an electric beater until they form soft peaks, or use a food processor. Start adding the sugar while still whisking, 1 tablespoon at a time, until all the sugar is added and the mixture is thick, white and glossy.
Sift in the cocoa and the cornflour. Drizzle in the vinegar and scatter the chocolate over the top, then fold them all together lightly but thoroughly.
Turn out the meringue mixture on to the prepared baking sheet and use the back of a tablespoon to push the mixture into a circle about 20cm (8in) in diameter with a dip in the centre. The mixture will spread out a bit while baking, so make it thicker than you want it to be. Cook in the oven for 50 minutes, then turn off the oven and leave the pavlova to cool inside the oven.
To make the caramel sauce, put the sugar, butter and 75ml (2¼fl oz) water in a saucepan over a medium heat and stir while it heats up to dissolve the sugar and melt the butter.
Once the sugar has dissolved, turn the heat up to high and cook for 10 minutes until it turns a toffee colour. Do not stir the pan, although you might need to swirl it occasionally if you see it turning golden on one side of the pan before the other. Once the syrup is a rich golden toffee colour, stir in the cream and a good pinch of salt, then put the pan back over the heat for 2 minutes to dissolve the salt. Transfer to a jug. (It will store in the fridge for up to 3 months.)
When ready to serve, put the cream in a bowl and whip until soft peaks appear. Put the pavlova on a plate and top with the whipped cream. Slice the bananas at an angle and arrange over the cream. Drizzle with some salted caramel sauce and serve with more sauce and a grating of chocolate, if you wish.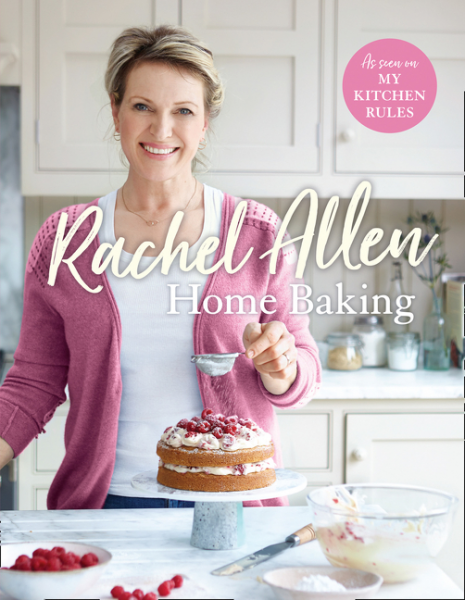 With over 140 easy-to-follow recipes, Home Baking caters to your every home baking need or whim. Rachel's recipes always work. Her legions of fans know that they are in safe hands with her. And nowhere is it more important than with baking. Here, in this gorgeous new book, she combines simple yet brilliant techniques with delicious flavours. Home Baking is now available to buy here.
Share This Article