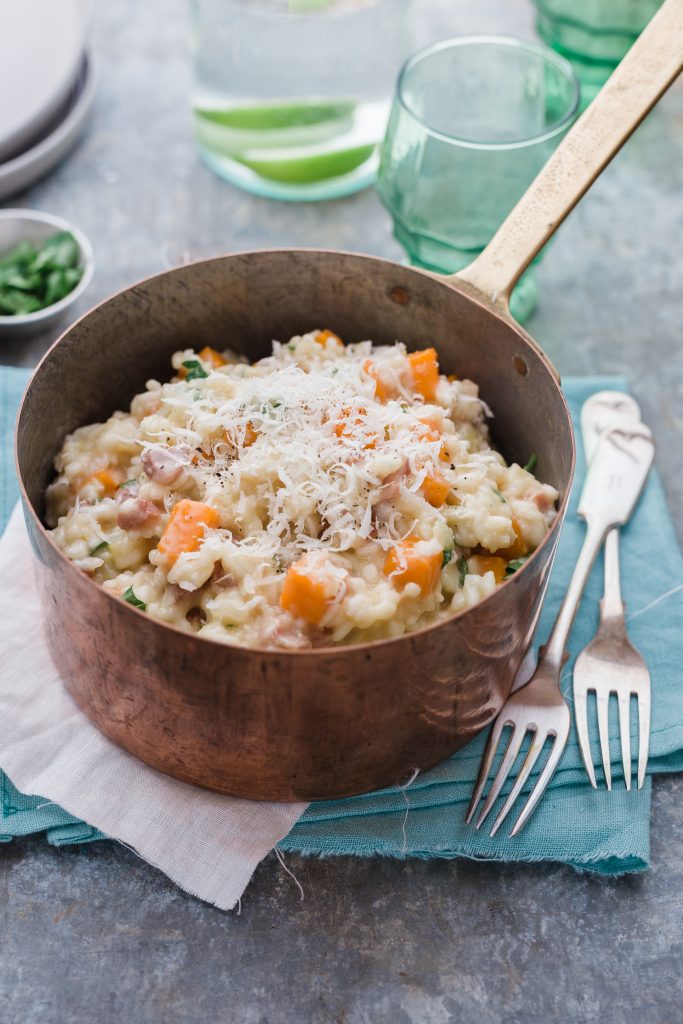 This is a delicious, warming winter recipe, passed on to us by our pals at Sadie's Kitchen. Pssst! Did you know we're giving away a MONTH'S supply of Sadie's Kitchen bone broth? Check it out!
Serves 4
WHAT YOU NEED:
1 butternut squash
2 tablespoons olive oil
Sea salt and freshly ground black pepper
2 packs of Sadie's Chicken Bone Broth
6 tablespoons of unsalted butter
2 ounces pancetta, diced
2 large minced shallots
10 ounces Arborio rice
250ml cup dry white wine
6 fresh sage leaves
100g freshly grated Parmesan cheese
WHAT TO DO:
Preheat the oven to 200 degrees.
Peel the butternut squash, remove the seeds, and cut it into 3/4-inch cubes. Place the squash on a sheet pan and toss it with the olive oil, 1 teaspoon salt, and 1/2 teaspoon pepper. Roast for 25 to 30 minutes, tossing once, until very tender. Set aside.
Meanwhile, heat the chicken bone broth in a small covered saucepan. Leave it on low heat to simmer.
In a pot, melt the butter and crisp the sage leave up, leave these aside and saute the pancetta and shallots on medium-low heat for 10 minutes in the same pan, until the shallots are translucent but not browned. Add the rice and stir to coat the grains with butter. Add the wine and cook for 2 minutes. Add 2 full ladles of broth to the rice plus the saffron, 1 teaspoon salt, and 1/2 teaspoon pepper. Stir, and simmer until the stock is absorbed, 5 to 10 minutes.
Continue to add the stock, 2 ladles at a time, stirring every few minutes. Each time, cook until the mixture seems a little dry, then add more stock. Continue until the rice is cooked through, but still al dente, about 30 minutes total.
Off the heat, add the roasted squash cubes and Parmesan cheese. Mix well and serve.
You might also like: 5 healthy dinners you can make in 20 minutes or less
Share This Article