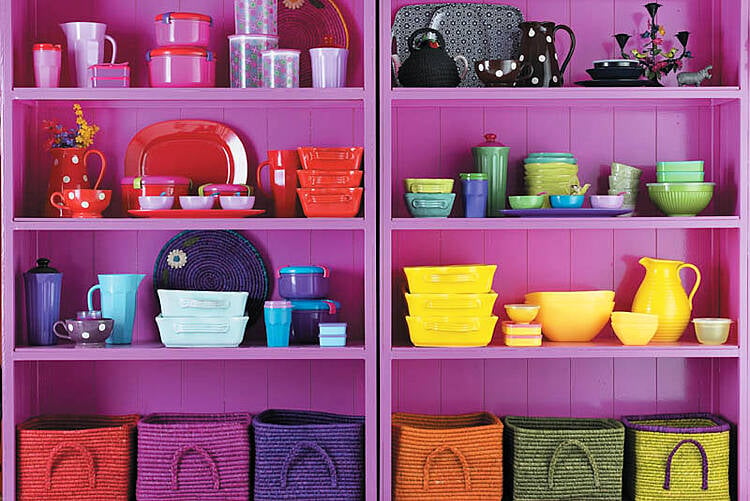 Hands up who lives in a space that could do with a little extra storage? Oh, so that's all of you then - yep, we thought as much. But storage doesn't have to be a wallflower, blending into the background, apologetic and all, "oh don't mind me, I'll just sit here in the corner on my own, storing all your DVDs while you enjoy yourself," Irish mammy-style.
Hang that, we say. We're embracing loud and proud solutions that make a statement all on their own. Above you're looking at a gorgeously-styled shot from Rice, the Danish home wares and accessories company known for its bright melamine bits and bobs. We like how they've made a virtue out of the loud shelving and the colour-clash of the crockery and bakeware it's holding.
Quite frankly, we'd love this in our own kitchen and we're raging we didn't think of it first.
Here's another solution that's yes, hands up, a bit more about the colour pop and less about the usable storage aspect. We admit it. These metal display boxes, placed on candy-striped Caselio wallpaper really work. Not a huge amount of use for holding things sure, but very good for placing emphasis on two or three much treasured items, so well worth it for that.
Lastly, here's a rainbow of colour that's fun and functional. Rakku's shoe wheel was all over blogs and mags a couple of years ago but y'know, we still love it. A great spacesaver in a small space, it can be bought in Ireland at Whelan Shoes for about €70.
Do you have any bright and beautiful storage solutions you'd like to share? Leave us a comment and let us know.