The living room edit: 60 brilliant buys to pep up your most social of spaces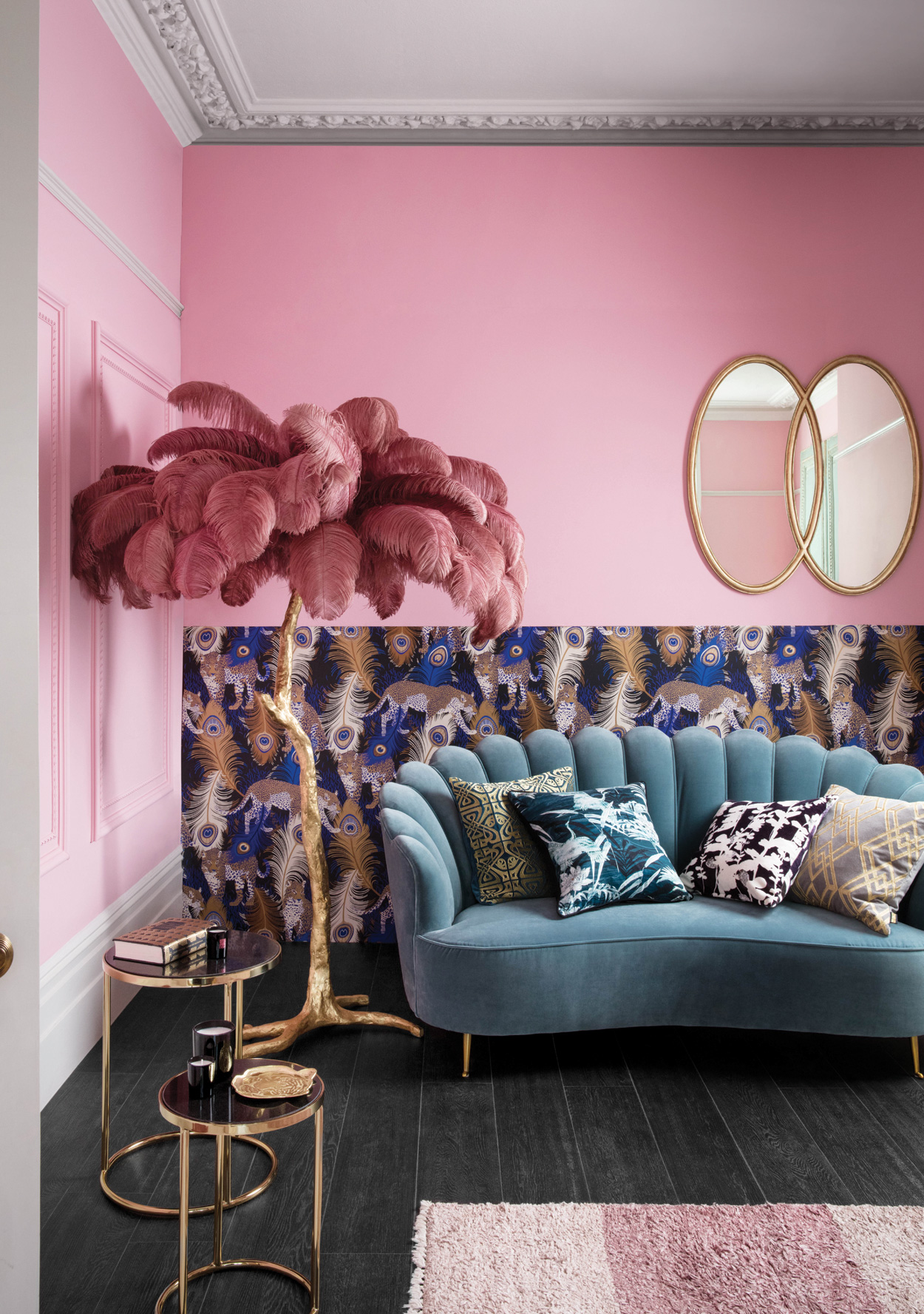 Whether you're revamping your entire living room space, or just want to update it to give it a new look and feel with a minimal budget, we've got some gorgeous products in shops right now that will liven up your living room quick sharp.
#1: THINK PINK
Yellow might be en route as the new hot trend, but pink still has a place in our hearts. It's welcoming, warming and the perfect fun foil for grown-up, serious buys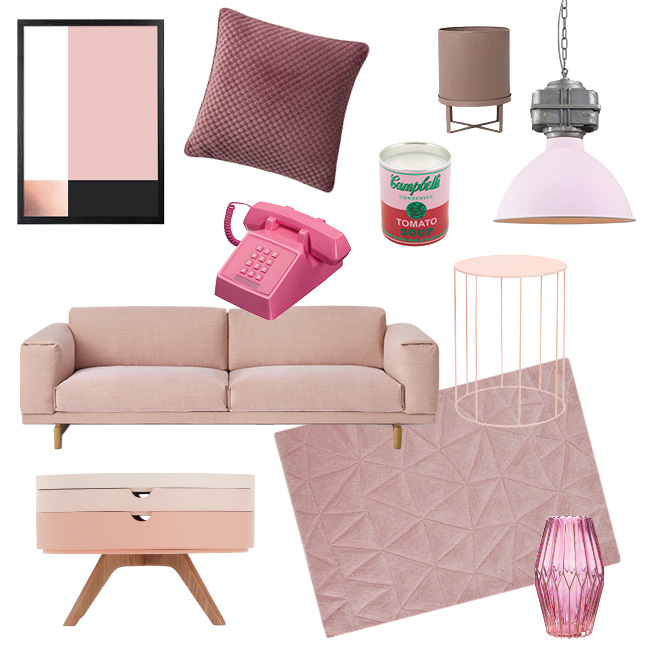 Left to right by row
Framed poster, €29, Cultfurniture.com
Sheridan Emington cushion in Rosewood Pink, €50, Arnotts.ie
Large bau pot in Dusty Rose, €69, Fermliving.com
Pink pendant light, €99.95, Lampandlight.ie
Flamingo phone, €70, Harveynorman.ie
Andy Warhol Campbell's Soup scented candle, €55, Amara.com
Muuto Rest sofa, €3,195, Inreda.ie
Occasional table, €72, Aprilandthebear.com
Cairn coffee table, €280, Made.com
Olsen rug in Pink, €139.99, Littlewoodsireland.ie
Biba Pink vase, €40, Houseofraser.co.uk
#2: NIGHT GARDEN
Create a floral fantasy with rich textures and jewel tones
Clockwise from top left
Botanical Floral picture, €165
Antique Hadschlu rug (hanging), €900
On couch
Tree of Life feather-filled cushion, €35
Meridian Raspberry and teal feather-filled cushion, €30
Cheetah forest green feather-filled cushion, €20
Malisa yellow feather-filled cushion, €30
Mathea Melange throw in yellow, €85
Studio 3 seater velvet sofa in quartz green, €1,399
On floor
Jersey Stone rug, €800
Shoes, stylist's own
Oval Noel Coffee table in blue, €325
Enamelled Ingrid vases (set of 3), €75
Salix Spray (in vase), €15 each
Velvet Hook in petrol, €20
Delphinium Spray in dark purple (just seen), €15 each
Palm Paradise (just seen), €240.
All products are available from Harvey Norman stores nationwide or online at Harveynorman.ie
#3: FEEL FOR TEAL
Add a directional touch to your décor with this design favourite. It's a true chameleon, working as well in a mid century-inspired interior as it does in a contemporary schemes, combined with crisp white and neutrals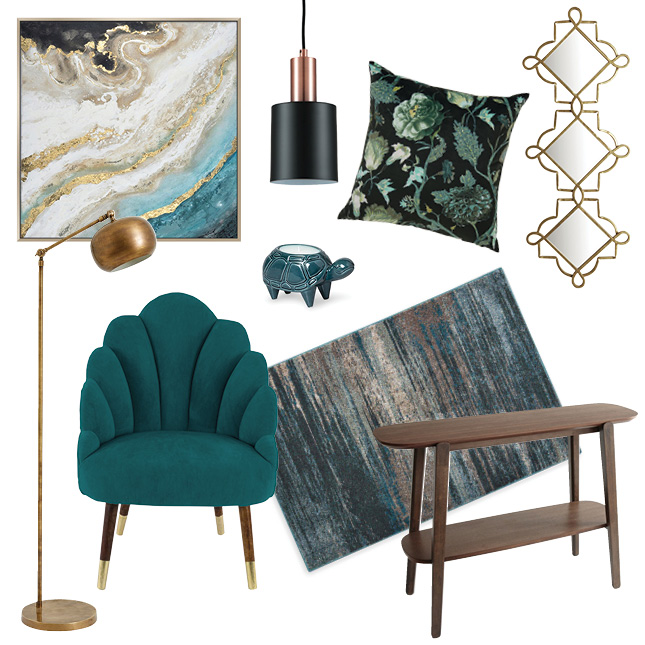 Left to right by row
Scatter Box Art Neptune, €249, Michaelmurphy.ie
Black and Antique Copper Single Pendant, €45, Harveynorman.ie
Statement Floral Square Cushion, €34, Marksandspencer.ie
Oriental Treasure Mirror, €89.99, Littlewoodsireland.ie
Globe Brass Floor Lamp, €499, Woodesign.ie
Sienna Teal Velvet Shell Chair, €560, Audenza.com
Victor the Tortoise scented candle, €29, Oliverbonas.com
Teal stripe rug, from €79, Next.ie
Agura Console Table, £205, Laredoute.co.uk
#4: THE GREEN HOUSE
Layer foliage, brass and marble for a picture perfect finish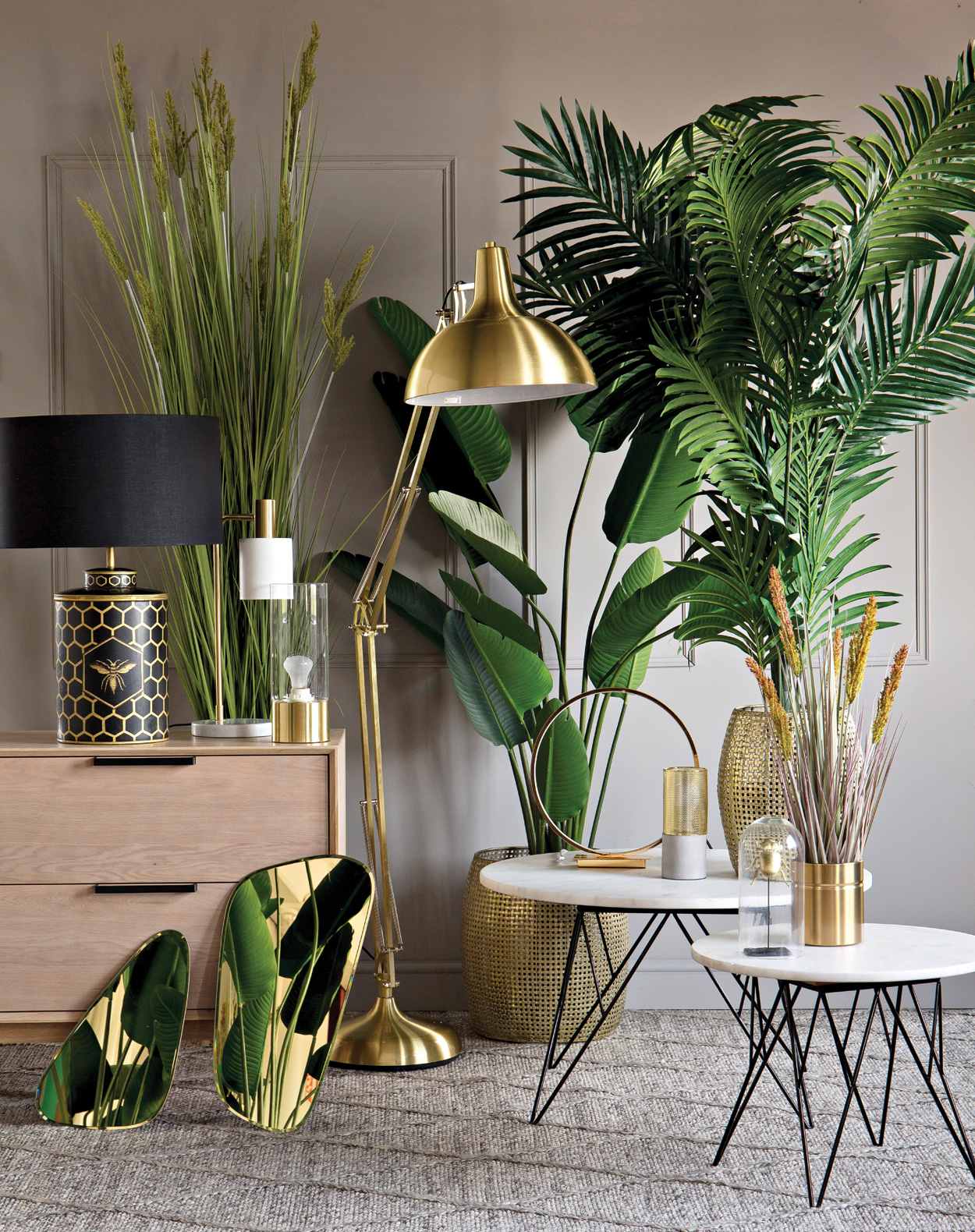 Clockwise from top left
Grass Pennisetumin in zinc pot, €100
Giant brass oversized task lamp, €190
Palm Paradise, €240, inside
Antique Gold Grid metal stool (set of 2), €150
On coffee table
Strelitzia, €270, inside Antique Gold Grid metal stool (set of 2), as before.
Concrete and Gold Mesh table lamp, €50
Gold LED Circle table lamp, €90
Erika Coffee table, €399
On lamp table
Grass Grain in plastic pot, €35,
Large Brass storage pot, €17
Bell Jar and Gold Insect, €40
Erika Lamp table, €279
On floor
Katherine Carnaby Coast Diamond Grey Marl rug, €850
Out of Balance mirror set in gold, €100
Wilbur two-drawer sideboard, €799
Honeycomb lamp and shade, €200
White marble and gold table lamp, €60
Lax Goldplated base table lamp with clear glass, €80
All products are available from Harvey Norman stores nationwide or online at Harveynorman.ie
#5: PUT IT IN NEUTRAL
The allure of classic leather never wanes. Its appeal lies in how well it wears and the fact it goes with everything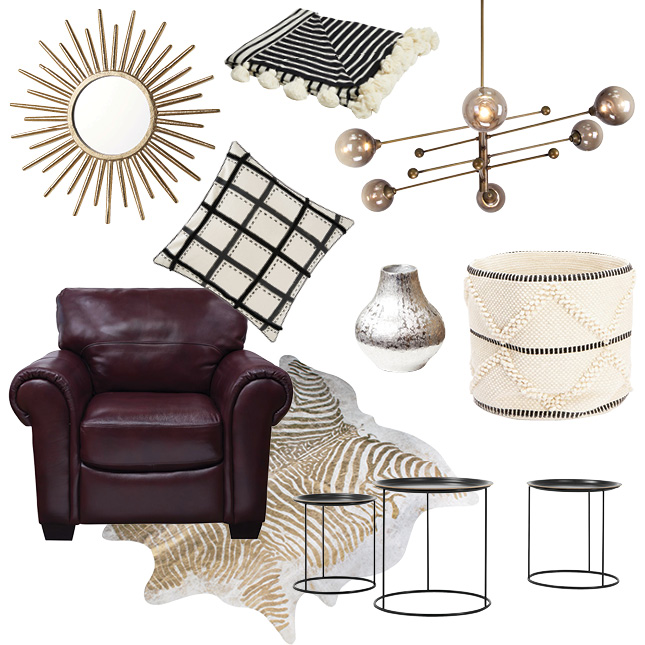 Left to right by row
Round mirror, €27.99, Hm.com
Marina Throw, €175.00, Sohohome.com
Abigail Ahern/EDITION AA Odette ceiling light, €270, Debenhams.ie
A by Amara Grid Cushion, €37, Amara.com
Lisbon vase, €19.95, Meadowsandbyrne.com
Plaited wool basket, €69.99, Zarahome.com
Malvern Armchair, €999, Harveynorman.ie
Cartagena nest of tables, €339, Boconcept.ie
Gold Zebra Cowhide Rug, €480, Audenza.com