We're all about the idea of theming your Christmas decor, and with strong decor trends emerging, we thought we'd take you through some top tips for three of the most popular options this year.
1. Scandi Christmas
Pared back pretty is on the menu with bright, clean and fresh festive decor
1. Well rounded: Eye-catching and a statement on a mantelpiece or shelf, a christmas scene snow globe is Scandi-boho décor personified.
2. Starry nights: Rustic and traditional, metal 3D stars add an edge to a Nordic look and offers a sharp contrast to twinkly lights and foliage.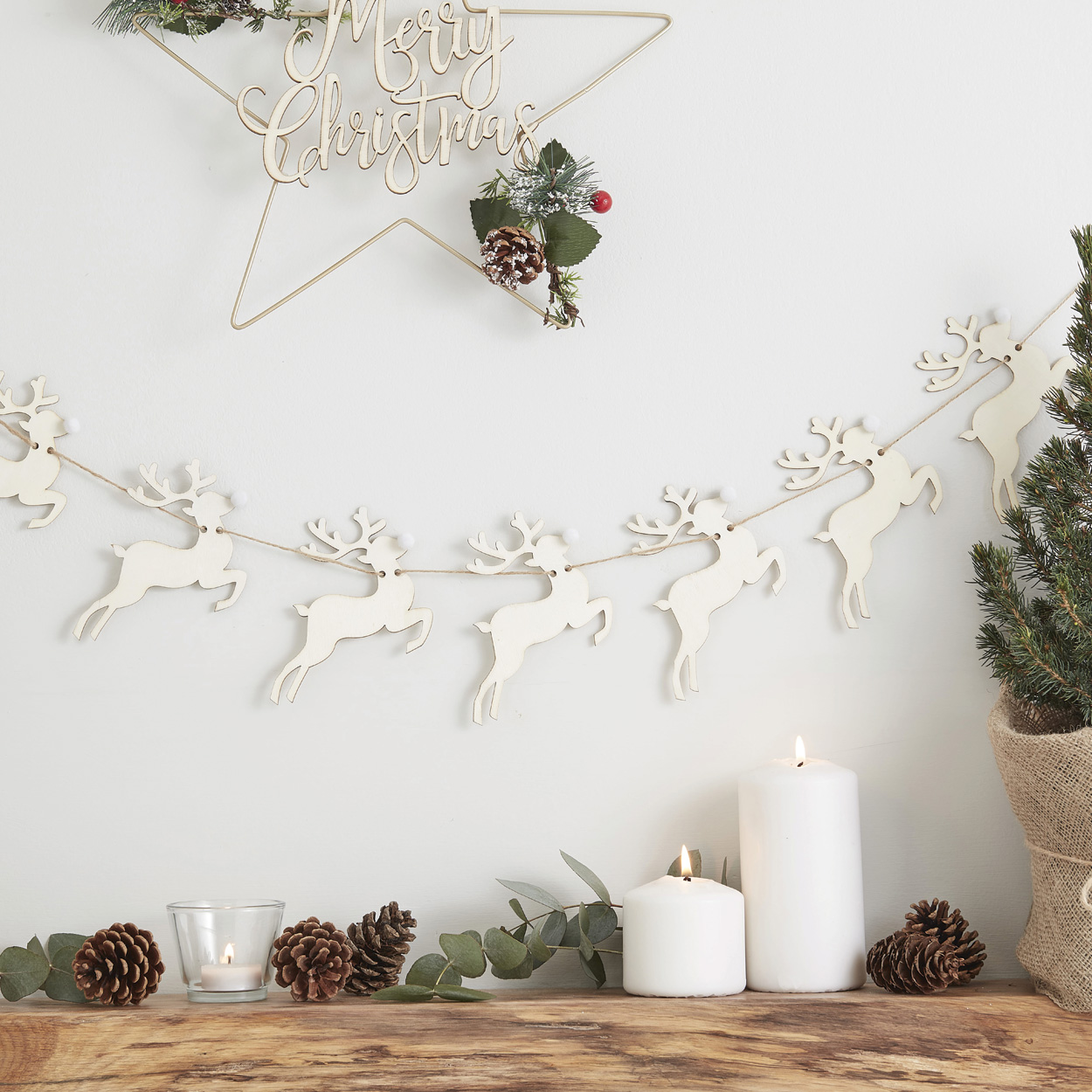 3. Leap card: What could be more Scandi-chic than simple wooden forms? We love this Wooden Stag Pom Pom Nose Bunting, €7, and Star Foliage Merry Christmas Wreath, €15, both from Gingerray.co.uk.
4. Circle of light: As nice for use at Christmas as they are throughout the winter, delicate wire rings can make for gorgeous decor, as well as being used as candleholders. A perfect way to light the diaspora's way home on Christmas Eve.
 THREE OF THE BEST: ANIMAL MAGIC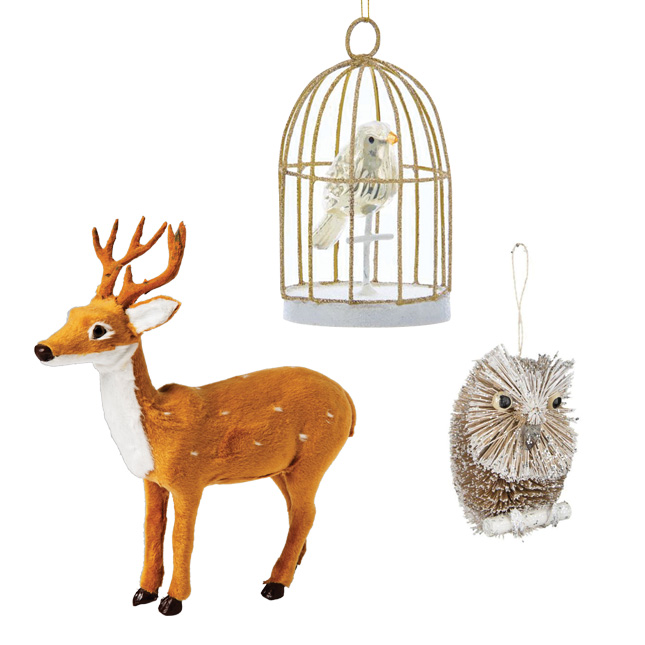 K S Adler birdcage, €10, Brownthomas.com
Owl decoration, €6, tch.net
Faux deer, €8, Flying Tiger
2. Kitschmas
Because who ever said you had to stick to red and green, huh?    
1. Have a Ball: Forget foliage: get a bright and bubbly door wreath with baubles to brighten up any door it's placed on. We love.
2. For the birds: In the immortal words of characters of Portlandia: "Put a bird on it." And that includes your Christmas tree. Bin the baubles for one year and try a new silhouette – plus, these little critters peeping out from the tree branches are super-cute.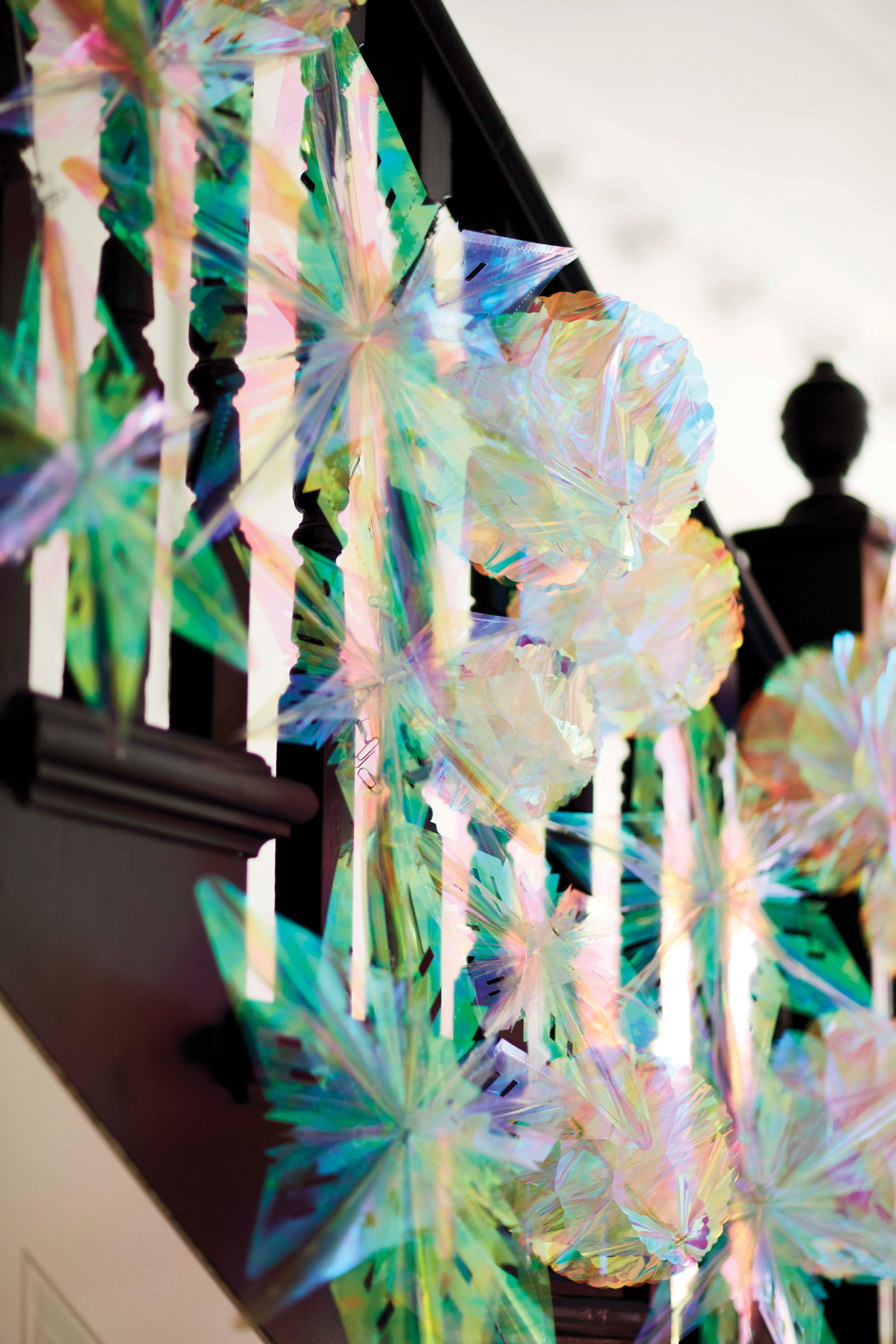 3. Stair master: Often overlooked, we adore this idea for your staircase. Shiny, crackly iridescent plastic in pleasingly festive shapes give a nod to the festive season but stay on the right side of silly for non-conformists. Decadent Decs Iridescent Star Decorations, €12 each, Talkingtables.eu.
4. Colour cues: When it comes to maximising kitschmas, a colour clash is a must. Don't think too hard about a theme or scheme; just buy brights and lots of them.
THREE OF THE BEST: CHRISTMAS CRACKERS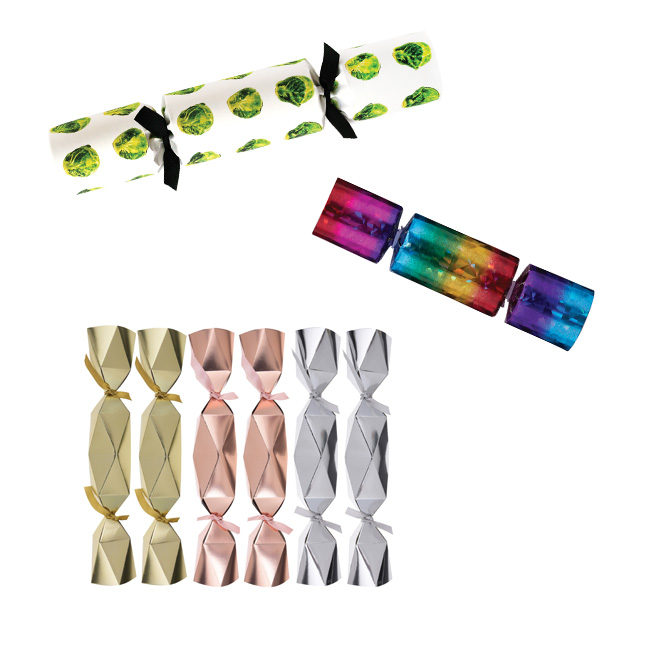 Brussel sprouts luxury cracker, €38 for 6, Annabeljames.co.uk
Paperchase mini rainbow crackers, €10 for 6, Arnotts.ie
Mixed metallic crackers, €18, Next.ie
3. Dark, dramatic Christmas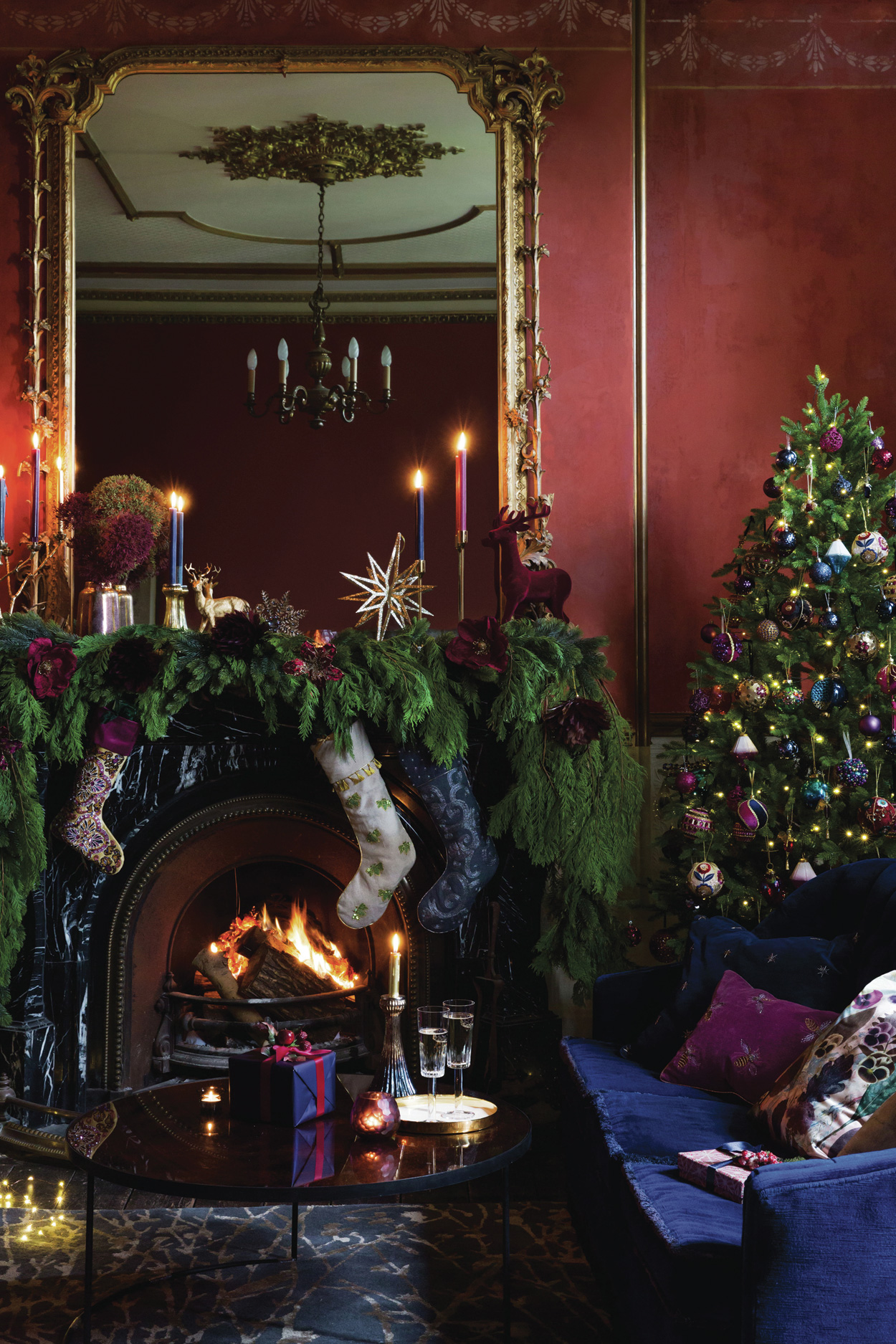 Ink-infused decorations deliver a sense of theatre to festive proceedings    
1. Birds of a feather: Layer a dark, dramatic feathered wreath over a dark wall or door colour for added impact.
2. Red alert: Go scarlet: the simple addition of red candles will add a bit of drama to festive décor.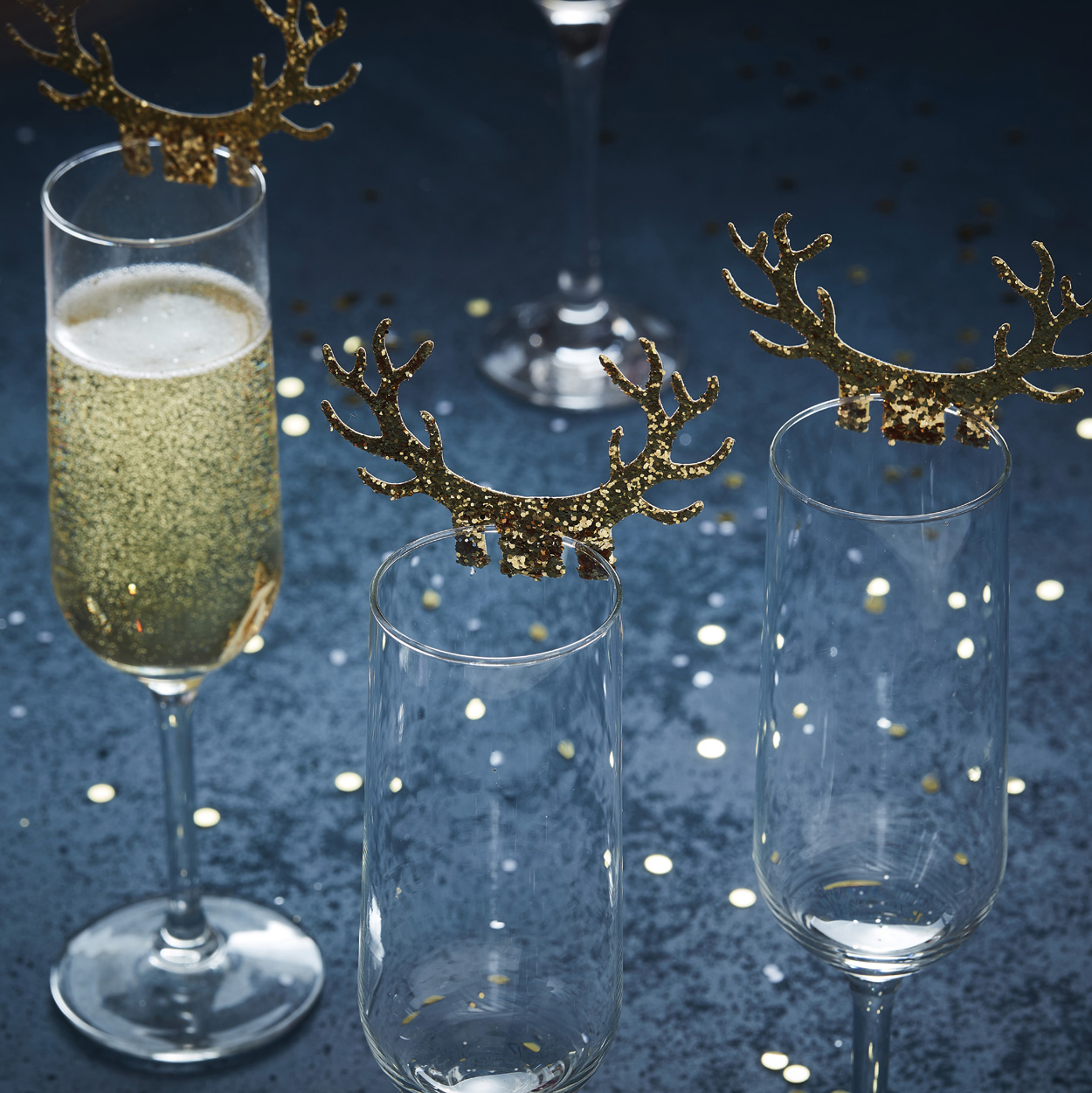 3. Bottoms up: Who doesn't want to be a bit extra at Christmas? Uhuh, us too. These Gold Glitter Antler Glass Decorations, £3.49 for 10, Gingerray.co.uk, are the perfect way to add a little bling to your bubbly.
4. Flamin' marvellous: Simple and chic, Sostrene Grene's Candleholder, €xx, is a perfect table centrepiece for 25th December and can be moved from room to room throughout the festive season to provide soft mood lighting.
THREE OF THE BEST: POM POM AND BEADED GARLANDS
Kaemingk Golden Bead Garland, €16.95, Arnotts.ie
Pastel Pom Pom Garland, €20, Riverisland.ie
Habico Pom Pom Garland, €4.50, Johnlewis.com
For more Christmas decor inspiration, we have a Christmas Special in our November/December issue of House and Home magazine. It's only on shelves for another week so grab your copy while you can!