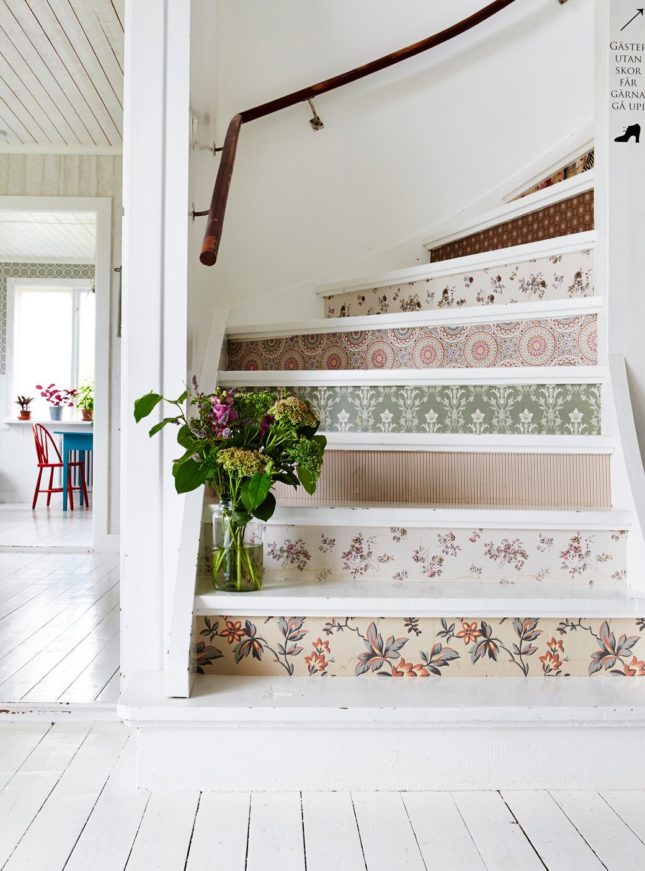 (Photography by Rachel Whiting © Ryland Peters & Small)
The botanical trend really took over in 2016 and, as we head in to 2017, it's showing no signs of disappearing. We can dream of a room filled with succulents, hanging greenery and large potted plants (think Wildernis in Amsterdam) when, in reality, it just may not be possible – especially when you add children and pets to the mix.
The best news is, when it comes to paying homage to the trend, we can take a leaf out of stylist, Selina Lake's book, Botanical Style.
Selina says, "Wallpapering the stairs is a wonderful way to bring vintage botanical pattern to a plain staircase. Rip out any old carpet and remove any tacks or nails, then sand the stairs and paint them with floor paint (I used Farrow & Ball wood primer & undercoat followed by 'All White' Floor paint) Gather up a collection of wallpaper offcuts or rolls of the same print for a more uniform look. Measure the top stair and cut out to size using desired paper. Attach using PVA glue or wallpaper paste, starting at the top means you can work your way down while leaving it alone so the glue will set."
See more of Selina's beautiful projects in her book, Botanical Style, which you can buy here.