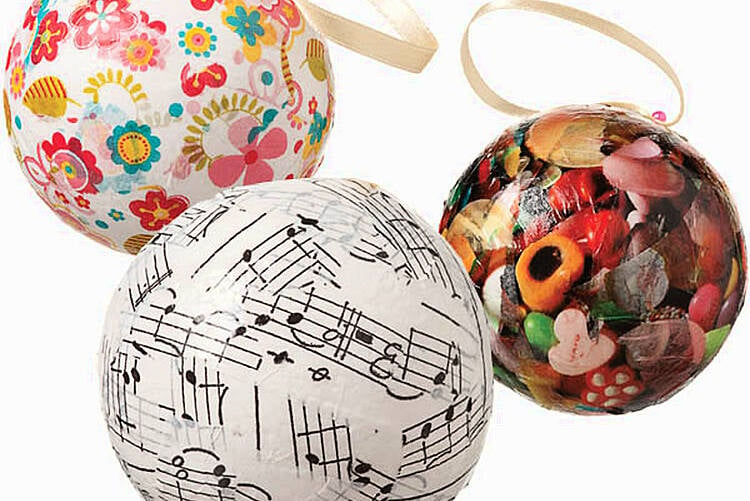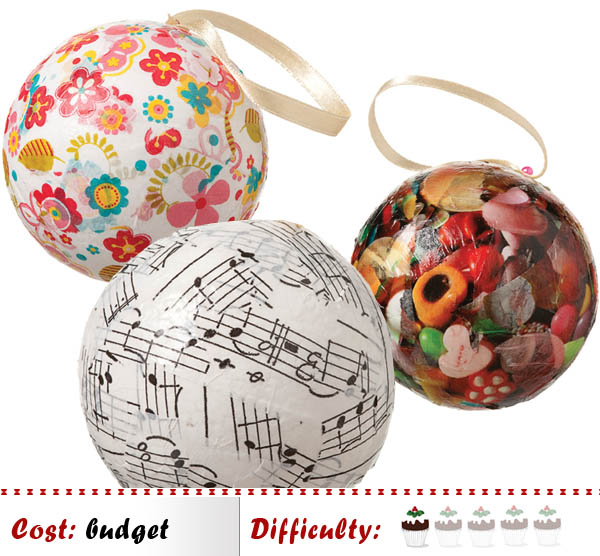 Supplies: Length of ribbon, decoupage glue, glue brush, polystyrene sphere, decoupage paper, one pin
Cost: €2
Time: 5 mins
Difficulty Rating: Very easy
Cut a four inch length of ribbon and pin it as a loop into the top of your bauble to-be. Your decoupage paper will cover the ends of the ribbon.

Tear your sheet of decoupage paper into strips, don't use a scissors to cut it as the rough edges will glue better together than clean edges. Remember - you can use any print paper you want as the bauble shape itself says Christmas so experiment with different designs and colours.

Place your bauble on top of a glass and brush glue onto one hemisphere and then start sticking on your strips of paper until all the areas are covers - avoid creases by brushing over the paper and feel free to overlap the strips. Turn the bauble around and repeat for the other hemisphere.

Finally paint a layer of glue over all the paper to get a sealed and even finish.

Leave your bauble to dry and start hanging onto your tree.