A House and Home promotion
It's that time of year again when we're all on the hunt for gorgeous Christmas gifts for our nearest and dearest, and finding something a little bit unique can be a challenge. Enter, the House and Home Interiors Gift Guide.
We've rounded up some places to start your shopping - a mix of makers, artists, and shops who together showcase a very diverse range of gift and decor options, especially for the interiors-obsessed people in your life.
No matter their style or interest, it's likely you'll find the perfect Christmas interiors gift from one of the 11 shops below! Happy shopping!
ArtClick
ArtClick.ie is an Irish owned business, established in 2013 to showcase Irish art online. They have a motto that is particularly relevant at Christmas time - 'Buy art from the heart'!
They currently represent over 200 Irish artists and specialise in providing quality Irish artwork across a broad range of styles and budgets, so no matter who you're looking for a gift for, ArtClick will have something to suit.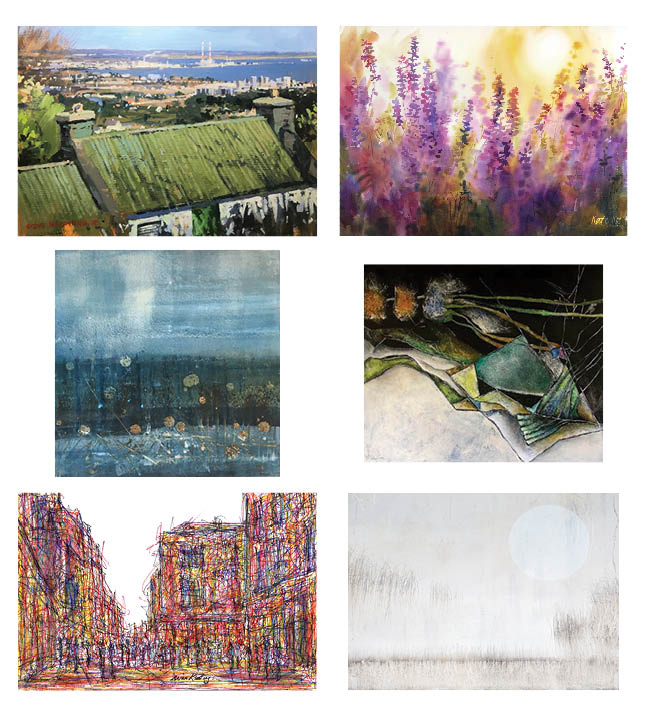 Left to right, row by row:
Steve Browning, Towards Dublin, from the Dublin Mountains, oil on board - painted en plein air, unframed size 45cm x 60cm, €850
Kate Kos, Purple Blaze, original watercolour, unframed size 53cm x 73cm, €800
Gillian Murphy, New Beginnings 1, oil and cold wax on board, unframed size 30.5cm x 30.5cm, €375
Carla Raadsveld, Growth, textile art - fine art throw, 150 x 100cm, €175
Brian Keating, Temple Bar Dublin, original impressionistic ink drawing, unframed size 21cm x 29cm, €295
Louise O'Gorman, Lough Boora Blue Moon, limited edition print, unframed size 30.5cm x 40.5cm, €110
House and Home readers receive a 10% discount at checkout by using this coupon code: HSEHOME19. Terms and conditions apply.
Art Click
Website | Facebook | Instagram
Carraig Donn
At Carraig Donn you'll find a  a gorgeous palette of crisp whites, soft golds and subtle shimmer to create the perfect festive scene for your home. Carraig Donn draws on its long history and heritage as an Irish retailer and uses it for inspiration in its homeware collections.
Now with 43 stores across Ireland and with a full Christmas shop online at carraigdonn.com, it's easy to find the prefect Christmas gift or the gorgeous finishing touch for your home.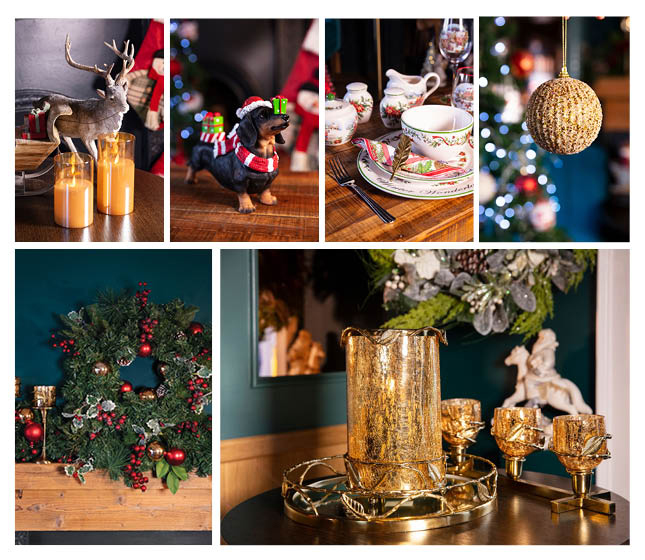 Candle holders: Small Candle Holder €12.95, Large Candle Holder €14.95
Sausage dog: €22.95
Tea cup and feather napkin holder: Winter Wonderland Collection from €12.95, Gold Leaf Napkin Ring Set of 4 €14.95
Gold tree decoration: €2.95
Wreath: €69.95
Gold leaf candle set: Gold Leaf Tray €49.95, Large Votive €69.95, 3 Votive Holder €79.95
Carraig Donn
Website | Facebook | Instagram
Dalkey Handmade Soaps
Dalkey Handmade Soaps is an Irish-owned small business that has been running since 2013, with an eco-focus even since then. Using a centuries' old technique called cold process, which combines olive oil with skin-loving oils, butters and pure essential oils, they create gorgeous soap bars that are coloured to perfection using natural clays and botanicals.
They have recently branched out into shampoo bars which are punched through with organic, compostable cotton, and can be hung in the shower. They also stock a shaving set which is the perfect gift for the eco-conscious man in your life.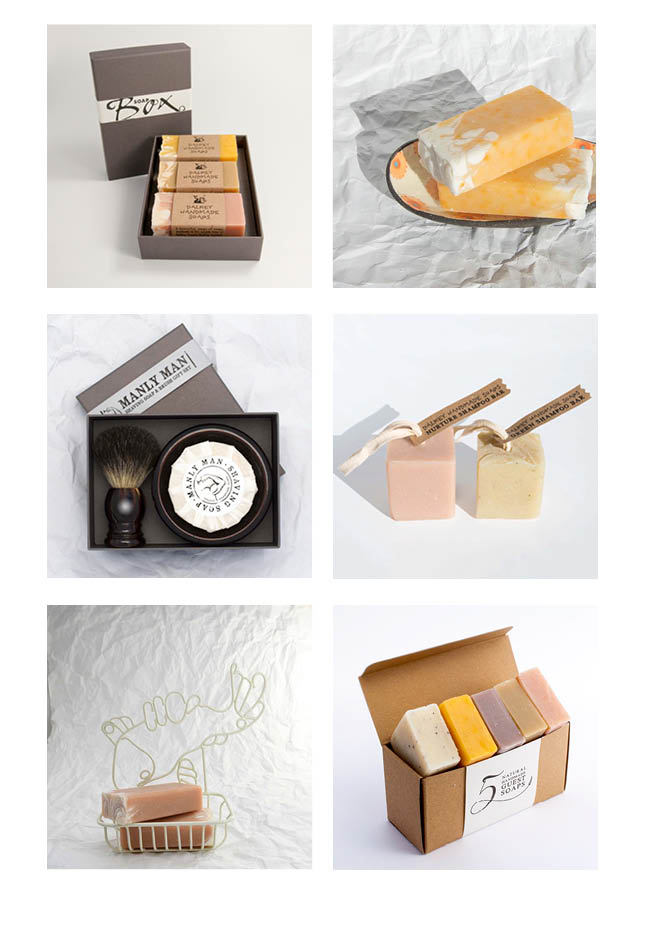 Soap gift box (contains three full bars), €16
Zingy citrus soap bar (also in eight other varieties), €5 each
Manly Man Shaving Box, €50
Shampoo bars, €6 each
Grapefruit and bergamot soap bar (also in eight other varieties), €5 each
Guest box (contains five half soap bars), €14
Dalkey Handmade Soap
Website | Facebook | Instagram
Damn Fine Print
Interior designers and clued-in shoppers have made Damn Fine Print an essential source for the latest in limited edition artworks, framed prints and affordable creations by the local Irish artists.
Based in Stoneybatter, Dublin 7, this hip screenprint studio specialises in handmade screenprints and risograph that you won't find anywhere else. All prints are limited edition, priced from €30 to €400, with a full selection of frames available in house.
Feeling creative or have a budding artist in your life? They also do regular courses and screenprint classes where you can spend time in a full working studio under the watchful eye of one of their amazing master printer teachers.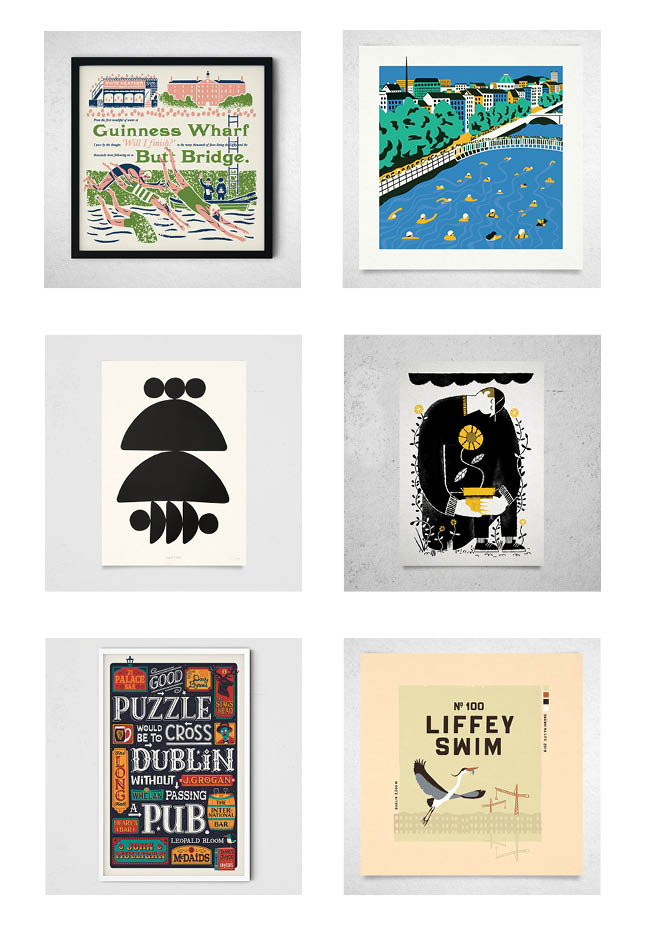 "Guinness Wharf to Butt Bridge" by Alan Dunne, €90, 4 layer hand-pulled screen print, 500 x 500mm / on 285gsm Context Birch paper, edition of 100, signed and numbered by artist. More info here.

"Summer in Dublin" by Fuchsia Macaree, €90, 6 layer hand-pulled screen print, 500 x 500mm / on 285gsm Context Birch paper, edition of 100, signed and numbered by artist. More info here.
"Shapes 1" by Alice Fitzgerald, €120, Single colour hand-pulled screen print, 500 x 700mm / on 300gsm Munken Pure paper, edition of 20, signed and numbered by the artist. More info here.
"Brother Nature" by Conor Nolan, €80, 2 colour hand-pulled screenprint, 420 mm x 594mm / on 285gsm Context Birch paper, edition of 25, signed and numbered by artist. More info here.
"A Good Puzzle" by Steve Simpson, €90, 4 colour hand-pulled screen print, 500 x 700mm / on 300gsm Munken Pure paper, edition of 100, signed and numbered by artist. More info here.
"Heron" by Annie Atkins, €90, 6 layer hand-pulled screen print, 500 x 500mm / on 285gsm Context Birch paper, edition of 100, signed and numbered by artist. More info here.
Damn Fine Print
Website | Facebook | Instagram
Haus Concept Store
Whether you're heading to a pre-Christmas brunch or a decadent dinner party at a friend's house, or you just have an interiors-obsessed pal, Haus Concept Store (formerly Home Lust Concept Store!) will have the perfect gift. Their homewares and furniture range from contemporary Scandinavian designs, Irish design wares and artisan crafts works from all over the world.
They believe the best gifts are considered and emotionally resonant, so the selection of gifts below from Haus are elegant, sensibly priced, and certain to get you an invitation back to next year's festive parties. They are the perfect picks for the hostess with the mostess, or stocking fillers for friends and family. You can browse the full HAUS Concept Store Christmas collection here.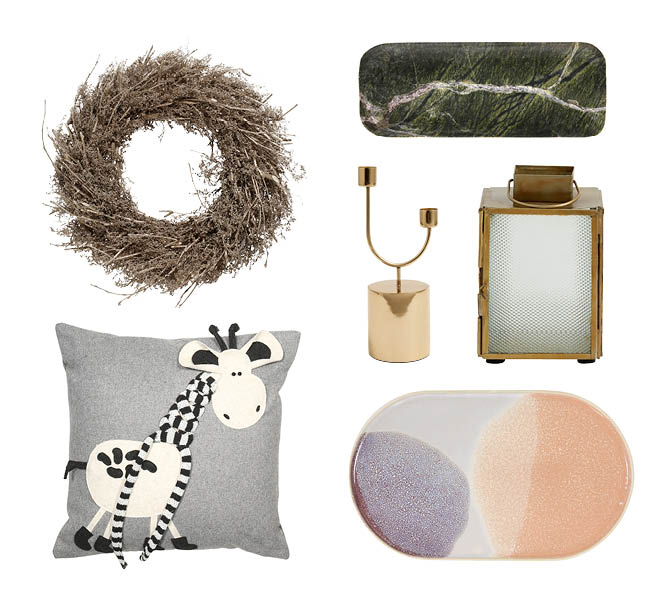 Natural materials wreath in gold, €23
Rectangular veined green marble tray, €29
Scandi-style brass candlestick, €28
Smartest Giant in Town's "scarf for a cold giraffe" applique cushion, €25
HAUS Concept Store is delighted to offer all House and Home readers a discount of 20% off all its products (except furniture) until 31 December 2019. Use code "TWENTYTWENTY" at check-out to avail of this offer.
Haus Concept Store
Website | Facebook | Instagram
Home Street Home
Home Street Home is a unique handcrafted furniture and home decor store based in Harold's Cross, Dublin. They focus on bringing truly unique handcrafted statement pieces that sit well in all styles of home. They have a particular focus on working with reclaimed materials and transforming them into completely new pieces, meaning a lot of the stuff you'll find in store is unique.
As well as statement furniture, Home Street Home is a veritable Aladdin's cave of home decor and gifting ideas - they have everything from gorgeous hand-stitched notebooks from Nepal to handpainted ceramic coasters from India to metal wall art from Africa. Truly there is something to suit all styles.
If you can't make it to their Harold's Cross store, they have an online store and December 19th is the cut off for delivery to Irish addresses if you're planning Christmas gifts.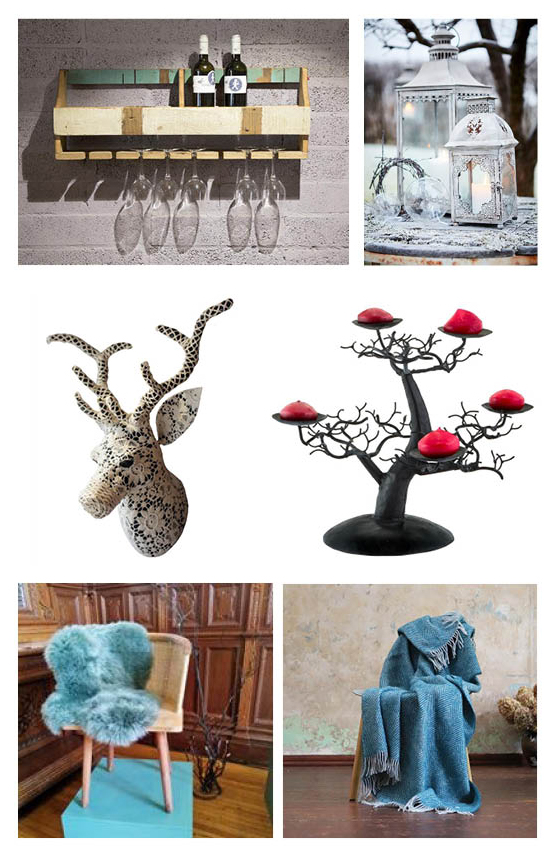 Reclaimed wood wall wine rack - 8 bottles and glasses, €120
Chantel glass and metal lanterns, from €34.95
Wall mounted lace paper-maiche reindeer head, €59.95
Baobab tree candle holder, €74.95
Sheepskin rugs, €99
Sergio turquoise herringbone wool throw, €99
It's possible to Click & Collect with Home Street Home and they offer a free gift wrapping service too, to make gifting a cinch!
Home Street Home
Website | Facebook | Instagram
Market Street
Based in Dublin, Market Street is an online marketplace for Irish makers and designers to sell their unique handmade creations. Featuring over 1,000 unique and personalised gifts for all occasions, you can now shop amazing Irish made gifts all in one place, and ship worldwide.
Their handmade gifts cover a range of categories – homeware gifts, greeting cards for all occasions, baby and child personalised gifts and more, handmade jewellery, stylish pet accessories and unique, quirky fashion accessories made to stand out. Their homeware products vary from handmade ceramics to wall art to cushions, and they have a gift to suit almost any occasion amidst their large collection.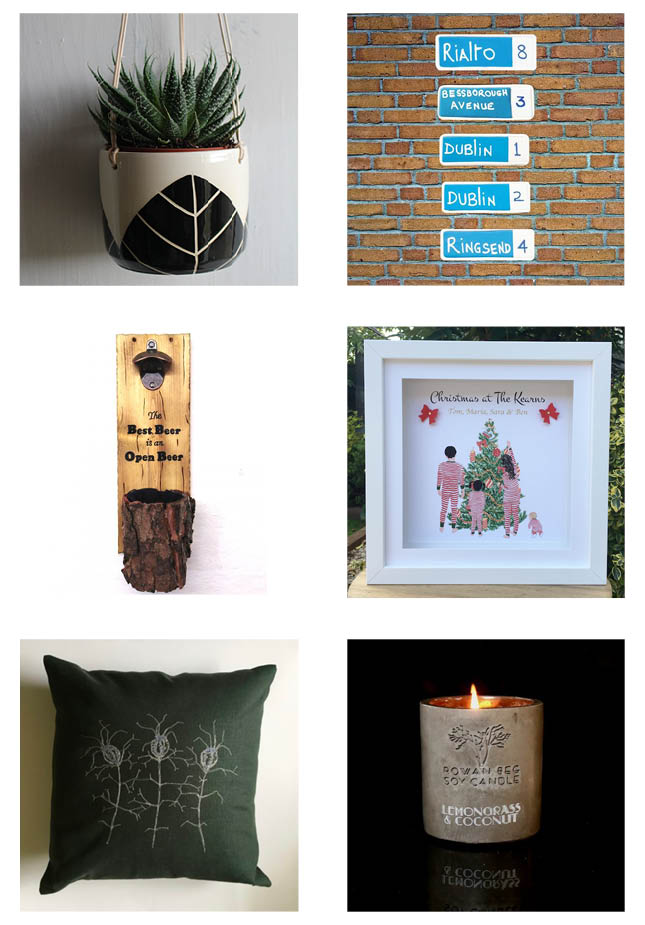 Leaf Hanging Planter, €36.50
Dublin Street Sign Magnets, €5.95 each
Wall Mounted Bottle Opener - €20
Christmas Family PJs framed art, €34.99
Embroidered Irish Linen Cushion, €60.00
Lemongrass and Coconut candle, €16.95
Market Street
Website | Facebook | Instagram
On The Square Emporium
On The Square Emporium, just by Belfast's Titanic Quarter is one of the island's largest urban salvage, vintage and antiques emporiums. With over 13,000 sq ft, their Heron Road premises has a wide selection of antique furniture, vintage and decorative pieces and architectural salvaged materials, making it a must-stop shop if you're doing some Christmas shopping in Northern Ireland.
You'll be sure to pick up something you want, and something you never knew you wanted. As well as a retail store open to the public, services also include prop hire, custom-made furniture, clearances and commercial fit-out.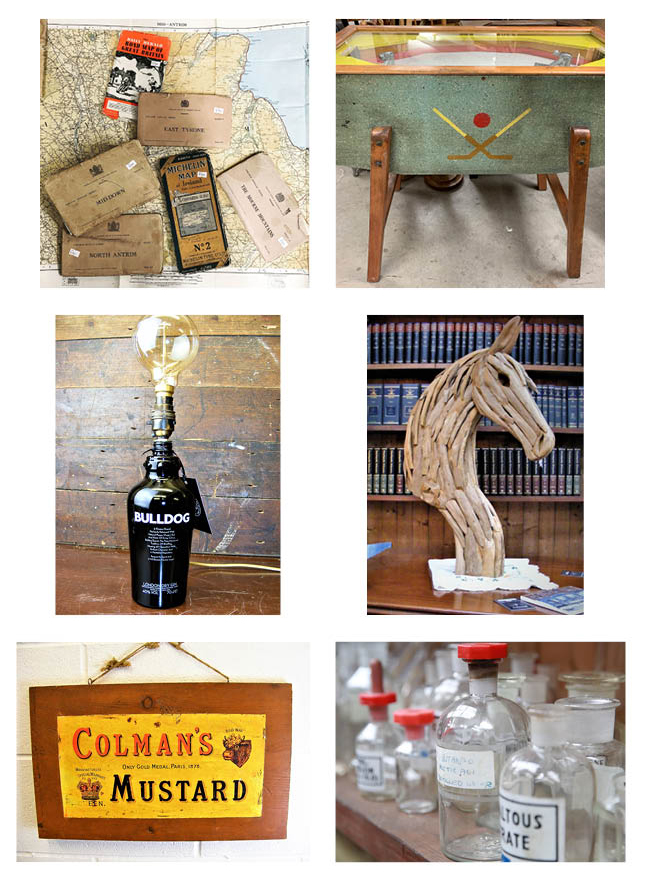 Maps, £20-150
Table, £250
Upcylced lamp, £49
Horse head sculpture, £495
Mustard sign, £35
Glass bottles, from £12
On The Square Emporium
Website | Facebook | Instagram
Russell Hobbs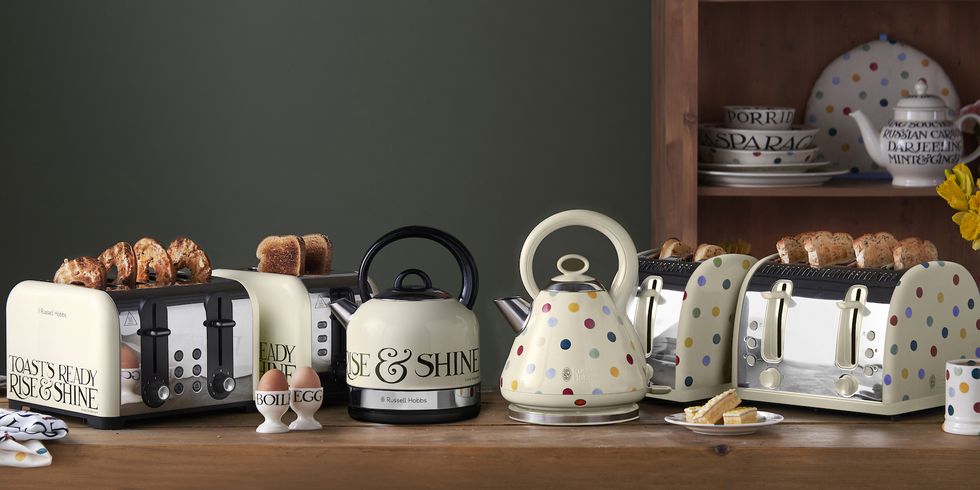 While Russell Hobbs may be known for their practical and long-lasting kitchen appliances, most kettles and toasters won't light up someone's eyes on Christmas morning. However, the collaboration between Russell Hobbs and Emma Bridgewater is pretty one of a kind, and may well be the collection that breaks that rule.
A unique partnership that will brighten Irish homes, the beautiful breakfast ranges come in two charming and heart-warming designs that add something special to any kitchen, whether your style better matches the classic cream and black of the Toast and Marmalade design, or the soft, multi-coloured Polka Dots collection is more your giftee's vibe. Perfect especially for anyone who has just bought or moved home, we'd be only delighted to wake up to these sets. The Russell Hobbs range is available from independent electrical retailers nationwide.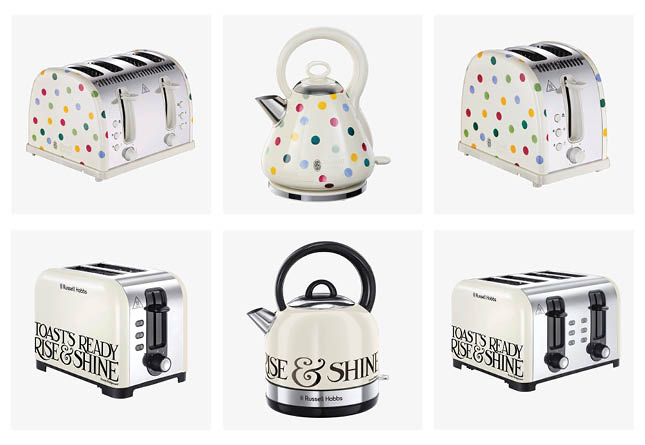 2 slice toaster, €79.99
4 slice toaster, €99.99
1.5/1.7L kettle, €99.99
Russell Hobbs
Website | Facebook | Instagram
Sarah McKenna Ceramics
Handmade Irish pottery which is about linking memories, sentiment and nostalgia to transform an everyday object into a special gift. Sarah impresses text into the clay pieces - inspiring quotes, poetry and sentimental lyrics to tug on the heartstrings and make people smile. Each piece is hand-built by Sarah in her 250-year-old studio space in Dundalk, Co Louth, Ireland.
The design of each piece is carefully considered to provide a beautiful gift to have and cherish in your home. If you are looking for something extra special you can have your own text imprinted into the clay for that extra bit of thoughtfulness. A handmade piece of Sarah McKenna Ceramics is a gift which will be cherished now and as an heirloom in the future.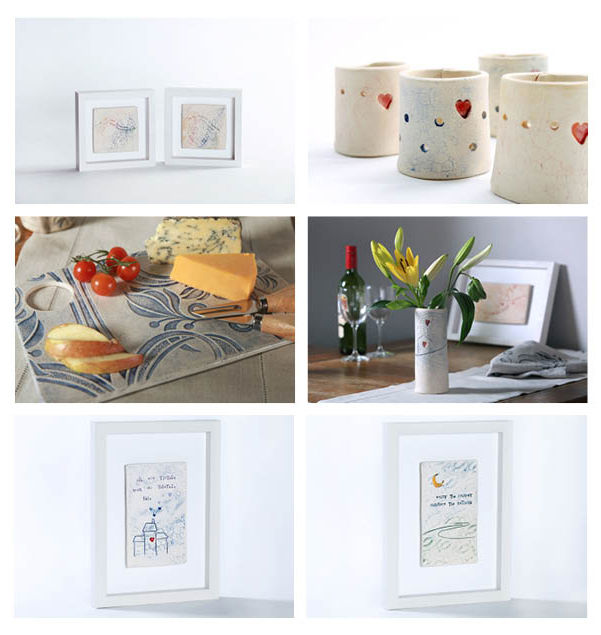 Rainbow Small Framed Tiles - "Be the rainbow in someone else's cloud" and "Count your rainbows not your thunderstorms", €90.00 each
Home is… Tea Light Candle Holder, €15.00
Impressed Cheeseboard, €56.00
Home Comforts Vases, €50.00 – €75.00
Níl aon tinteán mar dó thinteán féin – Framed Tile, €90.00
Enjoy the journey embrace the detours – Journeys – Framed Tile, €90.00
Sarah McKenna Ceramics
Website | Facebook | Instagram
Source Interiors
Source Interiors is the result of a long term passion and obsession of all things interiors that finally became a reality for owner and designer Lynn Pitcher - An interiors emporium of opulent comfort and calm based in North County Dublin.
For interiors enthusiasts or for those who need guidance through the design process, this luxurious showroom is well worth a visit. Choose from a selection of statement pieces that will transform any home to objects that can be treasured forever. It is a one stop shop of locally sourced Irish products alongside pieces from all over the world.
As well as offering a visit by appointment service, Source Interiors also offers a complete interior service with space planning, carpentry and construction, fit out and design. Working with AL Carpentry & Design, the team can offer an end to end bespoke solution to meet your interiors needs.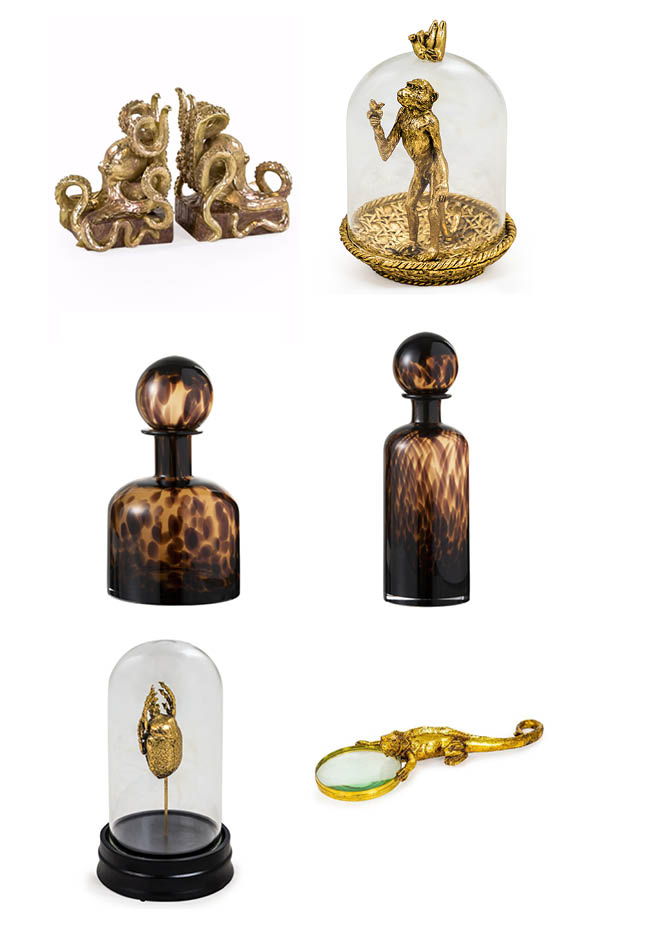 Gold octopus bookends, €75
Monkey in glass dome, €35
Speckled jar small, €45,
Speckled jar large, €49
Gold Beetle Specimen in Glass Dome €39.00
Gold lizard magnifying glass, €45
Source Interiors