A House and Home promotion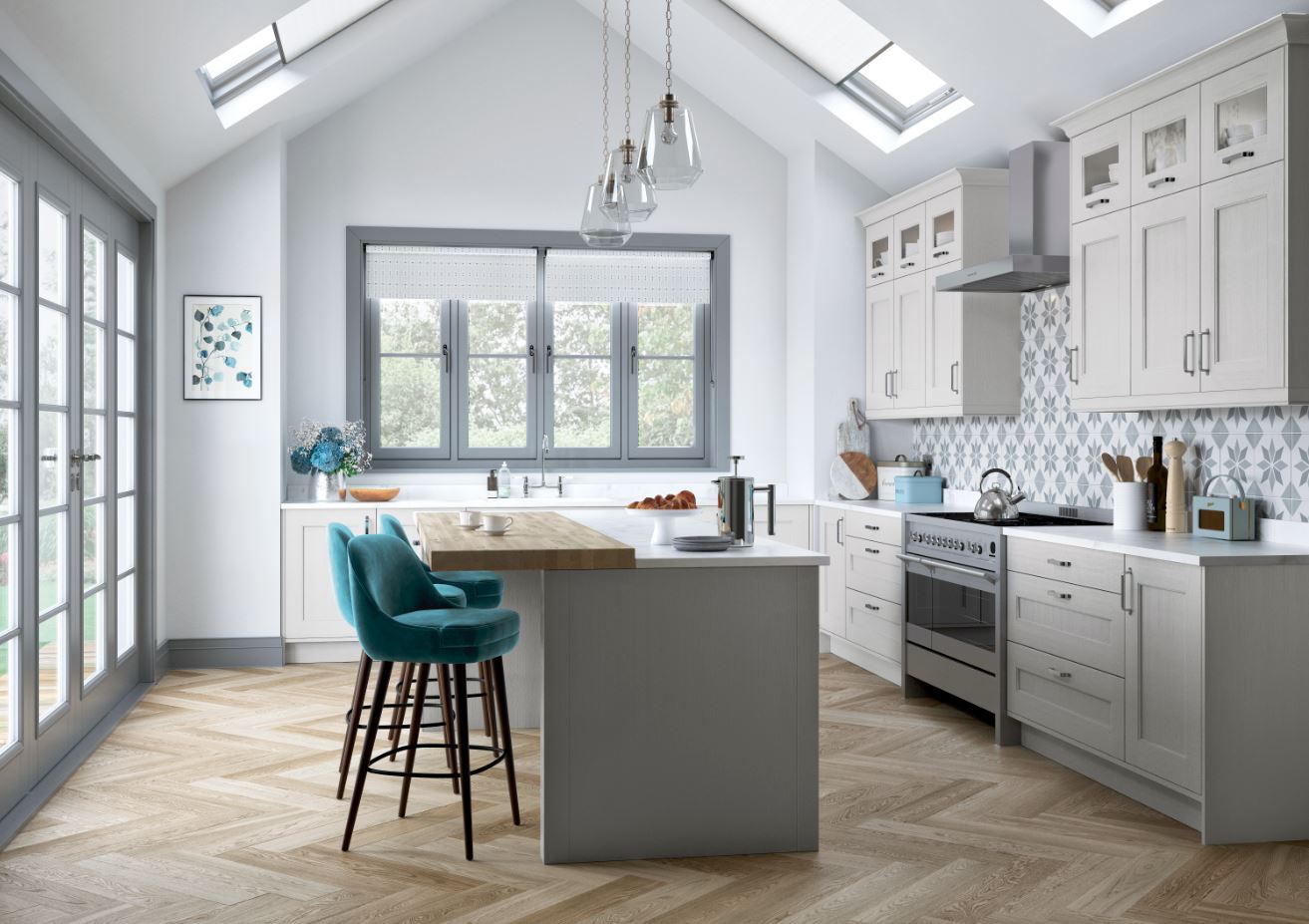 You probably know the Noyeks Newmans theme tune well, but you may not have realised that kitchens, floors, decks and doors encompasses a huge range of products, including a strong collection of kitchen cabinet doors, that will fit every style and budget.
The 100% Irish owned company have been one of the leading suppliers of timber materials and products for over 125 years - so you can be guaranteed they have the expertise to help you find the products that suit your home and your needs.
While they stock a wide range of timber products, we're putting a focus on kitchen ideas as we head into the autumn season, and whether you're planning a contemporary kitchen, a modern kitchen or a classic kitchen - or even just a new kitchen island - Noyeks' three ranges of kitchen doors will have you covered.
Where should you start with a kitchen renovation, or a change in kitchen cabinets?
Noyeks Newmans have a handy kitchen planner that you can download and take advantage of to get started. First things first is to decide how big the change in kitchen design you want is - whether you want a smaller project like new look painted kitchen doors or PVC kitchen doors, or maybe a bigger renovation that offers you better kitchen storage solutions.
You should also consider the function of your kitchen when considering this to ensure your new kitchen concept suits your needs. Do you hope to entertain a lot in your kitchen? Perhaps a new kitchen island is exactly what you need. Or you may need to carefully consider the type of kitchen worktop you choose.
Will your kitchen be more of a family space? Perhaps some clever zoning of your cookspace can make your life a little more efficient and easier. Consider how you want to use the kitchen, and what might make that simple for you, and then come up with a kitchen design, and the kitchen appliances, to fit your needs.
What is unique about Noyeks' collection of kitchen doors?
From painted kitchen doors and distinctive timbers with beautiful grain, to contemporary gloss doors and PVC designs, Noyeks carry one of the largest stock of kitchen cabinets and doors anywhere in Ireland. So if you're still trying to decide what you want, you've come to the right place. Let's walk through the three main ranges of kitchen doors:
1. Painted kitchen doors
These are bespoke kitchen doors, made to customer requirements, giving you a huge amount of control over finding the perfect fit for your ideal kitchen design. These doors are painted to order, so what you get is bespoke, just for you.
You can choose from an extensive colour range for your painted kitchen doors, and there's a wide variety of styles, so you can match your ideal style and colour, and find the dream doors that fit your kitchen perfectly.
If you would prefer your kitchen cabinet doors to be a different colour to your kitchen island doors, that is totally possible within Noyeks' range of painted kitchen doors. This style is a particularly good choice if you're hoping to achieve a modern kitchen look. Check out the painted kitchen door designs here.
2. New generation foil range of kitchen doors
The new SERICA Supermatt foil range of doors come in at an excellent price point for the quality of the doors, and while they aren't a completely bespoke option, they do come in a fantastic range of selected colours to fit almost every kitchen.
The new generation foil kitchen doors are made to measure, have an anti-fingerprint technology, making them a brilliant and practical choice.
For any potential mishaps, the SERICA range comes with the added benefit of thermal healing of micro scratches, giving you some back up to keep your kitchen pristine. Check out the SERICA kitchen door range here.
3. PVC kitchen doors
The PVC kitchen door range is the most affordable of Noyeks range, and it's super easy to maintain. The collection is available in over 30 door styles and with more than 50 colours to choose from, you can find a style to suit your kitchen. Check out the PVC kitchen doors range here.
What else do you supply that could help complete a kitchen makeover?
Noyeks offer free quotes, complimentary 3D kitchen design services, nationwide delivery to customers across Ireland, and their team can advise on kitchen door textures and finishes to help you find your ideal match. They also stock a huge range of , laminate flooring with Aquastop technology, stock kitchen sinks in stainless steel, ceramic and undermount styles, and kitchen taps from single and duo lever to boiling water taps, kitchen door handles and waste disposal units.
Noyeks Newmans operates from three locations, with showrooms in Finglas and Ballymount in Dublin, and in Tralee in Kerry. Each branch stocks a large range of the company's products and the showrooms that are well worth a visit when planning your home improvements projects for some inspiration.
Noyeks Newmans
Email: [email protected] | Phone: +353 1 419 5700
Website | Facebook | Instagram