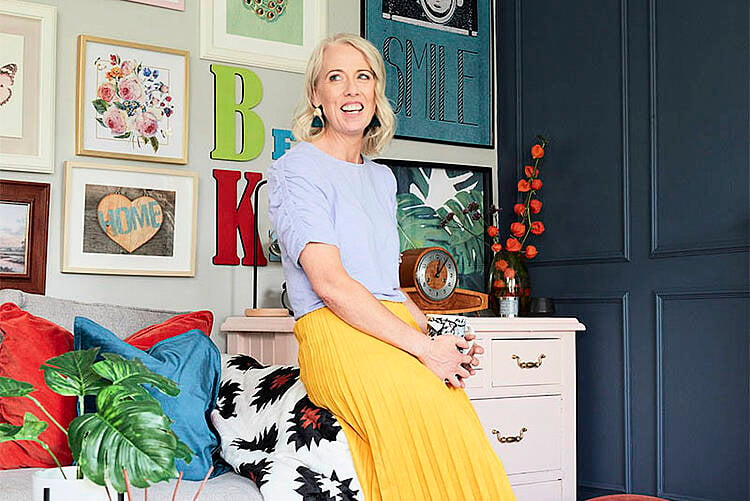 We'd never accuse @aproudhome Instagrammer Joanne Mooney of being afraid of getting her hands dirty. "In my first house, I painted the kitchen and did the tiling – all that," she recalls. "I just knew I loved it." That can-do spirit carried her onward into her forever home in north county Dublin, where she lives with her husband and two teen girls Isabel and Rachel – oh, and Rocky the dog.
"I didn't do much decorating in this house for a long time, as I had small children," Joanne says. "When I was decorating their nurseries, that's when I got back into it. I was making personalised artwork for their rooms – Joanne runs online business Tiny Things – and sharing snippets of the house on the business' Instagram. They were getting lots of interest, likes and interaction, so I thought I should set up a separate Instagram for that."
Online love
A Proud Home was born in 2017 and instantly took off, thanks in no small part to Joanne's bold use of colour and willingness to get stuck in with new projects. "I'd been doing new things to the house all the time anyway, and now I'm just documenting it," she says. "It drives my husband mad. He's like, 'no more, please!'"
When it comes to defining her style, Joanne has it down. "I'm colourful eclectic," she says immediately. "Colour is the defining theme. People fear it – they're afraid of colour because you're not doing the norm; you're thinking outside the box. I think they can be worried what people will think too." But as Joanne says, the great thing about colour is you can always paint over it if you think it's not working – something she does herself all the time. Defining your décor style is all about experimentation and finding out what works for you.
Another thing she's not afraid of is trying her hand at a DIY or three. "I like to make things – within reason," she smiles. "I'd have a go. I love doing stuff for myself, I get great satisfaction from it."
Living room love
One of Joanne's most recent projects is some cool new painted panelling she's added to her living room wall. "I'm drawn to dark colours at the moment. It might be because it's coming into the winter, because I do love pastels too. It's Instagram influencing me," she laughs.
Joanne gets her decorating inspiration from all sorts of sources – "restaurants, Instagram and Pinterest, magazines and social media" – but you might be surprised as to what sparked the idea for the new wall treatment.
"I saw the idea in a coffee shop. When I'm out and about, I'm always looking at interiors. Even on Netflix I'll see things. I thought it looked really opulent and it makes such an impact."
Assuring us it was a cinch to do, Joanne went straight to YouTube, watched a tutorial and got stuck in. "I taught myself how to do it. I got a mitre block to get the angles on the wood correct, and then painted it using Farrow and Ball's Stiffkey Blue."
The makeover has added a luxe edge to her living space and adds real drama. It combines brilliantly with her gallery wall and neutral couch too. Plus the contrast with the pink cabinet is a winner. "This was something we had in our old house. It was the first thing we bought," Joanne says. "It was pine, so I painted it." Her gallery wall is a curated amalgam of pictures that Joanne bought online and in charity shops and she swaps them in and out all the time to change things up.
Use case
Joanne's living room has PM opening hours only. "We don't use it during the day. It's a real switch-off place so we save it for evening. We chill out, and watch Netflix" she reveals. Her tips and tricks for creating a cosy space include layering in soft furnishings and regularly changing her rugs.
"I add in cushions and throws ­– woolly ones for winter – and add candles. I like spicy ones, Penneys have really good ones at the minute. In the evening at around 5pm or 6pm I'll light a candle and turn on a lamp for some soft light."
With cosiness and comfort at a premium, Joanne has a few rules for things she'd never have in her living room. "I wouldn't have a tiled floor or chrome furniture," she says. And as a dedicated maximalist, this will come as no surprise: "minimalist décor – I don't know how anyone could do it!"
In other unsurprising news, she's not sure she's finished decorating this room, either. "I might paint the whole room in Stiffkey blue and add more panelling, I need new curtains, and I'm always moving rugs in and out." We just know that whatever her plans, we'll be glued to her Instagram to see how they turn out.
Photographer: Philip Lauterbach; Stylists: Emma Kelly and Leonie Henson
This post is sponsored by Penneys. The Retro Luxe collection is available from Penneys stores nationwide now.