We go inside a day in the life of designer and print maker Lucy Tiffney
Photography: Jemma Watts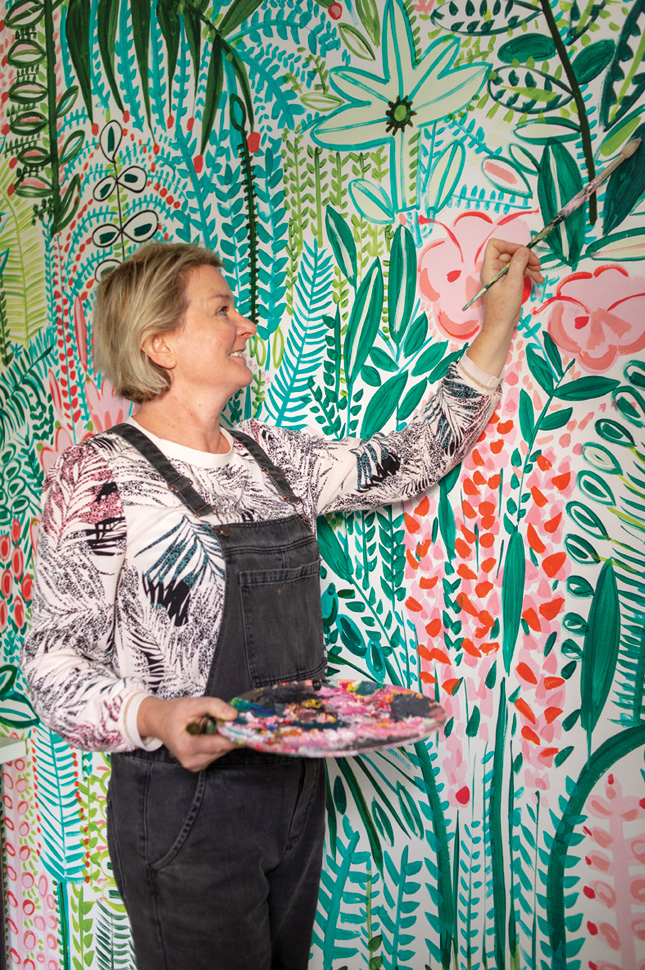 FACT FILE
Who she is: Game-changing interior and print-designer Lucy came to prominence thanks to BBC's The Great Interior Design Challenge, on which she was a finalist. Now a bona fide social influencer in her own right too, we love her bold use of colour, marvellous murals, brilliant botanical prints and brand new rug collection.
Where to find her: Check out Lucy's website, Lucytiffneyshop.com to browse and buy or follow on Instagram @lucytiffney.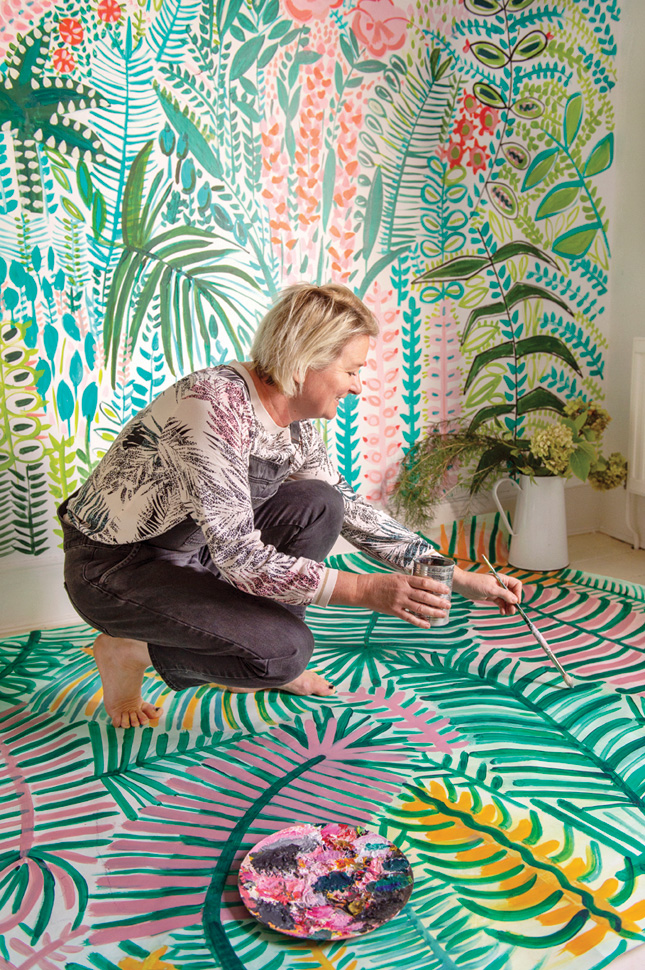 Lucy Tiffney, 24/7
"I start the day at about 7.30am on weekdays. Usually my youngest son Frank (16) is my alarm when he walks into my bedroom to get his phone and other gadgets, which I hide from him overnight. I go downstairs, have two to three cups of tea and make breakfast (porridge with fruit), check my phone and then hassle Frank to get off to school.  My husband Tiff will usually be up and off early as he travels to lecture at a university.
"If he's working from home, he'll be pottering about too. My other son Leo (19), is at a local university so he's usually off to classes bright and early. I then go to my studio, which is just around the corner from my house.
"If I'm in the studio, I work quite a lot on my own – although I have lots of to-do lists. I have a student who helps me out once a week and freelancers who come and go to help me with design work, and the shop and website.
"I check emails and do admin and then work on through without a break – but with a couple of coffees – until lunch. It's usually something on toast (Marmite, tomatoes or eggs) or else I go to London or locally for meetings – my days are completely different and open-ended.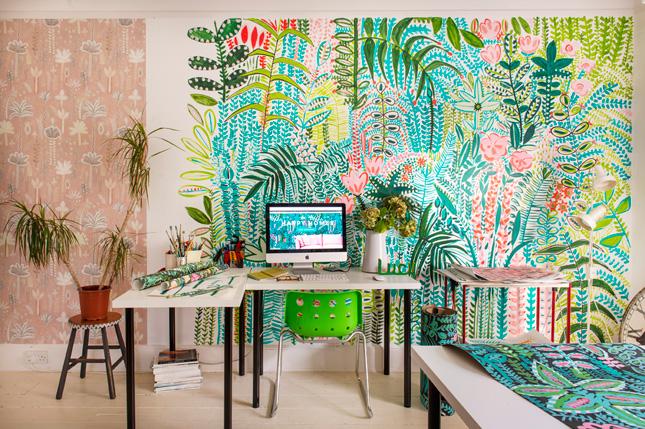 "I think that having separate spaces for home and work is really, really, important. At home our space is always 'a work in progress' where we can add or take away, but it has the objects and things in it that we love and have acquired and collected over the years around us that make it home.
"At work, I like the studio to have a more organised and functional feel, but still with some of the inspiring ideas and pieces from home to nurture me and keep me inspired.
"To be honest, creativity is both a blessing and a burden. I tend to spend quite a lot of time on my own, so getting out of the studio regularly for meetings is very important, as is bouncing ideas off other people. I also try to maintain strong relationships with everyone including my customers, the manufacturers and couriers. These are the people that make up my day.
"People ask how I manage to juggle painting and designing, the online shop and then any other collaborations or work I have on, but I've become much more organised since establishing the business. I also like the freedom of being able to paint something new when I want to.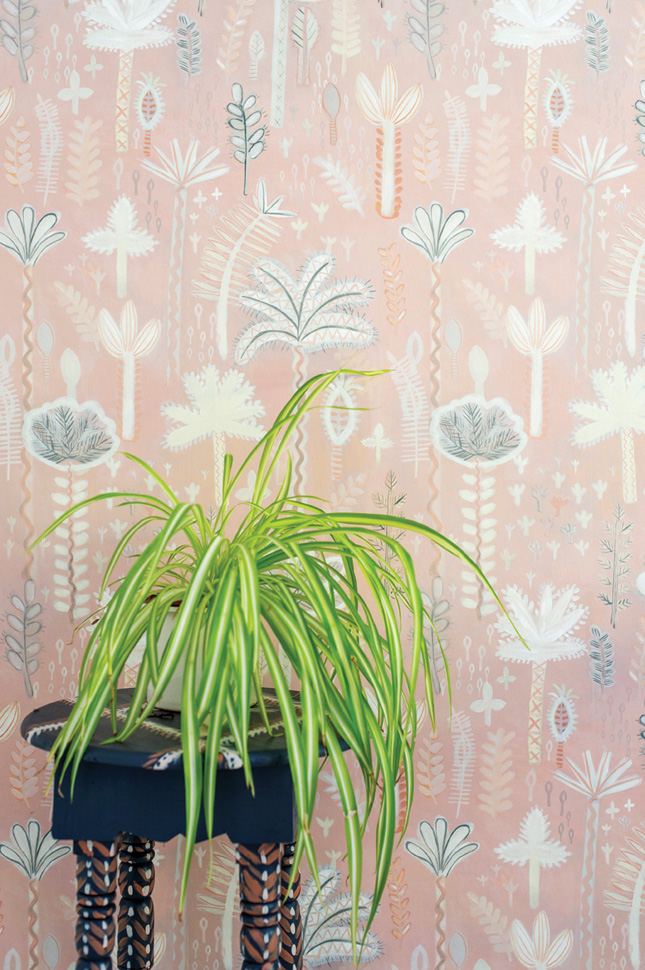 "The admin side has obviously grown a lot more, and for this reason I find it important to punctuate that a lot with creativity so my work doesn't get or feel stale. The biggest excitement I get is painting new designs and feeling the response I then get from everybody about my work. It's what keeps me creating! If I was to pick a motto I'd say - 'Life's too short, just get on with it!'
"Instagram and other social media is a huge part of my business and it can be both a blessing and a curse, but ultimately without it my business would not have grown into what it is, or at the speed it has. It's tricky creating a balance between work and life, and the two invariably overlap.
"Luckily, my children are a bit older now so understand what I'm doing, but they often say to me as much as I say to them, "Mum! You're always on your phone!" Because it's such a creative business and is so much a part of me and what I love doing, it doesn't always feel like work.
"The biggest challenge of my life, apart from overcoming the death of my beautiful mother five years ago and raising two boys, must be appearing on the BBC's The Great Interior Design Challenge (Series 3 is now on Netflix) a couple of years ago. I was a finalist and filmed six shows. I designed and transformed a range of home interiors on a very limited financial and time budget.
"My routine changes depending on the time of year. When I go home in the evening in winter I tend to hibernate, light the fire, have supper, do more emails and watch junk on TV. In spring, when it's lighter and brighter, we spend a lot of time in the evenings in our garden, relaxing and cooking and seeing friends and family. In summer, I go for dog walks with my lovely neighbour four to five evenings a week and it's brilliant for unwinding and exercising as well as chatting. I'm lucky – my husband does 80% of the cooking.
"I usually go to bed at about 10.30pm because I'm pretty shattered. I've given up alcohol for the last few months, so now I'll have a hot chocolate, a hot water bottle and read through back issues of The World of Interiors or Elle Decoration, and zonk out quickly. Often, I'll wake up in the night with my head full of stuff, so I keep a notebook beside my bed where I jot things down.
"Now the business is a bit more established, I try to keep weekends free for family and friends. That said, I love making and doing so much that I'm usually working away on something (big or small) creative in the house that feeds in to the business.
"I love the freedom that running my own business gives me. It has its ups and downs and it's hard to get away from, but ultimately my life has always been that way – now I can make a living from it."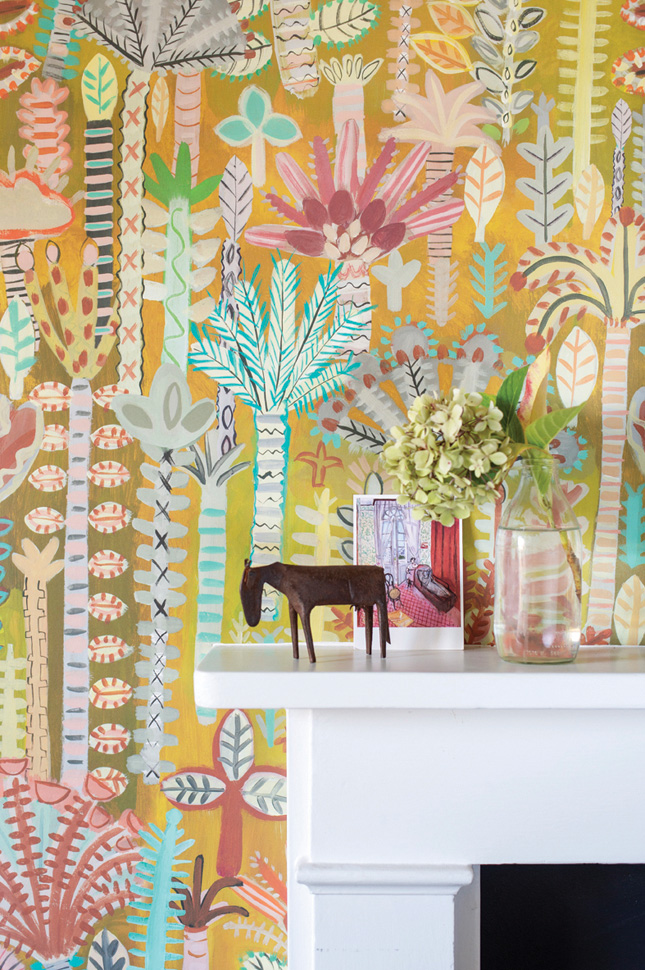 Lucy Tiffney's loves
Designers: Donna Wilson, Josef Frank, Orla Kiely, Jonathan Adler, Le Corbusier
Artists: Matisse, Picasso, Paul Klee, David Hockney, Sonia Delaunay
Countries: Japan, Thailand, Indonesia, Vietnam and India. My sister lived in Japan a few years back, so we made a long trip and I was blown away by the beauty of the country. I loved the heat, the colour, the aromas, the beautiful countryside and the juxtaposition of all those amazing elements together. It's so otherworldly. I have travelled extensively in South East Asia and India which has undoubtedly had a major influence on my own work and style.
Five words to describe your style: Eclectic, maximalist, fresh, happy and colourful. Pattern and texture are at the heart of what I do, and I love to put unusual materials and combinations together, side-by-side to create something fresh, new and unique
Five places for inspiration: I look a lot online (Instagram!) but it's so important to look around you too: exhibitions, holidays books and the everyday. Inspiration is everywhere!
Shopping secrets: Most of the pieces I find are vintage, affordable high street store finds or made by me. I love to adapt/hack/customise existing pieces with paint but I do love Habitat, Rockett St George, Jonathan Adler, Donna Wilson and any charity shop.
You might also like: Joanne Condon's punch needle DIY cushion project