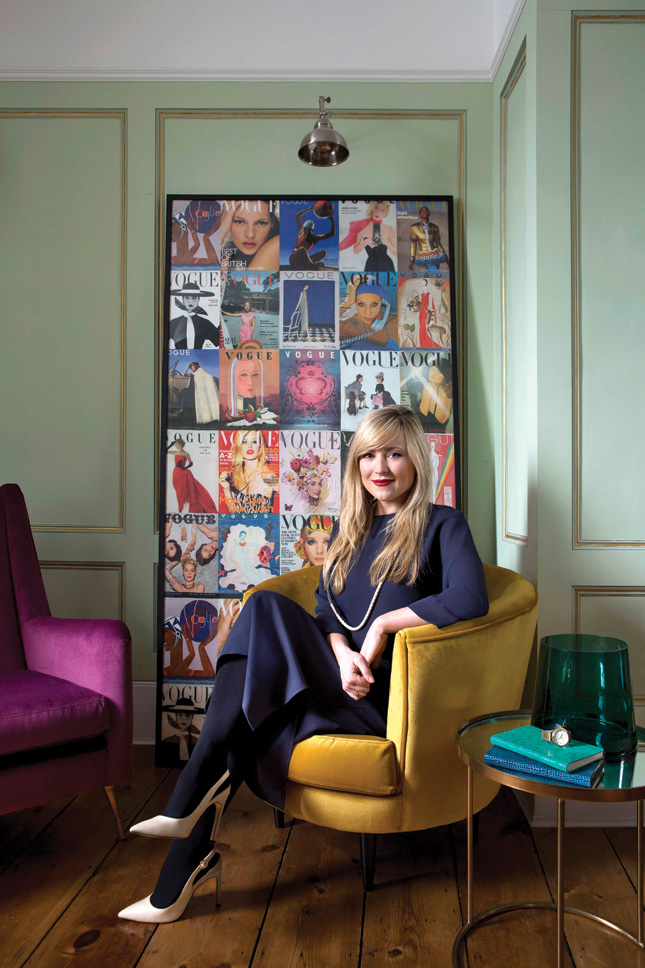 Interior architect, Roisin Lafferty, has put together three inspiring living room looks for your lounging space, that will give your room a colourful lease of life and take advantage of living trends that will last beyond the current season. Usually people feel they should opt for something a little more neutral when it comes to choosing the main pieces of furniture for their living room, but Roisin thinks we can all reach a little further. Read on for her advice on adapting each look for your own living room, which should help you determine which style is most likely to suit you.
Credits: Peace chair in pink velvet and Lark Tub chair in mustard from the Capsule collection at DFS | Side table from Zara Home | Custom green marble top by Roca Stone | Lam from Hicken Lighting | Green vase from Minima | Wall colour is Pantone Silt Green by Fleetwood Paints.
PLAY WITH TONES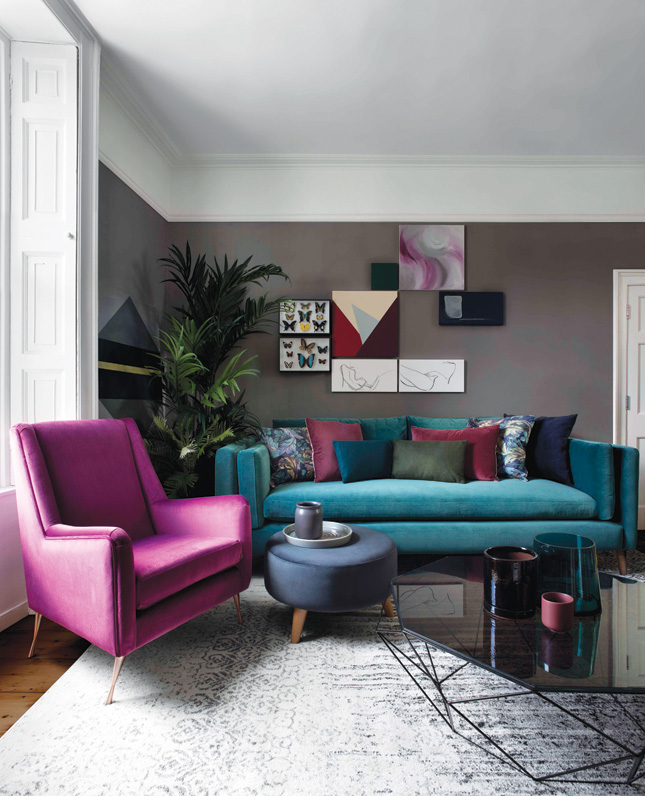 "This look centres on rich jewel tones, like deep greens, purples and reds. Layering these deep colours together to create a rich and dramatic scene that is equally warm and inviting. The opulence of the scheme will be enhanced by the luxurious velvet fabrics. These inviting spaces were designed to encapsulate the viewer and perfectly showcase the product, portraying a space that is as cosy as it is indulgent," says Roisin.
Credits: Eden large sofa exclusive to Sofaworkshop, Peace chair in pink velvet and Wish round footstool in graphite velvet, all from DFS | Cushions and ceramics from Sostrene Grene | Rug from iRugs | Custom prints and paintings from Kingston Lafferty Design | Wall colour is Pantone's Smoked Pearl by Fleetwood Paints.
EMBRACE COLOUR BLOCKING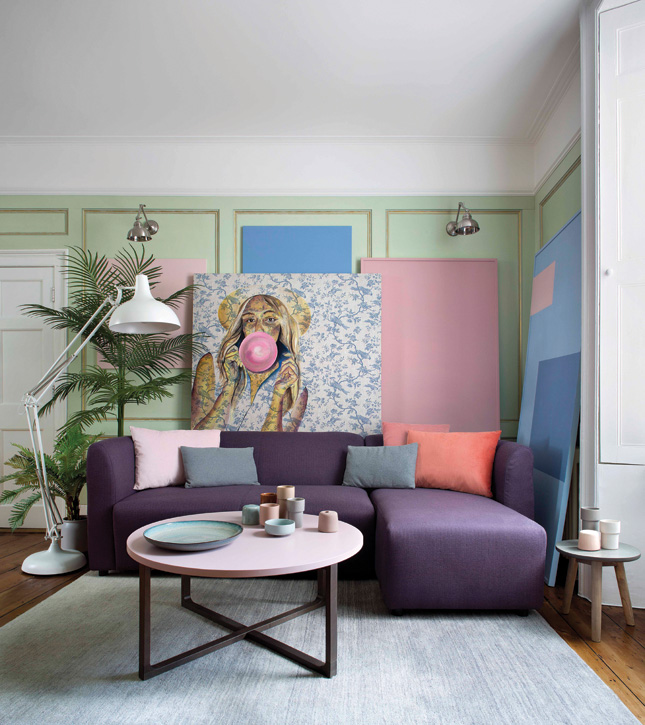 "The inspiration for this look was to create dynamic and fun space eluding a fun personality through the layered effect of soft candy colours. Coloured backgrounds formed a backdrop for brightly coloured furnishings, allowing the individual pieces to really pop. Details from the bright colour combinations, textures and vibrant planting will complete the overall look," she says.
Credits: Slouch corner sofa in purple, white anglepoise-style floor lamp, Nico table and Calvin Klein rug, all from DFS | Wall lamps from Hicken Lighting | Artwork by Eva O'Donovan | Coffee table with painted pink top from IKEA | Wall colour is Pantone's Silt Green by Fleetwood Paints. 
MAKE A STATEMENT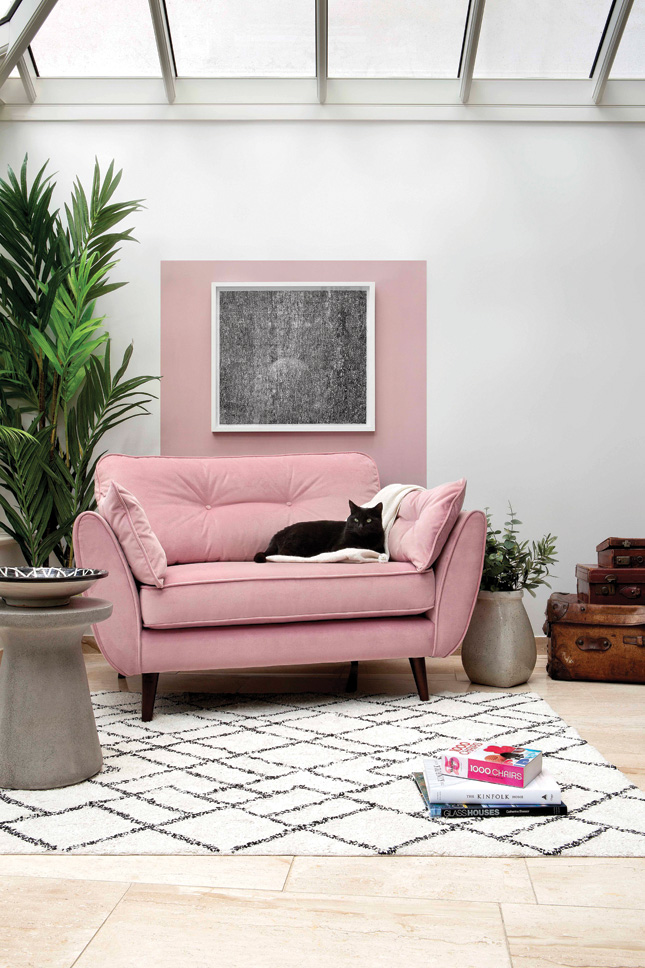 "This look is about creating a soft and serene space that is bright and fresh with a pop of colour, for those who want to keep things fairly simple but not entirely void of personality. The blush pink and soft velvet texture of the elegantly shaped zinc cuddler makes for a great small living space piece, perhaps off an open plan kitchen for an additional cosy seating space. The inspiration for this look was to create something clean and relatively minimal but that expressed lots of personality. While pink shades are often seen to bring a sense femininity to the space we wanted to balance this with more masculine notes like the concrete side table, green cushions and simple monochrome rug and artwork. The scheme demonstrates, perfectly, that you don't have to paint walls to bring colour and character to a space, that often bringing statement colours in through furnishings is a great alternative, particularly when such bright colours are set against crisp white walls," says Roisin.
Credits: Zinc cuddler in pink velvet from DFS | Rug from Sostrene Grene | Concrete side table from Habitat | Plant pot from Rowell Design | Artwork from Printmakers Gallery | Wall colours are Pantone Bright White and Pantone Pink Nectar, both by Fleetwood Paints.