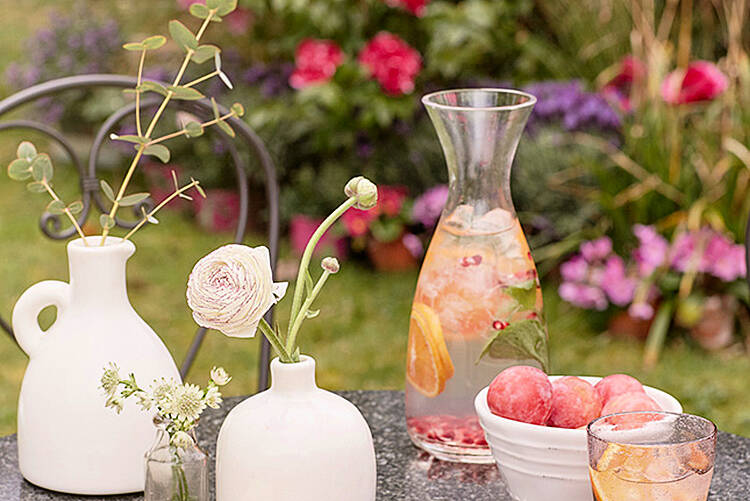 More than ever the line is blurring between indoors and out, with patios and outside spaces taking the form of garden rooms that are beginning to feel a lot like an extension of our personal interiors style. From investing in some new cushions and accessories to styling up your perfect garden nook to picking furniture that will work hard and look good across the divide, here are some ways to carry your natural home style from the house to the garden.
1. Sunny Delight
Breathe new life into your outside spaces by investing in furniture in natural materials, such as seagrass, raw wood and rattan. To achieve a garden getaway that's durable in all weather look for outdoor friendly cushions and rugs in materials like poly-rattan and waterproof fabric. Steel, rattan, canvas and plastics are also good options for outdoor furniture. 
2. Inside Out 
From evening cocktails to week-day dinners, if you want to make the most of your garden this summer a covered seating area is key. A sleek sectional sofa provides ample seating around the coffee table. Just add accent cushions, lanterns and an all-weather rug to make it party ready!
3. Think Vertically
'Living walls' are the new trend in gardens and are a great and versatile solution for those with small outdoor spaces. This look is achieved with modular framework which can be moved to any part of the garden, and very easily done with off-the shelf planters. Trailing greenery from above will also create the most gorgeous canopy over any outside table setting. If there is an overhead beam or tree branch in situ simply twist the greenery and secure with wire.
4. Moroccan Chic
To really get the feel of a Marrakech roof terrace, hoist a simple canopy of flowing fabric or canvas above your dining area or lounging area. Not only is this the perfect way to keep shaded from the sun, it also encapsulates that lovely Nomadic ambience you see all over North Africa. Continue the look by layering rugs, baskets and colourful leafy planters of cacti and succulents, adding some final bold design touches in the form of colourful storage pots and metallic lanterns. Adding movement and texture to your patio has never been easier - think fringing, pompoms and garlands galore to fully embrace this year's maximalist trend.
5. Sun's out, Shade's On
Imagine your ideal country garden hideaway spilling out on to the lawn or terrace, and against a canvas of flowering shrubs, shady trees and abundant foliage. Get back to nature with rustic materials such as raw wood and oxidised metal, and botanical and seaside textile cushions and throws in colours such as fresh greens, earthy browns and bright corals. Add hanging lanterns, tea lights and bistro-look lighting to complete the relaxed, yet utterly sophisticated look.
6. Picnic style
Creating a glorious garden hide-out could be as simple as putting up a fabric canopy and throwing down some picnic blankets and cushions. Try layering rugs instead of blankets, for added comfort and for a more relaxed feel. Lanterns, cacti and a centrepiece of succulents will add to the tropical Middle Eastern feel.  Think in layered accessories. Bright rugs, patterned cushions and colourful tableware will create a boho country house feel, while more muted, textured accessories will work to create a more French farmhouse look.
7. Don't forget the extras
Use baskets as outdoor plant pots or as storage for extra blankets, magazines or even snacks on the patio, as the sun goes down. One of the most versatile additions to any home - inside or out.  A soft throw, all-weather cushions and enough room to stretch out and snooze if the mood takes you.
ENDS