Pull up a pew for House and Home's curated edit of 2019's best sofas
Who doesn't love a little look at a brand new sofa or seven? Us, that's who. And we know you do too, so we thought it was high time we put together an edited selection of the cutest and comfiest couches on the market right now.
Whether you're looking for something totally on-trend or wildly futuristic, we've got you covered, and with some expert buying tips to boot...
4 top sofa buying tips straight from the experts
Custom sofas
Why have your couch made? A bespoke couch allows for much more than choice of shape or fabric, according to Kilian Finane of Finline Furniture. Cushion density in the sofas can be tailored to your liking, whether you prefer things firm and supportive or soft and squishy, and they can even be designed to support bad backs too.
"Often customers will request a higher back cushion for neck and back support, or even a slight increase in the seat height. It's all easy to do and can make a big difference to your health and comfort," he says. Take it high tech and add a USB port and a swivel tablet or phone holder into the arm of your sofa too.
Size sofas right
Sofa size can be deceitful in the expanse of a showroom and you can end up with a larger style than you'd like. The standard depth of most sofas is 95cm to 100cm, says Lorraine Stevens of Lomi Design so measure your room to determine what you can comfortably accommodate. If you've found a style you like, take its measurements, then create a template from newspapers at home. This will allow you to see the space it takes up IRL.
Curvy sofas
"Curved, cocooning sofas have become increasingly popular in line with the trend for seventies inspired forms, colours and textures," says Lauren Harris, Senior Designer at DFS. Think buttoned-back detailing in luxurious velvet fabrics. To keep your velvet sofa in great condition, Harris advises lightly brushing in the direction of the pile to loosen surface dust and dirt before vacuuming gently. If you are wary of tackling stains, the five-year fabric protection plan from DFS allows you to call on the professionals if a spillage occurs.
Find your focal point
Find the focal point of the room and use this to determine what shapes you buy and where you place them, suggests Dorothy Power of Roche Bobois. "Is it the fireplace or a lovely view out to the garden? Would you prefer a U–shaped or corner sofa so everyone can see the TV?"
Access in and out of the room should be considered in order to maintain a flow and Power says a set of occasional armchairs is a smart solution: "They add seating but are flexible so you can walk through them to another area. A swivel armchair can be turned to look into the garden or at the TV at night."
Jewel toned sofas
Jet infused hues are still totally on trend.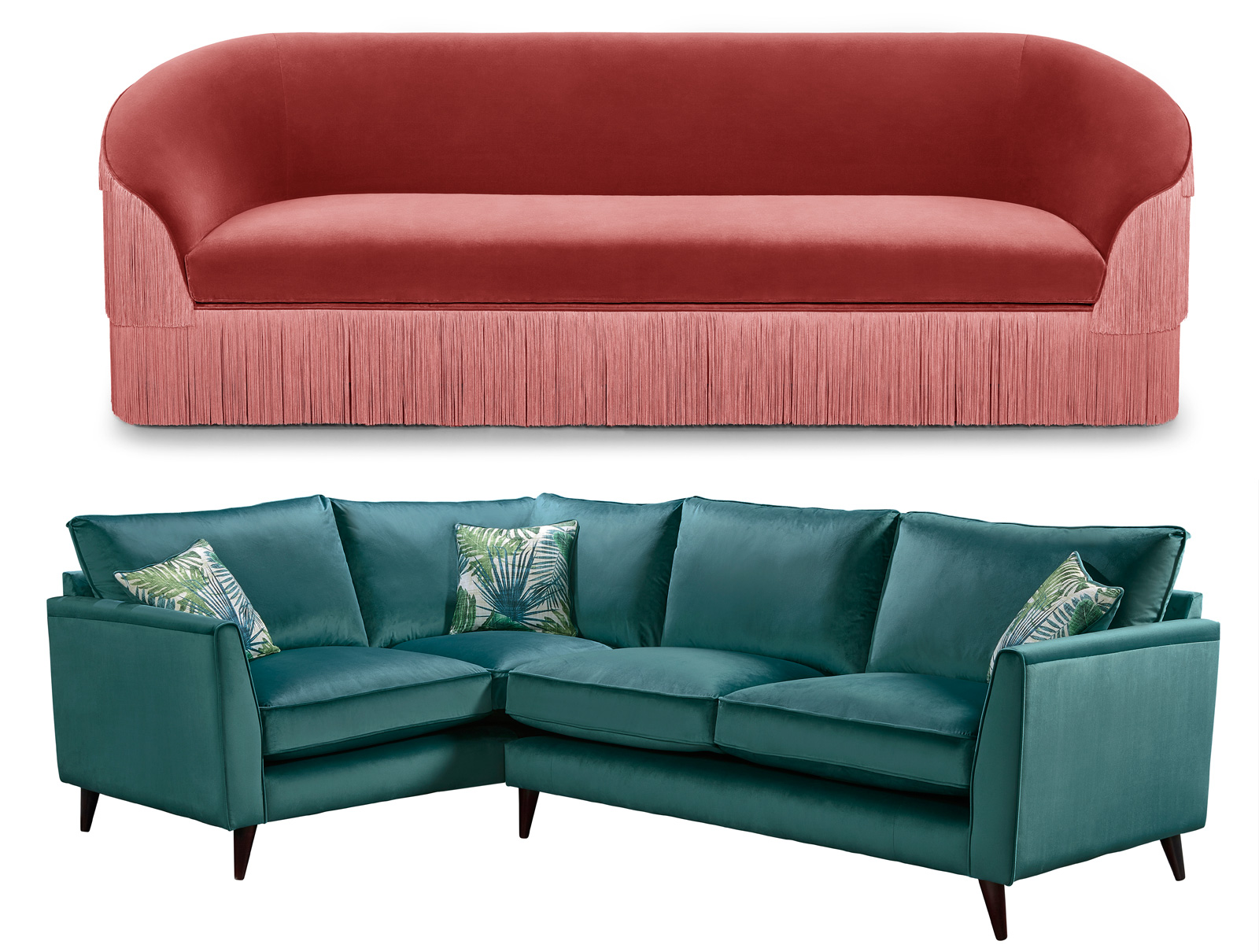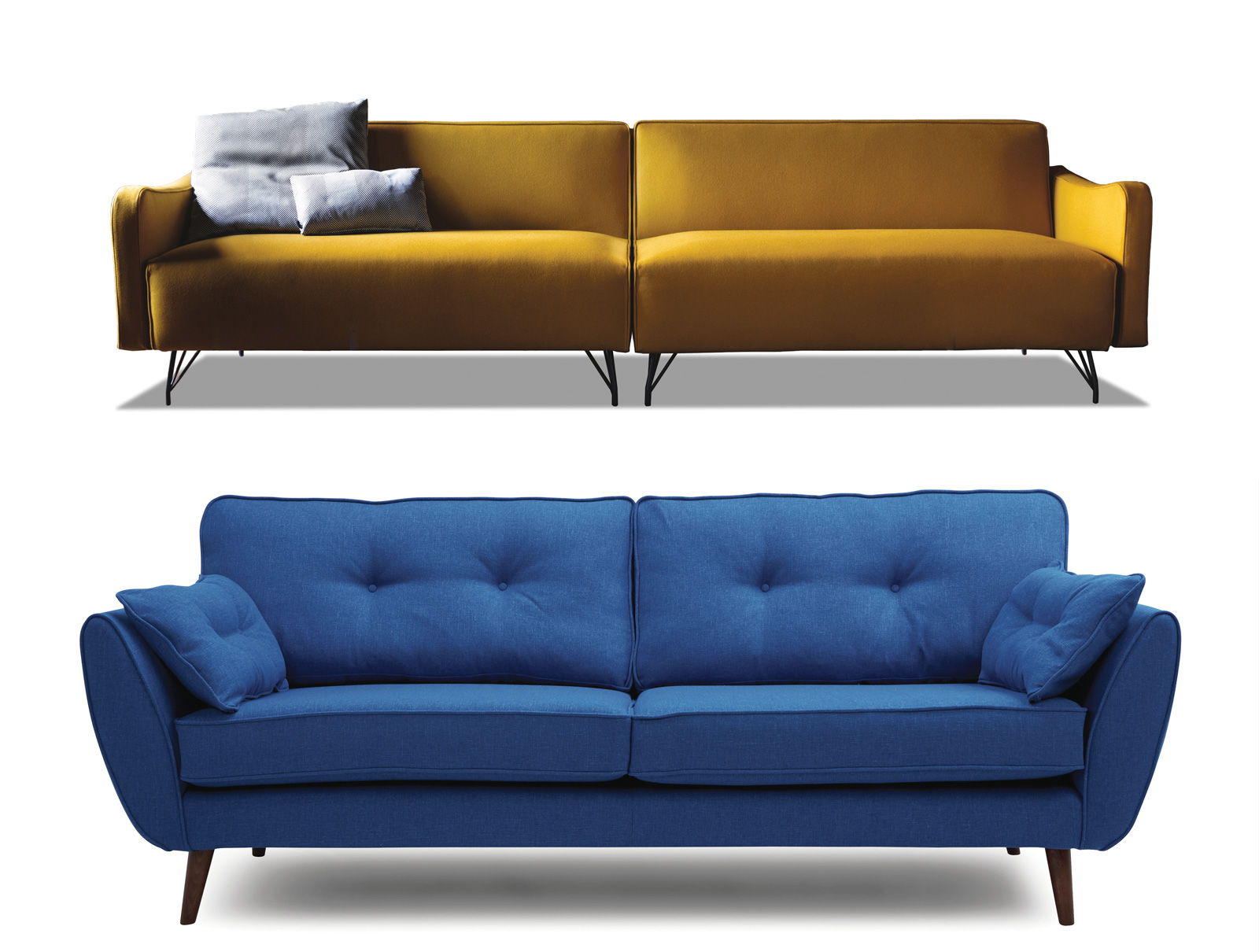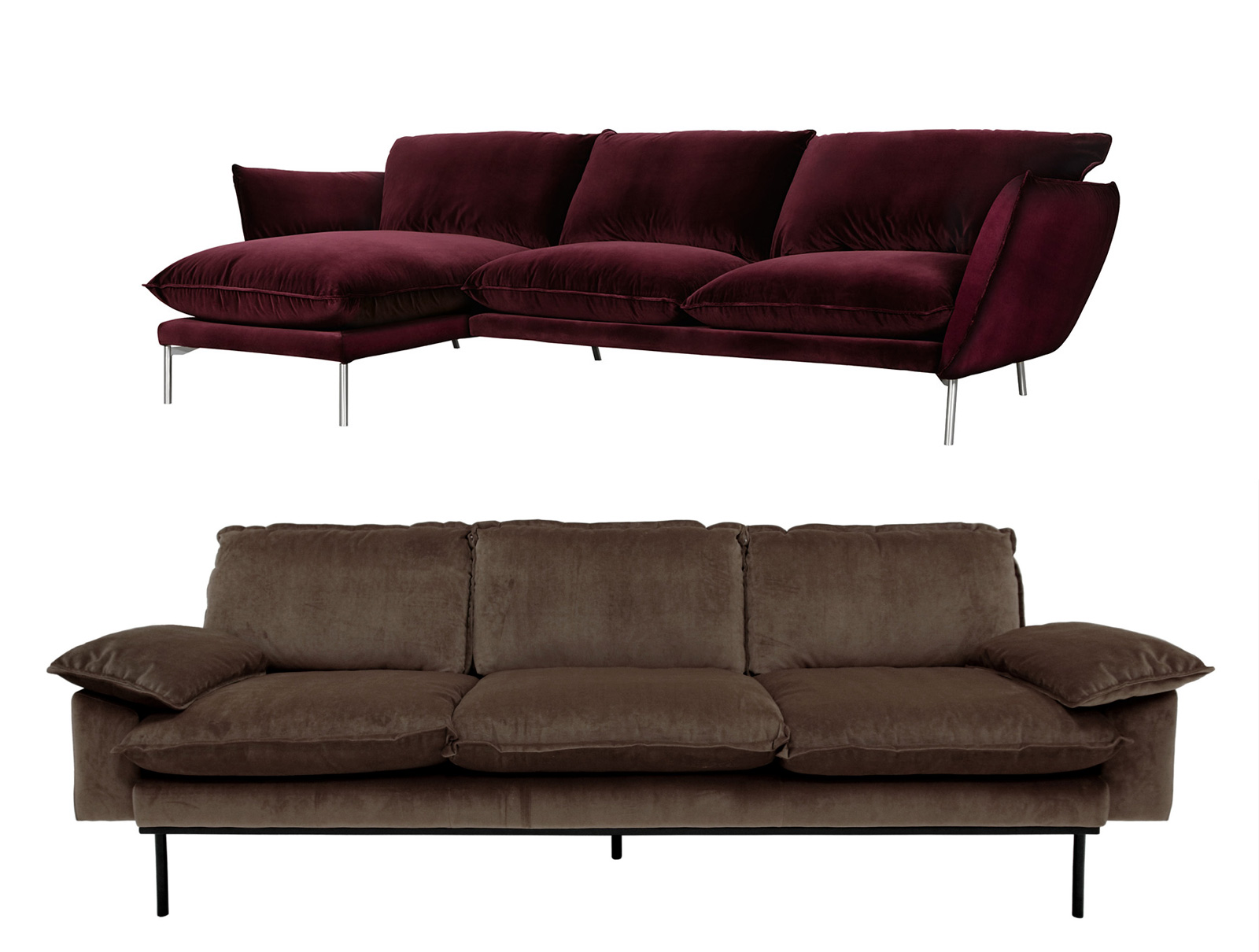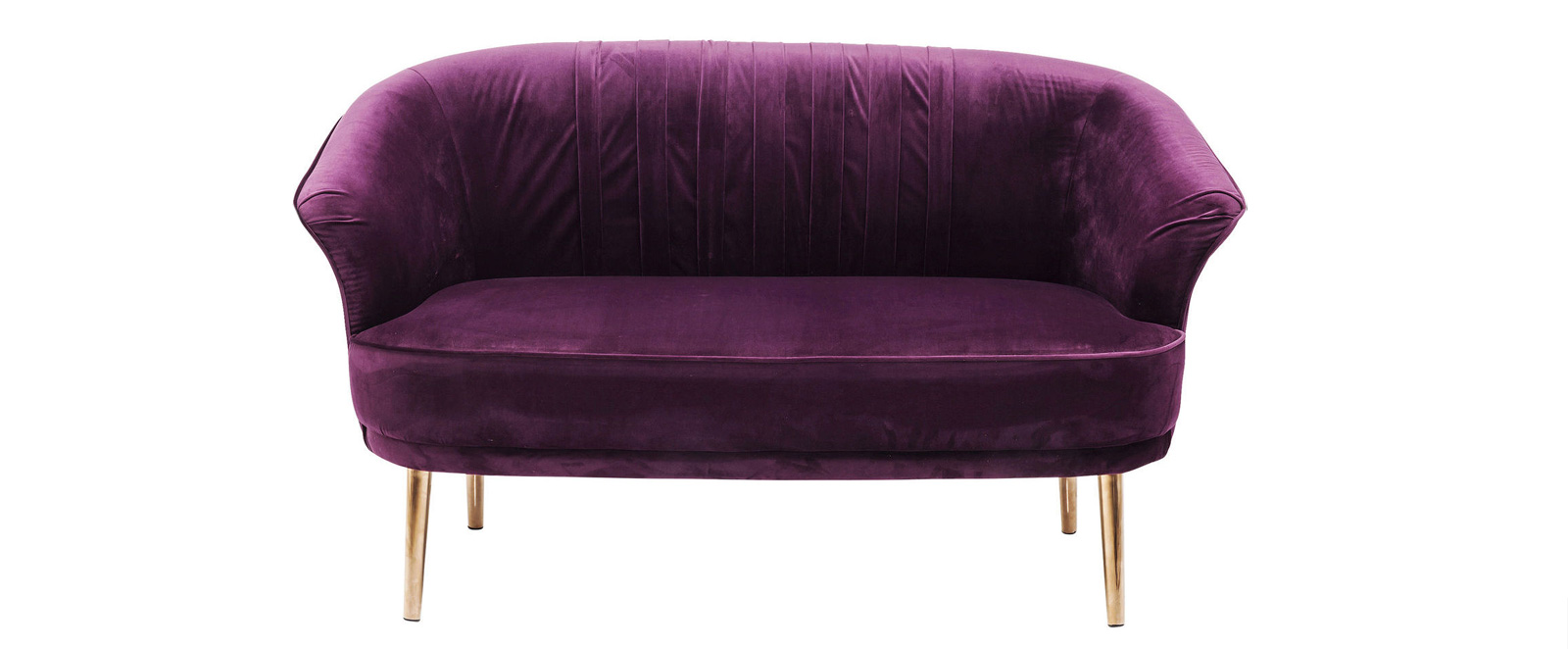 Munna Fringes 280 Sofa in Antique Pink Velvet, €8,662, Houseology.co.uk
Pasha sofa, €1,999, Harveynorman.ie
Pop sofa, €4,571, Lomi.ie
French Connection Zinc sofa, €899, Dfs.ie
H sofa, from €4,350, Thesofaroom.ie
Retro sofa in Hazel, €1,680, Lambdesign.ie
Purple Rain 2 Seater Sofa, €719, Woodesign.ie
Peach toned sofas
Rust, coral, apricot and terracotta are the new neutrals we'll all be lusting after.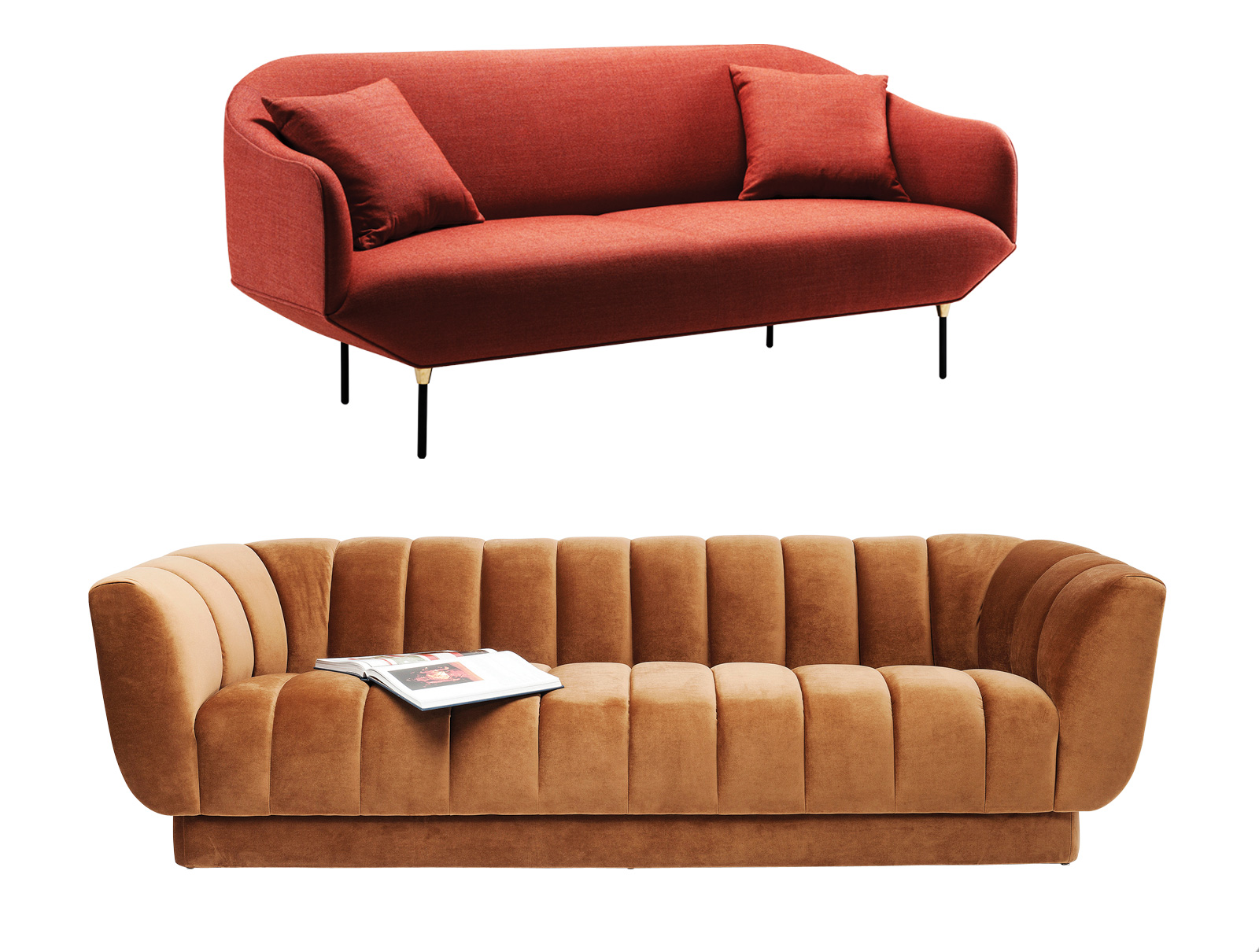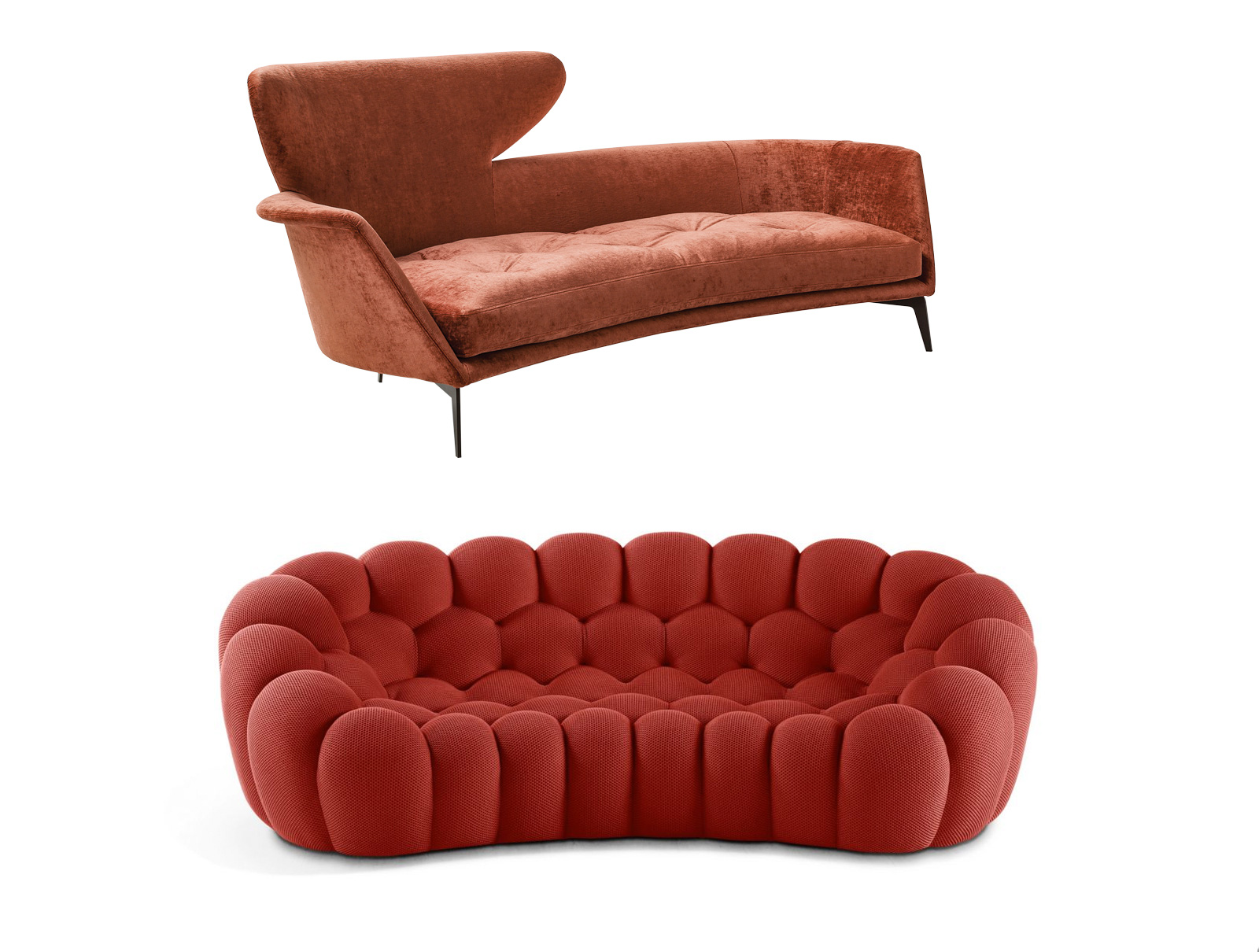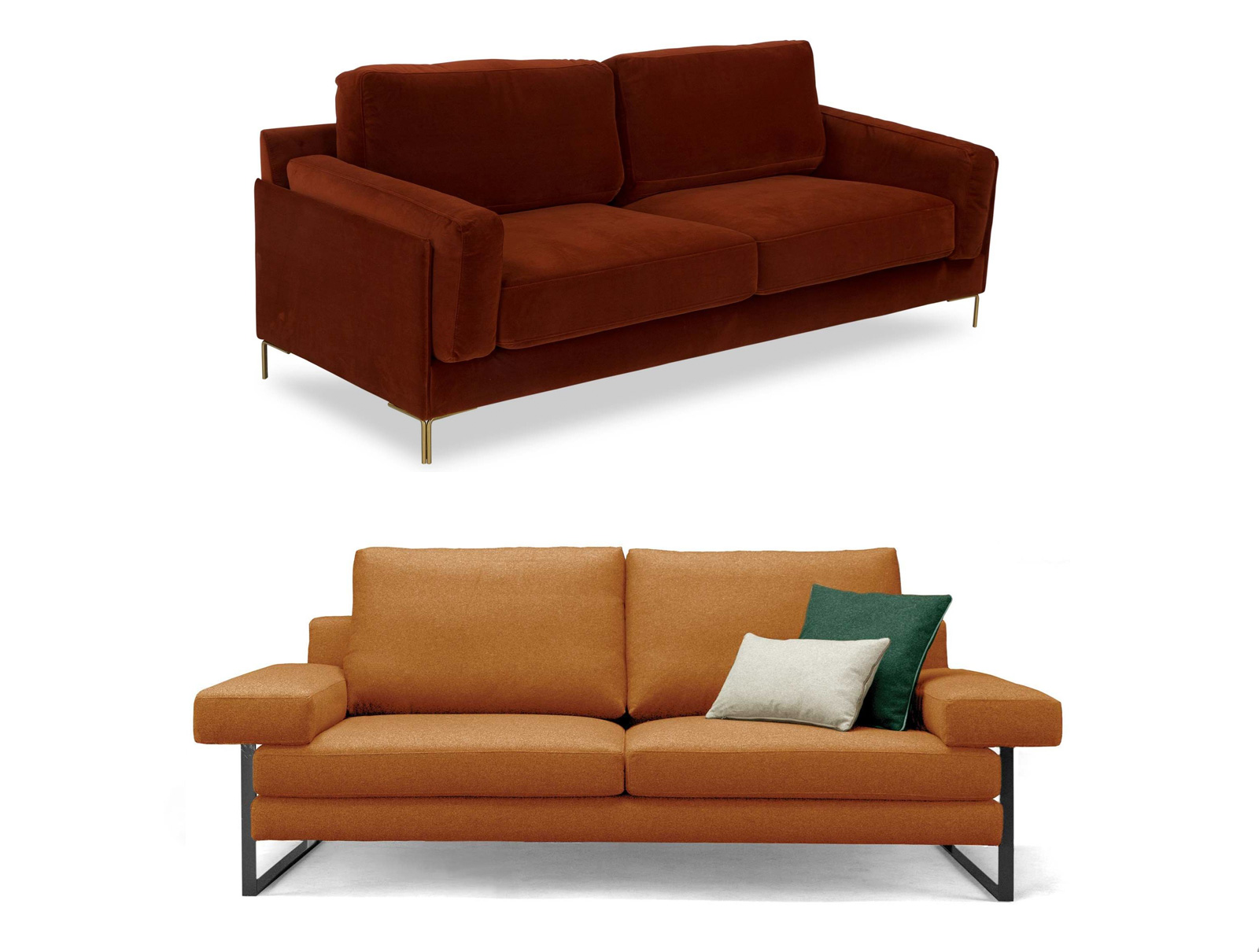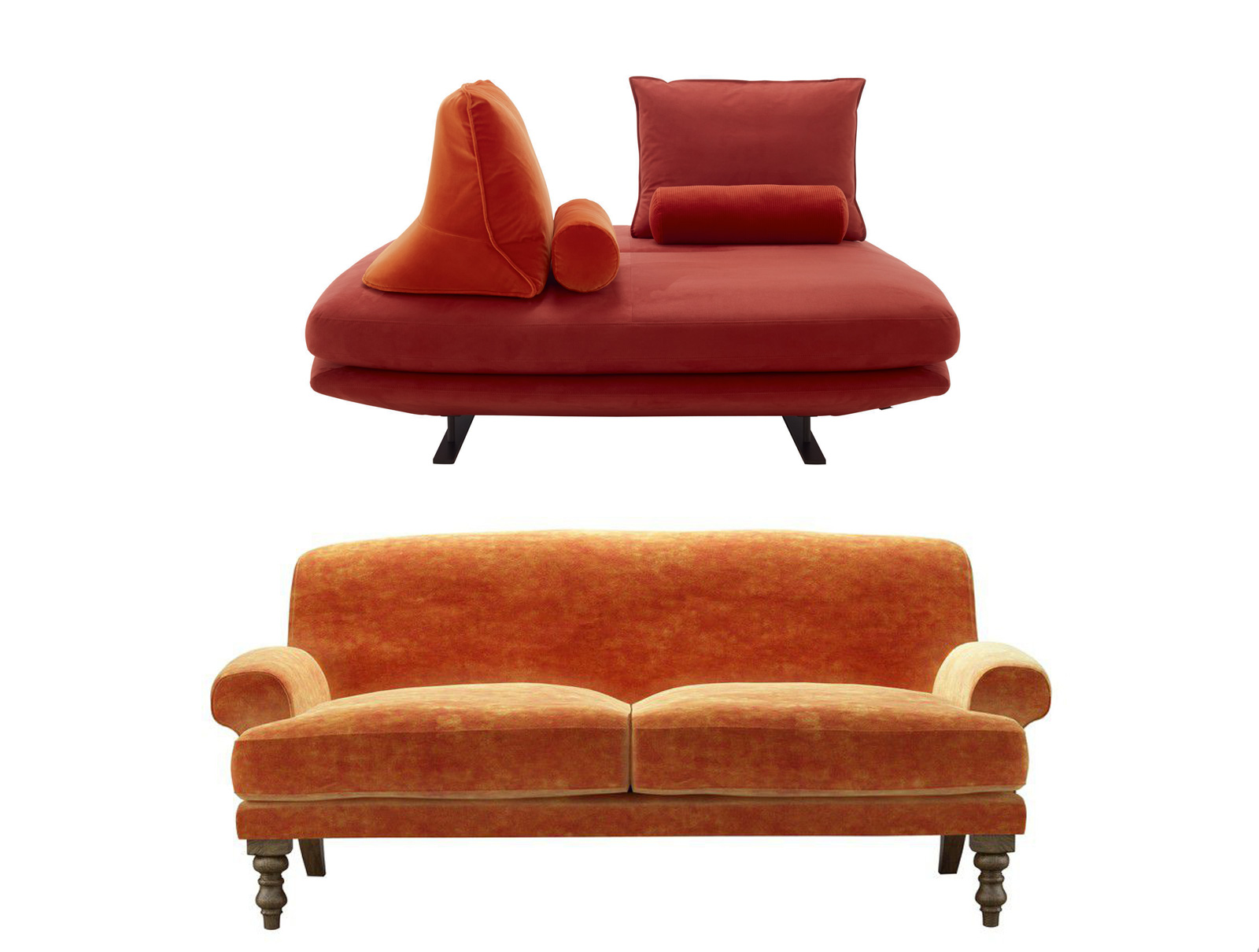 Won Design Bale sofa, €2,515, Nordicelements.com
Spectra sofa, €1,799, Woodesign.com
Bonaldo Lovy sofa, €4,047, Lomi.ie
Bubble curved 3-4-seat sofa, €5,650, Roche-Bobois.com
Diaz 3-seater sofa, €1,299, Ezlivingfurniture.ie
Mambo Unlimited Ideas Kuadra sofa, €2,550, Eameslighting.com
Ligne Roset Prado sofa, €4,904, Arenakitchens.com
Saturday 2.5-seat sofa in Ganges Roosevelt Velvet, €2,658, Sofa.com
Velvet sofas
Soft and snuggly, velvet transcends trends and works in any interior.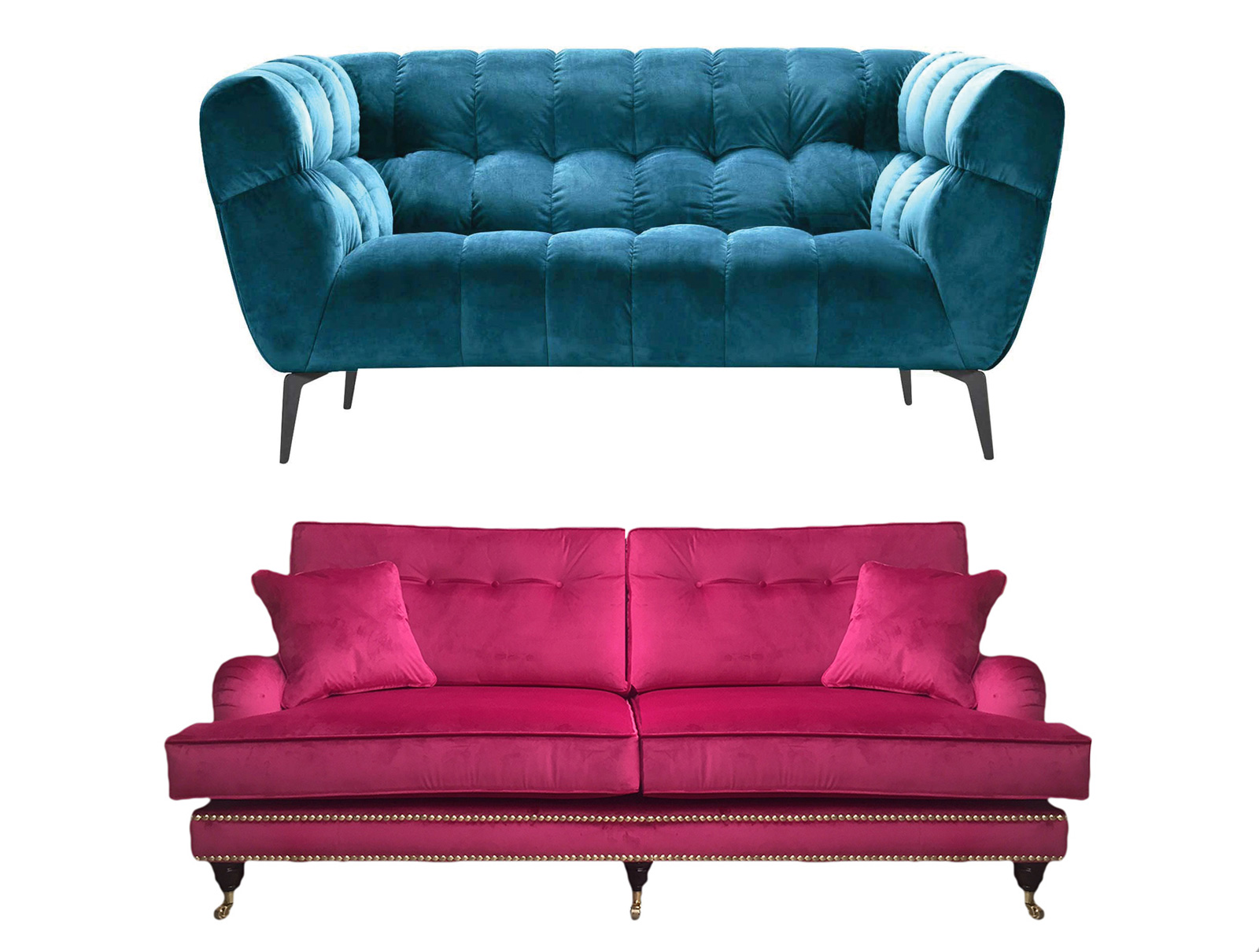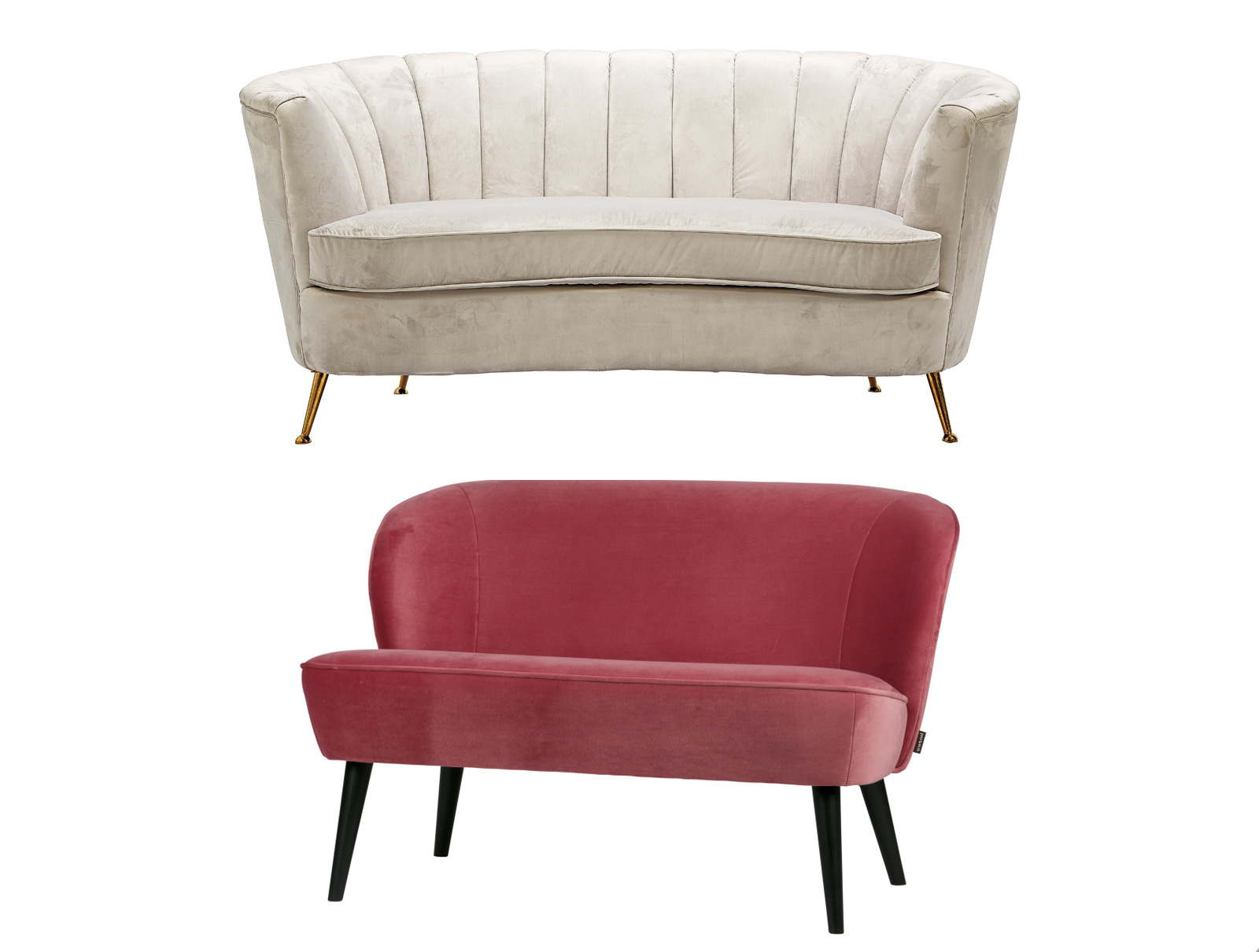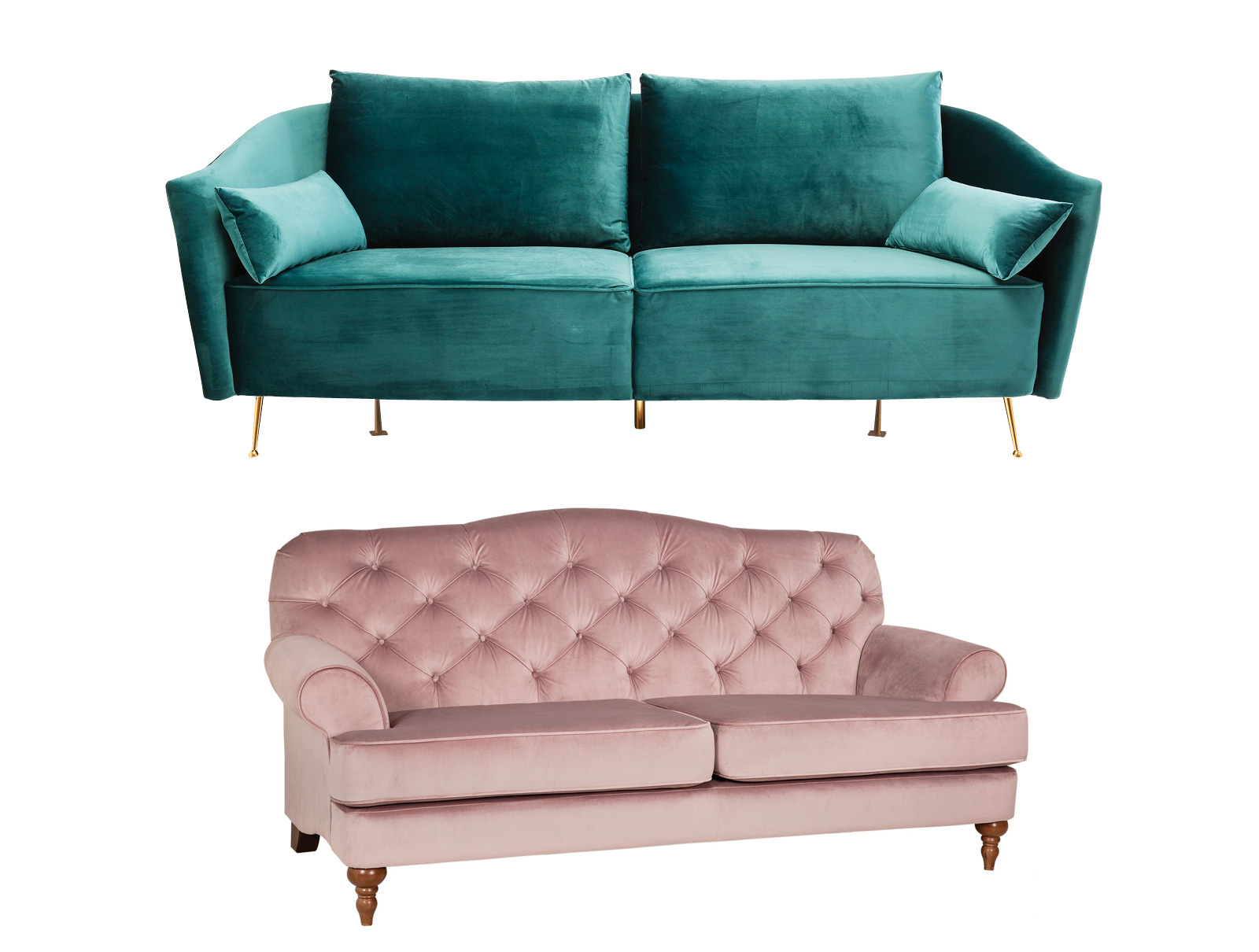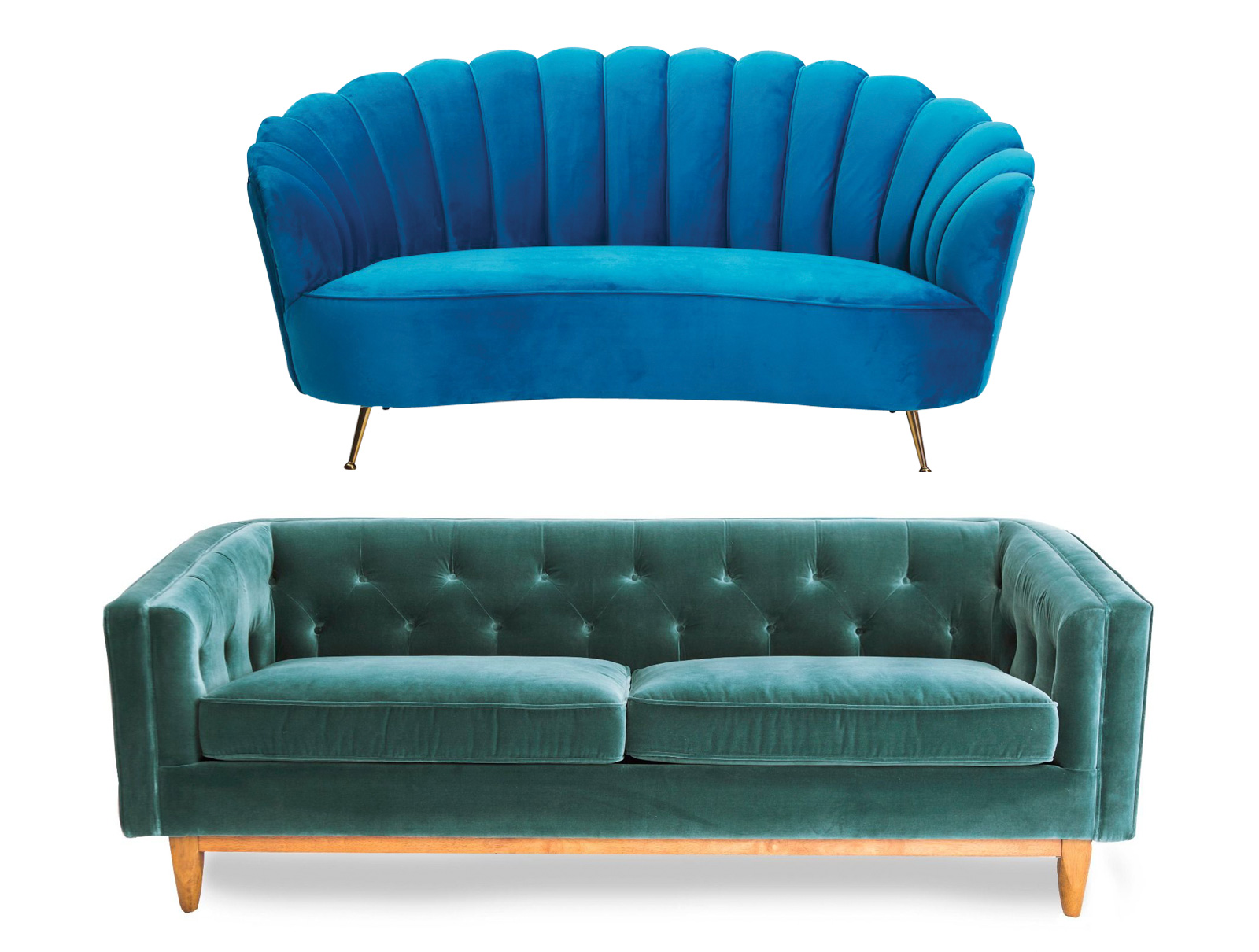 Elsa chaise, €919, Diamondfurniture.ie
Holmes sofa in cerise, from €1,300, Finlinefurniture.ie
Grey velvet scallop sofa, €599, Homesense
Sara sofa, €403, Vobeinteriors.com
Vegas Forever Bluegreen Sofa €1,679, Woodesign.com
Valerie 3-seater sofa, €940, Argos.ie
Blue Velvet Tresor Sofa, €1,015, Caseys.ie
Natty Sofa in Cotton Petrol, €2,199, Ezliving-interiors.ie
Floral sofas
Only for the brave: floral fabrics are de rigueur once more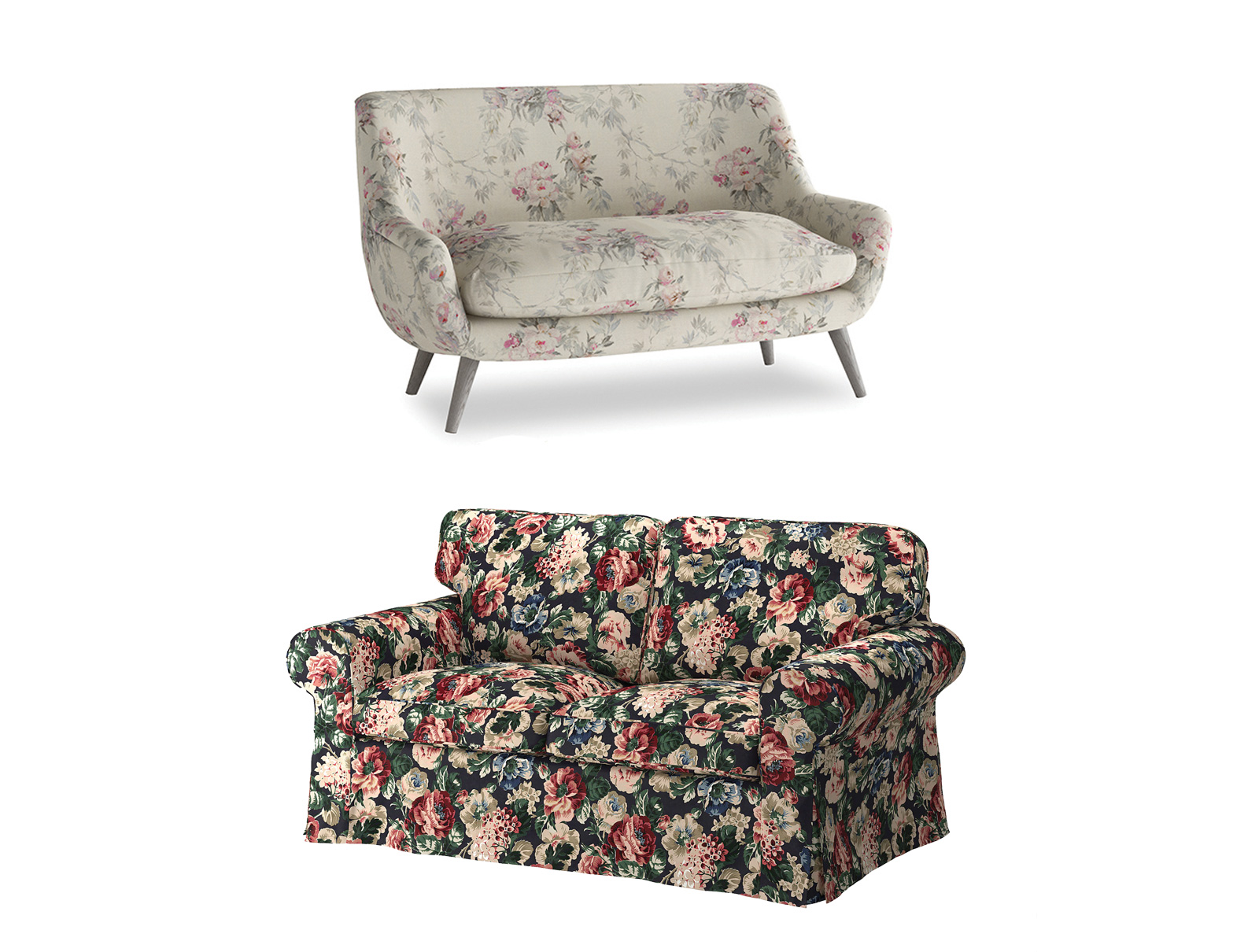 Berlin sofa, €1,561, Loaf.com
Ektorp 2-seat sofa in Lingbo, €295, Ikea.ie
Studio sofa, €2,075, Timothyoulton.com
Futuristic sofas
Futuristic shapes and technical innovations are in.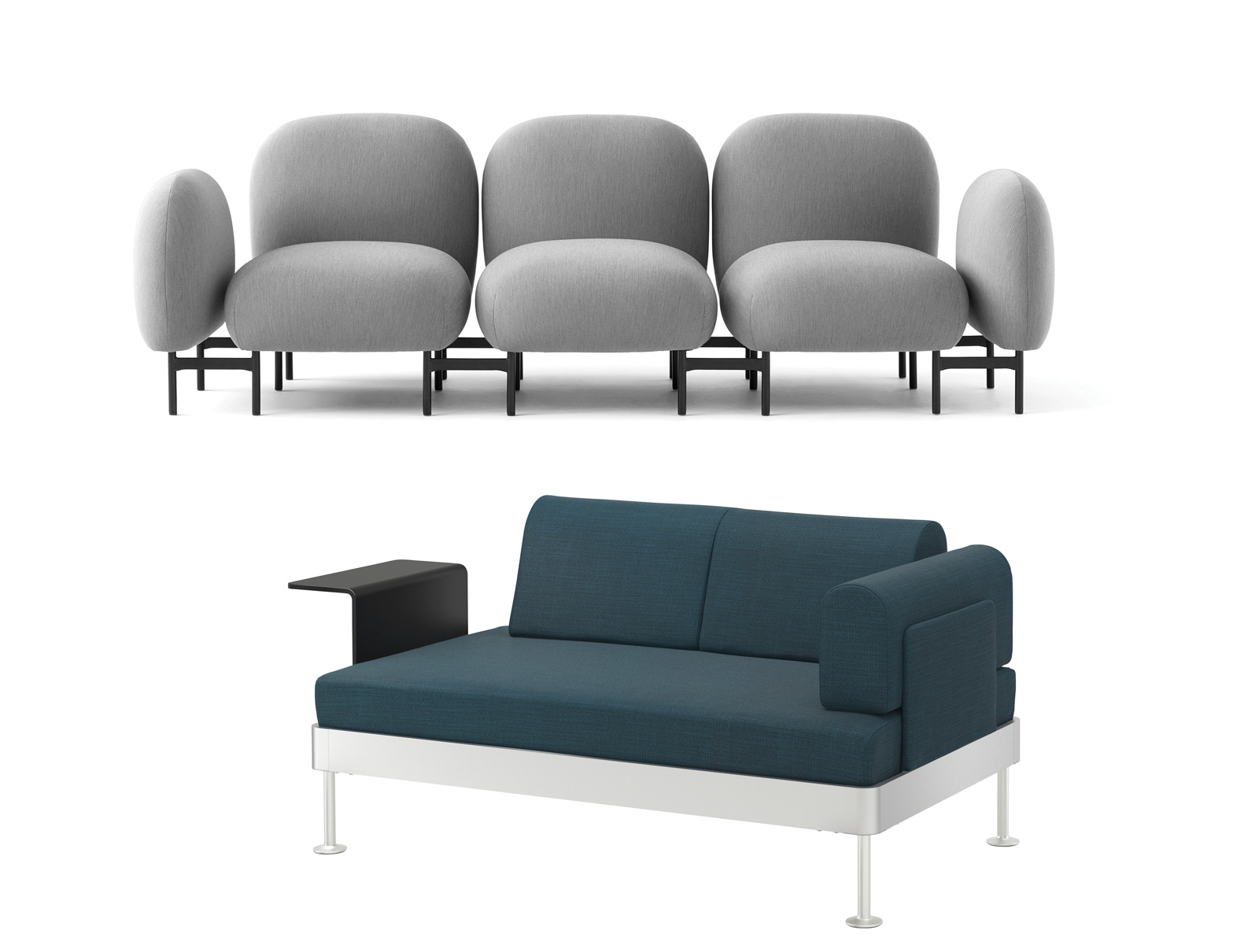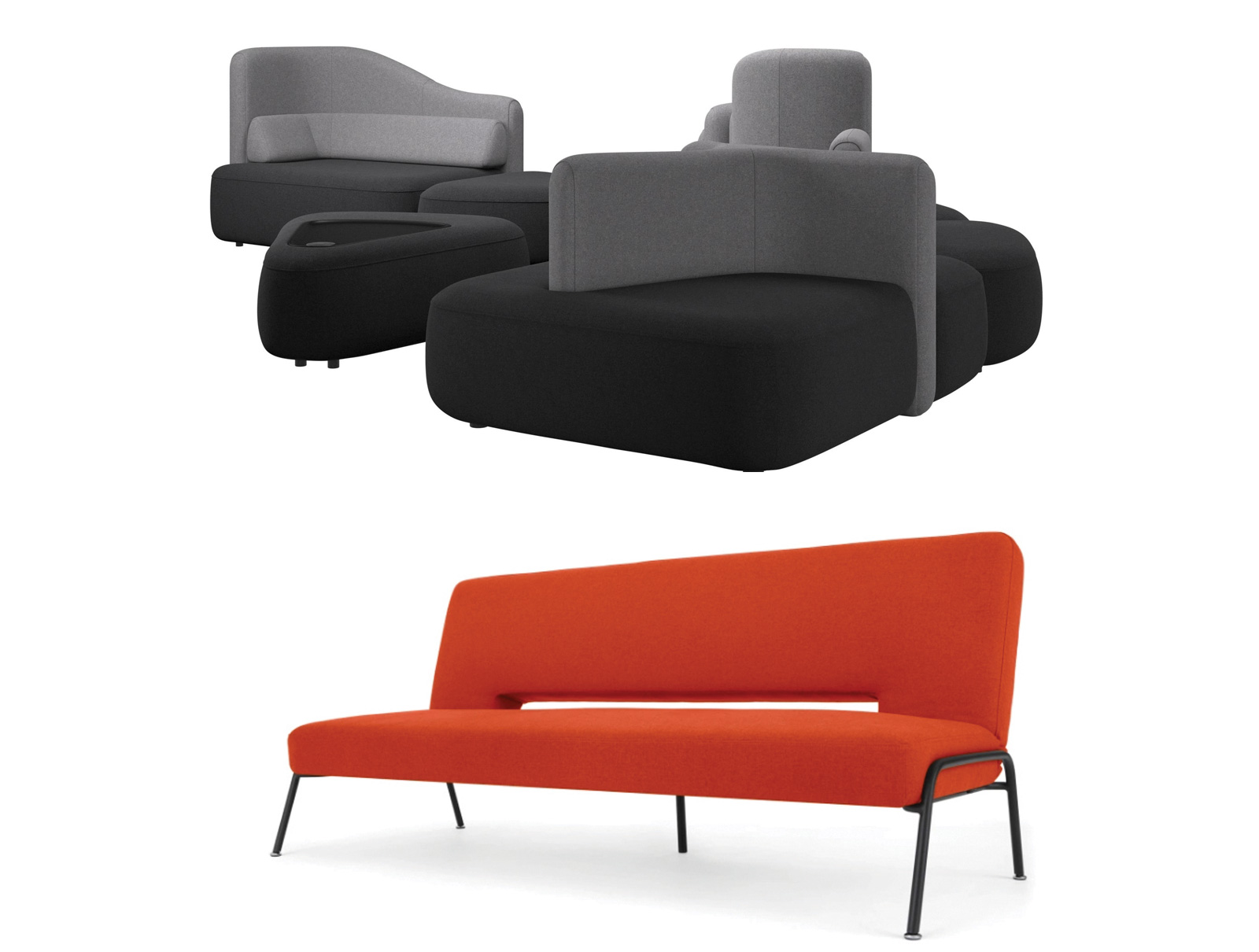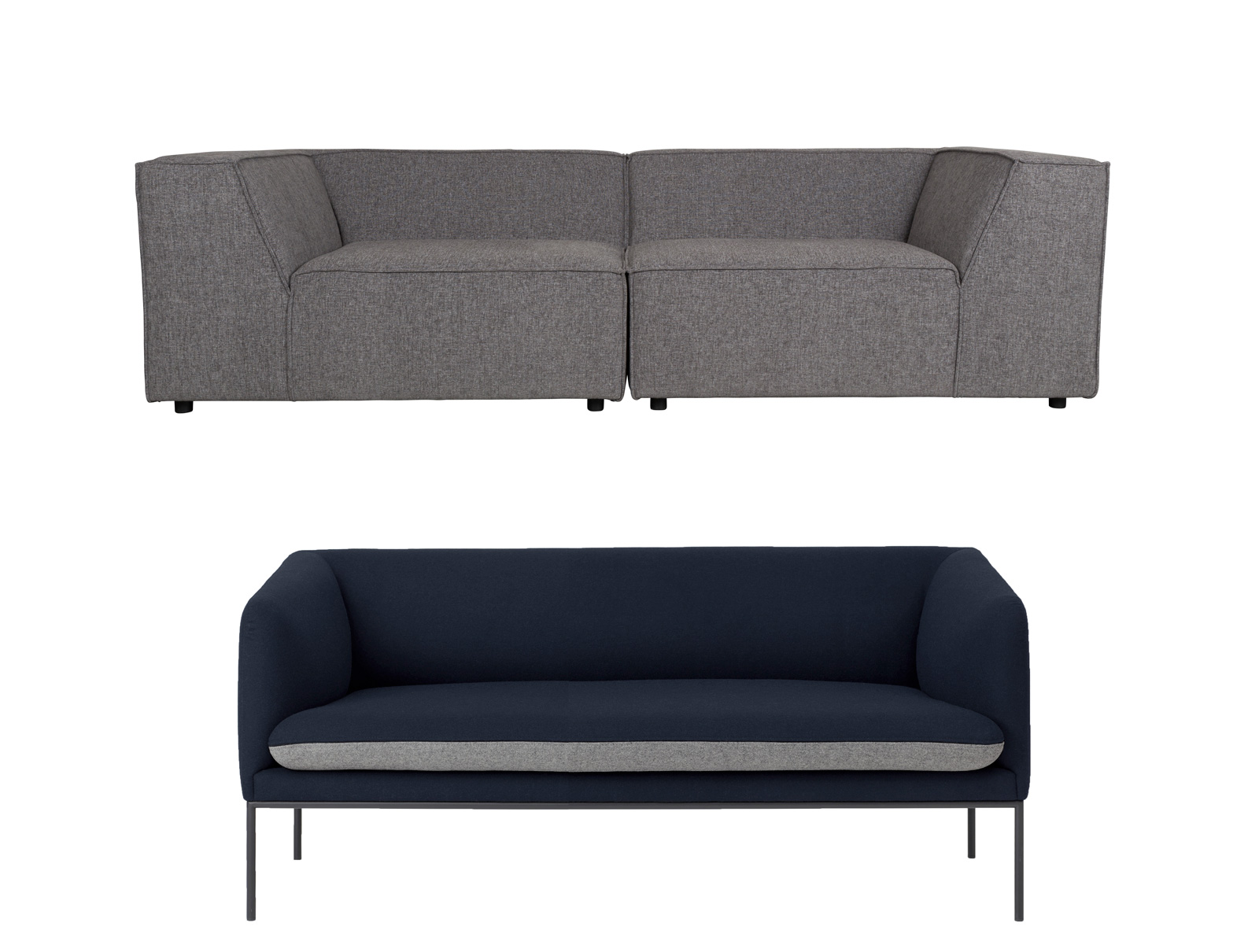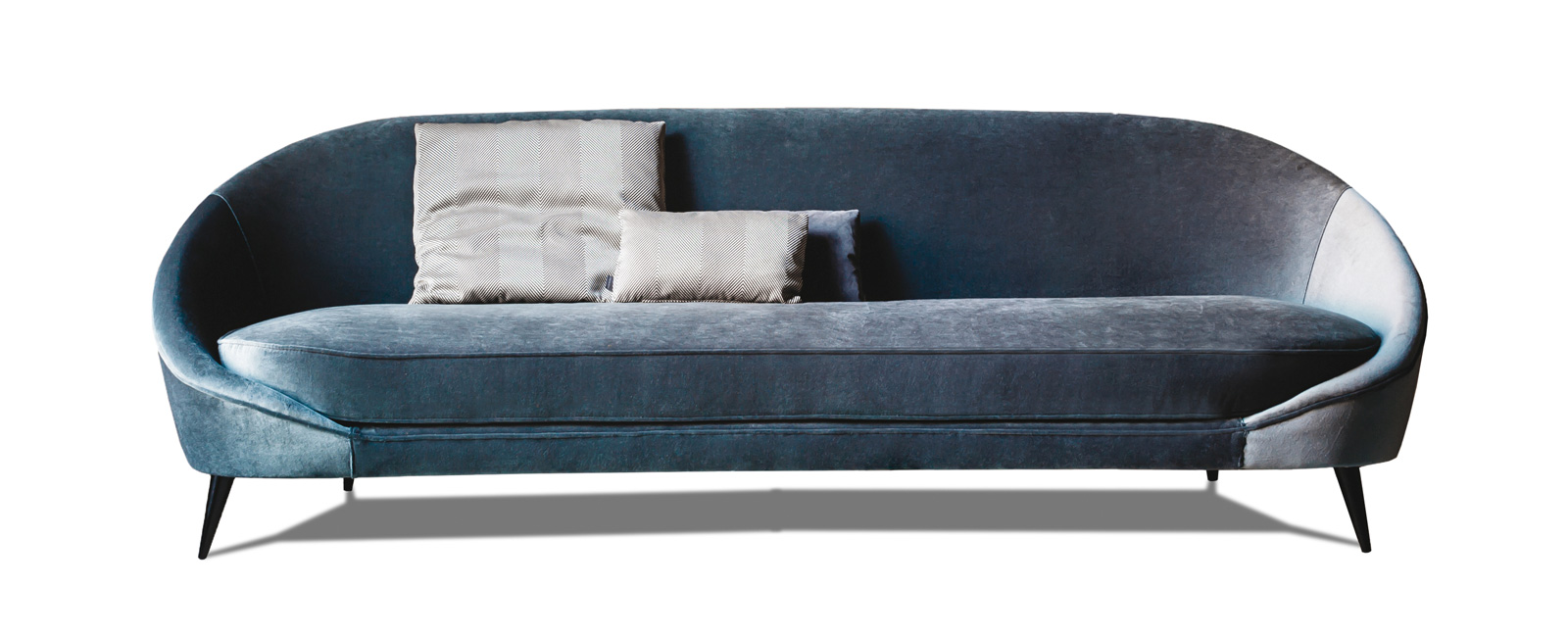 &Tradition Isole sofa, €4,707, Shop.mohd.it
Delaktig sofa, €640, Ikea.ie
Ottawa sofa, from €9,146, Boconcept.ie
Knox click clack sofa bed, €312, Made.com
King sofa, €1,759, Woodesign.com
Turn sofa, €2,499, Fermliving.com
Nido sofa, €5,051, Lomi.ie
Statement chairs
A statement chair is the new must-have living accessory.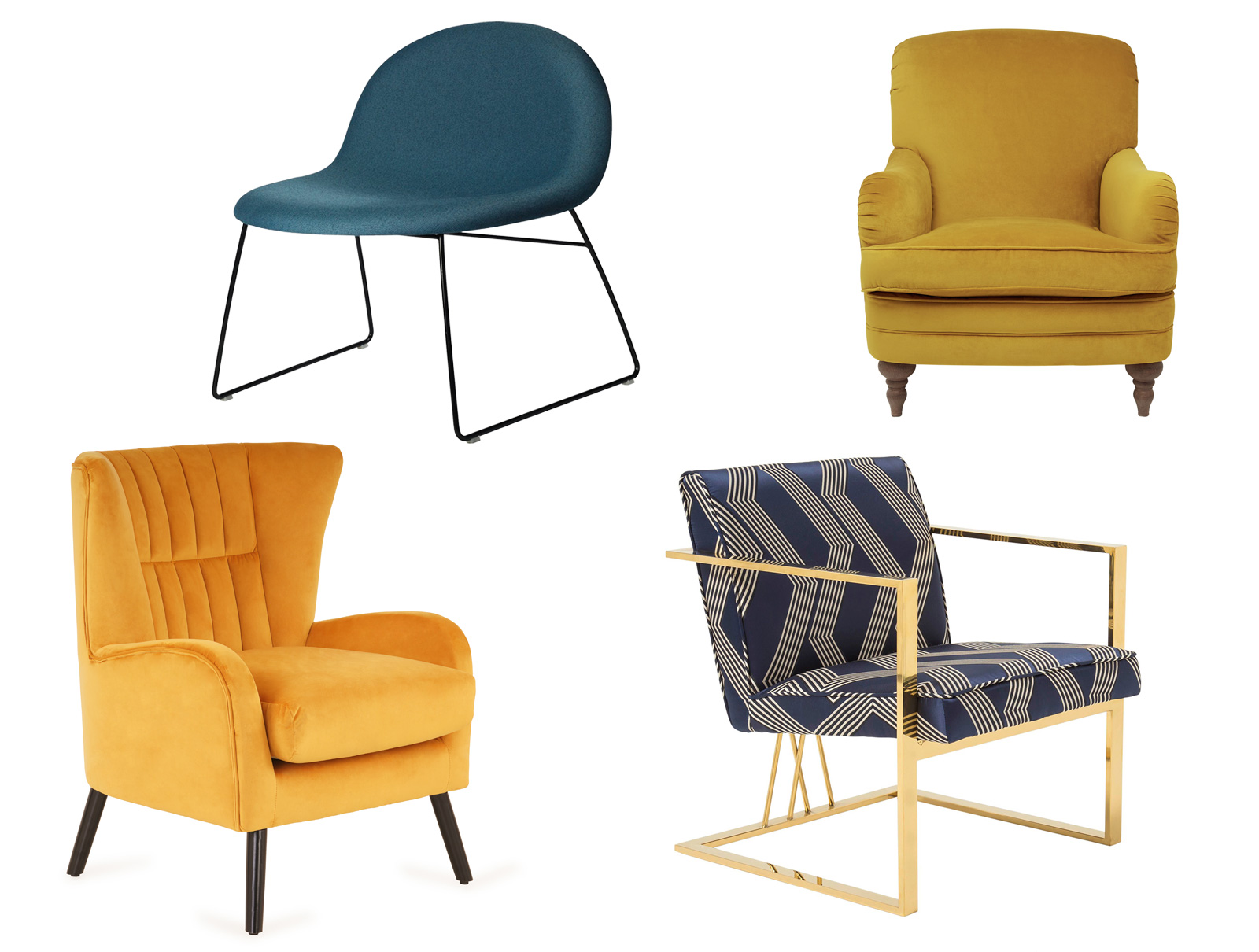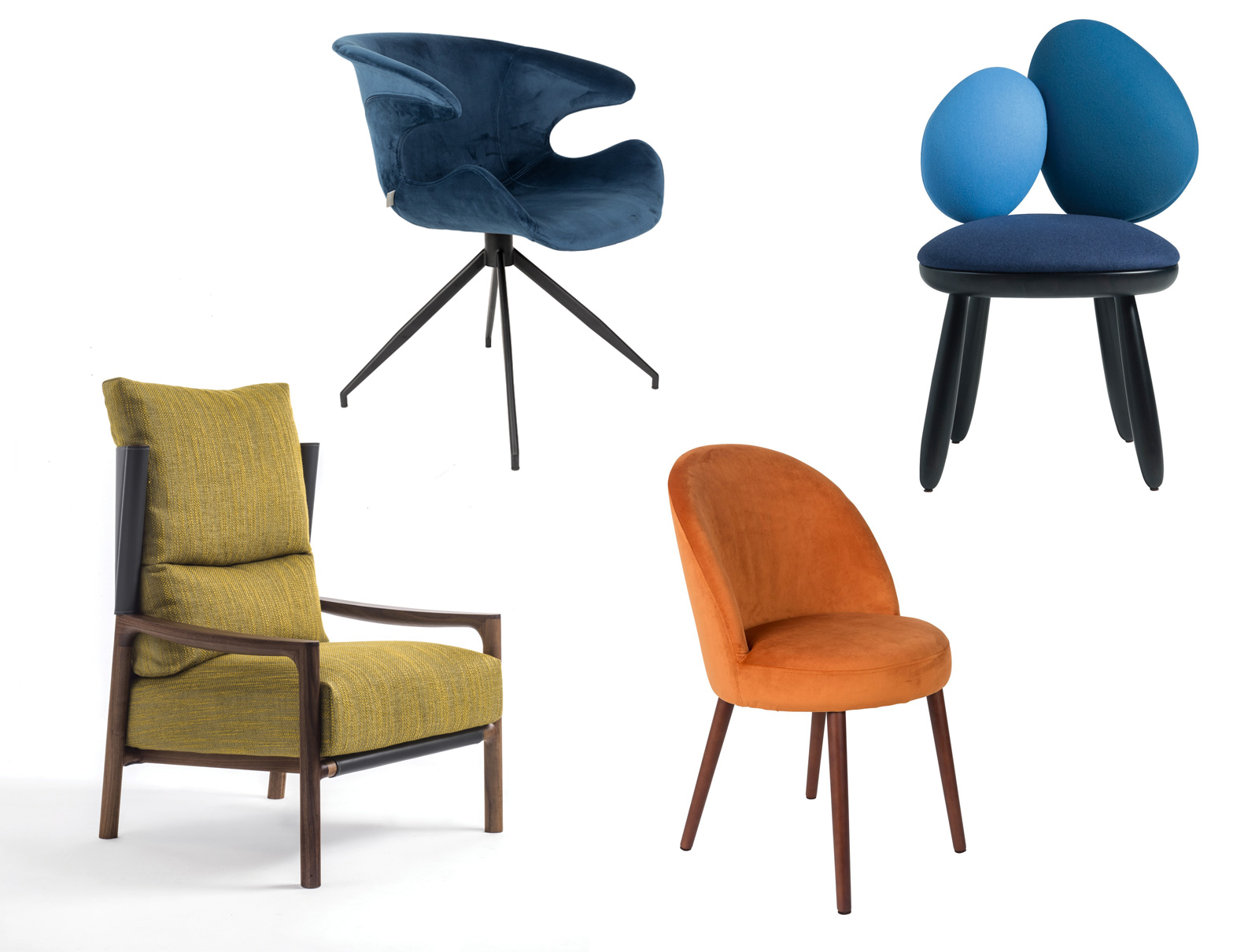 3D Lounge Chair, from €989, Gubi.com
Isabelle chair, €1,213, Marksandspencer.ie
Titus Armchair, €549, Michaelmurphy.ie
Hailey chair, €460, Vobeinteriors.com
Mia armchair, €329, Woodesign.com
Cairn chair, €1,440, roche-bobois.com
Vera Bergere chair, from €4,277, Porada
Barbara Dining Chair in Velvet, €165, Aprilandthebear.com
Blush pink chairs
Make a statement with pink - it's the new classic colour, don'tcha know?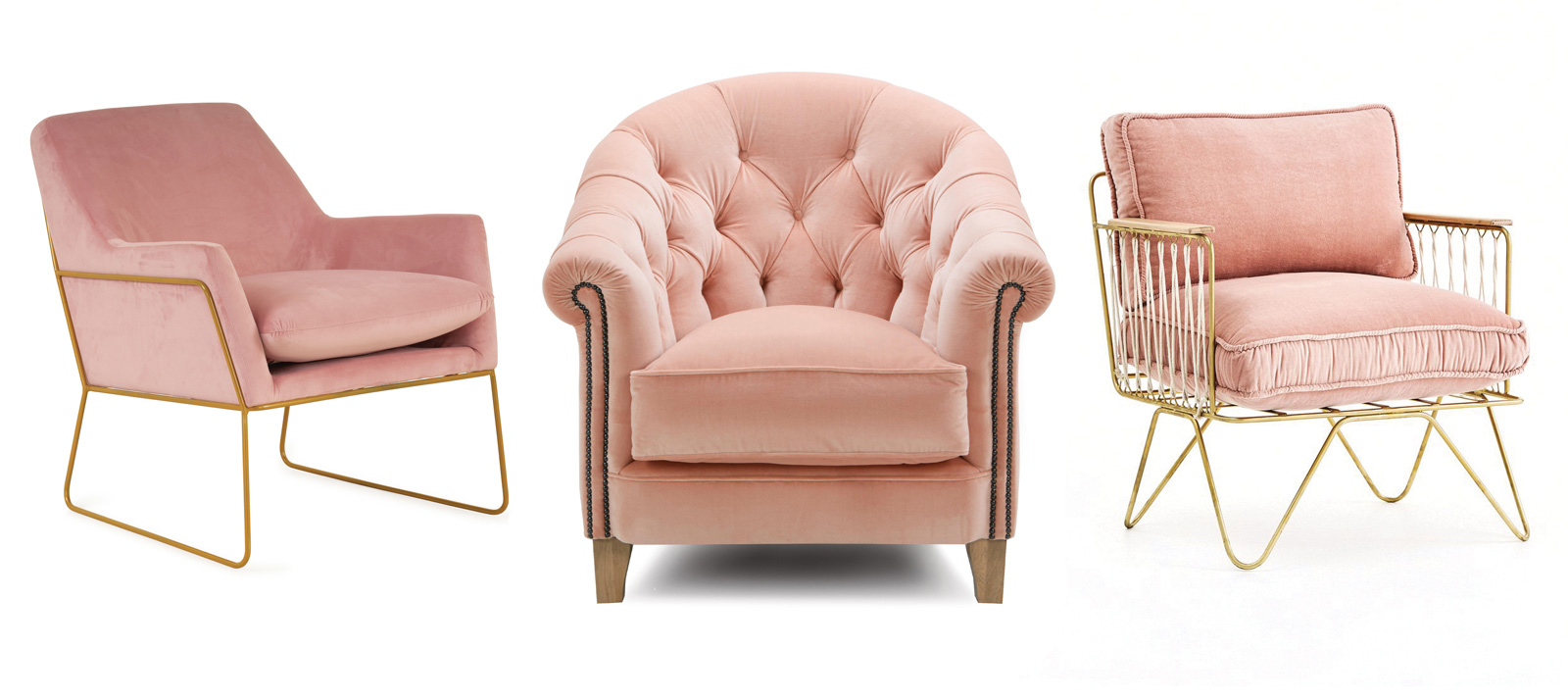 Frame armchair, €375, Michaelmurphy.ie
Palace velvet accent chair, €1,169, Dfs.ie
Croisette Velvet Armchair, €780, Dust.ie
Leather sofas
It's back - and it's better than it ever was thanks to new technology and textures.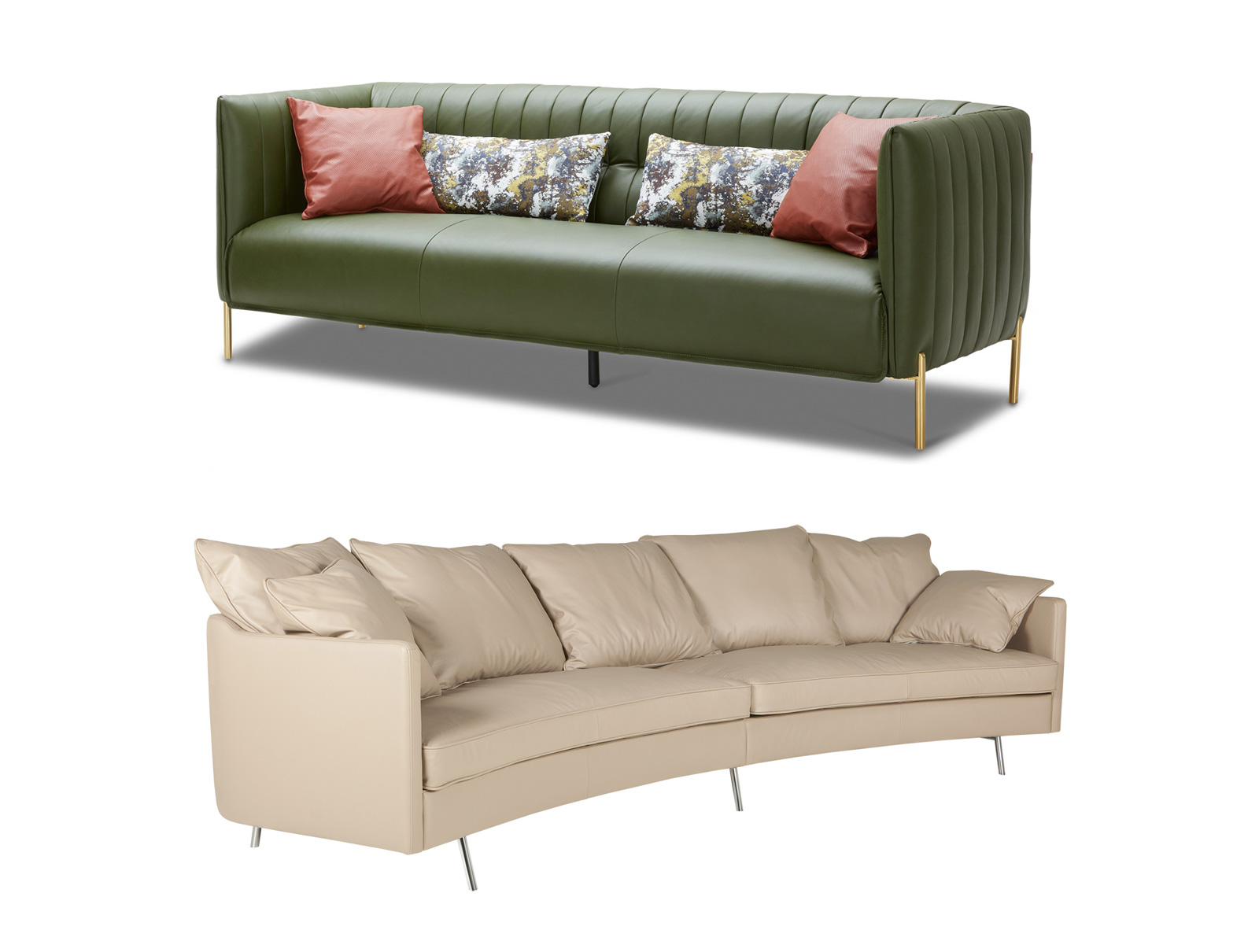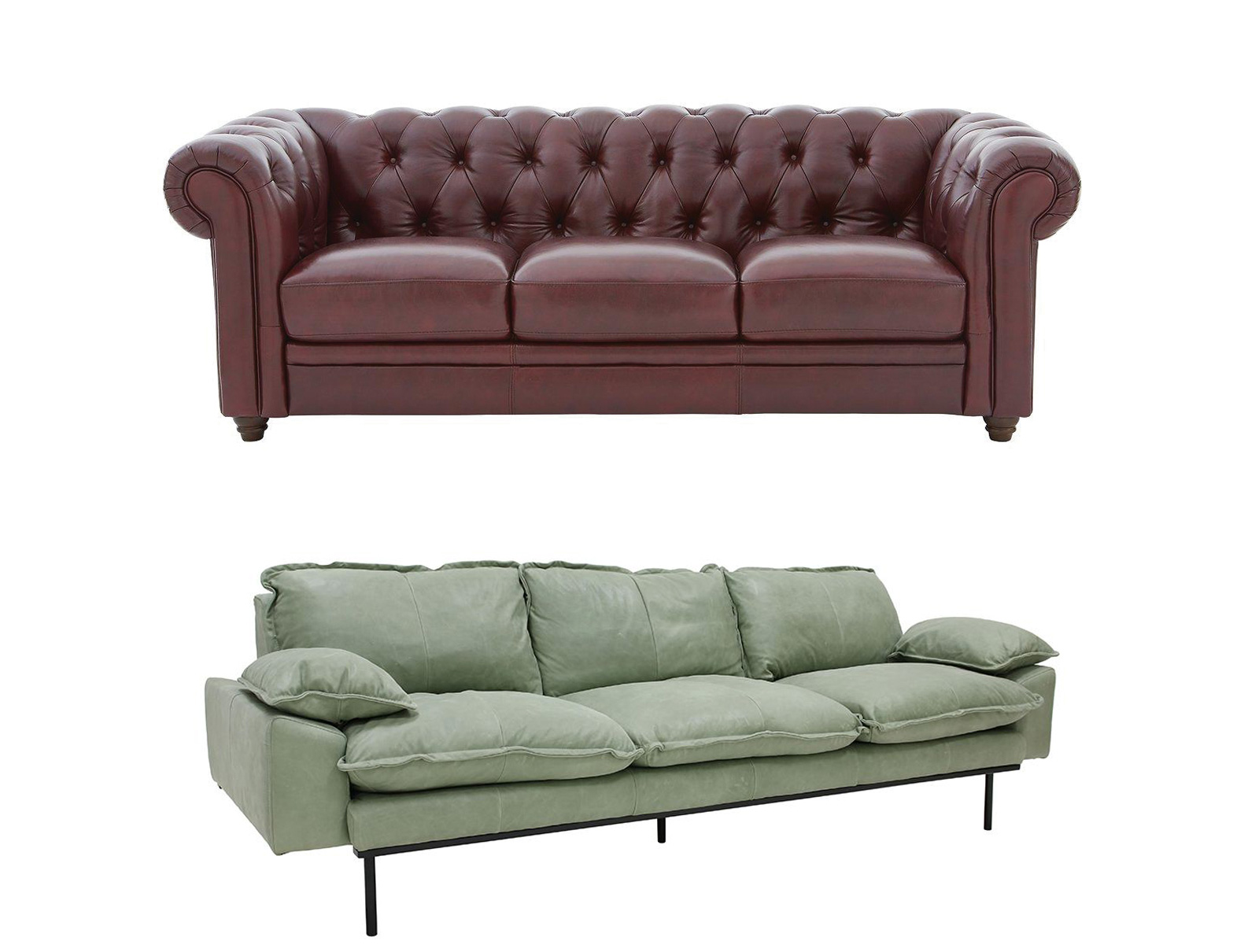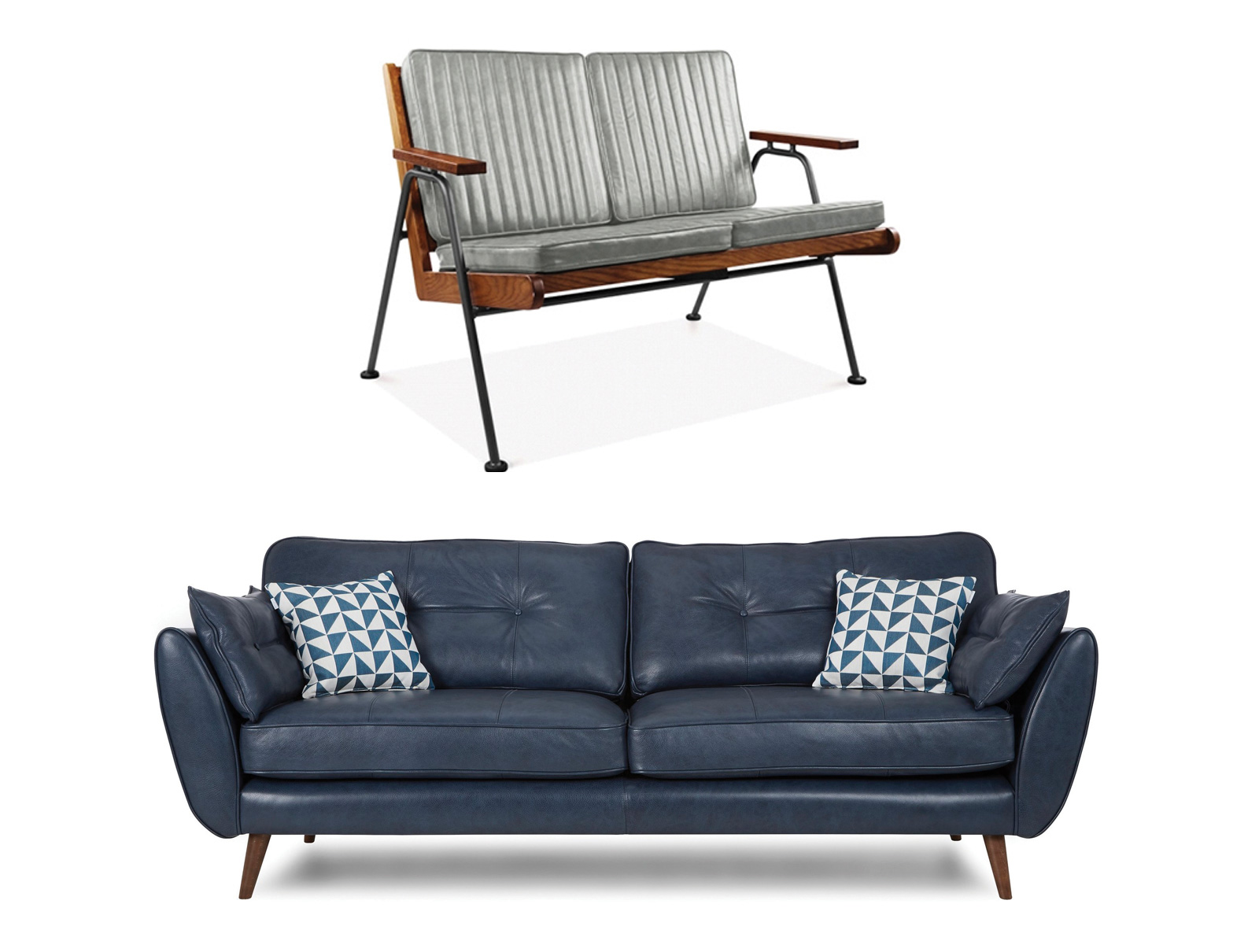 Oscar 2-seater sofa, €1,249, Pieces.ie
Julia sofa, from €3,585, Thesofaroom.ie
Violino Chester 3-seater sofa, €2,099, Littlewoodsireland.ie
HK-Living Retro 3-seater sofa, €3,095, Livingandcompany.com
Wickham idustrial 2-seater small sofa, €440, Cultfurniture.com
Zinc 4-seater sofa, €2,269, Dfs.ie