A House and Home promotion
Love your living room (and kitchen!) even more with 17 beautiful buys we know you'll adore
Photography: Philip Lauterbach | Stylists: Lesiele Juliet and Sophie Kinsella
Getting your lighting right is one of the most important parts of any room. Get it wrong and you risk ruining all your hard work in creating a stunning space. Selecting the right mix of task, ambient and accent lighting is key to make your rooms work well all day, every day. We've got bright new ideas for three rooms and décor styles, all available at Brightlights.ie and in-store at Dublin Northside Branch, The Botanic Building, Slaney Road, Dublin Industrial Estate, Dublin 11, (01 903 0131) and at Dublin Southside Branch, Kylemore Road, Dublin 12 (01 903 0116).
Dark drama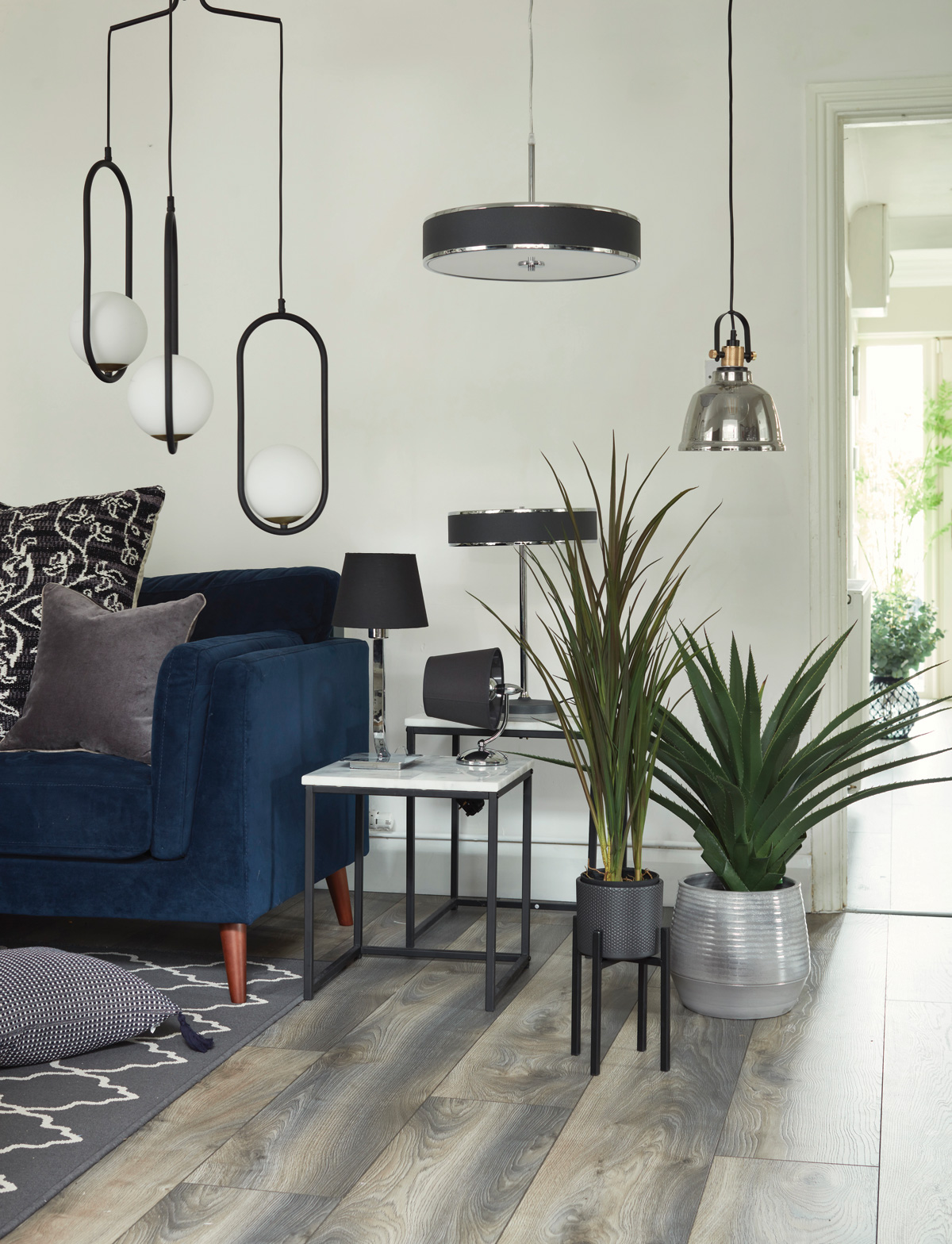 Add extra interest to a moody scheme lighting that works just as hard. Plush jet-hued velvets, dramatic tones and layered fabrics, textures and plants are key to making this look work. Plus, don't be afraid to make a statement with bold lighting choices. Choose strong, sculptural shapes for impact and added Instagramability.
CLOCKWISE FROM TOP LEFT: Black and white glass trio chandelier, €175, code: 53113-048; Grey disc pendant, €168, code: 43085-048; Brass and glass hanging pendant, €92, code: 17964-045; Grey disc table lamp, €162, code: 43088-048; Chrome and black wall light, €88, code: 43115-048; Chrome and black table lamp, €95, code: 53232-050, Brightlights.ie
Golden glamour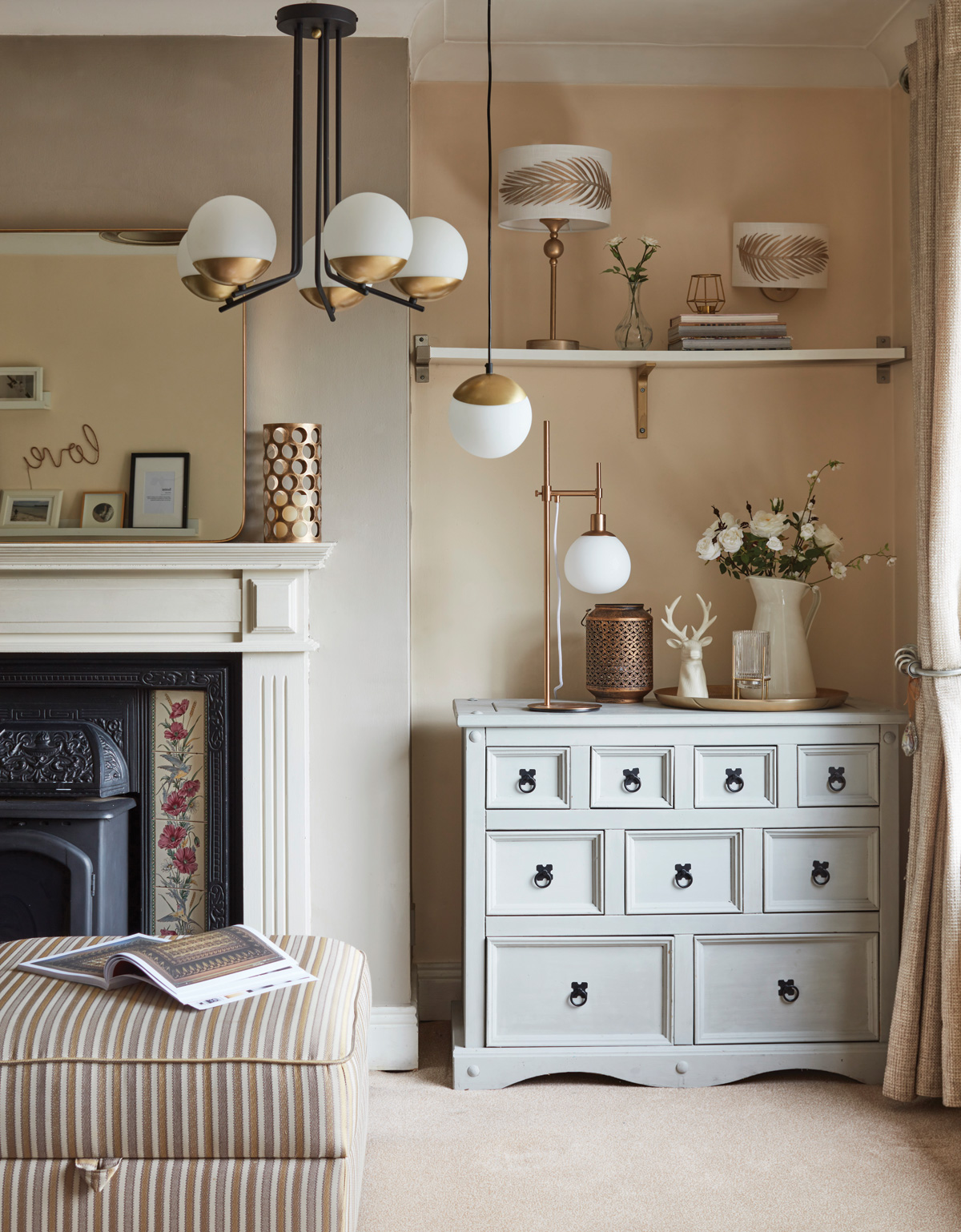 Elegant and restrained, gold, white and brass tones are the perfect complements for a neutral scheme and pair as well with classic cream and taupe décor as they do in Scandi and boho interiors too. Matching items tie a scheme together, while mixing your metals and textures gives a look that's decidedly more considered.
CLOCKWISE FROM TOP LEFT: Five arm brass and glass chandelier, €221, code: 53106-048; Brass and glass single pendant, €70, code: 53108-048; White linen and gold metal feather table lamp, €149, code: 42559-045; White linen and gold metal feather wall light, €71, code:42560-045; Brass and white glass table lamp, €114, code: 42585-045, all available at Brightlights.ie or in-store
Rustic appeal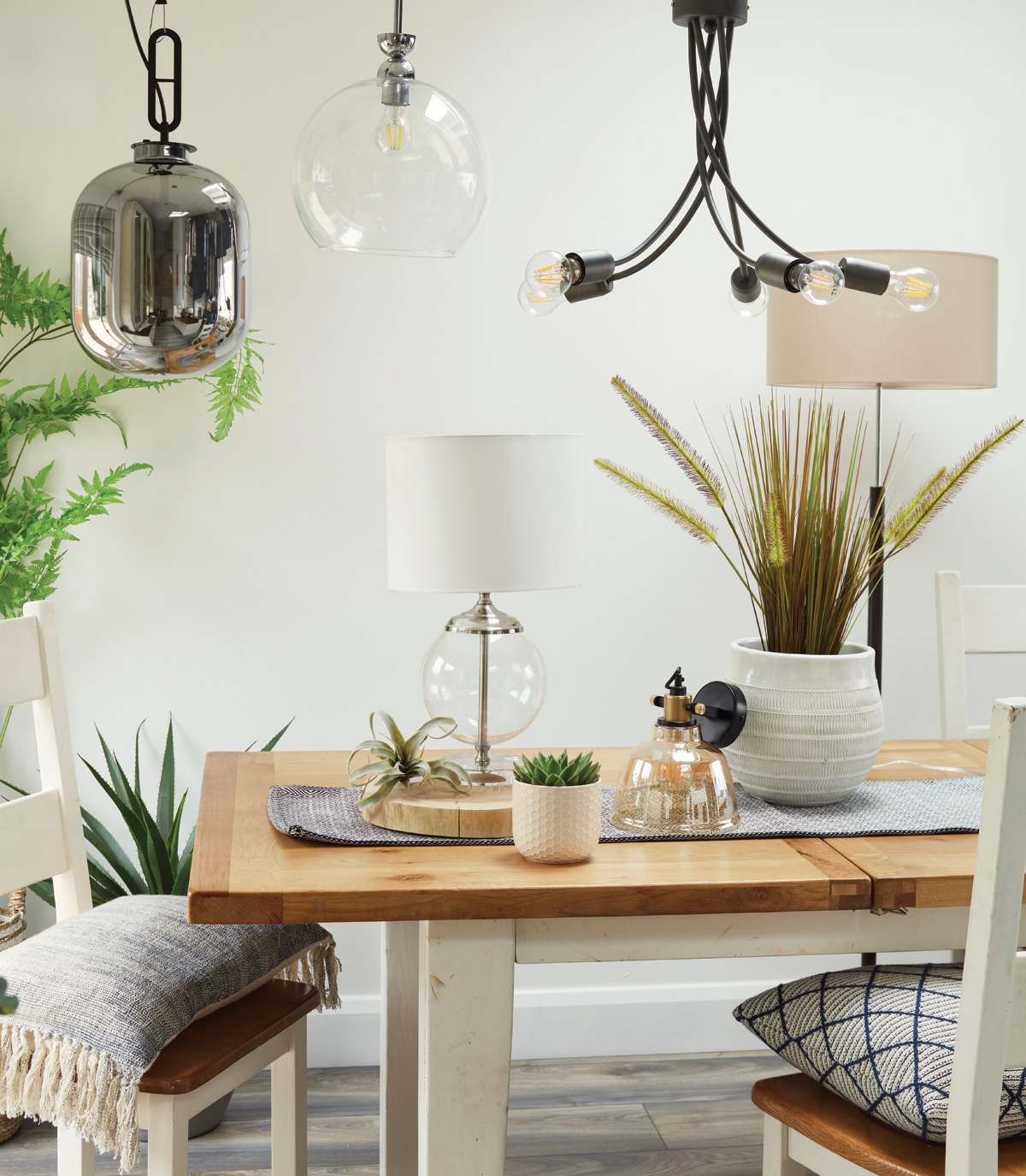 Glass lighting works well in kitchens where painted woods and soft tones tend to dominate. It's all about form and function here, so look for pieces that are beautiful, provide task and mood functions and which are easy to clean. For added impact, layer a trio of matching pendants over an island for a look that screams luxe.
CLOCKWISE FROM TOP LEFT: Large reflective grey glass pendant, €167, code: 53306-050; Spherical glass and chrome pendant, €75, code: 43430-048 ; Five-arm industrial chandelier, €84, code: 44683-048; Beige and dark wood floor lamp, €204. Code: 43185-048; Amber and brass wall light, €90, code: 17962-045; Glass table lamp with white shade, €128, code: 43282-045, Brightlights.ie or in-store